Anamorphine's ode to mental illness appears interesting at first, but falls apart once you start to examine it piece by piece. Past its growing pains, Artifact 5's message finds itself buried underneath the game's enormous technical shortcomings. Mental health is important, but simply spreading awareness isn't enough with such a consistently poor presentation.
Who Is She?
Players experience Anamorphine's tale of mental and emotional deterioration through an outside perspective. While other games depict characters suffering from all manner of illnesses from depression to anxiety, they're usually experienced through the afflicted's point of view.
Unfortunately, depression, anxiety, and addiction don't confine themselves to the individual. The damaged person's loved ones often suffer just as much. Unable to control how their friend, child, parent, or partner feels no matter what they do, leads to feelings of hopelessness. Knowing somebody that dissociates can be exhausting. This isn't to take away from the gravity of suffering yourself, but when one person suffers, those around them suffer too. Empathy takes shape.
Because of this, Anamorphine stands out for offering this fresh perspective. The presumed boyfriend to a successful cello-player remembers events through a series of playable vignettes. It spends about two hours building up to the victim's breaking point as the protagonist attempts to piece it all together. Shutting himself off from the outside world after what happened to her, Tyler's mental blockage controls him. Only after remembering, can he come to terms with what happened to Elena.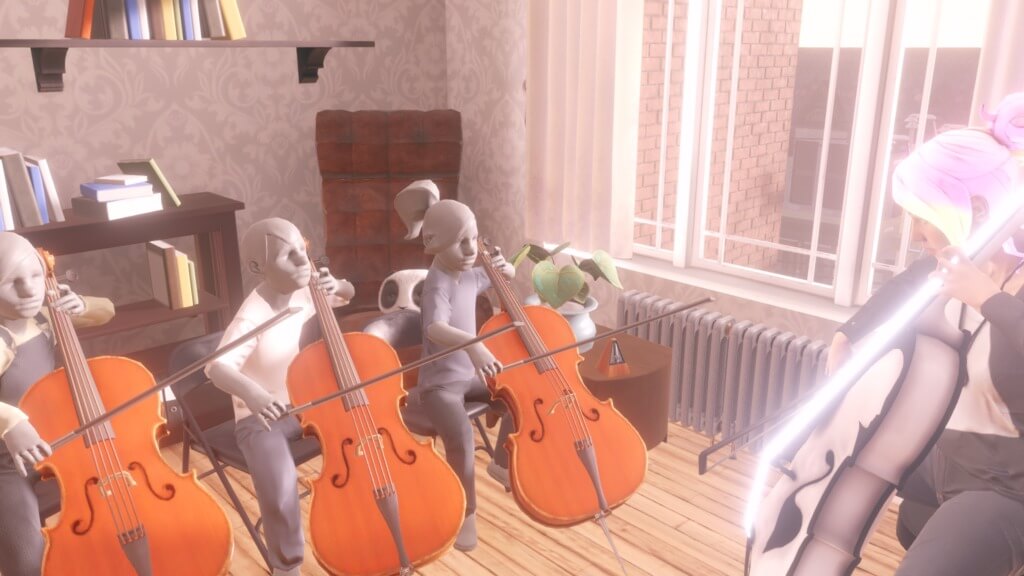 Just a Nobody, Apparently
Anamorphine accurately conveys Tyler's helpless struggle. No matter how successful she is, Elena feels empty; a feeling Tyler finds himself unable to fix. What comes of Tyler as Elena slips further from his grasp? The initially concrete imagery slips increasingly further into abstractions. With maybe two voiced lines throughout the entire game, Anamorphine relies entirely on ambient sound design and visuals to tell its story.
While a good amount of it effectively echoes a personal struggle, some of it seems a little too straightforward. In one scene, Elena finds herself situated at the end of a hallway. As Tyler approaches Elena, doors close themselves shut as he's inches away from her. For such a delicate game with a trigger warning prior to starting, I would have expected symbolism to require more mental gymnastics to work out.
Anamorphine Needed More Time
As it stands, Anamorphine is a by-the-numbers walking simulator with poor visuals, animations, and performance. While some of the artistic choices make sense considering the budgetary and size constraints of the project, I'm less inclined to forgive its framerate.
For starters, Elena is the game's only fully rendered character model. Within the game's context, it makes sense. Tyler's memories remain fixated on Elena. Everything surrounding her doesn't matter. The only concrete images to his mind are Elena and all the miscellaneous objects that trigger memories of specific events surrounding her. The broken cello. The beer bottles. Pills. "Get Well Soon" balloons. Picture frames. Bikes. Despite every other character appearing as a lifeless statue, it perfectly resonates with Tyler's subconscious.
What I can't forgive, though, is the PlayStation 4 version's horrendous performance. Anamorphine looks like a last-gen game, usually only rendering incredibly tiny rooms and at most, a handful of animated characters in a single scene. Yet, despite this headroom, the game runs like a straight dumpster fire. Not a single minute of gameplay runs without a hitch. Whether it's a sudden loading screen, hitching/stuttering when passing doorways, or complete pauses, the act of playing Anamorphine severely inhibits its thematic ambition.
It's difficult to associate with heavy subject matter when the entire experience runs like unfinished alpha or beta code. The developers informed me that they are currently working on a fix for the game's framerate, but considering the PS4 version suffered from a progress-halting crash until a few days ago, why even release it? According to Sony's online store, it is "PS4 Pro Enhanced", but you wouldn't know it by playing. The embedded video above demonstrates exactly what you should expect.
Conclusion
Anamorphine sends mixed signals. It wants to be the purveyor of mental health advocacy. However, its performance sends the opposite message. A game with such a delicate message is the last kind of game that should be rushed out the door for sale. It screams "let's make a profit" more than any good will it supposedly holds. The state of Anamorphine's launch is not just a step back for mental health's depiction in gaming. It's borderline irresponsible.
Disclaimer: Review code provided by publisher
The Review
Anamorphine
The state of Anamorphine's launch is not just a step back for mental health's depiction in gaming. It's borderline irresponsible.
PROS
Some interesting visuals/spaces
Good sound design
CONS
Some on the nose symbolism
Unacceptable performance
A little too short
Get real time updates about future posts directly on your device, subscribe now.