The impact Dark Souls has had in recent years is pretty outstanding. while I've not been a fan of the Souls series, I do admire many of its clones. Bloodborne, Dead Cells and even The Surge have their own unique elements that make them engaging. It seems like the "souls" genre is ever-expanding still. Now, it appears a mass of indie developers are focusing on pixel-art graphics and challenging (but fair) gameplay. Death's Gambit is next up and after Dead Cells. Can it offer anything new for the genre?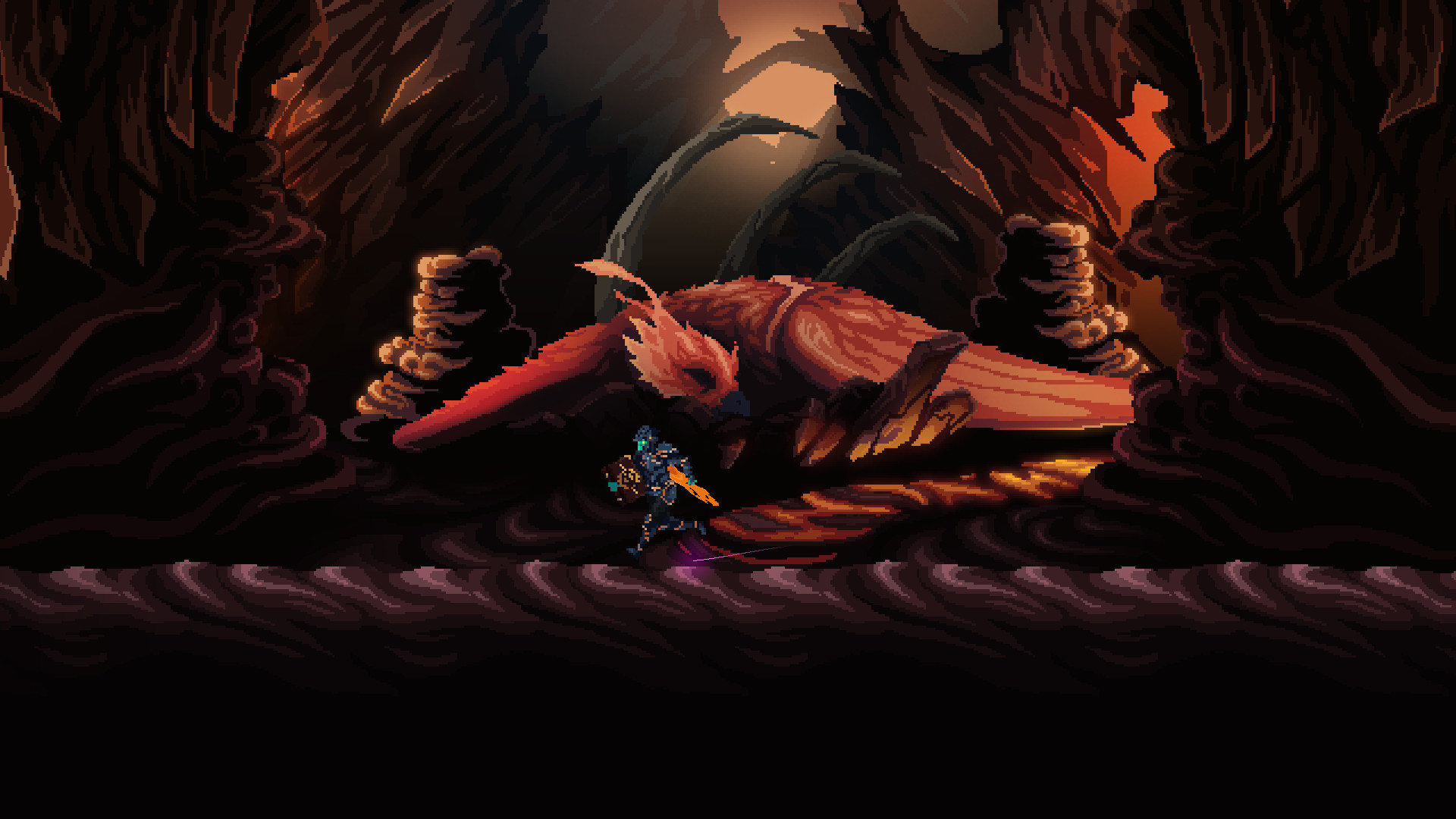 Another Dark Souls clone?
At first glance, it's quite obvious that Death's Gambit has taken inspiration from old-school adventure games like Castlevania and Metroid. However, this year alone, we've already had quite a few other titles doing the same thing. So, what makes Death's Gambit worth your time?
Visually, Death's Gambit is pretty striking, although nothing truly astonishing is done with the pixel-art style. I can safely say character models look pretty good with some excellent boss designs and well-crafted environments. Compared to a game like Dead Cells, Death's Gambit has a greater variation of environments. They even include some epic set-pieces such as titan-sized monsters, which are hardly seen in "souls" genre games.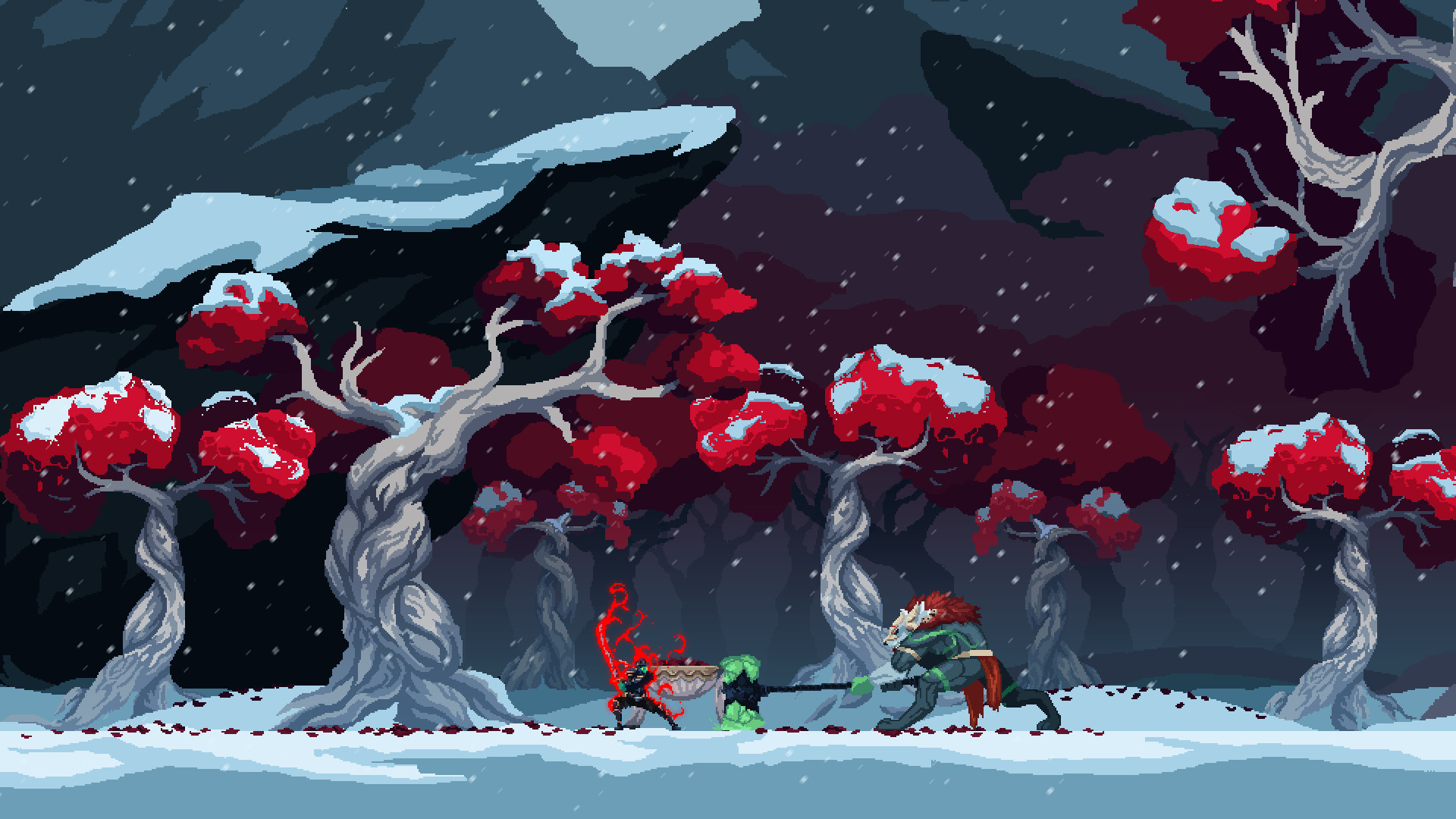 Too much of the same?
The world offers some captivating story elements told through the environment and through a fragmented method of cut-scenes and flashbacks. It's that classic chestnut of breaking up the story. While you may not gather a full picture from the first playthrough, there's enough there to grasp the story's base. Though, I get the sense the developers wanted to tell an epic story, but copied the way Dark Souls and Dead Cells told theirs. Don't get me wrong. I think Dark Souls' and Bloodborne's sense of storytelling actually harms the brilliant narrative the writers have created. Often enough, players have to go online to fill in big gaps and sadly, Death's Gambit falls into the same trap to a certain degree.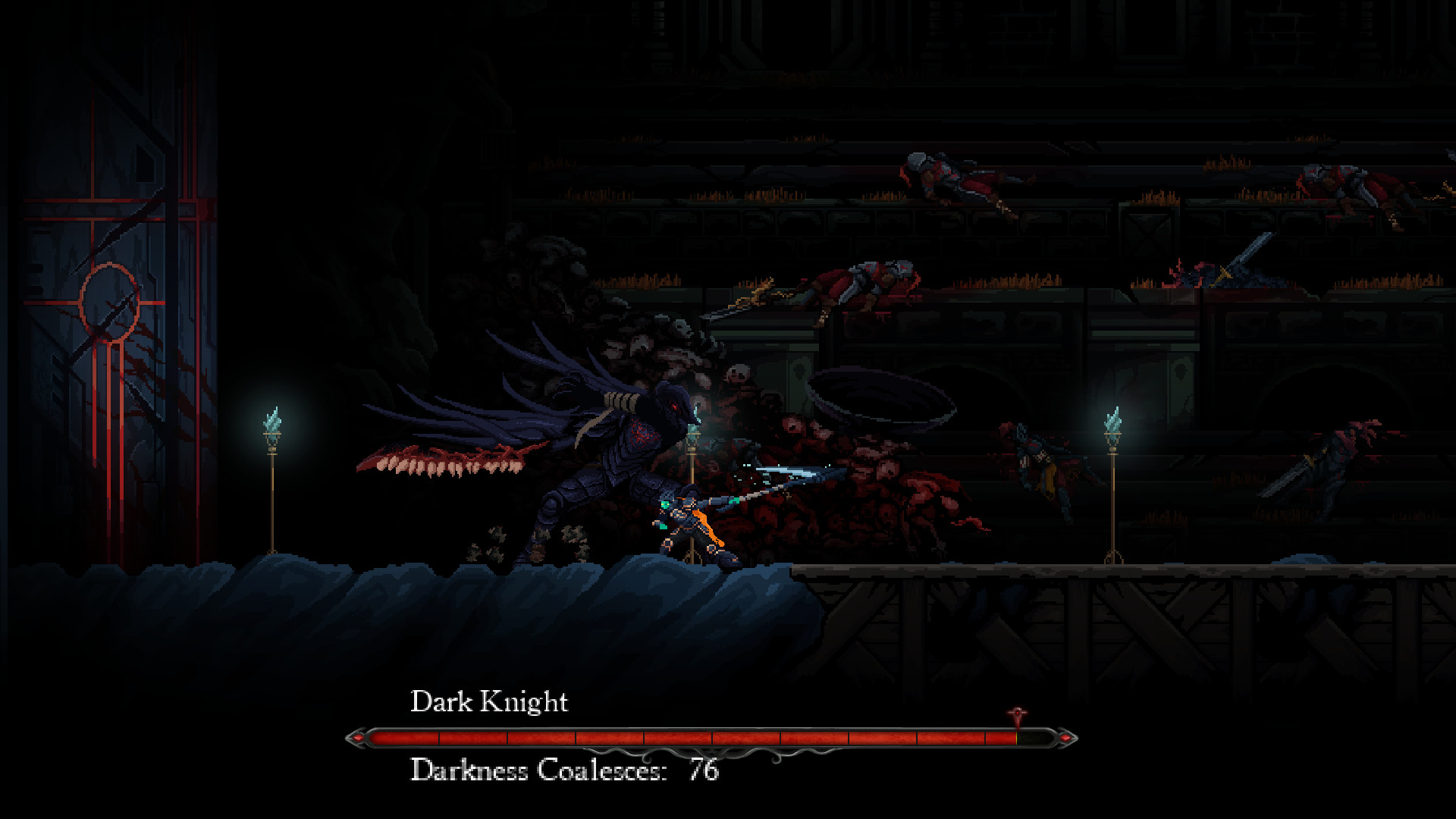 Story Time
There's more of a personal tone towards the narrative. Events are told out of sequence through flashbacks which is actually quite annoying. More so, as there seems to be depth and charm to the plot, but it's broken up in a way that makes it hard to follow. Dead Cells does something very interesting by keeping the story to a minimum, but keeps players interested by making it an actual mystery, with vital clues that don't rely on being found in a certain order.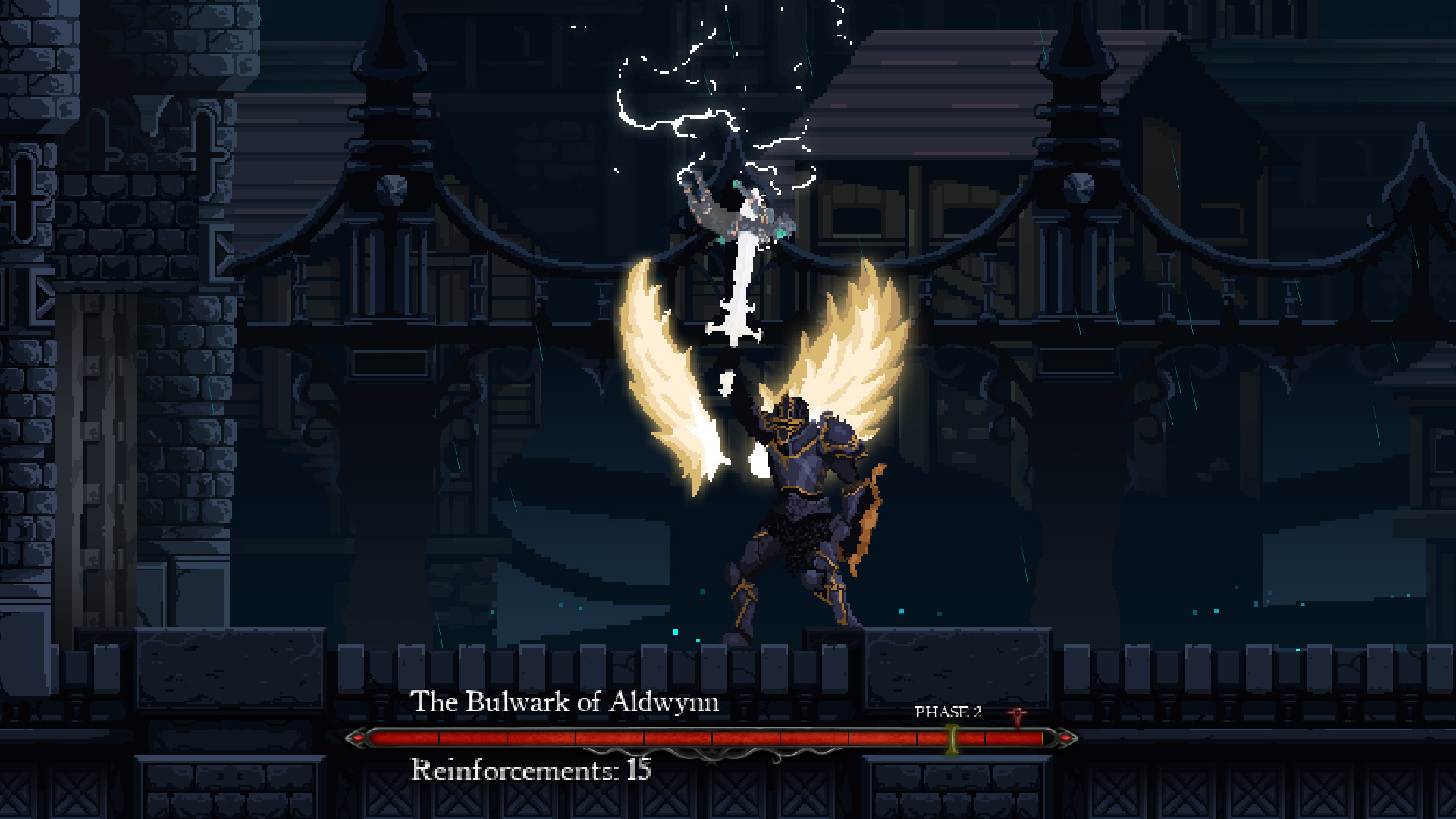 Gambling with death
Death's Gambit relies on many tropes of the "souls" genre, but has some neat tricks to keep players invested. For those who hate Dark Souls or anything relentlessly punishing, then Death's Gambit might be something for you. While it is challenging in many ways, its forgiving enough to keep you from rage quitting.
Players will gather shards throughout the game which act as a means to upgrade your stats and purchase new gear or consumables. Whenever you die, these aren't lost, which I can see as good and bad. In terms of gameplay, it kills off any tension and lightens the fear of failure as well as the consequences you would face in other Souls games.
However, you can lose critical items known as plumes, which help regenerate health. When starting the game, you'll have four of these. You lose one per death, meaning you'll have to trek to where you last died to get it. It doesn't make much difference, as there are other healing items, but this is the default and dying as a result decreases the amount of plumes you can carry. As mentioned before, not losing shards will produce mixed feelings. The upside is that progression feels constant and you're penalized massively for what could be an error with the game.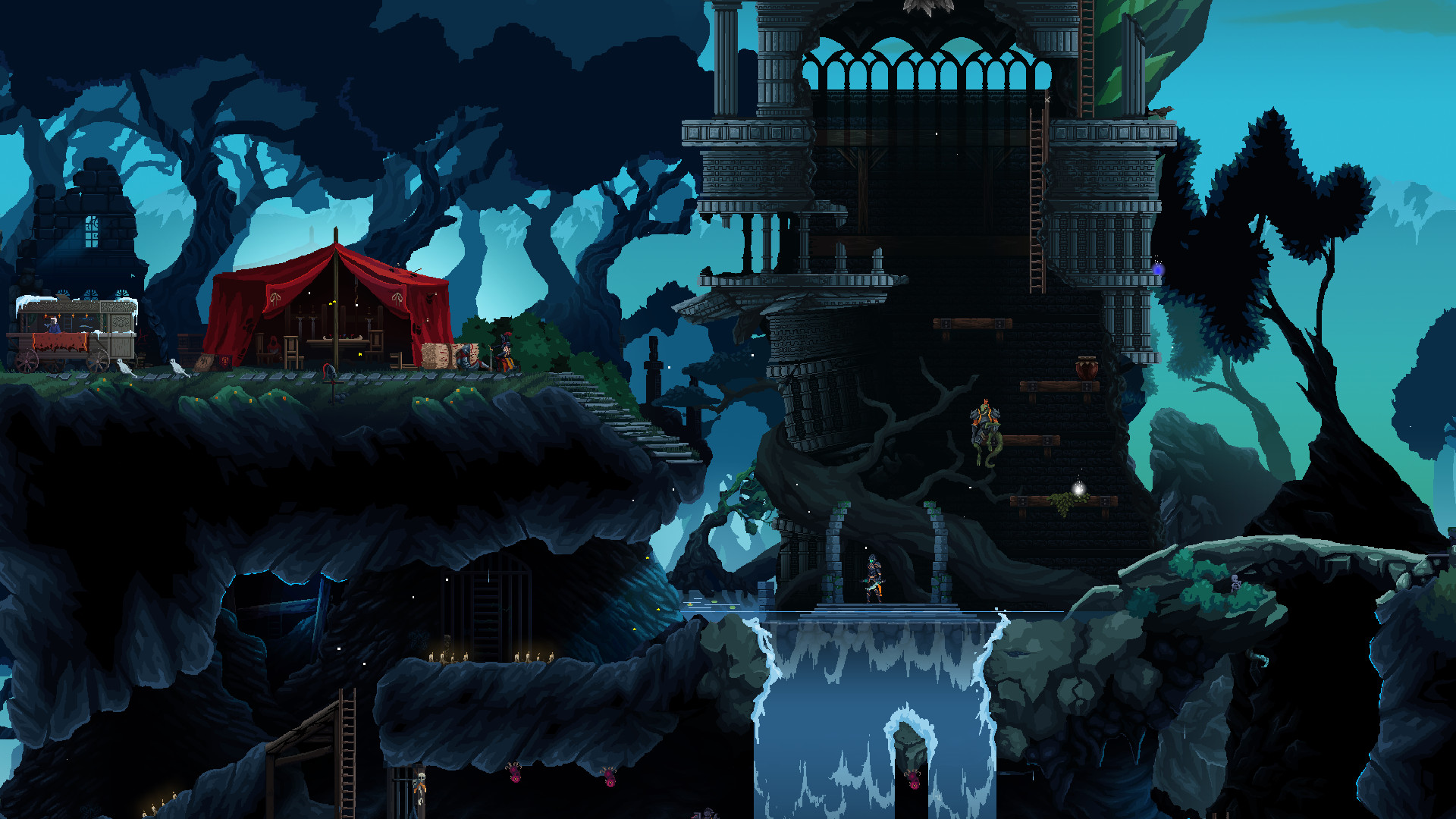 Challenging yet not punishing
It annoyed me when games like Dark Souls and Dead Cells decided to punish me for following its trial and error format. Death's Gambit at least eases the journey by providing a challenging environment while ensuring you get stronger even after a failure. You'll learn and fight on, but won't see the two steps forward, one step back pacing Souls games normally offer.
This style of gameplay is balanced out by how many shards you get from enemies. Often, it's not enough for the later stages in the game. There can be a slight grind at times as you'll encounter overly powerful enemies and have to backtrack for more shards. It doesn't help that there's not much incentive to experiment with your tactics, only possibly changing what consumables you use.
Also, I hate the archers in this game!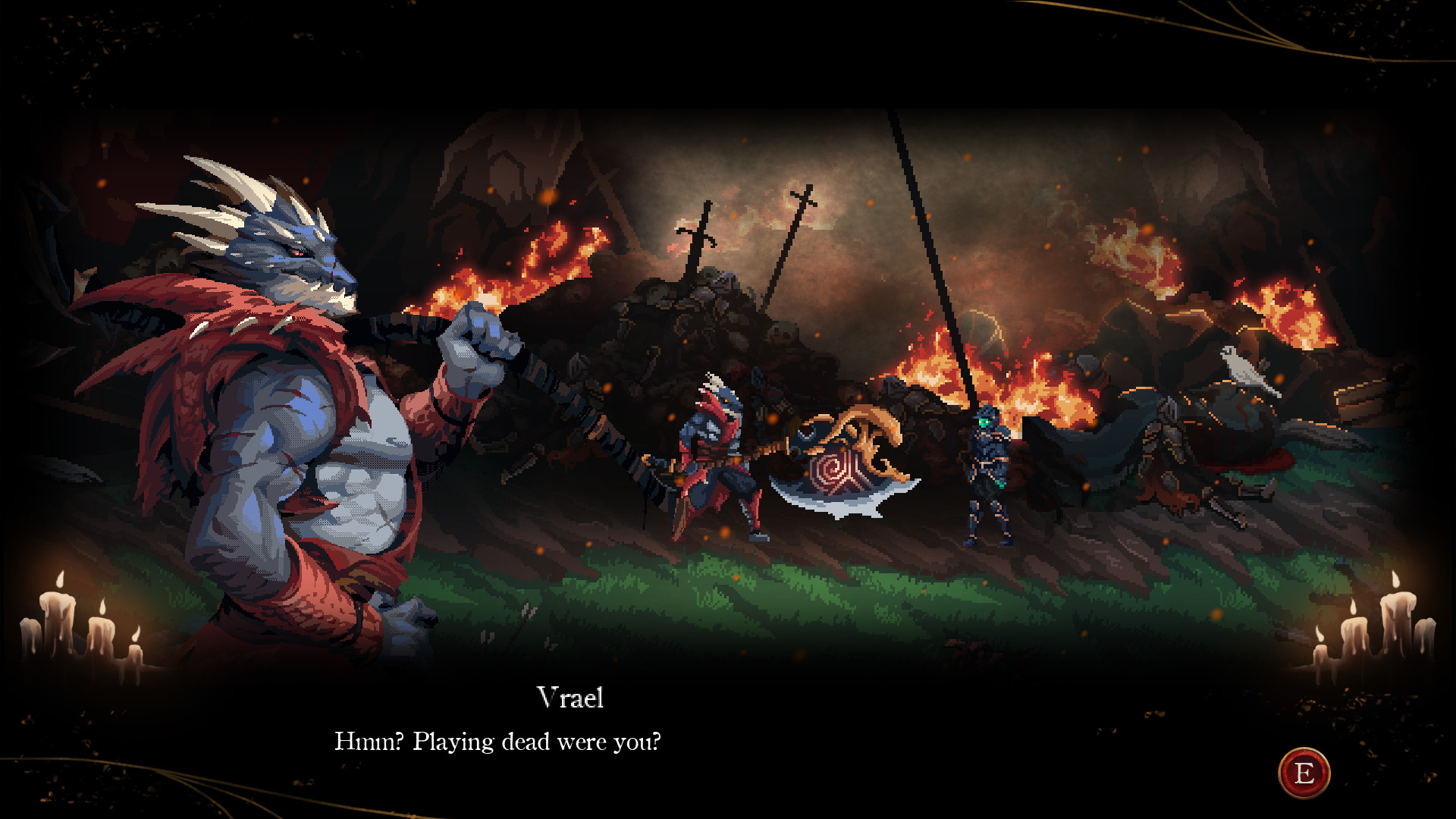 Trial, error, Fight!
There are multiple paths throug Death's Gambit, which is hugely refreshing as you can venture to other areas if one in particular is annoying you. Each path offers its own bosses and enemies. With that said, certain routes should only be taken with high stats as finding this out the hard way is fairly irritating.
Combat is simple yet effective. Different classes are available at the start with  great variation of primary and secondary weapons, as well as obtainable gear. It has everything any adventure game should have with consumables that make you stronger, allowing for extra speed and protection against certain enemies. Exploration is highly rewarding. Even small touches, such as finding notes, increase your damage towards certain bosses are a real treat. There's even a rematch feature, allowing you to fight bosses you've defeated before (why Dark Souls has never made this easily doable I don't know).
The one thing which does let Death's Gambit's gameplay down slightly is its floaty controls. Climbing ladders and jumping feels extremely floaty. And by this, I mean either how unresponsive the character can be or the unexpected degrees of an action. There's no sense of clarity when jumping, and grabbing onto a ladder can be hit or miss. But this is a small concern and nothing that breaks the game in the slightest.
Final Verdict?
Death's Gambit has a difficult time rising above the sea of other pixel-art "souls" games out this summer. In all fairness, though, it's worth checking out. It looks nice, sounds wonderful, and has simple yet engaging gameplay that's great for veterans of the genre and newcomers. The minor complaints are overshadowed by an otherwise gripping adventure.
The Review
Death's Gambit
Death's Gambit has a difficult time rising above the sea of other pixel art, soul's games out this summer. But in all fairness it's one worth checking out. It looks nice, sounds wonderful and has simple yet engaging gameplay that's great for veterans of the genre and new comers. With some minor complaints here and there, they're overshadowed but an otherwise gripping adventure.
PROS
Looks and sounds Beautiful
Challenging yet not overly punishing
Great bosses
CONS
Narrative's execution is flawed
Odd controls
Death's Gambit DEALS
We collect information from many stores for best price available
Best Price
$0
Get real time updates about future posts directly on your device, subscribe now.