News of StarTropics now hitting the Wii U's Virtual Console really got me thinking about what other games they need to add to that library. Nintendo's classic games number in the thousands, yet we only have a handful of them; we need more. This is a list of 5 that I would like to see released so that I can enjoy many of the games that I missed as a child.
5) Kung Fu – December 1984 – NES
Playing Kung Fu at my friends house is one of the first memories I have with a controller in my hands. We would sit on the floor in his house playing for fifteen minutes at a time because we would have to "unlock" game time by doing homework. We would tag team on the homework so that we could get back to our martial arts exploits. I don't believe that I ever played the game again; I never found a copy and I would really like to play it one last time. Should Nintendo put this title on the Virtual Console, I will be one of its first buyers and I will kick my way to glory once again.
 4) Sunset Riders – 1993 – SNES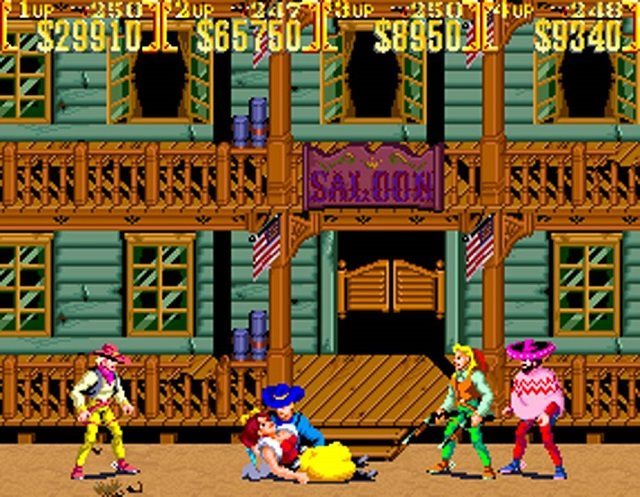 This title is one I'm sure my father purchased for me seeing as it had to do with cowboys. My father didn't and still really doesn't understand video games, but he accepts they are one of my many hobbies. He enjoyed watching me play Red Dead Redemption, until I had to ride a horse somewhere, and then he'd wander off instead of watch that. Sunset Riders is a side-scrolling shooter set in the Old West. On the SNES, you could couch co-op with another gun enthusiast and go after the bounties in the West. I remember running around on a train killing outlaws with my six-shooter until I finally found the man on the wanted poster. My fingers are itching to play this title again, and I really don't feel like dusting off my old SNES; I'd much rather use my GamePad to play.
 3) Ducktales and Ducktales 2 – September 14, 1989 – April 23, 1993 – NES
The first Ducktales game was one of my favorite games as a child. I played that game over and over and over, I was a huge fan of the show, and I loved the comics; everything in my young mind was obsessed with Duckburg. Unfortunately, by the time the sequel had come out, I already moved on to my SNES and had outgrown Scrooge McDuck. I never got my hands on the sequel and know how insanely expensive it is. I do want to play it sometime though and I'm thinking if Nintendo can get Capcom to port them to the Virtual Console after the success of the Ducktales: Remastered, we would all be in for a treat. I cherished the remake and I loved the updated score they gave it, but when I hear the same songs in midi format, I'm ten years old again. Ducktales would be a great quasi-time machine for me.
2) Super Mario RPG: Legend of the Seven Stars – March 9, 1996 – SNES
Yes, this title did get a release on the Wii, but it needs to be ported over to the Wii U's Virtual Console seeing as my Wii is broken and I'd like to beat this game before I die. That's my selfish reason; the other reason is that this is the very first Super Mario RPG EVER! This title laid the groundwork for the Paper Mario and Mario and Luigi series. Without Square putting their fingerprint on this title, we might have been missing some seriously amazing off-shoot franchises. This is also the only title that Nintendo and Square worked hand in hand to create. However, soon after this game's release, a huge rift would tear the companies apart and a PlayStation would be born.
1) Secret of Mana – August 6, 1993 – SNES
Secret of Mana was also ported to the Wii, but it needs to make a comeback on the Wii U. My selfish reasons aside, this title would play great on the Wii U and give me an excuse to have some couch co-op parties. Square made this title as well, and it bodes some of the most colorful graphics that the SNES had seen up to the point of its original release. The best feature I believe is the three player co-op; I can totally imagine me and two buddies sitting around the big screen playing this game like we were teenagers again with the GamePad in my hands and a WiiMote for each of them. That sounds like a perfect evening. Plus, I don't really feel like shelling out a hundred or so bucks to get my hands on a cartridge that probably won't save.
These are five titles that I would purchase as soon as funds are available. What titles would you like to see on the Virtual Console? Did I miss any of your favorites?