We all saw it, we all said it at the reveal for a laugh "floating simulator 2016", "Heavy breathing simulator 2016" you get the drift… No pun intended. But we all had the sense that this game "ADR1FT" had a lot of potential and could showcase the very best of what virtual reality has to offer. VR is leading the way for a lot of new experiences beyond shoot this guy, gain XP, fun. So when we were told about a visually glorious game about solving mystery in space ears perked up. Unfortunately though Adr1ft is a confused game. It doesn't quite seem to know what it is doing beyond "ooh look at the pretty colours" and because of that it slips into the mediocrity of showcasing new hardware. That's not to say that ADR1FT is particularly a bad game and there were some elements of it (of which I will elaborate later) that quite interested me. I just feel a lot of potential here has been buried in the hope to show off how an expensive new accessory will let you do "THIS"… Except "THIS" hasn't quite yet been figured out.
So long story short, ADR1FT tells the tale of an astronaut who wakes up to pure devastation. You are Commander Oshima; you have just woken up to a destroyed space station, compromised space suit as well as defective thrusters and oxygen tank. The status of the remaining crew is entirely unknown and your primary objective is to piece together the puzzle of what happened to your crew and how you can activate an escape pod to make it back home. Tension is created in the game by a conflicting movement oxygen system. Move around too fast and in the wrong zones and you will die. You have to try and sort things out on the station and find out what happened to your colleges whilst maintaining decent oxygen levels. The oxygen system is really the only real tension and difficulty in the game which is really disappointing considering the plethora of options available in such an open and dynamic environment. I recall feeling quite spooked by a floating space suit but that was about it. There isn't much challenge or surprise in the game.
A huge flaw in ADR1FT is its mechanics and how they don't quite fit the story being told. They are also incredibly limited without VR. There is no gravity and you have a full 360-degree movement system which is incredibly disorienting. Once you get the hang of things you can move quite seamlessly but this system seems somewhat lacklustre without a VR headset. From a monitor perspective you just feel like your character isn't particularly composed. Progressing through the story is incredibly challenging due to the mechanics too and quite frankly to an extent, it ruins the overall experience. Tracking down parts of the story (in the form of emails and audio logs) is incredibly frustrating, not fun or challenging. You are provided an on-screen HUD which shows roughly where you should go but due to the large amount of movement and openness there isn't a clearly defined pathway. It is mostly a case of float in this direction, die, try again, die and maybe you might eventually work it out. But the working out part isn't an interesting puzzle, it is somewhat annoying.
The game is also full of back story collectibles but you never feel inclined to search for them because the second you travel off the main path or lose sense of direction you are right back at square one, feeling a little lost and very agitated. It is even more unsettling when there is no distinction made between story collectibles you've already heard/seen and ones you haven't, leading to tonnes of repetition. Overall, it is challenging to enjoy the scenery and mystery being told when you are regularly seeing "game over" for attempting to do exactly what the game wants you to do, explore. Even more so that the story of the game itself seems to be held back by such minor design flaws.
It would be criminal to write a review about this game and not talk about how utterly astounded I was by the immersion. This title not only looks fantastic but envelops you with some of the stunning scenery. Floating around the game has its hitches but you can always be certain that whatever you are looking at will be vividly detailed. I found a strange sense of enjoyment by slapping floating objects around and seeing them drift into the distance. In all honesty I think ADR1FT is one of the best looking titles I have ever played (and that was only on max settings at 1080p, imagine 4K!). It is just such a shame that there isn't much more to do other than float around looking for things, often quite aimlessly.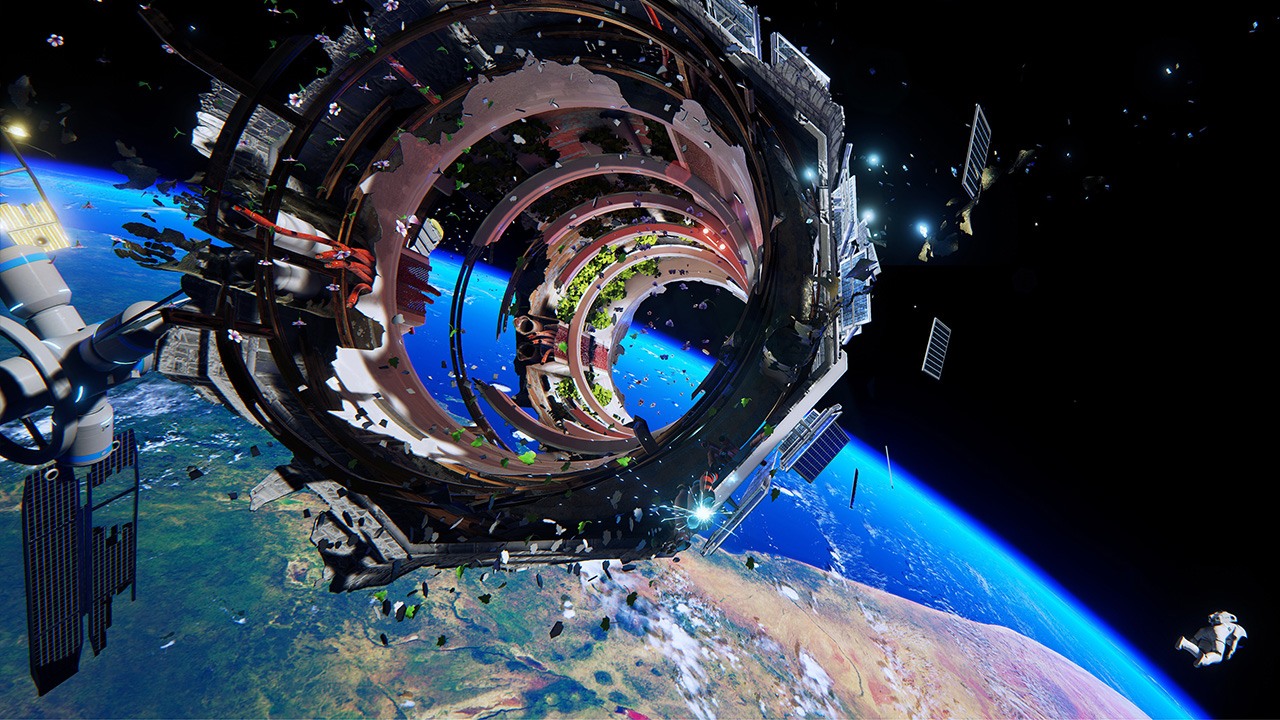 The story telling in the game is somewhat disappointing; it lacks a certain level of captivation that the visuals certainly supply. I never felt fully invested in the story as it panned out, there wasn't enough horror, enough shock and awe to keep me fully vested in what was going on. I felt like the title had its finer moments when the story interweaves with the setting. There were brief moments where I heard snippets of news reports coming from earth that added a feeling of anguish and suspense. It made me wonder "what really happened here?" and "How is the ground reacting?". Unfortunately that plays more of a back role to the progressive development of the rest of the crew on the station. You read their emails, listen to their audio logs but there really wasn't enough to get me involved emotionally or in terms of mystery.
ADR1FT is not a bad game. It has a somewhat interesting story and out right insane visuals. I can't help but feel as though the game was ruined for me by minor design flaws and its focus on clearly being a title to show off the bling of virtual reality. This reminds me of all of those Xbox titles which probably would have done a lot better had they not focused on the Kinect. For those of you out there with a VR headset, without a doubt the game will be an experience you won't forget visually. But ultimately as a game, it fails to tick a lot of boxes and descends into looking pretty with not much of a leg to stand on.
A code of ARR1FT was sent by 505 Games for the purpose of this review.