Neo Geo fans will obviously have heard of Andro Dunos. The shooter was released in 1992 in Japan and has so far only been available on the Neo Geo AES and Neo Geo CD systems. However that is about to change as not only is the original game getting a full re-release for the still popular Sega Dreamcast, it's also getting a full-on sequel.
Andro Dunos II is coming this year pretty much in time for the original's 30th anniversary. And while the first three consoles are to be expected, new physical releases for 3DS and especially Dreamcast are a bit rare nowadays. So if you're a fan of the 3DS and Dreamcast, you might wanna consider picking it up.
A Classic Returns
The studio PixelHeart has picked up the license to Andro Dunos and is releasing the original on Dreamcast this year. The original was developed by Visco and was distributed by SNK for the NeoGeo AES and CD in 1992. Recently, PixelHeart has joined forces with developer Picorinne Soft to develop the sequel.
The music is composed by Allister Brimble. He also worked on Alien Breed, Body Blows, Project-X, Colonization, Driver, and Superfrog. Judging by the trailer the soundtrack has a real synthwave feel to it, which feels suitable.
The gameplay focuses on fast and efficient action, with the ability to recover powerups by killing enemies. Andro Dunos II also has some gorgeous visuals that wouldn't be out of place on the original NeoGeo AES system. If you're a fan of shmups, this definitely seems like a good time to get into one that you may have missed out on.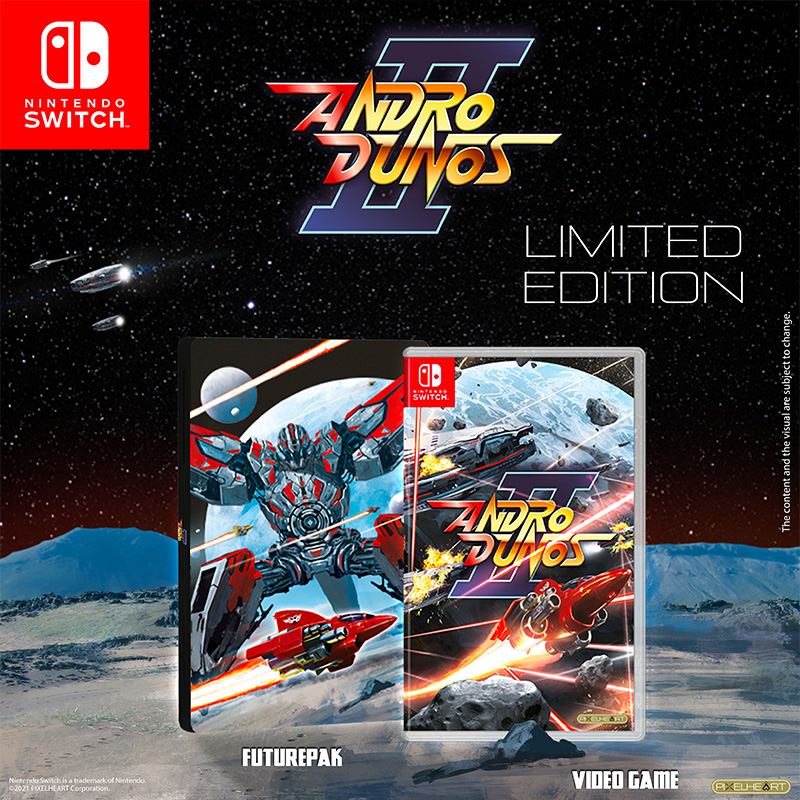 Available September 2021
Andro Dunos II will be released September 2021 on Nintendo Switch, Nintendo 3DS, Sega Dreamcast, PlayStation 4, and Xbox One. No PC release has been announced, but several limited editions are available for pre-order on the official PixelHeart website. Editions include a special limited edition for Switch with a slipcase cover, and a special Dreamcast edition with metal artwork and a soundtrack CD.