Blue Period is one of the most impactful anime I've ever watched, and before that, it was one of the most impactful manga I've ever read. There are a few manga you'll encounter in your life that you'll instantly know will receive an anime adaptation, one you're sure will impact so many people. and one such manga is Blue Period. The series does such an excellent job of influencing its audience by expressing its characters in the most accurate way possible, and in a way that evokes so many different emotions, with its visual arts theme.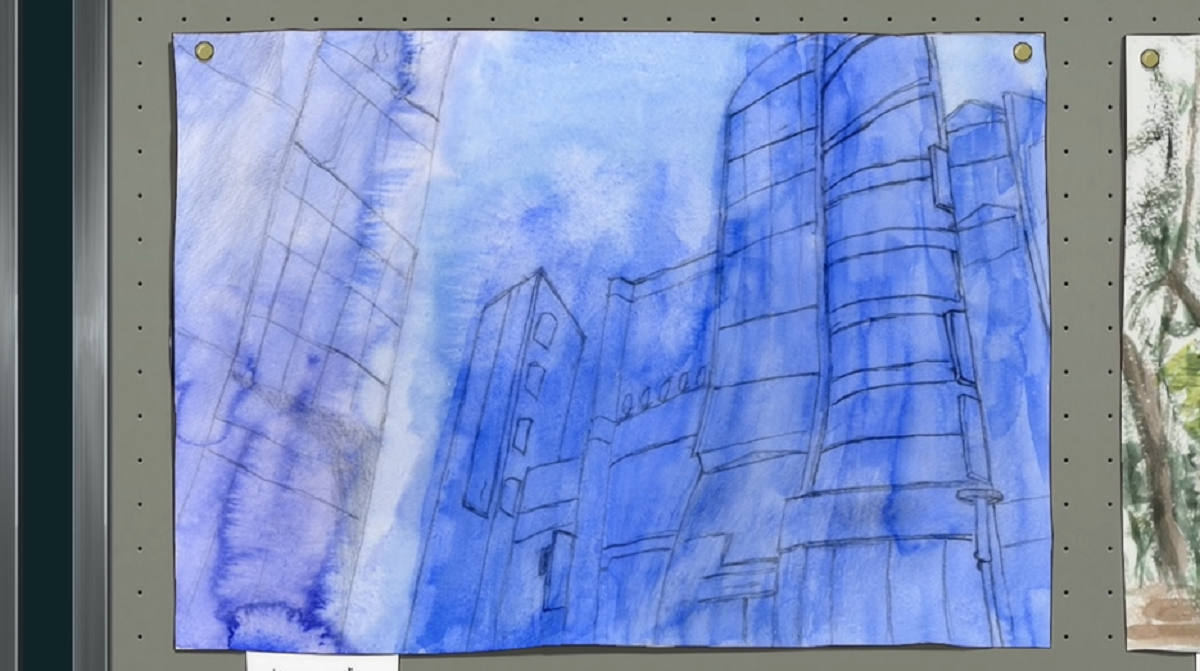 An Unexpected Start
The series follows Yatora Yaguchi, a delinquent high schooler who is also good at studying. He coasts through life with his delinquent friends with no passion nearing his graduation, but this changes one faithful morning after drinking the night before with his friends when he notices the peculiar blue hue that envelopes the empty, early morning streets of Shibuya. This scene leaves such an impact on him that the next day, he paints the scenery in art class and gets a lot of compliments for it. This gives Yatora the motivation and conviction to take up art, and after joining the art club, he decides that he'd like to chase an art career. To this, he'd have to get into an art university, but due to his family's financial situation, his only option is to apply to TAU (Tokyo University of the Arts), a university one of the cheapest rates in Japan but one with an acceptance rate of about twenty percent which accepts about one in every 200 applicants. 
Yatora's journey to acceptance takes the forefront of the anime. In this journey, we see him meet several eccentric and interesting characters, all of whom have a unique mix of personalities not unlike the typical art student. Each of these characters helps Yataro in various ways throughout the anime as they all try to take the same journey together. However, because there are so many characters taking this same journey, it's no surprise we see some with varying levels of talent. Some people have to work every day of their lives to chase their passions and achieve their goals, while others are so talented that failure is never an option for them. 
Talent Meets Handwork
This is what makes Yatora's path as someone who basically started his art journey from scratch feel so realistic. We see him struggle countless times in order to just get on the same level as his peers, all the while knowing he has to work harder than most because he has no innate talent for it. The fact that he constantly struggles with this insecurity but still manages to push through it to get to his goals is what makes his journey so motivational and why you can't help but cheer him on as he sets aside his emotions, learns, grows, and eventually gets as good as his peers.  
As a recent graduate, I understand and relate to the struggles in trying to achieve all the academic goals and expectations you and everyone around you has for you and how hard it is to take the next step in chasing your passions afterward, which is whey while watching the anime I was shocked at how it was able to capture this feeling so well. It also portrays the depressing reality of failure and how sometimes, no matter how hard you try, you can still fail at something. The anime also depicts other serious themes like dealing with gender identity and how suffocating the expectations of those around you can be. And thankfully, the anime tackles these themes surprisingly well in a way that doesn't compromise the core theme but supports it.  
Visually Bland
The only element the anime blatantly lacks polish in is the animation from Seven Arcs. While it isn't on the same level as a mediocre anime like EX Arm, it still lacks detail in many scenes, the character designs are pretty mundane to their manga counterparts, and the movements of said characters usually seem really slow. However, I found the most exceptional part of the anime to be the several featured paintings, most of which are real-life 16-19th century paintings by real artists such as Van Gough. These paintings were thankfully accurately depicted in the anime, which I'm sure was greatly appreciated by art lovers such as myself.   
Final Thoughts
Additionally, the high-energy opening song "EVERBLUE" by Omoinotake, and the melancholic ending song "Replica " by mol-74, served as great additions to the viewing experience. Overall, while Blue Period isn't the best-looking anime of its season, its beautifully told story and endearing characters made it one of the best of its season. 
Blue Period is available to stream now on Netflix.
Have you seen Blue Period? What do you think of our review? Let us know your thoughts in the comments section below.