Atelier Sophie 2 is the sequel to Koei Tecmo's 2015 JRPG, Atelier Sophie: The Alchemist of the Mysterious Book. The games center the titular female alchemist Sophie Neuenmuller and her several otherworldly adventures. The latest game specifically follows Sophie on her quest to find her friend and mentor, Plachta, who she was unexpectedly separated from when a portal to a dream world called Erde Wiege swallowed them in. On her quest to find her friend, Sophie meets several new and old characters from different timelines while familiarizing herself with Erde Wiege and its bizarre yet whimsical environments and laws. 
An Interesting Premise with Frustrating Gameplay
I must say that while the game's premise isn't anything groundbreaking or immediately entrapping, it is quite intriguing. The story hits the ground running as our characters are plunged into this mysterious world that seems to transcend space and time and features multiple fantastical elements. Sophie meets several characters from different time periods brought to this world by a mysterious goddess we don't meet but see earlier on. The player will have to push on to uncover the mysteries to learn more. An aspect of the game I was impressed with is how seamlessly it blends its storytelling and game, as the gameplay and combat take advantage of its fantasy setting. For more online games to try, visit beingnaturalhuman.
And speaking of gameplay, Atelier Sophie 2 wastes no time teaching or re-familiarizing players with the new alchemy and synthesis system. However, doing this also makes the earliest parts of gameplay a tad tedious. Players should expect to be immediately forced to scrounge up synthesis materials and ingredients from dungeons and fields to synthesize a tool, which lets them gather more specific materials, allowing them to then craft the target tool or material. For example, in the second hour or so of the game, you'll need to craft two materials that control the weather to progress the story. To synthesize these materials, you'll have to follow the steps I mentioned earlier, which can take up to an hour or more if you have no idea what you're doing or where to acquire said materials, especially as the game will not outrightly point out where to get them most likely for the sake of exploration and longevity. This is unfortunate as it may dissuade or frustrate newcomers to the game.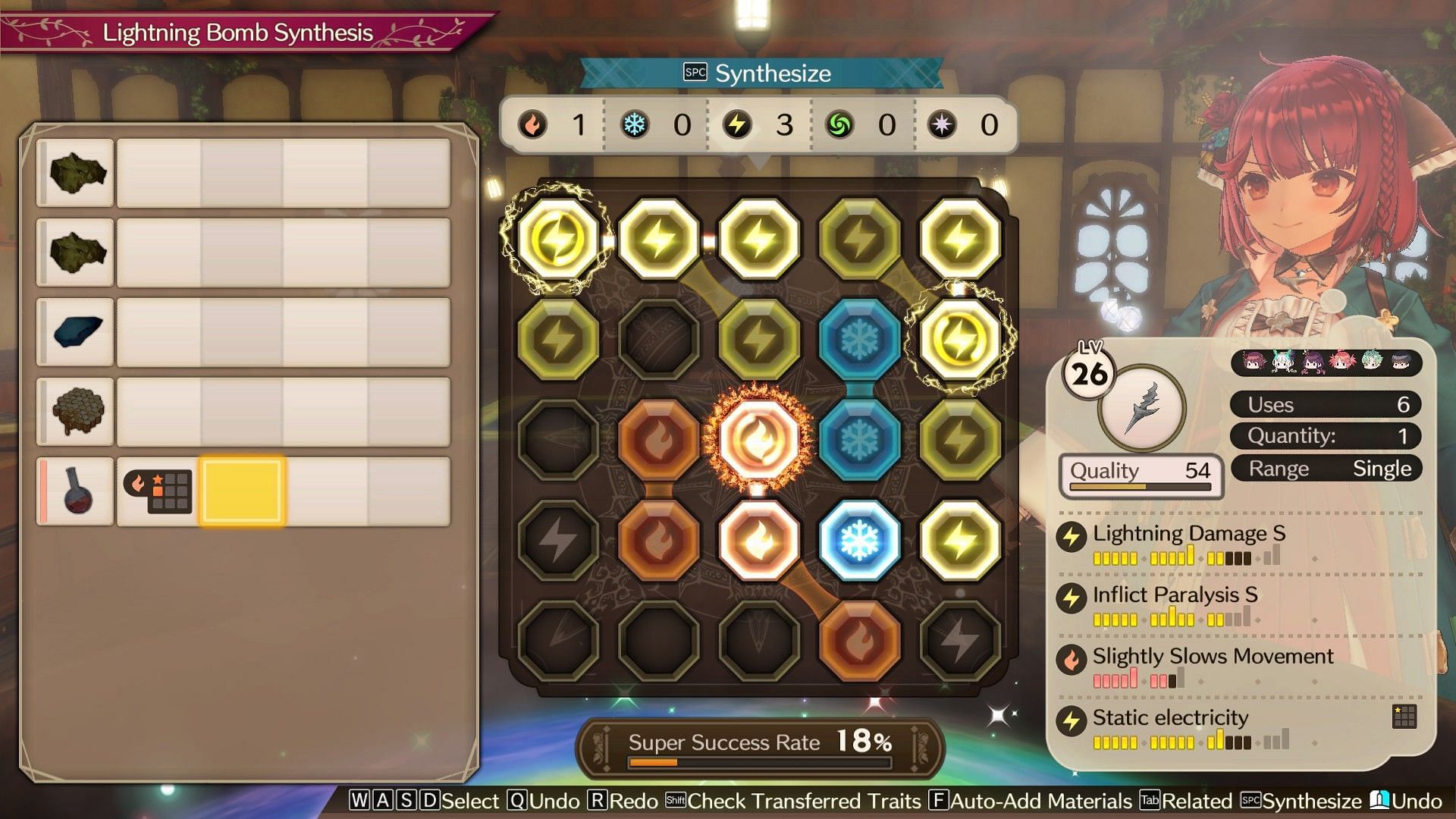 A Step by Step Process
The actual synthesizing process is a lot easier than the one before it. Players place ingredients on a panel to create new items by selecting the materials of varying qualities they'd like to use and structure the elemental properties of said materials. If structured properly, players will earn bonuses and sometimes increase the quality of the synthesized material.
As I mentioned earlier, some materials you synthesize will also be used for traversal, such as the aforementioned weather-controlling tools. These tools can be used for both traversing and combat (in certain scenarios). Unfortunately, the traversal elements are the most frustrating part of the game. While changing weather to change the terrain is creative, it quickly gets tedious due to the number of times the game asks you to do this in dungeons. Additionally, each dungeon is also quite long, with multiple levels and tons of monsters often getting in the way. While these aren't foreign aspects to JRPGs, it's apparent that the Atelier games, unfortunately, have problems balancing out said elements as the games often ask a lot from players in each dungeon. 
Well-Rounded Combat
Aside from that, Atelier Sophie 2's turn-based combat is arguably the second-best aspect of the game. Attacks are quick, weighty, and flashy. Characters in your party that aren't in direct combat can still protect those fighting, and Twin Attacks, simultaneous moves executed by any two characters in the party with enough TP, are always reliable and satisfying. 
Monsters and bosses also put up a good challenge without exhibiting artificial difficulty that forces players to needlessly grind, seen in several JRPGS these days. If you ever do need to grind, however, the process is primarily painless thanks to the option of speeding up battles mid-fight. In terms of performance, the game runs at a stable 30fps on both PS4 and PS5 without frame rate dips and glitches. I sometimes did notice a second of lag when speeding up battles during quick grinding, but no more than that. 
If combat is the second-best aspect of the game, then Atelier Sophie 2's graphics and visuals are arguably the best part of the game. The 3D character models are uniquely designed and heavily detailed, and the environments are highly picturesque, from the lush and sunny fields to the cold and frigid lands.
Final Thoughts
Overall, Atelier Sophie 2 is an excellent game with an engaging story, endearing characters, and entertaining yet challenging combat. However, the game would be even better were its item gathering and traversal elements made a bit more lax. 
Are you an Atelier fan? What do you think of Atelier Sophie 2? Let us know your thoughts in the comments section below.