Where do I even begin? Darkest Dungeon is one of the most soul-crushingly difficult games I've ever played, and that's with Dark Souls in mind. And yet, somehow, I keep coming back to it over and over to subject myself to more pseudo-psychological torture. It's true that "soul-crushingly difficult" isn't exactly the most positive description of a video game, but it actually works in Darkest Dungeon's case.
Darkest Dungeon is a roguelike RPG developed by Red Hook Studios, which takes place in a gothic, Lovecraftian-like universe. I say Lovecraftian-like because there don't appear to be any explicit references to Lovecraftian lore, though the inspiration is clearly there (a monster depicted in the opening cinematic looks strikingly similar to Cthulu). The game's story starts with the owner of an old estate–named The Darkest Estate unless you change it–who discovered an ancient portal buried deep underneath his manor. In a fit of extreme stupidity, he leads a mining expedition to unearth the portal, and the results are about what you'd expect: Hellish creatures escape, they kill everybody, and the owner commits suicide because he, too, realized what a moron he was.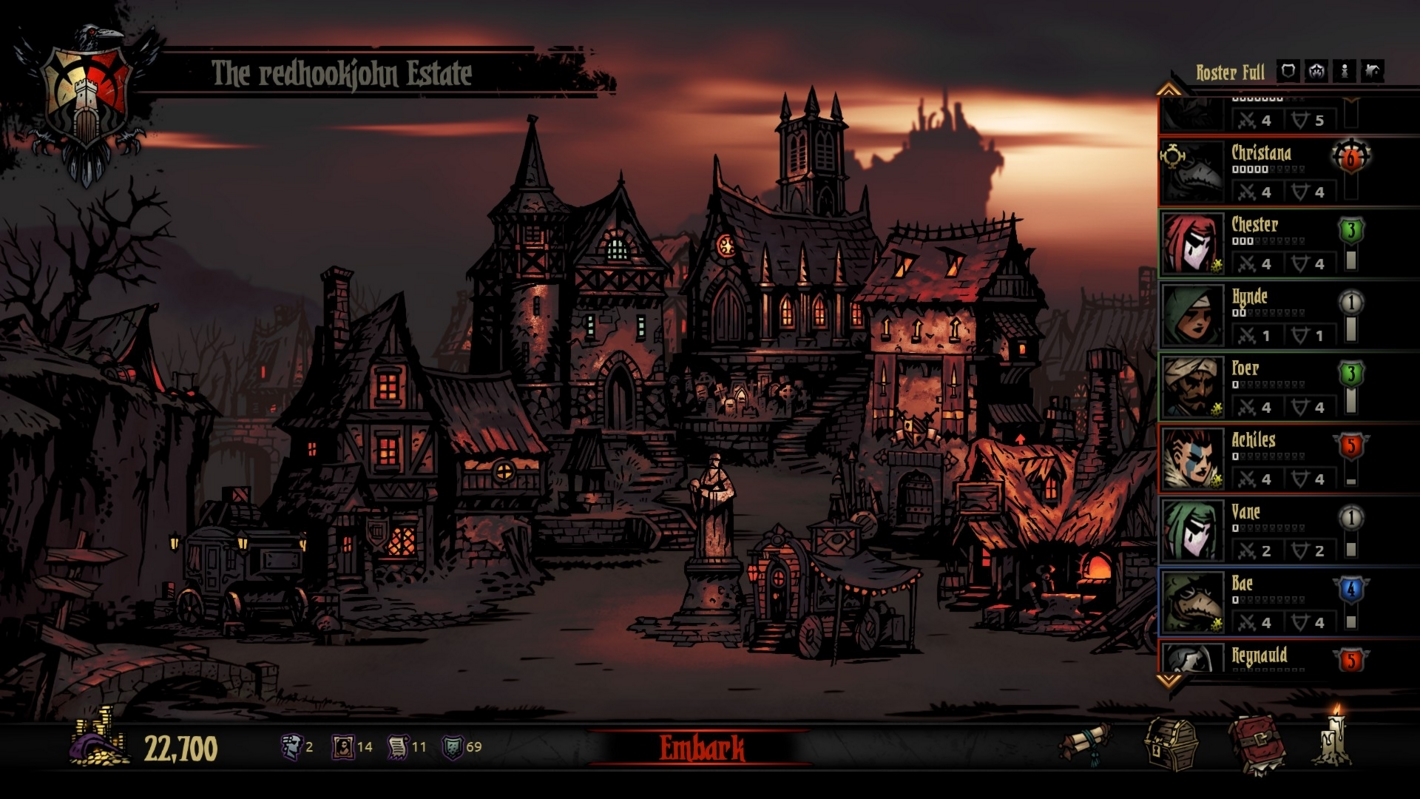 Gameplay in Darkest Dungeon involves taking parties of four characters into dungeons to find treasure and rid the estate of the nightmare creatures residing inside. There are several, very interesting classes to choose from. These include Highwaymen, Crusaders, Cultists, Jesters, Grave Robbers, and even Lepers. Each class has its own set of skills that can be used in and out of battle to help your dungeoneers survive. These characters are hired at the Hamlet, you're home base.
In addition to hiring fresh meat for the grinder at the Hamlet, you also can upgrade your heroes' skills, buy entirely new skills for them, upgrade their weapons, pay respects to your fallen heroes, treat diseases, and de-stress your heroes. I'll explain the stress part in a bit. Buildings in the Halmet can be upgraded with Heirlooms, which are special items found inside the dungeons. I found sometimes that coming into possession of enough heirlooms to upgrade certain buildings became incredibly difficult, but maybe that's the point. Darkest Dungeon's middle name is difficult, anyway.
Once you take on a quest, which can range anywhere from "Kill all the bad guys," to "Explore all the rooms," to "Kill the big bad boss," to "Find the things," you can build a party of four from your current roster of heroes. Careful planning must go into creating a good party setup to get the best results. While looking at your heroes' character sheets, you can hover over their skills to see in which positions they must be to use particular skills, and which positions (enemies and allies alike) those skills can be used on. Above your skillset you can see four glowing orbs that tell you which position the particular character is best suited for. The brighter the orb's glow, the higher the recommendation. This is a great help in determining the perfect party setup, and I'm glad it's in here. If it wasn't, setting up parties would take longer than it should.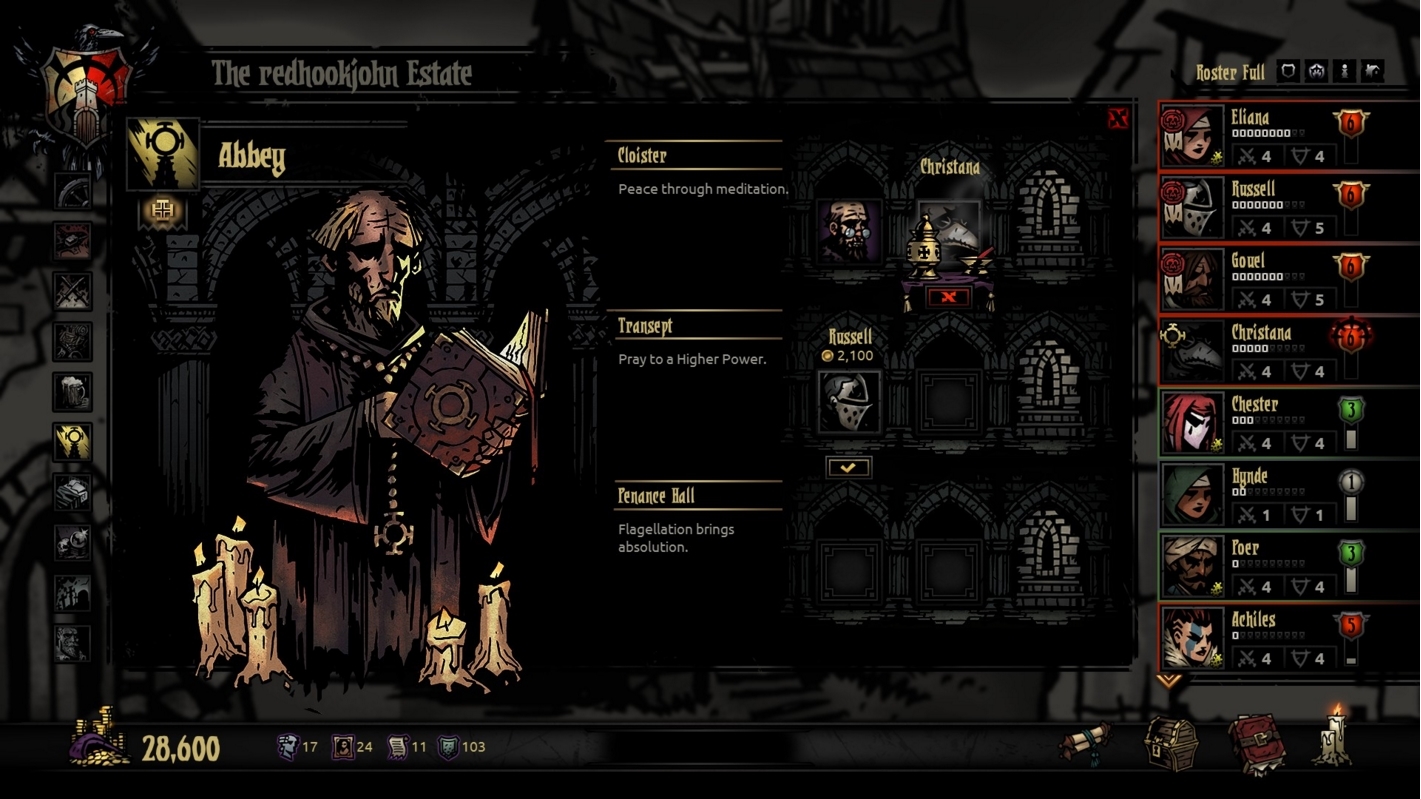 After setting up your party, you must buy supplies. These can include torches, keys, bandages, and food. You won't get all of the money in the world, however, so budgeting is key. You don't want to blow all of your money on one expedition because if you fail, you don't get any rewards. Sure, you could go crazy and stock up on tons of torches, food and other provisions, but that's not money you'll get back. This could result in you having to go on another dungeon run with next to no provisions.
Exploring dungeons is relatively simple, but certainly not easy. Your characters will be lined up single file, and their order can be changed at any point in or out of combat (though doing so in combat is much more difficult). Outside of combat you must explore the various rooms of each randomly generated dungeon. You'll start in a room and will have to use your map to navigate to adjacent rooms. In order to reach each room, your party must traverse small hallways that can contain goodies, traps, and monsters. More often than not it's traps and goodies; monsters are typically in the main rooms. You have to be careful, though, because not all items should be interacted with. You may find some gold in an urn once, but the next time one of your heroes could catch a horrible disease from it.
An interesting mechanic in the game is the torch. There will be a meter at the top of the screen that will slowly decrease, indicating how dim your torch is getting. The dimmer the torch, the darker the dungeon gets. The darker it gets, the more powerful monsters are, the better the loot you get, and the more stressed out your heroes will become. It adds a large risk versus reward factor; though, heck if I was ever manly enough to let it get dark.
Some dungeons will be so large that you'll actually have to camp out. Here you'll be able to eat to recover health and use camping skills with each of your characters. These skills are all different and can boost the party's strength in different ways. For example: one skill can lower a character's stress but increase everyone else's. Some skills can decrease everyone's stress, and some can provide stat boosts. The list goes on.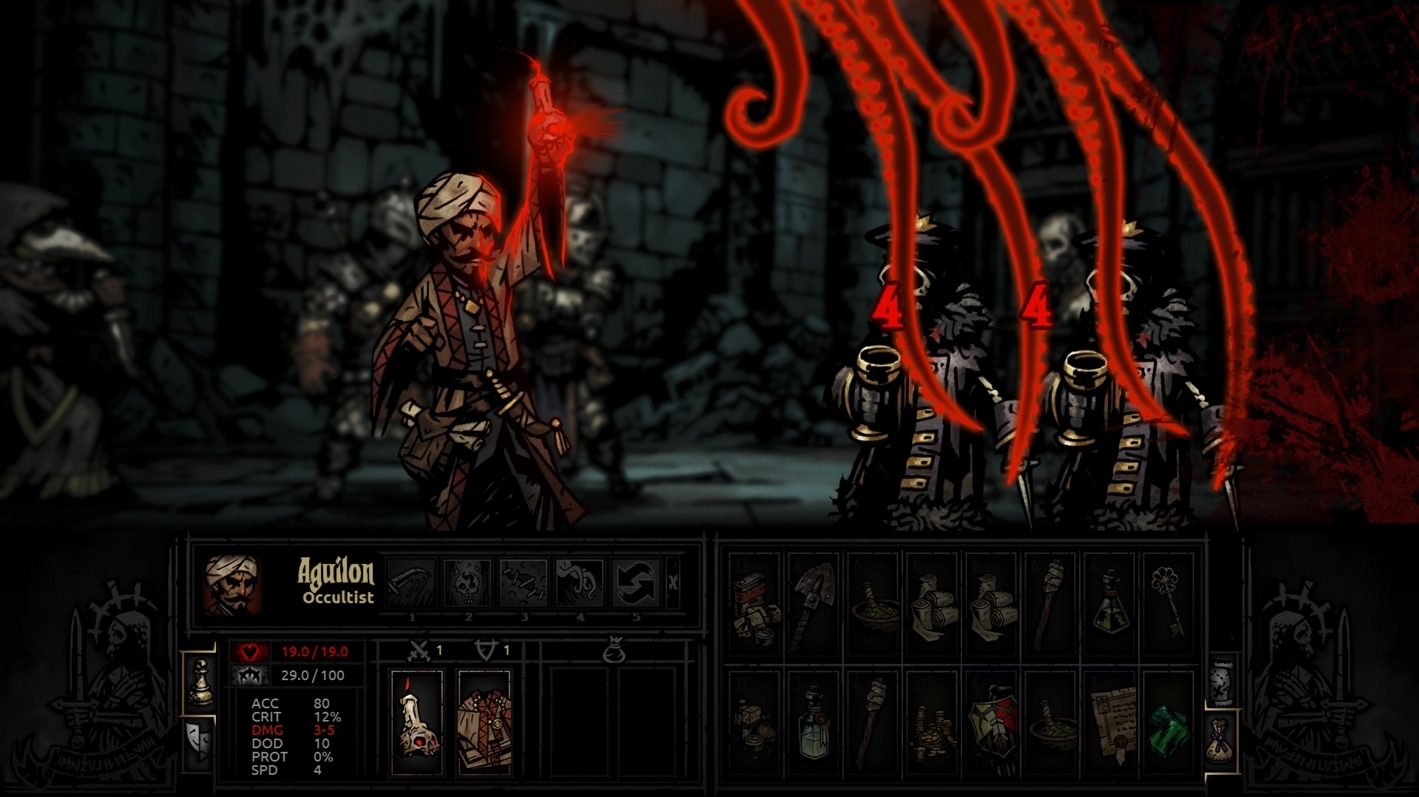 Combat is also very straightforward in Darkest Dungeon. Each hero\enemy will take turns one by one, using their various skills to either buff themselves or hurt their opposition. There are various skills that can cause status effects such as bleeding, blight (basically poison), so on so forth. As I said before, characters can only use certain skills depending on their position the lineup. This adds a lot of strategy in combat when you get things like pushing\pulling spells that can mess up the enemy's party order. This is especially handy for dispatching ranged enemies. On the downside, several enemies can also do this to your party, too.
An interesting mechanic in the game is that when characters lose all of their health, they don't immediately die. Instead they enter "Death's door." From then on if that character doesn't get healed, there's an increasing chance that they will die every time they're attacked by an enemy. This helps a bit with the unforgiving nature of the game, as there are still chances to save your party members from certain death.
My biggest complaint about combat is that there doesn't seem to be much rhyme or reason to turn order. In one round I've had the turns scattered between both parties, and the next round the entire enemy party will take their turns before I can. It doesn't really make much sense. I guess this is to add to the unpredictability of the game, but I found it to be one of the most obnoxious gameplay features.
After every dungeon is completed, you'll be given a reward in gold depending on how many resources you have left, and how many treasure items you found. You'll also be rewarded some heirlooms. You can find heirlooms in the dungeon, but most of the time some will be rewarded simply for completing it. You'll also be given some items that you can give to your heroes. Generally these will give your heroes stat boosts or resistances, but they can also have negative side effects. These items can also be sold at the Hamlet for some extra cash.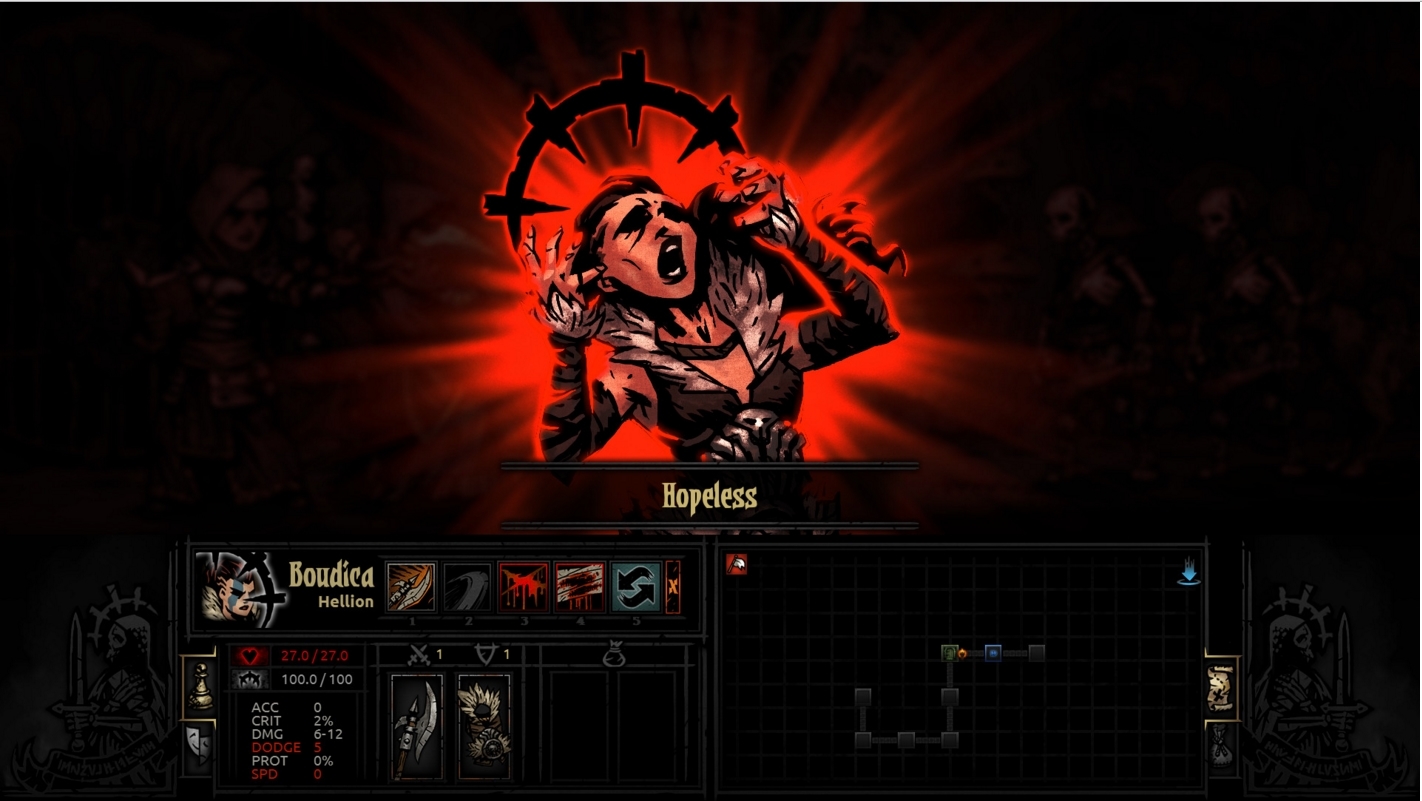 You've probably noticed by now that I've been talking a lot about your characters becoming "Stressed," but I haven't actually explained it. The reason for this is because I feel like this is such a clever mechanic that it should be properly built up before talking about it. Darkest Dungeon's big draw is the stress mechanic. The ironic thing is that the stress mechanic also stresses me out, too. In the game, characters can get, well, stressed. The more stressed they get, the more unstable they become. Stress can be accumulated by various occurrences. Some examples are letting your torch go too dim, enemies scoring critical hits on your heroes, someone dying, someone falling into a trap, no food, etc..
The best way to cure stress is to let your characters partake in various activities in the Hamlet. These include praying to God, gambling, meditating, drinking, having sex (yeah.), and even straight up flagellation. If stress is left unchecked, your characters will literally go crazy and be given a random "Affliction." Some afflictions include abusiveness, selfishness, cowardice, even masochism. These can have a very bad impact on your party for the remainder of the dungeon.
Selfish characters will occasionally run to the front of the party; masochistic characters will hurt themselves and refuse healing; fearful characters will run to the back of the party and refuse to fight; and abusive characters will just insult everyone and stress everyone out even more. If a character continues to gain stress, they can end up having a heart attack and dropping dead. However, while enemies scoring critical strikes on your team increases stress, your team scoring critical strikes on the enemy or simply killing an enemy can heal your stress, so it all balances out. Sometimes characters won't even become afflicted; they'll end up proving resilient and willful and gain positive bonuses. Characters who do this will encourage the other party members and heal their stress, while generally dishing out tons of damage, as well.
Another interesting mechanic in the game is "Quirks." These are small strengths or weaknesses that are personal to each character. One example is kleptomania, which means a character will sometimes steal loot from chests and not let you, the player, have them. Another example is God fearing, which means a character will only heal stress in the Hamlet by praying. Other examples are fear of the undead, fear of darkness, fear of the light, susceptibility to bleeding, etc.. There are also positive quirks like increased speed, higher attack on the first turn of a fight, and resistance to bleeding. These quirks (positive and negative) can be treated in town, though they can become untreatable if left unchecked. This adds a bit more flavor to each character, as they can all be completely different in the smallest of ways.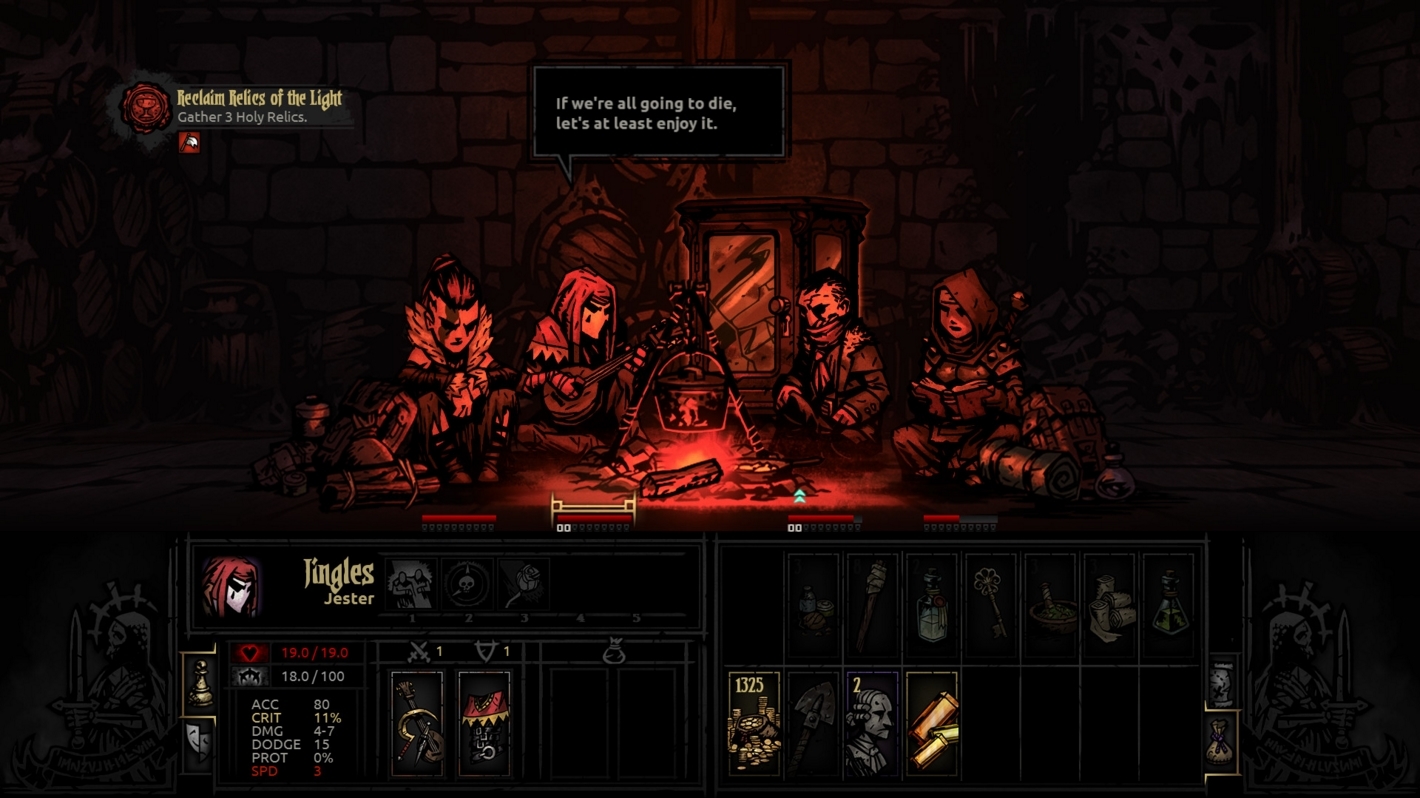 Special praise must be given for the overall presentation in Darkest Dungeon. The music is appropriately depressing; the art style is dark, oppressive, and disturbing; and the narration of your ancestor (the one who was stupid and caused all this crap) is chilling and effective. They truly make the game all that more unique and atmospheric.
Darkest Dungeon prides itself in being a stressful and unforgiving game, but don't be fooled; it's not unfair either. The game will start beating you down from the word "go," but that's the entire point of the game. To give you an idea of just how unforgiving the game is, I almost lost my entire first party on the second quest of the game. It wasn't just for lack of skill in general (which I still lack a great amount of anyway), but also because the game is not one that will hold your hand for longer than the time it takes to read 4-5 short tutorial popups. It's built to be ridiculously challenging, but in such a way that careful thinking, conservation of resources, and maybe even a little sacrifice can bring you out on top. I can't think of many times when I felt like I had died simply because the game had screwed me out of victory. You'll have horrible luck, for sure, and you'll make some horrible decisions, too. However, I never felt like I was in an impossible situation that barred me from continuing my quest.
Darkest Dungeon is a game with a ludicrously steep learning curve, but it's a rewarding learning curve. It is definitely not a game for everyone because of how harrowing it is, but if you can manage to get through that, you're in for a good time. You just have to get used to the fact that things definitely won't go your way 90% of the time, and people will die. Save-scumming is out of the question, too, as everything is autosaved. If you quit in the middle of a battle, you'll end up on the exact same turn of the same battle the next time you load. There's no cheating the system, and I'm glad for that. It's a bit like XCOM in the fact that you just have to come to grips with death. And that's a tough thing to accomplish, as many of us become attached to our in-game characters. As the saying goes: What hurts you can only make you stronger.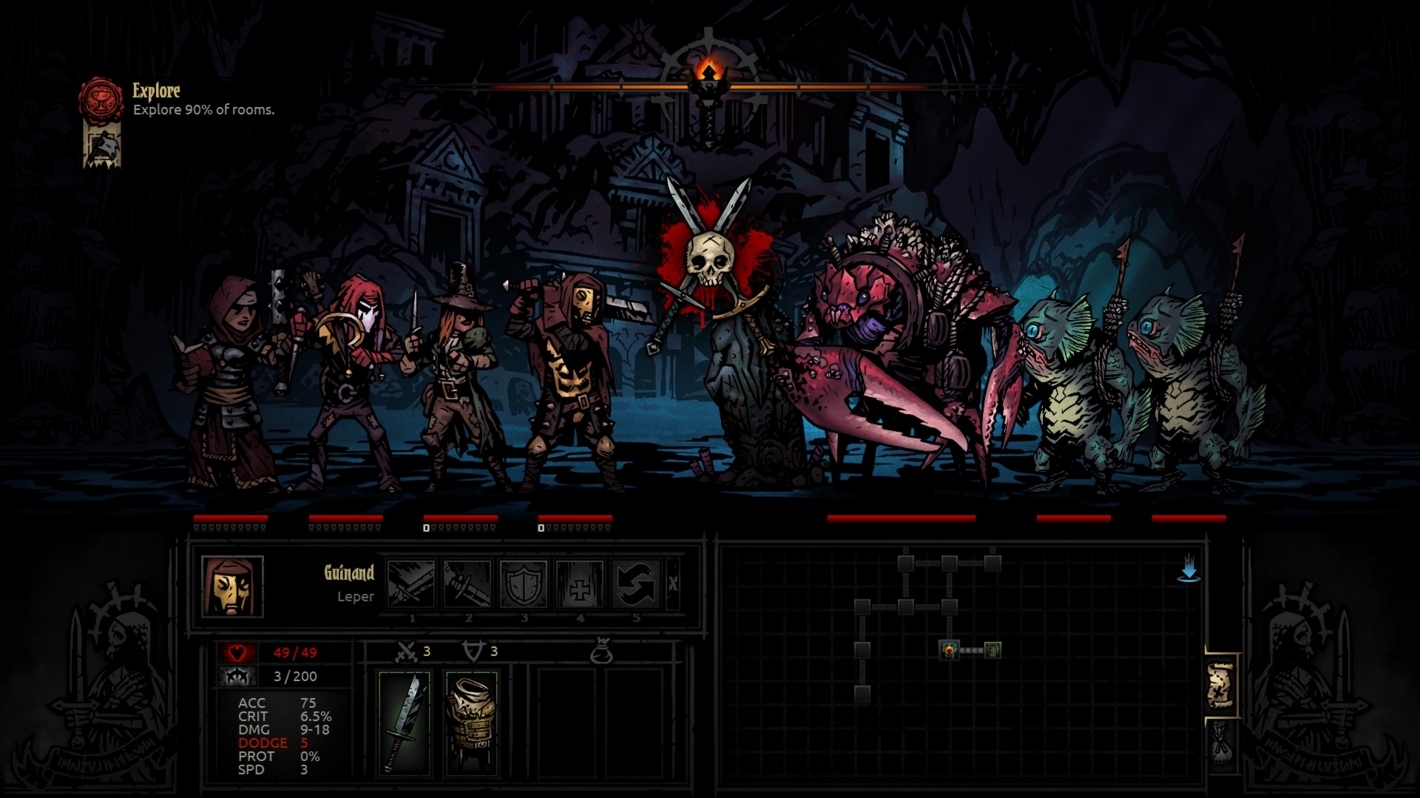 So in conclusion, Darkest Dungeon is a hard, hard, hard game. But it's hard in a good way–a way that allows for you to overcome adversity with determination, strategy, and sometimes a bit of luck. It's just so difficult to recommend due to that exact reason. Its difficulty could easily turn a lot of people away. It almost turned me away; I didn't really enjoy it at first because of the difficulty. However, once I understood how to play effectively… Well, I still sucked at it, but it was more rewarding when I did claim victory.
A good example of this would be when I crawled through a dungeon for 20 minutes to find the first boss. Everyone in my party had gone insane except my lone Hellion; her resolve had been tested and she proved to be strong in the end. While everyone was going nutso around her, she kept fighting. Eventually everyone died except that Hellion, and she was left to fight alone. I came within inches of defeating the boss before she died. Typically I'd be furious at a situation like this, but it actually encouraged me. It encouraged me to fight harder, and it made me realize that, even in the midst of tremendous defeat, I nearly won because of one character. I realized that if I could come that far with one measly character, I could defeat that boss sometime, somehow.
Darkest Dungeon is a game I intend to play a lot more, and I hope it gets content updates or DLC along the line. If you're a glutton for punishment or just like roguelikes and Cthulu, I highly recommend it. I, myself, intend to conquer the Darkest Dungeon–at least, as long as it doesn't end up making my hair go gray.
---
A PC copy of Darkest Dungeon was provided by Red Hook Studios for the purpose of this review