Oregon Trail is, I admit, one of the core titles that seem part of the video game consciousness that I simply have not played. Although, rather than having no reason, like usual, I do have one this time. Oregon Trail was an educational title that did the rounds at American schools: a place I didn't go to. Ever. So when Organ Trail hit, it didn't really connect with me as we couldn't bond over a nostalgia I didn't have. Death Road to Canada gave this reference a punt, but excels by bouncing off the past rather than dwelling in the '90s.
Death Road to Canada is an Oregon Trail-inspired road trip simulator, by Rocketcat Games. The zombie outbreak occurs, so you decide that the cold north must be free of the flesh-biting beasties. It's about a 15 day travel, perhaps quicker, or slower, depending on various details. By starting with up to two characters, you venture out into the undead apocalypse.
These two characters can be randomized or, alternatively, custom ones you create and can also save for future playthroughs. Beyond designing how your ugly mug looks, you must pick a Perk and a Trait. Perks determine start out gear and starting skills in a class-style fashion, while Traits more determine starting skills, other miscellaneous aspects (e.g. one makes you die in one bite) and affects your personality type. Another difference between the two is that while Traits stay the same, Perks can be upgraded over multiple playthroughs by doing particular actions (usually upgrading skills in-game).
This system, in practice, is a double-edged sword keen enough to strip flesh like an orange peel. It is not only simple enough to understand, but gives you motivation to play over and over. In addition, there is just so much choice within the two categories. Another fantastic part about building your survivor is that if you're not in the mood to start off with them, they may just appear mid-game as a recruitable team-member.
Where Death Road to Canada becomes awkward is its tendency not to tell you about your stats very clearly. Rather than getting numbers slapped to a category, or even constantly revealed, the game decides to squirrel this vital information away and then display it with awkward face icons when it feels you've earned the right to discover this knowledge. In practice, you'll only find out how good you are at shooting after you've already done so. This also happens when you shoot some cans off a fence (after an hour, already, of shooting zombies in the gameplay), and even then you'll just get "I feel kinda frowny about my pew pew ability."
As you hit the road, your time spent on it will be met with random events, inter-character banter and places to raid. Random events will have you face something happening, and you'll have to pick an option (some Traits unlock more options), with a result possibly occurring from it. If you win or lose, well, you don't know as you're not told much about that either. Meanwhile, the inter-character banter fills in the dead-time every so often, chatting away based on your Perks.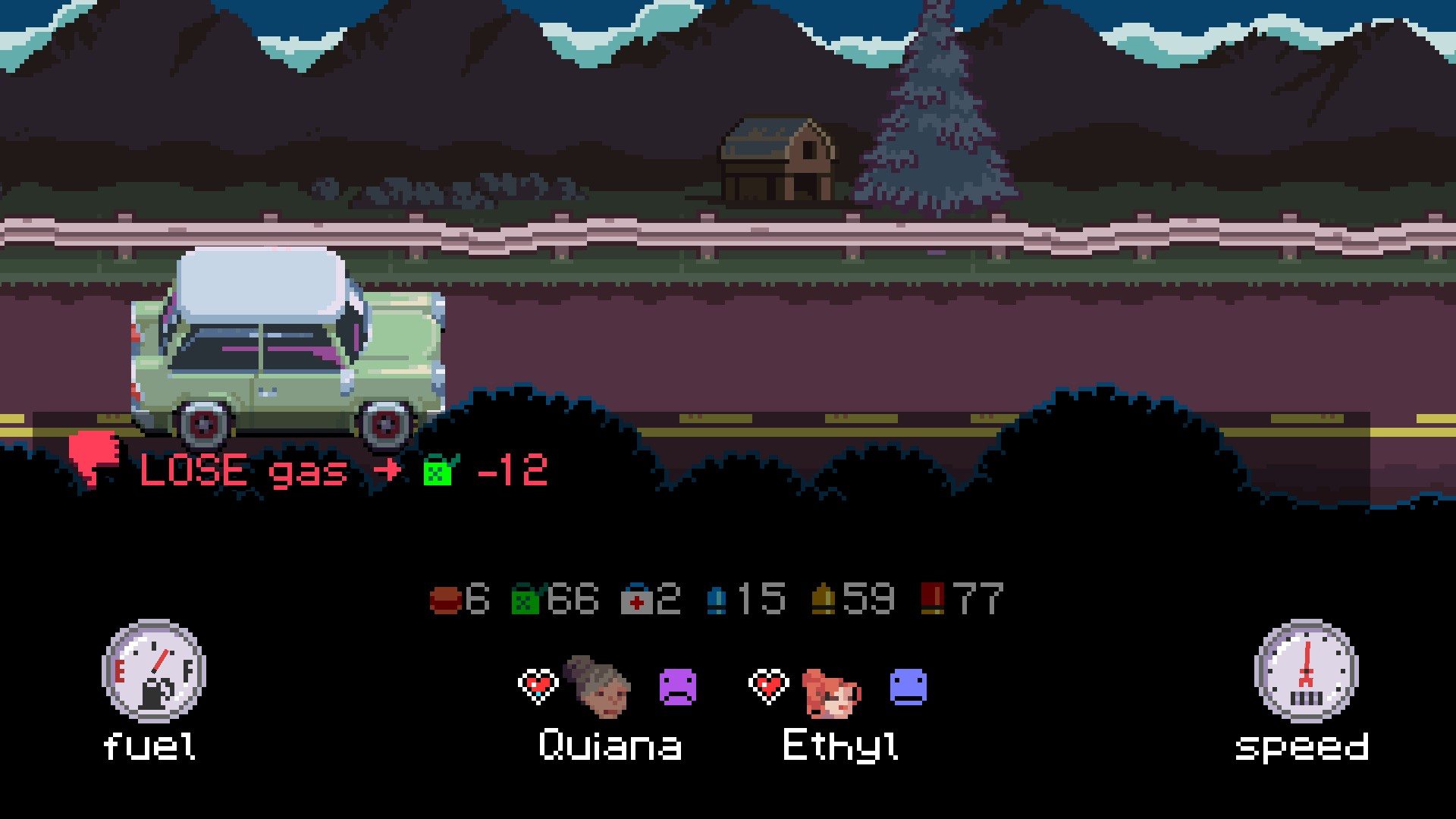 The game is very eager to show off its incredible ability to make sense, yet still retain a very silly sense of humor. Will you buy training so you can throw cars? Sure, but you'll need to pay for it with the valuable currency of food. Will your paranoid character drive others away, or will their ongoing suspicion be able to steer the party away from danger? It makes for an incredible balancing act, creating tension and believability while maintaining a very daft sense of humor about it all.
This rampant silliness ends up being yet another awkward two-edged sword, as part of it comes from how incredibly randomized the game can be. If you'll be swarmed with supplies, or dead in a day, it will depend on if you find enough items as you stroll around the raids and if you're lucky with events. This becomes especially significant when you lose your car as you'll be hemorrhaging all your gear and health hard until you can find a new one (this always happens by the third act). However, this could be seen as making sure your journey isn't considered too easy through good fortune. When this game isn't frustrating, it continues an odd silliness that's at the core which continues to still generate some gravity. At other times, you feel cheated out of a victory through a string of foul luck.
Usually, I'd be frothing at the mouth, throttling the game for this "lose out of bad luck" nonsense. After all, why invest in a game that denies Canada from you because it doesn't like you? Fortunately, this is where the length of the game comes into it. To reach some sort of end it will take you between half an hour to two hours. Each time you start up again, especially with the various modes that mix up characters, length and difficulty as well as upgradeable Traits, your Death Road to Canada is a new and fresh journey. Despite the short length that may bother some, there is a wealth of replayability in store.
The gameplay allows for two players (sadly, no online though) as you run around a location looting all you can, before dashing back to your car to speed away. Except, it isn't that simple, is it?
For starters, said car probably will not start up straight away. That is assuming all your companions have dashed in. So you're bashing on the ignition as zombies bang on your car, breaking it bit by bit, before you speed away through the thick horde, creating a red paste in your wake. Then there's the fact that sometimes it isn't as simple as a mere loot-n-run. Sometimes you have to find an exit in a maze or you may need to hold out until you're told you can leave, or maybe just dash to the other end of a linear map to where a new car to steal lies.
Then there's how each place you raid may offer more or less of a particular item, sometimes requiring you to drive on to find a place that suits your needs more. This costs petrol. Then when you do arrive, it is completely randomized as you stumble around streets and buildings full of zombies and doors, trying to loot all you can.
It probably sounds incredibly stressful, especially considering AI partners. The reality is, due to the simplicity of the gameplay and surprisingly savvy AI (besides some bugging out swapping weapons), it is a pleasant time and a breeze to go into the zombie apocalypse without a friend to control someone with. This is made more pleasant by the fact that you don't take damage straight away, only if you're next to a zombie for too long, giving you a moment to shuffle off or to crack their skull in. This is counter-balanced by your gun's firing rate and your stamina (as you swing melee weapons slowly when tired). What could have been a tedious part of the title instead makes for a fun silly romp caving zombies in without overstaying your welcome and dying.
I only have one criticism of the gameplay: sadly, it is the lack of information still. Too many times weapons suddenly broke, with me being unaware that the specific weapon could even do that or what its health might be. In addition, I was never quite sure how much health my companions or I had. Someone would get bitten and they'd suddenly collapse from that.
The final score of Death Road to Canada is an 8.5 out of 10. The more I stumbled into these random streets of death, the more I was oddly reminded of a rogue-like game that had a distinct pick-up-and-play angle. It less reminded me of Oregon Trail (or Organ Trail) and more of FTL. Sure, the gameplay was radically different, and the tone was more serious there, but the sensation of wanting to pick-up-and-play during a down-time moment lingered with me. There was an end goal to reach but, like life generally, it was never about that. Death Road to Canada, in all its madhat nonsense, is about the road and the tales created upon it.