So, is everyone excited about a Fallout 4 reveal this E3? I sure am. Sadly, it isn't happening, probably because Bethesda's big reveal at their E3 event will most likely be the "highly anticipated" Doom 4.
I'm sure everyone's excited about the new Doom right?! Everyone loves mindless violence and intense FPS game-play, after all.
For so long, we've been plighted with countless military shooters – Duke Nukem's failure of a return and the absence of Half Life 3, to name a few. Gamers have been left in need of some good 'ole, hardcore FPS brutality. With Doom on the way, we'll get just that. From the looks of things, though, everyone wants to play Fallout 4 or Dishonored 2…or even another Wolfenstein game. But do we even care about Doom anymore?
What ever happened to Doom?
Reboots and redesigns are a big thing nowadays just like they were ten years ago. It should follow that id software, the developers of Doom, decided to take their latest title in the franchise, Doom 3 to a new level. Doom 3's approach was to integrate FPS action with intensely engaging survival horror, which sadly split gamers right down the middle. So the id boys went back and thought things through on not only improving Doom but how to make it great once again. After ten years, Quake 4 and RAGE which we didn't ask for, Doom 4 (now called just Doom) is looking to be released some time in the near future.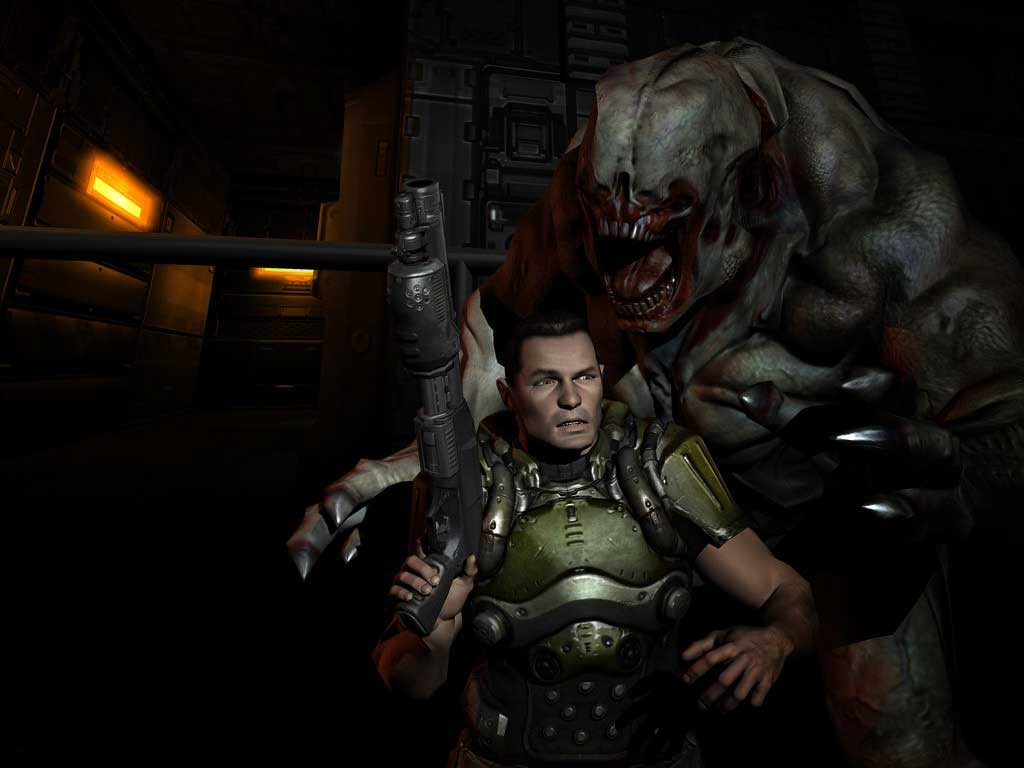 Should we still be interested in Doom?
I guess if you love senseless violence, epic FPS action and sci-fi horror themed narratives, then the answer is yes – we should be interested in Doom. As I should ask fans and newcomers, are you really interested? I gather a large majority would say no and there is good reason for hype, as you can go out and play other games which offer the same experience, like the original Doom.
It would make a nice break from all the military shooters we received over the past decade and having flops and disappointments like RAGE and Wolfenstein. We need a grand experience that exploits FPS nature to the maximum. I ask the question again: Are we still interested?
No. Problem here is that it's been so long in development that the game design has been scraped and redeveloped countless times. Hoping to redefine and make it into a better game – sounds familiar right? Duke Nukem Forever had the same problem along with RAGE too. Redevelopments can work (Borderlands, Dishonored) but most times, they don't. It could be that we're not expecting much from id considering their last game RAGE, was an out dated FPS filled with dull game-play and a bland narrative.
This theory's backed up with Bethesda's odd behaviour on showing us the game or lack of it. Even though id seem to be building Doom, they're just not interested in showing us the fruits of their labor. It's the biggest kept secret in gaming that no one's even (officially) leaked a single image to show off the game. This is worrying, as it could only suggest id aren't confident of their product and fear a Duke Nukem style failure if people's hopes are raised too high. I totally understand. Creating too much hype for a game after so many years is lethal if not executed correctly. Yet from the reaction from those who went to Quake Con last year, it had promise.
Yet, outside of Quake Con, no one else saw it. No pictures, no videos, nothing. This angered a lot of people but also made many come to the conclusion "Do they even care?" and  "Why should we?" id and Bethesda thought to liven up the hype by not showing the game …. kind of the opposite of what you do and thus no one cares. Showing no game-play outside the Con meant we had to read the words of those who saw it and to be frank, reading about brutalising game-play is not the same as seeing it with your own two eyes.
But Bethesda are more than happy to use the name Doom to promote and sell copies of another series id originally created (Wolfenstein: The New Order with Doom beta keys) and to slightly rise the number of attendees at Quake Con. Doom could be classed as nothing more than a marketing tool and not a game. Its like if Valve said "buy our latest game and get an exclusive look at Half Life 3's menu screen".
Gathered from what the good folks at PC gamer have seen, Doom's set to bring back old school FPS fun just like Serious Sam 3, Duke Nukem Forever, and Shadow Warrior. Because they were great games right? No. Sadly the days of pointless FPS violence has lost its place in today's gaming without being backed up by something else to make the experience stronger. Otherwise its a bore. Dynamic game-play and strong narratives help with combat a game becoming a bore too quickly. Two examples I can think of are Ryse: Son of Rome and Wolfenstein. Ryse had the mindless violence which entertained players for a couple of hours, but got repetitive and dull very quickly. Wolfenstein had the same problem but with a strong narrative it made itself more engaging for players to finish the game.
With Doom, many older gamers don't care and most of the younger one are sadly hooked on Call of Duty, as gamers crave for more dynamic and grander experiences. Besides, with mods like Brutal Doom we can experience the blood thirsty and mindless violence we love right now. But from of those who saw the Doom game-play at Quake con, id are simply just making what seems to be Brutal Doom with next gen technology. Its slightly worrying that the godfathers of the FPS are taking ideas. From a mod.
Doom might surprise us at E3, but personally, I think it would be too late by then. The beta which was offered to us last year seems now a thoughtless marketing tactic, considering they have shown us nothing since then. There is no signal of hope to clarify that Doom is in a healthy position, apart from a video seen only by a handful of people. Remember when Gearbox showed us the Alien Colonial Marines "game-play" footage? How do we know that what people saw at Quake Con, wasn't just a big lie. We don't, as people outside the con haven't seen the damn video. Bethesda nor id have gained trust for Doom's future and instead harmed long time fans and new comers to the series.
We don't care for these retro reboots as they offer nothing fulfilling for our time and efforts. Other retro reboots have failed and thus interest for Doom has died down a tremendous amount ready for disappointed. Show us what you have created and people's trust will be gained along with interest. But sadly nothing is offered other than the words "In developed, ready when its done" on a Wikipedia page. Duke Nukem Forever did that too. Thankfully we have brutal Doom for the hardcore fans and many others are more interested in Fallout 4. But if Doom shows up instead of Fallout 4…I guessing a few people might be pretty pissed at Bethesda.
I understand many love the series and I highly respect that because I've been there. I love Duke Nukem and Forever was shameful. But ask yourself, "Does id or Bethesda really respect you, the loyal fan?" I doubt it, but I hope when Doom comes out, it will be a damn sight better than the recent Call of Duty games we've had in the past five years. Those are my thoughts but what do you think? Do you still care about Doom. Do you even know what Doom is? Let us know in the comments below.