Cyberpunk 2077 is one of the most talked about games announced this year. The release was delayed because of the global pandemics, but it finally happened. The other fresh news about the game claims that new character customization features allow players to edit every trait of the hero, including genitals. Are there more impressive things waiting for us in Cyberpunk 2077? 
Well, gamblers must be interested in a Cyberpunk casino. There are reasons to suggest its appearance since numerous modern titles feature mini gambling games. For example, The Witcher 3 has a dice game, while Red Dead Redemption includes a whole range of entertainments, like poker, darts, and five-finger fillet. All of them allow players to earn some in-game cash, which breaks the monotony of the habitual quest-based character development. The atmosphere of Cyberpunk 2077 is just perfect for night city gambling, so let's speculate on this topic a bit! 
If you're looking for the largest range of league of legends accounts for sale then you have to visit this site https://www.unrankedsmurfs.com/. They have hundreds of lol accounts with rare skins for sale, as well as plenty of lol smurf accounts for various regions. If you want to buy a league of legends account for your friends to play on the rift then be sure to check out their account store. With hundreds of level 30 League of Legends accounts for sale, there is no better place to buy your LoL accounts online than Unranked Smurfs with its excellent buyer protections and payment security, as well as full account information provided with every order.
Dice
Dice can brighten Cyberpunk as well as they do in The Witcher 3 and Red Dead Redemption. This game is simple and randomized, which makes the playing process pretty thrilling. Not only the developers may include literal dice in the game – when you throw cubes and get the results – but also they can use that principle as an element of the gameplay. In some games, dice decide the power of your strike and level of your luck in a battle.     
Poker
Usually, gambling in video games allows players to have some rest and switch to another activity, which is especially delightful in the titles with energetic gameplay. Such sessions pull you out from a high-pressure environment and provide sweet minutes of distraction. While poker or online poker is a pretty complicated game to play, it might be calming when compared to Cyberpunk missions. Also, the aesthetic side is impressive! Just imagine the main hero of the game walking into a nightclub and taking his seat at the poker table. Considering his lifestyle, this would look especially cool and tough.   
Slot Machines
Slots are not the most thrilling of all casino video games, but it would be interesting to see them in Cyberpunk. Even the best paying online pokies in Australia can be hardly compared to them since the game developers and designers have an incredible imagination. Just think about the slots of the future they could create! Fantastic!  
Blackjack
Blackjack at พนันออนไลน์ might be a perfect small gambling game to help players earn money and use it to get equipment and other features. Being simple and engaging, this card entertainment can be extremely useful. For example, we have already seen this decision in Fallout: the credits and cash earned by gamers can be used elsewhere in the game. This is an easy way to boost your character without completing brain-wracking and challenging quests.   
Sport Events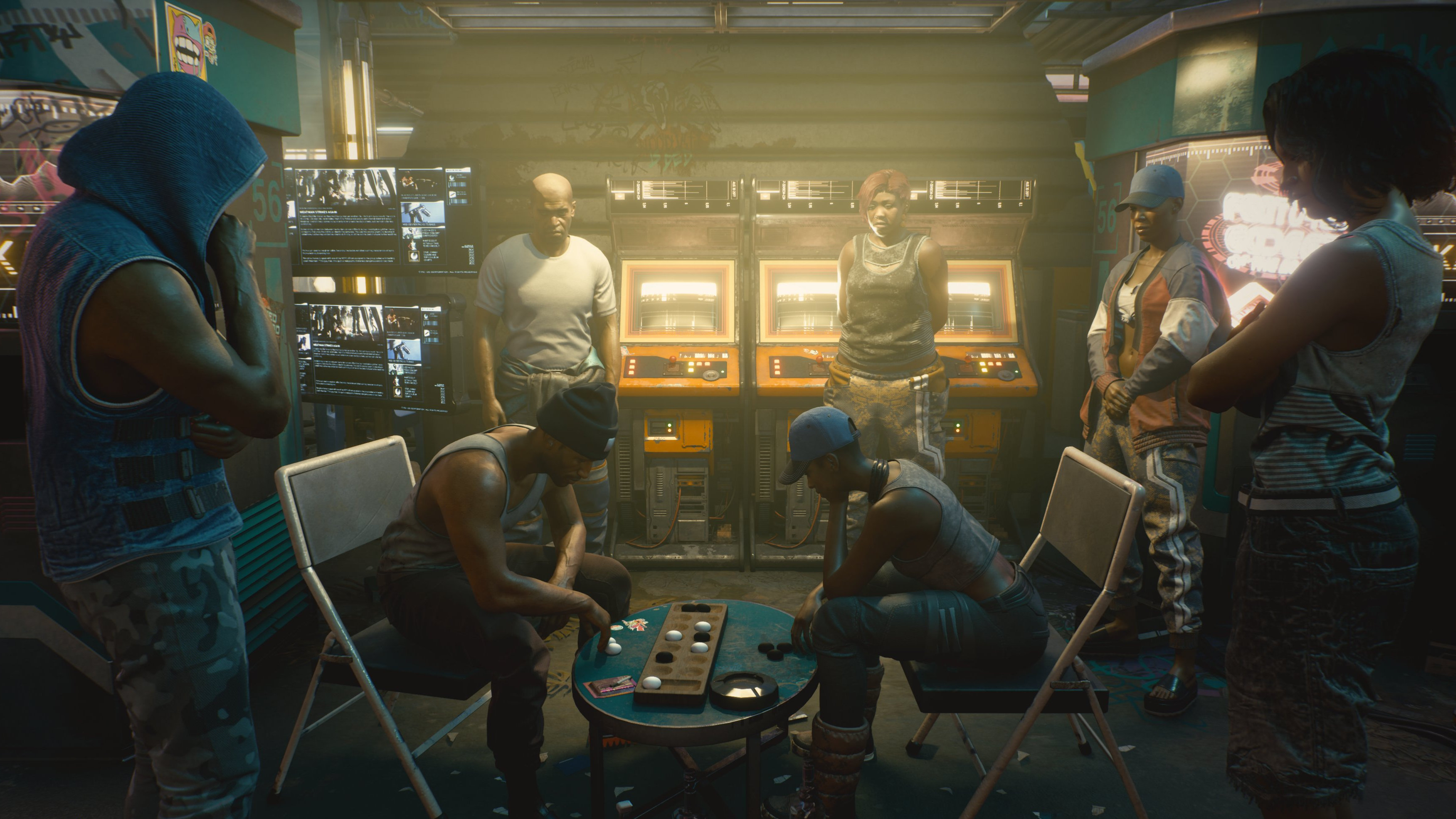 There is a well-known conspiracy theory about the future of horse races, soccer, and other betting sports. It suggests that modern VR technologies are advanced enough to simulate the events and make the picture look 100% realistic. It's more than another form of casino concept art, but a huge fake and a probable future of gambling. It would be interesting to see Cyberpunk developers using this myth to show the artificiality of the digital world.  
Conclusion
All of us like fantasizing about the upcoming games, especially when it comes to huge hits like Cyberpunk 2077. This game could support the tradition of other popular titles, where gamers already enjoy dice and poker because gambling fits Cyberpunk like nothing else. Mini-games can supplement the atmosphere and even develop some conspiracy myths about the future to make the plot more disturbing. In addition, small card games can be a great source of cash and an easy way to earn some points for equipment and weapons. It's not clear whether the developers will add gambling, but we hope they share our excitement! 
Author's Bio:
Susan Wallace is a professional writer fond of computer games. She likes to play and review old-school and fresh titles, searching for some interesting features and narrative ideas there. For example, Susan is currently working on a large article that covers the theme of freedom in GTA 4.
This article contains sponsored links.