Papa Louie's restaurant empire has come a long, long way. From Papa's Pizzeria to his Wingeria and Hot Doggeria, the inventive diners have entertained millions of players. In these games, you work at the restaurant for tips. Thankfully, most job tasks are fun and rewarding. We've enjoyed an entire decade of Papa Louie games, and Papa's Sushiria is the best one yet.
The basics in this game are familiar: you are responsible for operating the order, cook, build, and tea stations. Each section presents different challenges. At the first station, you listen to the customer and write their order on a ticket. At the next station, you cook rice and spread it onto nori paper. The build station is where you add fillings and toppings. At the final station, you concoct bubble tea.
We could delve into the details of each station, but exploring is major part of the fun in Papa's Sushiria. There are literally hundreds of ingredients and practically infinite different sushi combinations. Even when working for weeks at Papa's Asian restaurant, you may never encounter the same order twice. Certain customers want basic toppings, while others will request more adventurous spices. As the order taker and chef, your job is to ensure that each patron gets a well-prepared, tasty dish—even if you don't agree with their choice of meats and vegetables!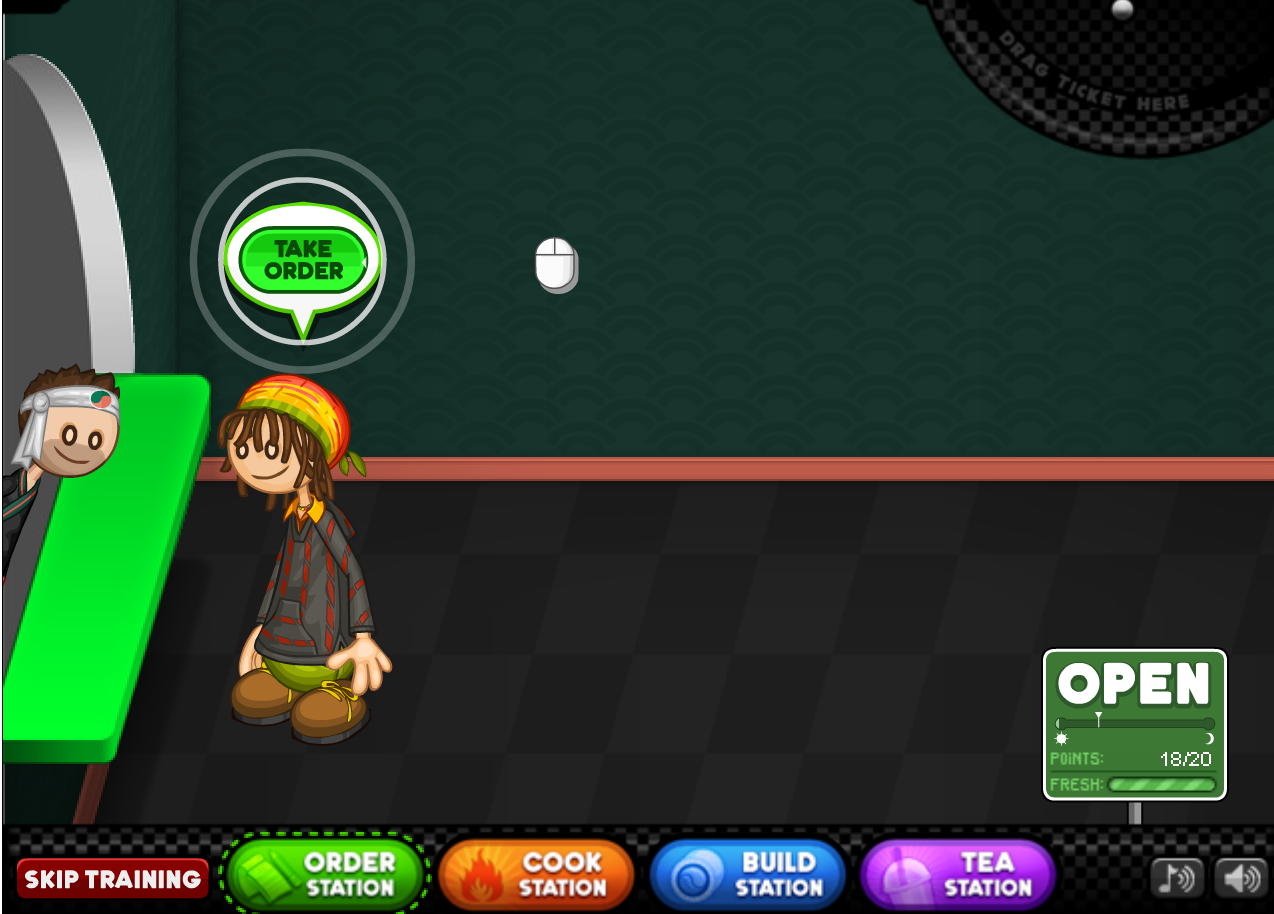 Much like in the real world, restaurant ratings are important. There's no Yelp page for Papa's Sushiria, but each meal you make will be reviewed. If you make a small mistake when preparing a sushi roll, you might lose a few points. Less points generally means less tip money. If you mess up too many steps, you won't make any cash at all! Thus, paying attention during on-the-job training is essential. Throughout the first day of work, you will learn how to cook rice perfectly, spread toppings evenly, and make a delicious cup of bubble tea.
Papa's Sushiria is jam-packed with extras. There are nearly 100 stickers to collect by completing achievements in the game. The challenges vary widely, from unlocking holiday toppings to mastering special recipes. On a related note, the in-game cookbook is the perfect place to follow recipes and learn about each ingredient. Chefs can sort items alphabetically or separate them by category. Another type of inventory is the customer database. After serving a customer, they will be added to your list. You can learn about their first visit, favorite holiday, and other unique traits.
In addition to all of the above, there's a handful of mini-games in Papa's Sushiria. After a successful day on the job, Foodini will invite you to play. The mystical showman offers prizes and bonus items for winning his games. Home Run Derby and Rico's Chiliworks are just a couple examples of the mini-games you can play. Win some new furniture for your restaurant, and watch as customers enjoy it the next day.
Papa's Sushiria offers an all-encompassing restaurant experience. Work, play, and win in the best restaurant management game we've ever seen.
This article contains sponsored links.