I admittedly had little to no prior knowledge of either the Neptunia or Senran Kagura franchises before delving into Neptunia X Senran Kagura: Ninja Wars. However, when I found out the two franchises would develop an unlikely crossover game, I jumped at the opportunity to play it and kill two birds with one stone.
Ninja War Tales
Neptunia X Senran Kagura: Ninja Wars takes place in the illusory dimension, an unlikely alternate universe where characters from both series exist in the same universe. These two groups exist in two similar but different fighting schools, the Compa and the Honeypa. We are told the two groups have also been fighting for years, yet we get the sense that a friendship between the two sets has been blossoming with each bout. That's why when unusual invaders known as the Steeme Legion and their leader Yoh Gamer (yup) appears, it's no surprise the two groups quickly bound together to stop their mutual enemy thereby starting the Super Ninja War.
I found the game's narrative to be genuinely entertaining from the get-go, primarily due to protagonist Neptune and her often unconventional dialogue. You'll often see her break the fourth wall by making meta-commentary about all sorts of fiction, including the game itself. The interactions between the Honeypa ninjas and the goddesses were also one of the game's major highlights. Conversations transitioned naturally between arguments and discussion making it feel like you're in a room with a group of bantering friends, which made it all the more fun to watch these endearing characters. However, the general plot itself is admittedly a bit cookie-cutter. While it offers multiple comedic moments, it isn't anything you won't see in another typical anime or video game.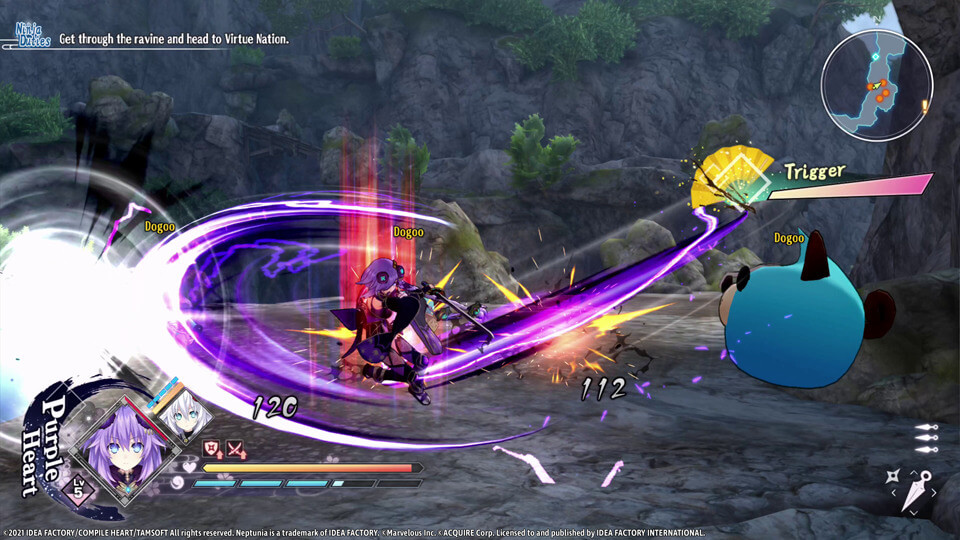 The Art of War
In terms of gameplay and combat, Neptunia X Senran Kagura: Ninja Wars managed to impress me with some of its elements. After completing the prologue and being taught all of the game's basic mechanics, players are presented with a map featuring multiple areas housing missions. These missions typically see characters moving from one location to another, fighting a variety of monsters, armored knights, and eventually, bosses.
Players are given the liberty to choose any two characters in their current roster to go on missions with. These two characters can be swapped during combat on the fly, and as each of them has their own unique set of attacks, no two characters fight the same way. For instance, Neptune uses a single sword to fight, whereas Asuka uses twin swords, and Green Heart uses a staff. Each character also has a range of abilities called Ninja Arts, ranging from high damage attacks to simple but effective buffs. These skills can be easily chained together, resulting in a myriad of fluid combos and devastating attacks.
Additionally, once enough done to enemies and the Trigger gauge has been filled up, players can then perform the character's special ultimate attacks, some of which are admittedly more effective than others and all of which are visually appealing.
Supporting Mechanics
The game also includes an interesting feature called Elemental Battle States, which every character can easily transition into. These states include the Fire style, which dramatically increases attack while lowering defense, and the Mountain style, which makes your character immune to damage when guarding. Then there are items called Spirit Gems which serve as stat upgrades for each playable character as well as general upgrades overall from HP boosts and damage increase to higher drop rates. All these RPG mechanics prove that the game is surprisingly more in-depth than it looks despite being presented in a simplistic manner.
Outside combat, players can return to base to perform various actions such as swapping out characters, purchasing consumable items and Spirit Gems, talking to other characters via the Nin Chat category, or visiting the Komatsu Shrine to accept repetitive side quests. Some quests have some unique attributes but most usually boil down to the same formula of fighting enemy mobs and finding items in a given time.
The Peaches and Cream mini-game also serves as a blatant fan service element where players will see the girls in white bikini style outfits and try to balance them on large peaches using the controller's motion controls. There are several difficulty levels to the mini-game, the hardest of which does provide a bit of challenge despite the mechanic being designed to be eye candy.
Final Thoughts
In terms of visuals, the game incorporates the same character designs from both franchises but blends them with a distinct visual novel aesthetic. The illustrations are noticeably the driving element of the game in terms of visuals, as the in-game graphics are significantly lacking in comparison.
Ultimately, as a game designed for fans of both series, Neptunia X Senran Kagura: Ninja Wars does a great job of catering its elements towards said fans, especially in its narrative. Despite some of its repetitive gameplay elements, it still manages to offer players an entertaining story, endearing characters, and multiple game modes and mechanics. As such, this is a game that will be enjoyed not just by fans, but also by RPG fanatics and endowed anime girl lovers.
Have you played Neptunia X Senran Kagura: Ninja Wars yet? What do you think of our review? Let us know your thoughts in the comments section below.
The Review
Neptunia X Senran Kagura: Ninja Wars
Despite some of its repetitive gameplay elements, Neptunia X Senran Kagura: Ninja Wars still manages to offer players an entertaining story, endearing characters, and multiple game modes and mechanics.
PROS
Engaging Narrative
Fast paced combat
Great illustrations
CONS
Repetitive Sidequests
Repetitive mission structure