The Fallout series has graced gamers with vastly open, war-torn landscapes and engaged players in extreme combat situations, complex survival style gameplay, and intelligent RPG elements. This has been the formula since the games were viewed from a top down perspective. How I can describe Fallout 4 is a lot like how The Elder Scrolls IV: Oblivion progressed to Skyrim: We are introduced to new gameplay concepts and mechanics to create a sleeker and more gripping adventure. Now, I thoroughly enjoyed previous games and was a massive fan of Fallout 3. Granted, Fallout 4 offers the same experience with higher production values — But that's it. It's pretty much the same game as the previous two Fallouts.
The new dynamics can help players become more invested and immersed with the world around them, while others just seem to be there for the sake of it. In many respects, Todd Howard and his team have done a great job at linking new features into the core game and its mechanics, while respecting the themes of the game. Yet, we've seen these mechanics and gameplay styles before in other titles and overall, it feels like an odd mixture so desperately trying to be top dog. It has the same tone, feel, and look as Fallout 3 and New Vegas.
In Fallout 4, you control a voiced protagonist catered to the player's choice of gender, appearance, and skills. In a neat little Pre-war segment, your character will witness the end of the world taking place, forcing them to go underground for the duration of the war. Awakening after 200 years, you find yourself without your baby son, and what pursues next is an epic quest to find him. This is pretty much the reverse of Fallout 3's plot. Now the parent is trying to find the child, just without the build-up or the interesting choices to determine the relationship or your own character. What also made me feel a little disconnected to this narrative was how well your character adjusted to the bleak and broken world. They don't seem at all too effected by the horrors before them and rather cheerfully go about their business. Not to mention how well they use weaponry they've not used before, which is explained with a weak line from a supporting character, saying it's because of "your time in the service."
You'll lose the aspect of feeling as though you are the inside the world since your character speaks, and often does so from a third person camera angle. It's more of a personal observation, but those who enjoy immersing themselves into the role might find this change a little annoying.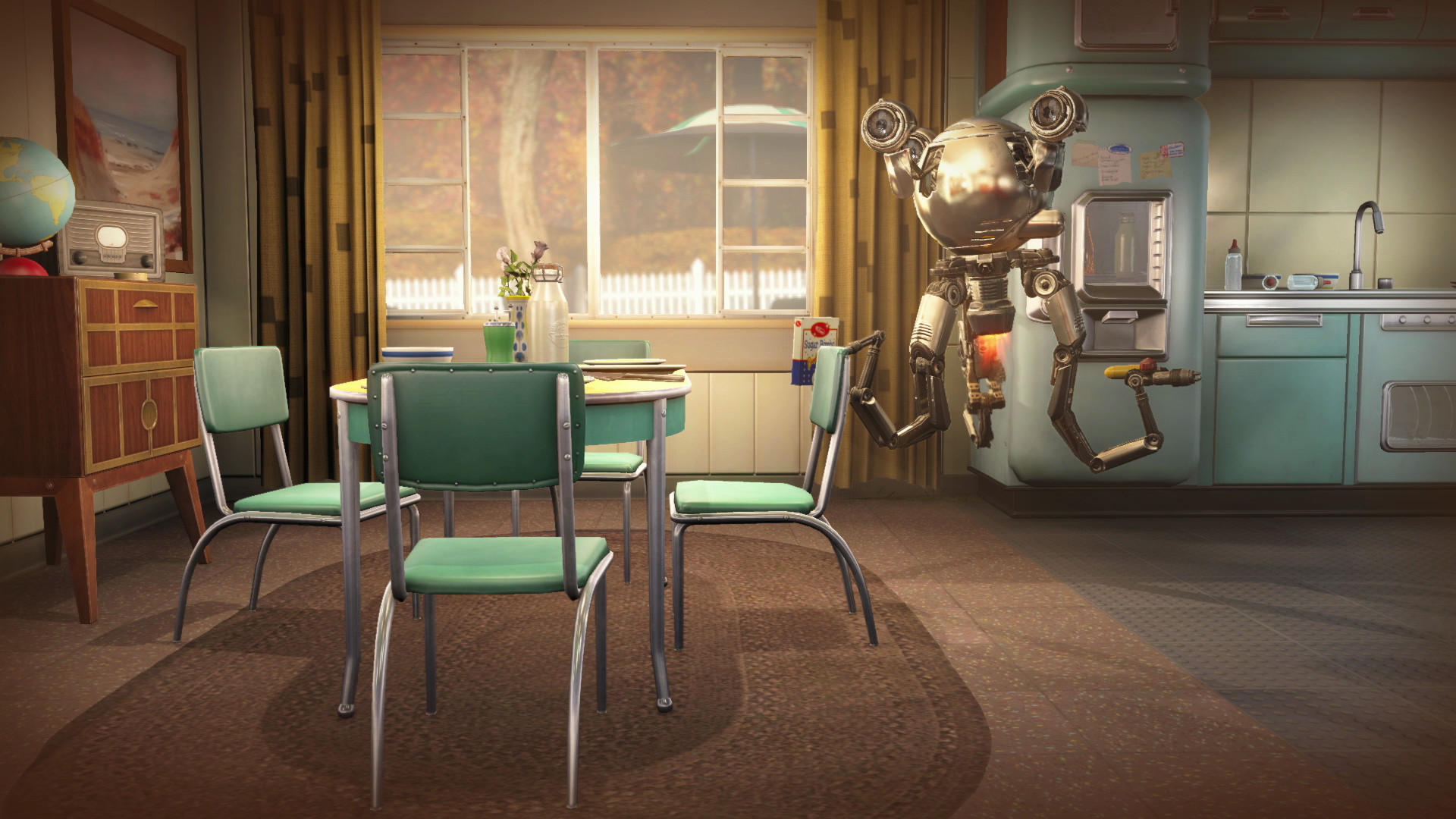 However, many of the side stories, character backgrounds, and of course, the history of the many vaults are the engaging aspects of the narrative. Characters like the mechanised detective, Valentine; Strong, the brutish super mutant; Codsworth, the robot butler; and the headstrong reporter, Piper, can help bring some depth and enjoyment to your journey. The history and the events which take place hold more substance, and each of the Vaults' sinister goals are compelling to discover. The overall plot has little focus, sadly, and being given so much freedom in the game, you'll often forget who or what you're looking for.
What players will expect to see is the same high level of exploration and survival with skill based progression, and even a mixture of tactical/radically insane combat. Among these are new features, like weapon crafting/modifications and building settlements for communities to thrive. Many ideas have been taken straight from Skyrim and implemented here with a degree of success. With all junk having some value, each item can be broken down for parts which in turn will be used for modifications and building. You won't get stuck looking for certain items for hours on end, meaning progression is quicker.
It's a breeze for players to get used to these mechanics, even with the extreme lack of guides or help throughout for settlement building. But thankfully, players can either utilise this settlement building or completely ignore it altogether, as to not drag down those who want to explore with tedious home care. It was nice to take a break from shooting, looting, and exploring to build something meaningful. However, the uninspiring selection of objects to build from and the limited viewpoint for building make this a rather annoying experience at times. There's a strong feeling that the developers — sadly — put this in at the last moment and thought maybe the players will create mods to advance the mechanic, making it much more enjoyable.
Mechanics for shooting have been greatly adjusted to the same level as any other AAA FPS. Players will feel more at ease and more proactive towards using firearms in real time rather than being dependent on the VATs mode, as many were in Fallout 3. Other tweaks now put the VATs mode into slow-motion rather than stopping time altogether. This does, however, remove the RPG feel of making things more turn-based in favor of something action oriented.
As mentioned before, you can use junk to upgrade and customise a huge array of weaponry with great detail. You can change stocks, sights, and extend barrels to vastly improve the impact of the weapon. Yet, this element of customisation and higher level of combat does water down the RPG nature, turning the experience into something more like Borderlands. With these adjustments having a heavy influence on mission objectives, being mostly go here, kill that, rinse and repeat, you feel that part of the original charm has been sacrificed. The "Special" progression seems to be more fitted for the casual gamers, which may upset older fans. But this simpler layout to skill progression helps to relieve new players and those who aren't RPG savvy, making it more comfortable for them to acquire new perks.
One big addition to your arsenal is the power suit. A life long dream for many but something that is, sadly, easily forgotten. I found the suit to be great in bigger encounters, but moving it from point A to point B or even using it just in case I was attacked by a Super Mutant became a chore. In addition, its early introduction into the game felt anti-climatic and left me uninspired to continue using it. Frankly, I forgot it was in the game for the most part, especially since you have companions who help out and can carry a ton of stuff for you.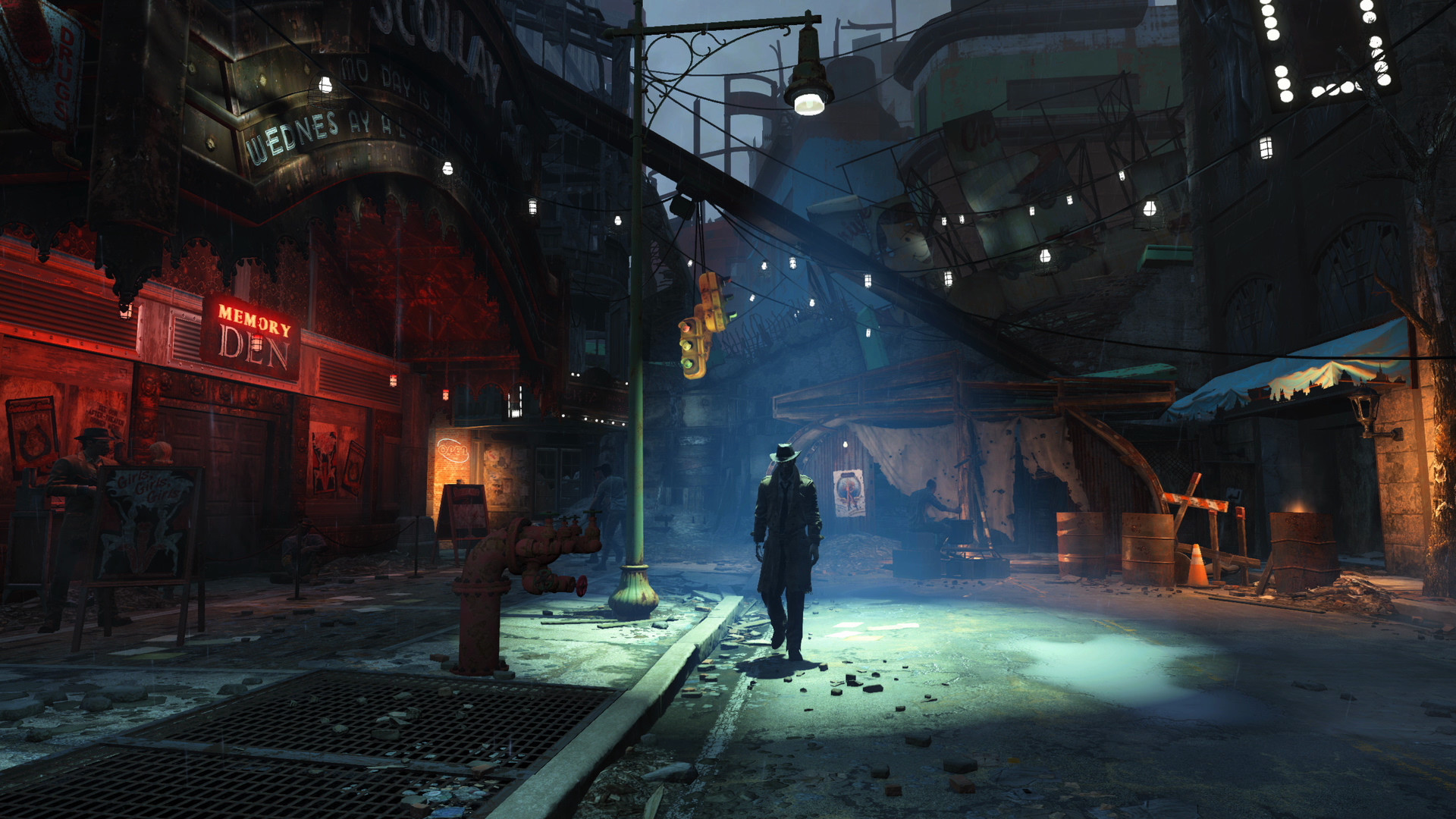 Some tweaks were needed in this game, and I'm pretty disappointed that certain issues weren't addressed; The map and inventory system are still awkward to navigate through. I understand that there's a charm to the map looking slightly retro, but there should be a better way to display a map rather than eye piercing green blobs that hardly resemble what the world looks like. The game does also have a large number bugs and graphical glitches. Mostly, it involves random and bizarre malfunctions with the animations. I also would have liked to have seen more effort into developing better animations for characters in general. What is a plus is the brighter and more vibrant looking game world. The bleak, grey/brown tones of Fallout 3 felt a little too bland in my eyes, and now the world feels more diverse and fascinating to explore — Even if many areas of the game world look horrifically flat and lifeless.
You may get the undisputed feeling that Fallout 4 is trying hard to mimic other games and their mechanics to impress the younger generations and wider audiences. The fairly poor execution with the dialogue wheel was a bad choice ripped from Mass Effect which was not needed. It's confusingly dumbed down, with many of the reactions never differing when you choose different options, even if they're polar opposites. It's another case of Bethesda having implemented a style from another game series for its own benefit, not realising that the format they had created before worked fine and even better.
Fallout 4 feels a little too familiar and like something that's trying to replicate elements from other games to stay ahead of the race, but it feels out of place doing so. We have been presented with the same design again with some tweaks which either bring more of an exciting experience or just don't work. The game mimics others but also waters down the RPG side of things, and older fans will notice the difference in pacing and may end up not liking it. Action has taken more of a direct approach, and the RPG and progression side have become secondary.
With that said, I do have to admit that my time in Fallout 4 has been very enjoyable. I found the reason I love the series: The exploration, the progression, and the obstacles given make for a satisfying and immersive survival experience. At the best times it can be captivating, and the worst moments aren't truly that bad and can, thankfully, be ignored. I found that games such as The Witcher 3 force too much onto the player, pacing everything slower with needless and useless complexities in gameplay and mechanics. Fallout has always had a balance to it, and I've indeed enjoyed my time with this installment.