Everyone has played a Rare game at least once in their life. When Rare Replay was announced, I was delighted to see some of my childhood favourites in the mix. I was also a bit concerned at the presence of some other games because I had heard they were bad, or I had played them when I was young and didn't appreciate them fully. So does this sweet collection of 30 games from our beloved Rare hold up? Is it worth looking back into the past to see what made them so great? Read on and see what Rare Replay has to offer.
Rare introduced some interesting concepts and mechanics to the gaming world in the 80s. However these games do contain typical dated 80s design, which has an overwhelming number of things happening on screen at once, and a lack of guidance or help. To alleviate frustration and save time, Rare has added a handy rewind feature. Whenever you make a mistake or fall to your death (believe me it'll happen), simply press the left trigger to reverse time retry the area you died at. Let's briefly look at each game:
Jet Pac (1983) – Rare's first game; a simple and challenging experience, with some creative design and structure considering its age. It may seem very dated to many, but it's worth checking out how a simple game had such solid design.
Lunar Jetman (1983) – Yet another fairly challenging game due to the amount of things flying at you and lack of instruction. The game, however, is creative in what mechanics it presents, and it shows how they expanded upon what they learned from the previous game. It introduces more of a tactical and dynamic nature to the gameplay with the addition of driving.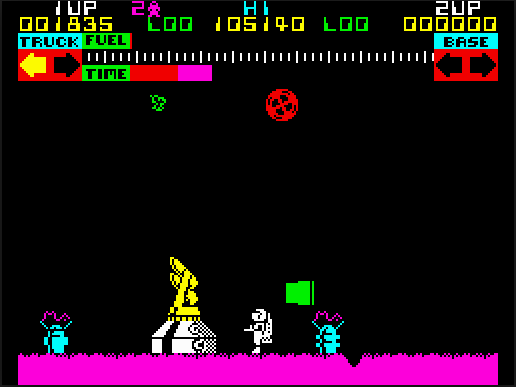 Atic Atac (1983) – An exploration/adventure game that requires some patience. With little information to go on other than "Explore and collect items," it can be confusing at first. Players traverse dozens of rooms filled with puzzles and certain death. Atic Atac is a simple dungeon explorer that holds together well with the exception of some minor graphical glitches causing colors to change randomly.
Sabre Wulf (1984) – Confusing and overly manic with its randomly spawning enemies, Sabre Wulf  has no sense of direction and poor collision detection. You'll frequently get damaged by enemies while simply trying to damage them yourself. Sabre Wulf isn't one of the best titles from Rare — it tries to be Atic Atac but doesn't do the job right.
Underwurlde (1984) – Another not-so engaging game, Underwurlde is played from a sidescrolling perspective but doesn't add much to the genre. It could be compared to Castlevania, but it's much simpler. Underwurlde is a typical 80's game; it's colourful, slightly annoying, and borrows from other games of the time.
Knightlore (1984) – Another adventure-type game, but this one is much better than the previous titles. Players will explore (yet again) a monster and death trap infested dungeon but with an added twist: Every so often, the moon rises, and your character turns into a wolf. Being a wolf appears to give the player a boost in speed and jumping distance. Knightlore has clever ideas with puzzles and traps that will leave you scratching your head, but with its strange camera angle some tasks, it may become difficult.
Gunfright (1986) – From the title alone, you'd expect Gunfright to be a western with jump scares. It's a western at least, but it doesn't make a whole lot of sense. Pretty much everything that moves wants to kill you and you'll easily get lost with no map. However, mixing cowboys and monsters is an interesting idea, and in some respect could have been the inspiration for Red Dead Redemption: Undead Nightmare.
Slalom (1986) – Slalom is one of the best skiing games ever made. It's a visually impressive looking game from the late 80s.  It also has a good dose of simple yet engaging gameplay and progressive challenges that keep you interested.
R.C. Pro-AM (1987) – This simple racing game doesn't have the flare of a Burnout game, but it has a more professional and tactical feel to it. It's a great racer for both petrol heads and casual players.
Cobra Triangle (1989) – Don't let Cobra Triangle's appearance of a boring boat game fool you; it's awesome. Cobra Triangle is a fun, easy to learn game with a lot of challenges and gameplay variations. This is definitely Rare's best game out of the 80s.
Snake: Rattle n' Roll (1990) – Snake: Rattle n' Roll is a quirky top-down adventure game which has players control the head of a snake that must eat to grow so they can progress through levels. Unfortunately the controls are rather difficult to grasp, and the game can be a little irritating.
Solar Jetman (1990) – This is a grand old exploration game with great puzzle elements added in. It's trial and error gameplay and awkward controls may infuriate some, but it's pleasing to the eyes and will provide a healthy challenge for any sci-fi geek.
Digger: T-Rock (1990) – Digger: T-Rock is an interesting adventure game that differs from the rest. You play as a young boy who digs for treasure and adventure; he goes deeper and deeper to explore various caverns. The game is filled with some great level design, a variety of puzzles, and many interesting obstacles to overcome. Digger: T-Rock was surely one of the most inventive games made by Rare. It's a shame no sequel was made.
Battletoads (1991) – Battletoads is a great beat'em up that introduces some funky visuals and strong, energetic gameplay with creative levels and boss battles. Whether you play single player or co-op, this game holds strong twenty years on.
R.C. Pro-AM II (1992) – R.C. Pro-AM II takes the original game and improves the formula with better controls and visuals. Unfortunately, it's another example of a sequel from Rare that doesn't do much to evolve the genre or series like Battletoads did.
Super Battletoads/Battletoads Arcade (1994) – Super Battletoads is even better than the original. I enjoyed the first game more in terms of level design and boss battles, but Super Battletoad's combat is even more brutal and well constructed; the game's level design and boss battles are epic. It is also presented with sleeker, more beautiful visuals.
Killer Instinct Gold (1996) – With a great deal of intensity and brutal combat, Killer Instinct Gold presents what we loved most about the series. Even with stiff controls and unnecessary finishing moves, we still have a brilliantly constructed and well thought out fighting game. It was way ahead of Mortal Kombat at the time. Killer Instinct Gold isn't as fluent as its 2013 reboot, but it's still a great game considering its age.
Blast Corps (1997) – Blast Corps is a gloriously over-the-top destruction game that makes little sense but is teeming with brilliance with its gameplay. The game has you blazing through towns, cities, and medieval castles as a bulldozer or a giant robot. It's easy to learn (thanks to the myriad of tutorials) and easy to immerse yourself in. There are more than enough reasons to like this game.
Banjo Kazooie (1998) – Banjo-Kazooie holds to the same style of design as Conker's Bad Fur Day but with a more child friendly nature to it. The game has a great deal of problem solving with a hint of Super Mario 64 included. It's cheerful and fun for children and adults alike with amazing levels and puzzles. There's really nothing bad I can say about this gem from Rare.
Jet Force Gemini (1999) – Jet Force Gemini is a camp space adventure that has some creative ideas, but it has many clichés that should have been left out. It's a fun, action packed sci-fi adventure — even if it does have painful controls and subpar graphics compared to previous Rare games.
Perfect Dark (2000) – Perfect Dark is one of Rare's best games. It has brilliant design, intense combat, and a dynamic objective system that increases replayability. The game is easy to immerse yourself into and made a great transition to Xbox One. Dare I say, it's better than 007 Goldeneye (cue fan hatred).
Banjo-Tooie (2000) – Banjo-Tooie is just as good as the first game; It has the same great level of design and creativity. It's another great game that made a great transition to the Xbox One.
Conker's Bad Fur Day (2001) – Conker's Bad Fur day is a fun filled adventure with strong level design, a great sense of humor, fun puzzle solving elements, and cool boss battles. On a negative note, the game has some very awkward camera angles. Personally, I would of liked to have seen Conker: Live and Reloaded in this compilation as the graphics and controls in that game would have fared better.
The 2000s showed us some great games from Rare, but these games weren't received well by fans and critics alike. After playing the games Rare had developed between 2003 and 2008, I don't see why.
Grabbed by the Ghoulies (2003) – Grabbed by the Ghoulies is a nostalgic feeling haunted house game that introduces some fun and interesting concepts for combat and gameplay. You have to fight off haunted televisions and jump scares that lurk around every corner. The game has gotten a graphical revamp which is easy on the eyes (excluding the pixelated cut scenes). Unfortunately, the game is plagued with clichés such as a damsel in distress and a two dimensional protagonist. It's still a neat title and is worth checking out for a game nobody played; I sure didn't.
Kameo (2005) – Originally a launch title for the Xbox 360, Kameo is a colourful yet brutal fantasy epic that incorporates a few concepts from other Rare titles. Playing as Kameo, you embark on an epic quest to save the world (original, I know). The game has a few interesting twists to gameplay; mainly Kameo's ability to transform herself into different beasts to aide in combat and puzzle solving. The graphics look nice with beautiful environments, characters, and effects. Kameo certainly made a good first impression for the 7th Generation and transitioned well to the 8th.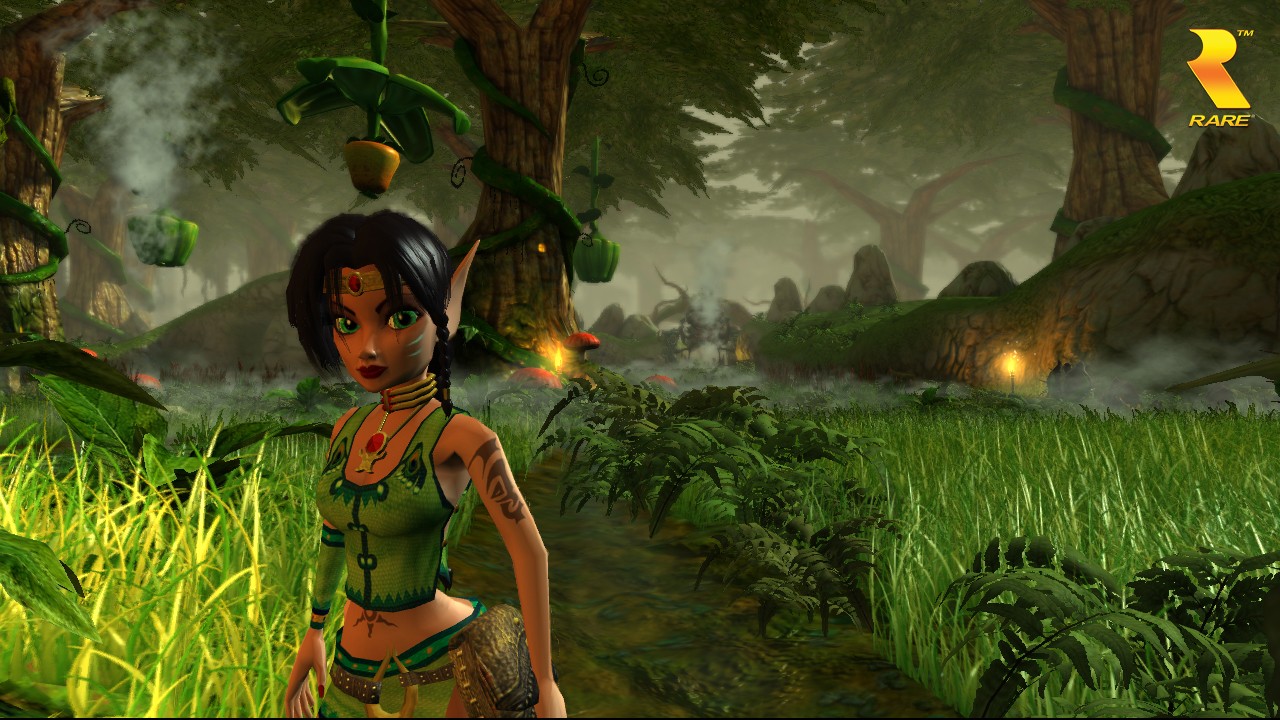 Perfect Dark Zero (2005) – Perfect Dark Zero isn't as bad as I remembered, but it isn't as great as the original either. The game holds to many concepts which made the original Perfect Dark great. In addition, the game has nice graphics and a great soundtrack. Unfortunately, it suffers from a lame story and some framerate issues in certain areas of the game.
Viva Piñata (2006) – Viva Piñata is another one of Rare's best games; the complexity and creativity presented in it is outstanding. Both it and its sequel are worth playing (Though I feel the sequel was unnecessary), but they do take time to understand and master. However, once you do get into the game, it's hard to let go. The game is highly rewarding and glorious to look at (even with one or two flat textures). It takes Sims style gameplay in a new direction.
Jetpac Refuelled (2007) – Jetpac Refuelled is a revamped version of the classic 1983 version that comes with co-op play, tons of levels, and shinier graphics. There's endless fun to be had with this game, especially if you enjoyed the original.
Viva Piñata: Trouble in Paradise (2008) – Viva Piñata: Trouble in Paradise is essentially the same as the original but with co-op play and a better interface design. It falls flat due to not expanding upon gameplay such as controlling the animals or creating larger open spaces.
Banjo-Kazooie: Nuts and Bolts (2008) – Banjo-Kazooie: Nuts and Bolts is a low blow by many, but to me, it's a decent attempt at introducing old school ideas with new twists. The game cashes in on the popularity of games like Grand Theft Auto, and in many respects it does have a lot of creative flare and manages to push this style of gameplay forward. Building your own cars and then using those cars to solve puzzles is pretty cool. It's kind of like how Batman Arkham Knight introduced the Batmobile as a core gameplay element. These aspects are good enough for me, and I can overlook some of the negatives of the game. If you still don't enjoy Nuts and Bolts, you've still got the previous two Banjo games which are fantastic. However, I would still recommend checking this one out.
Rare may have given us a few pointless sequels and some questionably designed games during the 80s, but ultimately, their catalog is solid, creative, and well thought out. They tried new things and did well in a lot of cases but not so well in others. The games were still fun, inventive, and fairly original — more than can be said for today's games.
It was also nice to see the developers' thoughts and memories of the games in unlockable video extras that are awarded for playing games. These were a nice touch, and the presentation of it all is lovable.
I'm happy to play these games again. Framerate issues in some 360 games and graphical glitches with the 80s games aside, most of the games have transferred over well. Even if you don't play all of these games or avoid certain eras, Rare Replay is definitely worth checking out. There are some games I didn't like, but there are also many I loved. I'm sure you'll feel the same way.
---
An Xbox One code for Rare Replay was provided by Microsoft Studios for this review.