Now back in 2007, we had the likes of Stranglehold blasting its way onto consoles, with intense action, goofy set pieces and epic amounts of destruction. Back then another little game was announced called Wet and it looked great. Featuring bad ass melee combat, ridiculous high speed chases where you ride on the tops of cars, and an awesome looking female lead voiced by Buffy and Doll House star Eliza Dushku. What could go wrong? Well, I was heartbroken when it came out in 2009 and here's why.
Wet tells a rather simple tale of blood, revenge and slicing off limbs that feels heavily influenced by Quintin Tarantino's flare and a punk edge for good measure. Imagine Kill Bill but it was directed by The Gallows. We play as Rubi, a hired gun who's taken a job to recover a human heart for her employer, which soon leads to a series of events, betrayals and mayhem featuring plenty of blood, gore and sexy acrobatics that result in death. It's pretty much a good old revenge flick you'd see from the 70's era of Hollywood and Rubi (voiced by the awesome Eliza Dushku) is the Clint Eastwood, man with no name type, except a woman.
There's plenty of charm and wit in the story, with a host of devilish characters, quirky villains and a likable hero who drinks, kills and says f*** you a lot. It's not anything magical in terms of constructive story telling but it does well to pay homage to 70's Grindhouse films. My only gripes are with the tedious level intros which play out as cinema adverts for snacks and the super rushed ending. However part of the ending's fault lies with the manner of the end boss fight.
Not to mention that the visuals, even for 2009 looked dated then. I mean Gears of War, Stranglehold, Shadow Complex and Assassin's Creed all looked much better.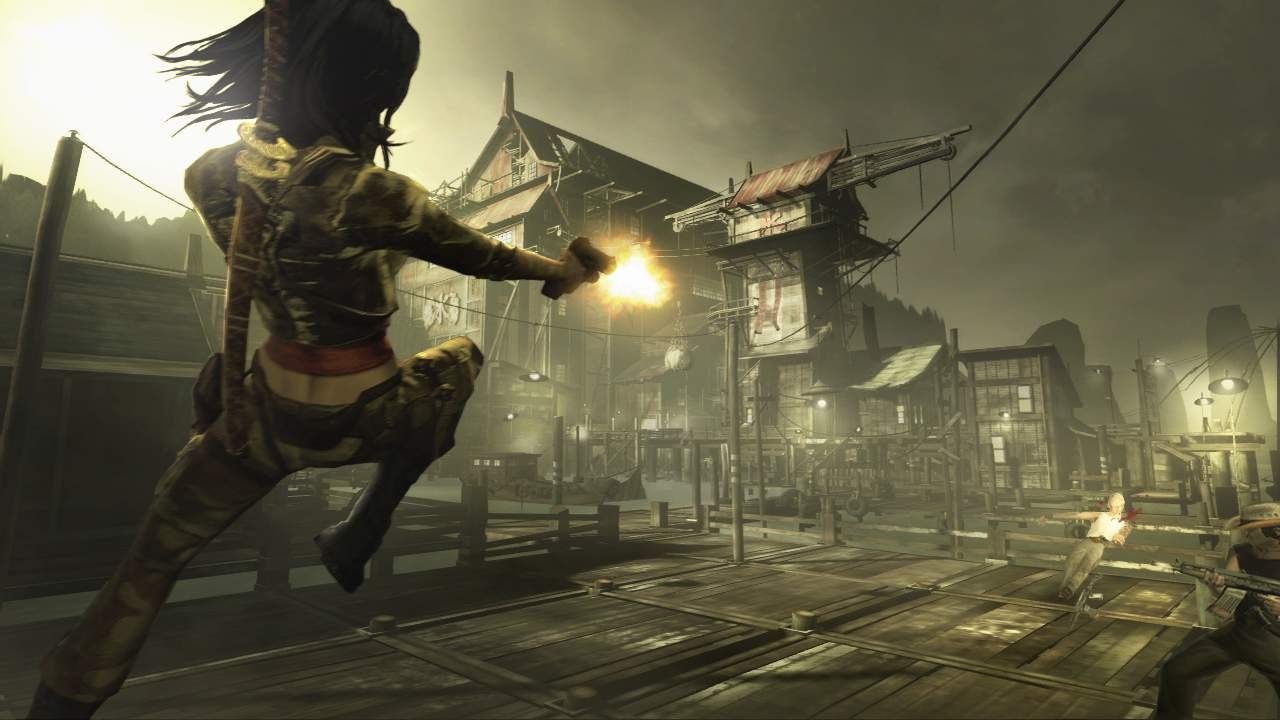 Gameplay in comparison does not hold up as well and it's a shame as there's great potential in Wet. On paper, there are some great ideas including intense gunplay, brutal melee combat, big creative set pieces and a visual to match the insane nature of the game. Levels are usually broken down to simple exploration, platforming and combat with set pieces including high speed chases and arena style hoard mode segments. The high speed chases are very well crafted as Rubi will ride on tops of various cars, jumping from one to the next, while shooting bad guys and dodging massive collisions. There's even a neat little Berserker mode where Rubi will go into a murderous rage and everything goes very noir as the screen turns to black and red as your super powerful character slices and dices.
This all sounds great but there are so many problems. Firstly, the controls are rubbish for everything. Platforming, combat, and movement is like controlling a tank. This is not helped by the awkward camera controls, especially when it comes to Rubi exploring or fighting in small spaces. Secondly, there are way too many quick time events and moments you'll be hammering the X button to open a door. These QTE's annoyingly become the main focus of several boss battles and the last boss results in a lame QTE. It's a shame as there's only one decent boss battle, featuring a murderous punk band where the lead singer has a turret aimed right at you. Other bosses and key events are QTE's and it's super lazy.
Speaking of super lazy, you know those awesome set pieces with the high speed chases, Noir Berserker mode, and arena fights? Yeah, imagine them repeated, over and over and over again with very little differences in them and what feels like copy paste work from the developers who clearly didn't have enough development time. They become a little boring after the fifth time and there's only one other major set piece in the game. Granted it's a neat moment where Rubi jumps out of an exploding plane but other than that … there's very little happening. Except for an annoying mine field segment that works poorly due to the clunky controls.
The game boasts having a soundtrack comprised of indie punk bands which no one has ever heard of and it's a shame the game is disappointing because the sound track is pretty decent. However Wet has a habit of playing the same three songs over and over again, while many of the other entries just don't pop up often enough.
Wet is a sheer disappointment and from what was advertised, you can understand why it hit hard. There were so many great ideas for gameplay and visual style, however it's let down by its tediously repetitive nature, copy-paste development, crude controls and over reliant on QTEs to avoid actual development of gameplay. Shame.