In Returnal, the new exclusive Playstation 5 title developed by Housemarque, you will play the role of a woman named Selene who, in breach of an order received from her superiors, will land on a planet named Atropos. As you will soon discover, the planet populates many creatures. Believe me, they are as bizarre as they are aggressive. The game of the new Sony console offers 31 trophies, including 18 bronze, 5 silver, 7 gold, and the inevitable platinum trophy. Here is my Returnal trophies guide!
How hard is it to get the Returnal Platinum Trophy? If you are a gamer grown up on bread and roguelikes, the undertaking will be quite challenging. If you are not used to this kind of video game, get ready to sweat seven shirts. Less experienced players could take up to 80-100 hours to get the platinum trophy in the Housemarque game.
Taking a first look at the list of trophies, they link most of the achievements to the completion of certain boss fights of the game, while you will unlock others when you perform certain actions or find some collectible items. Before proceeding further, the following Returnal trophies guide contains game plot spoilers! Read on at your own risk.
BRONZE TROPHIES
Cryptic Translations: Unlock all translation tiers of a Xenoglyph. In the course of your adventures on Atropos, you will surely come across Xenoglyphs. These are real monoliths bearing alien inscriptions that at the beginning, of course, you cannot decipher. Occasionally, as you explore the various stages of Returnal's biomes, you will come across ciphers. Here, they are symbols that, if analyzed, will increase your knowledge of the alien language. You will unlock the trophy in question as soon as you can translate a Xenoglyph with an acceptable degree of accuracy. Fortunately, you won't have to find all the ciphers, but you will need four. Fortunately, they marked both xenoglyphs and ciphers widely on the game map. Unfortunately, however, the appearance of these collectibles will be totally random. The only way to get the trophy is to play until you have found everything you need.
Atropian Survival: Learn the basics of survival on Atropos. They link this trophy to the game plot and, therefore, it will not be possible to miss it. The game will assign it to you during the first biome, immediately after you have recovered the sword.
Second Chance: Returned by an artifact. Immediately after you have completed the first sequence in the house, when you find yourself outside it, you cannot fail to notice a luminous object that will attract your attention. This is the "Astronaut Figurine". The moment an enemy kills you, this cute little object will bring you back to life, effectively unlocking the trophy here as well.
Cryptic Messages: Scan a Xenoglyph. To get this trophy, refer to the description of the "Cryptic Translations" trophy.
Trial by Judgement: Defeat Nemesis. To get this trophy, refer to my Returnal Boss Guide.
Surgical Precision: Perform 5 successful Overloads in a row. When you run out of bullets in your magazine, you will see a bar appear. By pressing the R2 button with the right timing, you will perform an overload. This will instantly reload your weapon (practically identical to what happens in Gears of War). Fortunately, you don't need to be in combat to perform this action, just shoot in the air.
Ascension: Defeat Ixion. To get this trophy, refer to my Returnal Boss Guide.
In-Field Training: Complete a daily challenge in Simulation Mode. Over the course of the story, you will automatically unlock a second computer in Helios, your spaceship and respawn location from the first to fourth biomes. All you have to do is interact with it to access the "simulation mode", which is only online. At this point, you will have to accept and complete one of the daily challenges. To do this, you will need to be registered in the PSN to get the trophy in question. These challenges change constantly, so it may require you to beat a boss or just make it to the end of an area. These are completely random challenges, which can be as easy as they are difficult. If you cannot complete a certain challenge, do not feel disheartened. Simply wait until the next day and you can compete with a different one.
Silence the Song: Defeat Hyperion. To get this trophy, refer to my Returnal Boss Guide.
Hardened Shell: Achieve 200% Max Integrity. This trophy will be obtainable immediately after completing the second act of the game storyline. In particular, you will have to collect as many resins as possible, in order to increase your life bar. The advice I have to give you, in this regard, is to dedicate yourself to the trophy in the free roaming phase. Retrace biome by biome, clean all the stages, collect all the healing items, and try not to lose too much health. When your health bar is at its maximum, in fact, all the healing items you collect will increase your health bar. Even some parasites will prove useful to your cause. The maximum you can get is the 300% increase in your health bar, but for this trophy you will only need 200%.
Adrenaline Spike: Achieve maximum Adrenaline Level. The highest level of adrenaline obtainable is level 5, and you will level up for every 3 enemies killed. The moment an enemy hits you, the adrenaline level will reset, and you will have to start all over again. For this very reason, you will have to jump and dodge enemy attacks with the right timing.
Irreversibly Contaminated: Have 5 Parasites simultaneously. Parasites are purple-colored objects that you will come across in the course of your adventure. When you decide to collect one, this creature will attribute positive and other negative effects to you. To get the trophy, you'll need to collect five of them without detaching any from the suit.
Eternal Return: Die for the first time. Don't worry about this Returnal trophy! You'll die a gargantuan number of times.
Alternate Fates: Retrieve 10 Scout Logs. Here we are at a second category of Returnal collectibles. In this case, you will recognize the exploration journals by their white icon on the game map. Also in this case, unfortunately, their position will be completely random, and the only way you will have to collect them all is to play many games. Fortunately, it won't take you long to collect 10 exploratory journals, as there are many more in the game.
Welcome Home: Complete the first House sequence. To get this trophy, refer to the silver trophy "Sins of the Mother".
A Shadow in the Fog: Defeat Phrike. To get this trophy, refer to my Returnal Boss Guide.
Risk Assessment: Finish Calculated Risk. It is not clear how to get this trophy. It will be obtainable by interacting with contaminated objects such as trunks, resins, and blocks of obolites. However, it is not clear whether you will have to interact with the risk of contracting a fault or if it is necessary to purify them with the Ether.
Inner Darkness: Defeat Ophion. To get this trophy, refer to my Returnal Boss Guide.
SILVER TROPHIES
Visions of the Past: Complete a Xeno-archive set. The Xeno-archives are a kind of "archive room", with holograms that, if activated, will explain fragments of the history of the beings that inhabited the planet Atropos. Most of these archives will appear randomly during your runs. You will find them in the rooms marked with the back door icon, in the shape of an inverted "V". However, in the third biome, you will come across a xeno-archive. Unlock and interact with all five holograms and the trophy will be yours.
Adapting to Circumstance: Achieve Weapon Proficiency level 30. Getting this trophy is easier than you can imagine. I advise you to dedicate yourself to it when you complete Act 2, as you will have access to significantly stronger weapons. If you need a method to farm the trophy, I advise you to defeat as many enemies as possible with your weapon and, secondly, to buy from the manufacturers all the items that can increase the rise in competence.
Sins of the Mother: Complete all House sequences. In the course of your explorations, you may come across a house and, inside it, you will have to play 6 sequences. This building will only appear in the first and fourth biomes. To enter the first time, you will need to own the key to the house, which you could find in the surrounding rooms. With the following sequences, however, these will only unlock at certain moments of the game. You will notice this when the lights on the first floor illuminate.
Failed Escape: Finish Act 1. Linked to the game plot and, therefore, it will not be possible to miss it.
Last Drive: Finish Act 2. Linked to the game plot and, therefore, it will not be possible to miss it.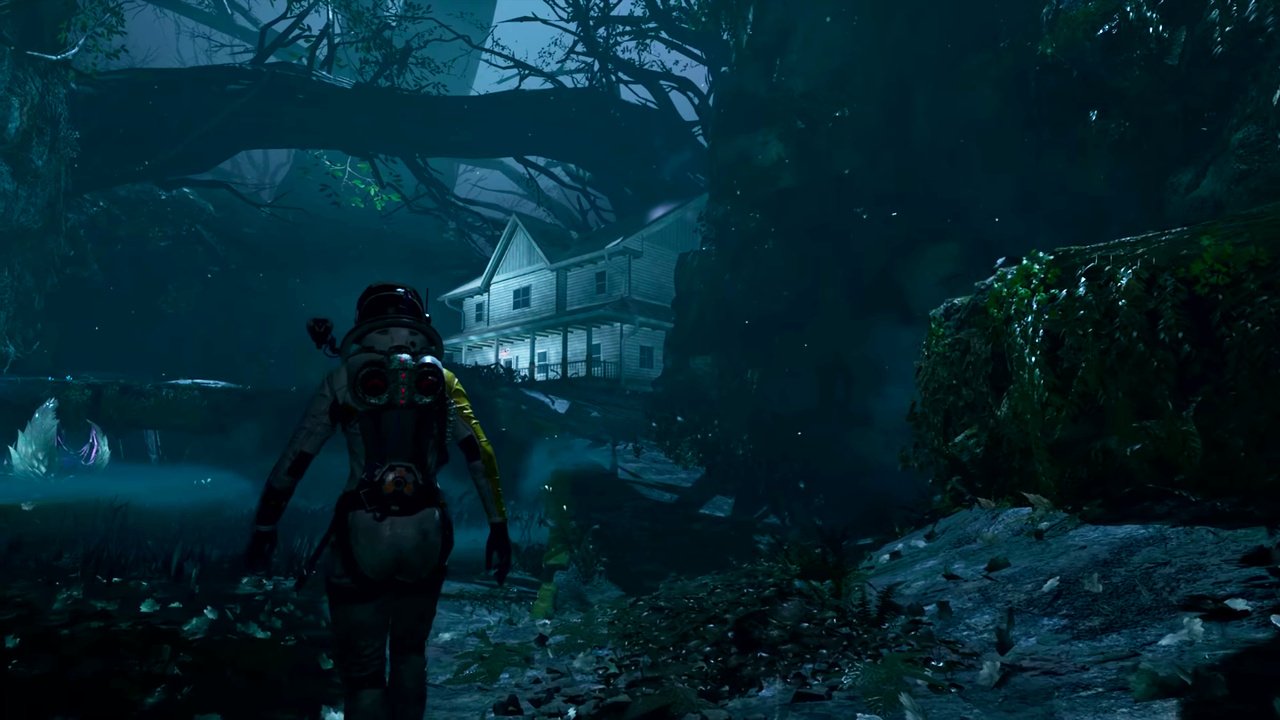 GOLD TROPHIES
Ascending the Mountain: Finish Crimson Wastes Survey. To get this achievement, refer to the gold trophy "Past the Ruins".
Past the Ruins: Finish Overgrown Ruins Survey. These are the most "mangy" endgame trophies, as they will ask you to get all the collectibles available in the various biomes. As you can easily imagine, everything is completely random and, therefore, you will have to be very lucky to get everything you need in a short time. But what do you have to search for? Exploration Diaries, Ciphers, Xenoglyphs, and Containment areas.
Through the Forgotten City: Finish Derelict Citadel Survey. To get this achievement, refer to the gold trophy "Past the Ruins".
White Shadow: Finish Act 3. This trophy could put you a bit in trouble, as it will not unlock after defeating the last boss (Ophion). However, it will unlock after collecting the six fragments scattered throughout the six biomes of the game and bringing them back to the house. To better understand what I am talking about, refer to the silver trophy "Sins of the Mother".
Frozen in Time: Finish Fractured Wastes Survey. To get this achievement, refer to the gold trophy "Past the Ruins".
Submerged in Memories: Finish Abyssal Scar Survey. To get this achievement, refer to the gold trophy "Past the Ruins".
Echoes of the Past: Finish Echoing Ruins Survey. To get this achievement, refer to the gold trophy "Past the Ruins".
PLATINUM TROPHY
Helios: Collect all trophies. If you have made it this far, it means that you have 100% completed the game. Congratulations, you've just earned the Returnal Platinum Trophy!
Was my Returnal trophies guide useful, or is something missing? Please let me know by leaving your thoughts in the comments, or make sure to read my Returnal review. Need help with the special secret ending? Here is my complete guide. Need help with the boss fights? Read here!