In the well-known Steam hit, Valheim, you always need to focus on keeping yourself alive and mastering the basic skills needed to survive. In this article, I will begin by telling you exactly how the game starts and how you progress through Iron Gate's title. However, the most important tips I will give you are on how to stay alive for the greatest amount of time possible. Here is my Valheim survival basics guide.
Take note that a giant crow will take your body to a sanctuary in a forest. From landing onwards you will have to do everything with your legs. Your goal will be to get the basic tools, food, a workbench, a campfire, and a bed before the sun sets. To guide you in your adventure, there will be Hugin. This is a raven in Valheim who will appear in different phases of the game and will accompany you with helpful advice. Please make sure you follow that advice. Below you will see the best and easiest ways of surviving in Valheim!
CREATING A CLUB
The first and most important thing to do is to collect the wood. Take note that you literally have to punch a tree to achieve this. Afterwards, you can collect the pieces of wood from the ground. Once done, you can create a club from the special menu that will help you along the way. To help you, there will be the in-game interface that will show you the available items that you can craft.
KEEPING YOUR TUMMY FULL
The second thing you will have to do is collect some food. Let's not bother hunting animals for now, but stick to berries and mushrooms. The variety is important in this case. You can get benefits just by eating different types of food. The animals are more complicated. Hunting deer may sound easy, but while you are hunting, random wild boars will attack you. Wild boars are very important because, in the future, they will be your primary source of leather. Be careful when attacking them!
COMBINING ITEMS
At this point in Iron Gate's Valheim, you have to assemble objects. However, to do so, you will need to put together stone and wood. These two items are very important to make the first axe and hammer. Keep in mind that you will also need wood to create a very simple base. So, while you are gathering the wood for these two craftables, gather quite a few extra for a simple base.
FLINT AND STONE
As mentioned above, wood is fairly easy to find, but stone can be a more difficult challenge. You can find stones on small rocks on the ground. Be careful not to confuse flint with stone. You can often find sources of stone on the sides of cliffs. On the other hand, you can find flint near waterways and beaches. The flint is whitish and oval, whereas the stone is gray and spherical. This is something that always causes confusion, and the differences are not that obvious. Keep your eyes open!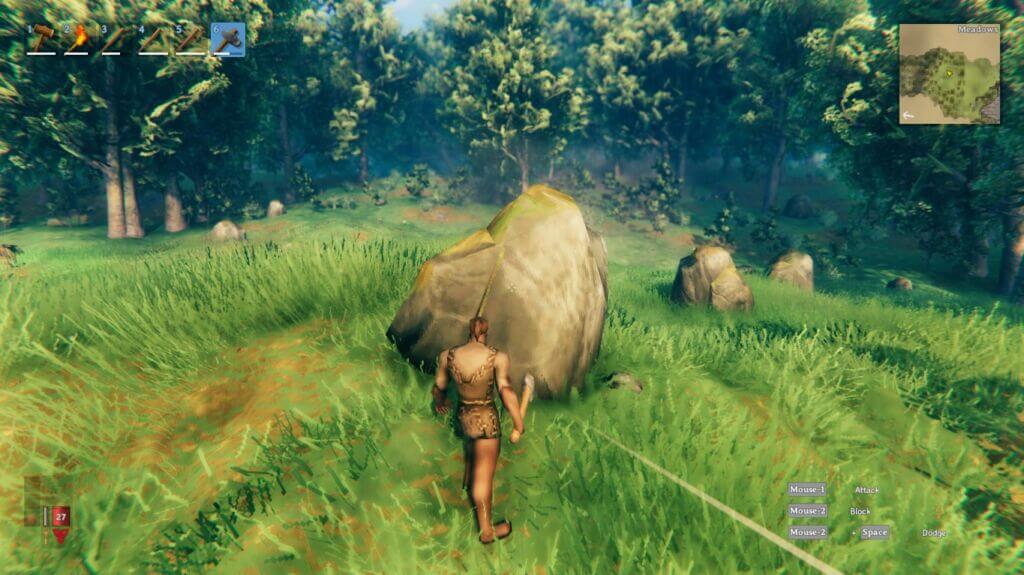 FUNDAMENTAL CRAFTS
Once you have 15-20 stones and 30-40 woods in total, you can finally craft the axe and hammer. Take note that you can make the axe and hammer by using the crafting menu. These will be the starting points for building the workbench. The firewood (5 stones and 5 wood) and the bed are fundamental in proceeding with Iron Gate's Valheim. The campfire will allow you to use the bed to sleep. The bed, similar to what happens in video games such as Minecraft, will have the task of providing you with a point from which to respawn. Even if you can't sleep in it immediately, it will provide you with a starting point in case you die.
YOUR WORKBENCH
The workbench is necessary to construct buildings and also allows you to repair your tools. You can dismantle and rebuild it wherever you want without losing almost any of the resources used. The workbench will allow you to build a very important object: a canopy. This type of roof is a small building that will allow you to shelter from the elements. Take note that this is mandatory in order to sleep using the bed and warm up using the campfire. Remember that the workbench has a confined (circular) area, be careful where you place it!
YOU NEED TO SLEEP
Placing the bed is a very simple process which only asks the player to place the object under a roof with walls on either side. If you get an error message, widen the walls to make the right space for the bed. Now you can go to sleep safely before the night arrives!
Was my Valheim survival basics guide useful? Please let me know by leaving your thoughts in the comments below. Are you ready to enter "God Mode"? Here is my Valheim cheats and codes guide. Want to know a bit more about Iron Gate's Valheim? Read this article!