Manga creators, or Mangakas, are a highly integral part of the anime and manga medium. So many of our favorite anime have been adapted from manga, and each manga has a brilliant and highly talented mind behind it. BagoGames had the pleasure of interviewing one of these brilliant minds who goes by the name of Dataro, a talented artist and the creator of several serialized works such as Osaka Chuto Real, Devil's Favorite, and most recently, Hokuou Futari Gurashi. In this interview, we discuss their creative process, opinions on the manga industry, and more.
Could you tell us a bit about yourself?
My pen name is Dataro. I am a Japanese mangaka..
What inspired you to become a mangaka?
I have loved manga and anime since I was a child and dreamed of becoming a mangaka.
How do you get inspiration to make manga?
 I get inspiration from manga, movies and watching vlogs from different countries on YouTube.
How did you get inspiration for your manga Osaka Chuto Real, a manga that focusses on the culture, customs, and local gourmet of Osaka? Did you have many past experiences in Osaka that helped you when creating the manga ?
Everything from my time living in Osaka helped me create Osaka Chuto Real. The differences I noticed after moving from Osaka to Tokyo also helped me draw it. I think it is important in life to realize that there are differences in everything.
Was it hard mixing the fantasy and romance elements in your manga Devil's Favorite? How did you manga to do it?
The concept of a devil kidnapping a princess and fighting a hero is an old one. But I thought it would be more interesting if the reason the demon kidnapped the princess was to learn from her how to make the hero fall in love with the devil. If all the devil's evil deeds, which are often done in the game world, were to get the hero to love her, wouldn't she seem very single-minded and cute?
Do you ever feel any pressure on yourself or from your readers to create quality content constantly?
I always think about whether I can create something interesting for myself rather than pressure from readers. If I don't enjoy myself first, I don't think readers will enjoy it either.
Do you have any opinions or comments on manga artists being constantly overworked?
I think it is a problem. Basically, in Japan, manga artists are often in a freelance and not in a position to work for a company and be protected. I think the lack of such formality has the advantage that anyone can draw freely. However, I think it is also necessary to create a system prevents people from working too hard.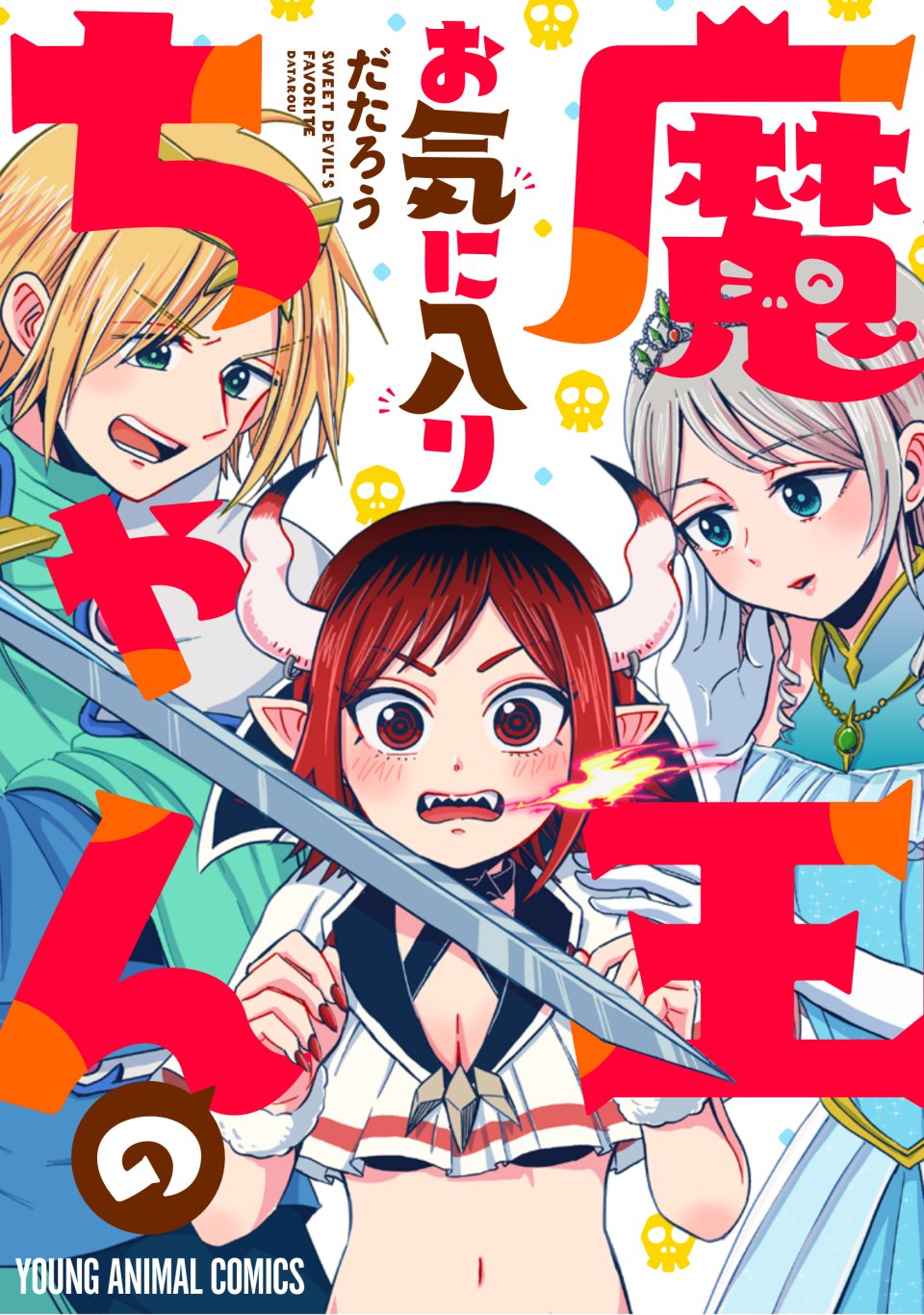 Do you have any thoughts or opinions on the rising popularity of manga and anime in the west and do you think this will influence or inspire Japanese creators more?
The rising popularity of manga and anime in the west is a very nice. On the other hand, if more works from the West become popular in Japan, and if we can influence each other more, this scene will become even more enjoyable. My friends recommend foreign works to me, so I try to watch and read them as much as possible. I enjoy works from various countries and hope to make use of them in my own manga creation.
Do you have any plans to make manga content to the western audience or make your manga available officially in the west?
 I have no plans to do so at this time, but I would like to be able to publish if I could. I'll ask my editorial team for help lol.
What qualities do you think a person needs to be a good mangaka?
I think it's about having your own beliefs. But I'm not a good cartoonist because my beliefs always waver lol.
I noticed you make a lot of art on Twitter based on several based western media like Arcane do you have more titles you like from the west?
As you said, I love Arcane and was very impressed with the characters and the beautiful images. I also like Adventure Time and She-Ra and the Princesses of Power. I also like games like Life is Strange, Tomb Raider and 7Days To Die.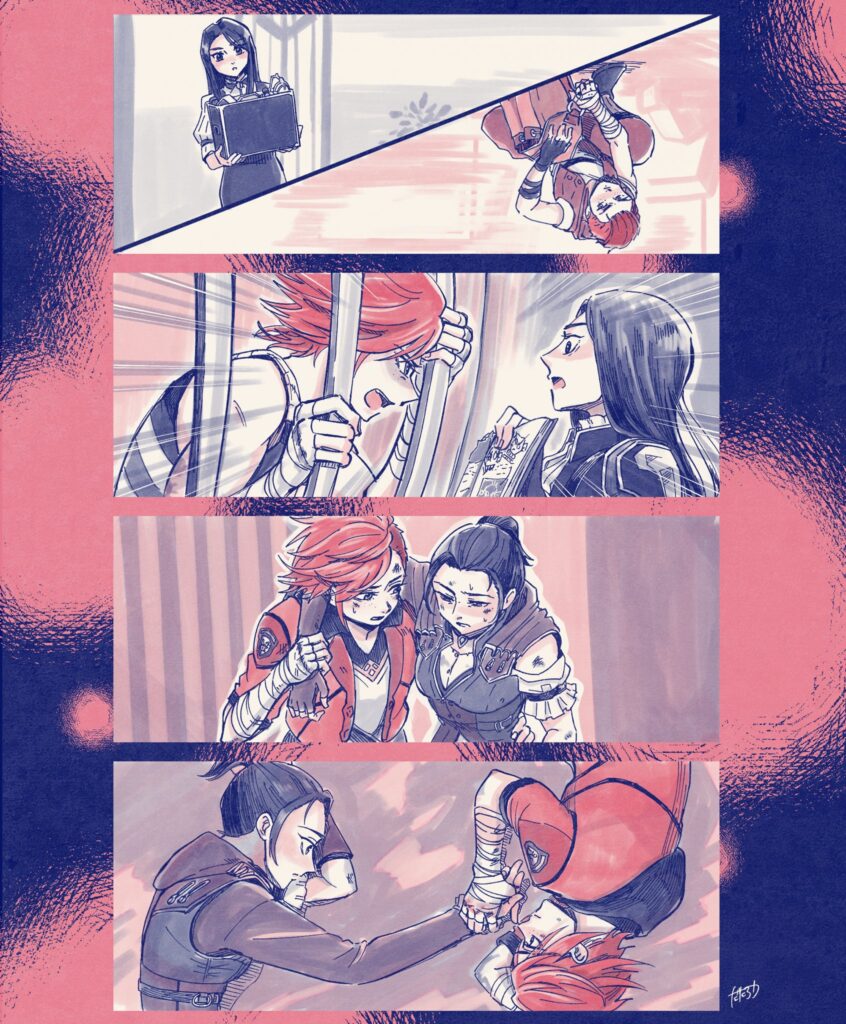 Do you have any general advice for up-and-coming manga artists?
I would rather get advice from someone else lol. Let's see… I think it is good to pursue what you love to the fullest, and it is also good to go to school or work at a company , even though it may seem boring at the time. Manga is a wonderful content that allows you to express your life and hobbies as they are.
Do you have any message for your western audience?
Thank you for your interest in my manga and illustrations across the sea. I will study English and other languages more and try my best to send my works all over the world.
Do you have any upcoming or current projects you're willing to share or anything you'd like to promote?
I'm currently working on a manga series "Hokuou Futari Gurashi" in a magazine called Young Animal. It's about a Japanese couple who move to Sweden and spend a relaxing life away from the hustle and bustle of the city. I'm not sure if there will be an international version of the comic published at this point, but I hope so. One episode (in Japanese only) is available on Twitter if you would like to see it. I hope you will check my Twitter account for the latest about my manga and other information!
Japanese Translation:
あなた自身について少し教えてください。
ペンネームはだたろう。日本の漫画家です。
マンガ家になろうと思ったきっかけは何ですか?
小さい頃から漫画やアニメが大好きで漫画家になるのが夢でした。
マンガを作るためのインスピレーションをどのように得ますか、そして各章を作るときのあなたのプロセス/ルーチンは何ですか?
漫画や映画やYouTubeでいろんな国のVlogを見てインスピレーションを得ています。
マンガのインスピレーションはどのようにして得ましたか Osaka Chuto Real?大阪の漫画を作るのに役立った過去の経験はたくさんありますか?
大阪に住んでいた頃の全てが大阪ちゅーとリアルを描くのに役立ちました。

大阪から東京に引っ越してから気づいた違いもそれを描く手助けになりました。どんなことにも違いがあって当たり前、ということに気づくことは人生においても大切なことだと思っています。
魔王ちゃんのお気に入り でファンタジーとロマンスの要素を混ぜるのは難しかったですか?どうやってそれをやったのですか?
魔王がお姫様をさらって勇者と戦う、というコンセプトは昔からあるものです。しかし魔王がお姫様を攫う理由が勇者を恋に落としたいからだとしたら面白いのではと思いこの漫画を作りました。

ゲームの世界でよくある魔王の悪行がすべて勇者に愛されるためだとしたら、とても一途でかわいく思えてきませんか?
質の高いコンテンツを絶えず作成するように自分自身や読者からのプレッシャーを感じたことはありますか?
読者からのプレッシャーというより自分の中で面白いものが作れるかどうかを常に考えています。まずは自分が楽しくないと読者も楽しんでくれないと私は考えます。
マンガ家が常に過労になっていることについて、意見やコメントはありますか?
問題であると思います。基本的に日本では漫画家は自由業で会社に勤めて保護される立場にないことが多い。そういった形式がないからこそ誰でも自由に描けるメリットもあると思います。しかし働きすぎないシステム作りも必要だと思います。
欧米でのマンガやアニメの人気の高まりについて、何か考えや意見はありますか? これは日本のクリエイターにもっと影響を与えたり、刺激を与えたりすると思いますか?
西洋で漫画やアニメの人気が高まっていることは大変良いことだと思います。

逆に西洋からの作品ももっと日本で流行してお互いにもっと影響を与え合えれば、このシーンはより楽しいものになるはずです。

友人が海外の作品を勧めてくれるので、なるべく見たり読んだりするようにしています。いろいろな国の作品を楽しんで、自分のマンガ作りに活かしていきたいと思っています。
欧米の視聴者にマンガのコンテンツを提供したり、欧米でマンガを公式に公開したりする予定はありますか?
今のところその予定はありませんが、できることなら出版できるようにしたいです。編集部に頼んでおきます笑
欧米の視聴者にマンガのコンテンツを提供したり、欧米でマンガを公式に公開したりする予定はありますか?
自分の信念を持っていることだと思います。でも私は信念がいつも揺らぐので良い漫画家ではないですね笑
アーケインのようなアメリカのシリーズに基づいてTwitterでアートを作っていることに気づきました。アメリカ人からもっと好きなタイトルはありますか?
おっしゃる通りアーケインは大好きでキャラクターや美しい映像にとても感銘を受けました。他にはアドベンチャータイムやシーラなどが好きです。ライフイズストレンジやトゥームレイダーや7Days To Dieなどのゲームも好きです。
新しい漫画家に何かアドバイスはありますか?
私がアドバイスしてもらいたいくらいです(笑)

えーと…好きなものをとことん追求するのも良いですし、つまらないと思っても学校に真面目に通ったり会社に勤めて働くのも良いと思います。漫画は自分の人生や興味がそのまま表現できる素晴らしいコンテンツです。
欧米の聴衆へのメッセージはありますか ?
海を越えて私の漫画やイラストに興味を持っていただき、ありがとうございます。もっと英語や他の言語を勉強して、世界中に私の作品を届けられるように頑張ります。
共有したいプロジェクトや現在のプロジェクト、または宣伝したいものはありますか?
今は北欧ふたりぐらしという漫画をヤングアニマルという雑誌で連載してます。スウェーデンに移住した日本人の夫婦が都会の喧騒をはなれてのんびり暮らすお話です。海外版が出るかは分かりませんが出たらいいなと思います。北欧ふたりぐらしの1話(日本語のみ)はTwitterで公開していますので、よろしければご覧ください。私の漫画やその他の情報はTwitterアカウントをチェックしてもらえると嬉しいです!
You can follow Dataro and their works on their Japanese and English Twitter accounts.