Sonny Boy is quite a unique anime. However, its uniqueness is presented in a way that causes confusion and invokes intrigue. The anime had a limited early premiere on YouTube on the Funimation channel, and was also featured on Anime Expo Lite. It's safe to say a lot of people missed the first episode's premiere as its now no longer available to watch until its official upcoming air date.
As a result, I'd like to take advantage of the situation to analyze and give my impressions on what will perhaps be the most interesting anime airing this season.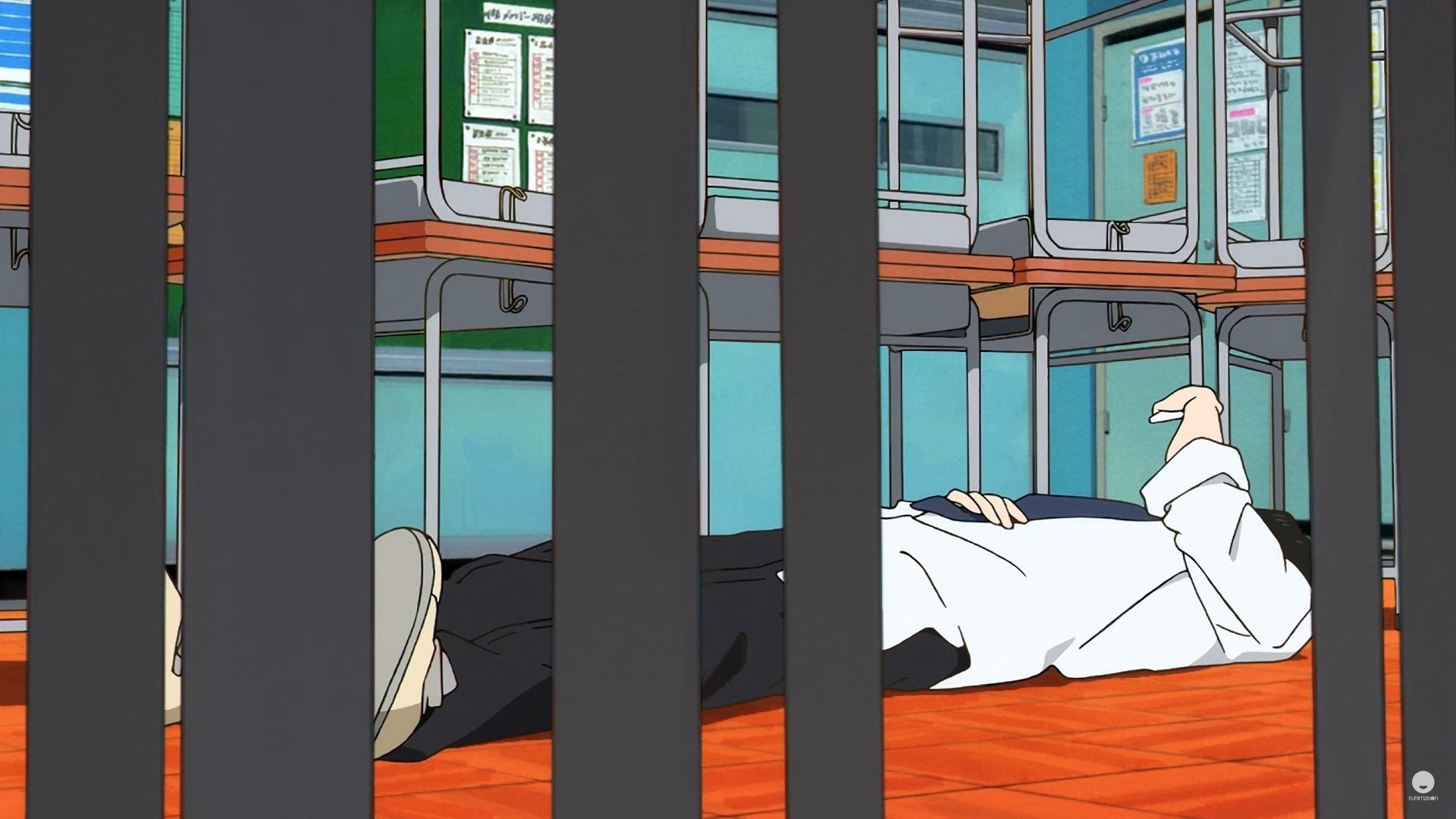 A Lacking Introduction
Sonny Boy begins with a school building filled with 36 high schoolers that's been separated from the rest of the world, where its inhabitants awaken to find themselves in a dark boundless void. We learn some awoken with superpowers while others without. This phenomenon is not explained at all to the audience for the main fact that characters themselves also do not understand what is happening.
What I find strangest about Sonny Boy is its introduction specifically, which is quite unique to many of the anime I've seen thus far. Not only do we not witness the strange event that occurred beforehand, but we're also introduced to the characters after it already happened. This introduction is something I believe the writer made a huge leap of faith with as it threatens to cause a disconnect between the series and the viewers. What contributes to this is also how the main leads are introduced.
Like Water and Oil
First, we meet Nagara, a third-year boy who's disconnected himself from the other students. Nagara is a loner who doesn't talk much and often acts cold towards others. His personality is outlined the most in how we meet him— separated from others in an empty classroom contemplating the current events. That is, until he is interrupted by a young girl named Nozomi who calls his attention by pelting him with various questions. Nagara and Nozomi have contrasting personalities.
The former is quiet and reserved, while the latter is confident and boisterous. One has an aura of confidence, while the other is held back by meekness. Throughout the episode, we see their personalities and ideals conflict with one another, more so due to Nozomi's outspoken nature. The way she says and does things reflects on the opposite end of the spectrum for Nagara, and he's left overwhelmed by it. He's forced to listen to her albeit intriguing ramblings, the major one being her intention of escaping the black void her and her fellow students are entrapped in. While the first two characters are given a lot of attention, the episode also pays significant attention to another character, as they're given more of a villainous role in the anime.
Power Conflicts
Hoshi is a member of the student council and, as such, is very opinionated in the way the school should be managed during this strange predicament. However, instead of taking full responsibility on this front, he chooses to relinquish all authority to another member of the student council called Cap through the illusion of democracy, mainly due to the nature of his powers.
Cap gained the ability to make people bend to his will should they break the rules outlined by the student council— the same rules no doubt set by Hoshi, who serves more as a puppet master, and Cap, the executioner. While Cap started out as a responsible leader, the powers and authority quickly get to his head, and he uses that authority to mistreat his fellow students. I found this part of the anime interesting as it proves how most people change when given a taste of power. The results of which are worse in this case seeing as the people affected this time are teenagers.
Things then take a turn for the worse when Cap goes a bit too far, and Hoshi's villainous side surfaces in order to control him. Meanwhile, Nozomi makes good on her promise by escaping the void along with Nagara amidst the chaos.
Open to Interpretation
Perhaps the most irritating part about Sonny Boy is how little is explained to the viewers so far. As you can probably guess, many of the anime's elements are shrouded in mystery which can cause some confusion. We aren't told what this mysterious black void is, how they appeared in it, or why it causes powers emerge in its inhabitants. We also aren't told how Nozomi was able to escape it. The episode only hints that by escaping, she was able to free the students and the school from the void, but this isn't clearly told to us as well.
The only thing that was easy to understand throughout the episode are the abilities the characters wielded. Cap can force people to do whatever he wishes, Asakaze; another character that took on a rebellious role in the episode, is able to control gravity, while Hoshi seemingly being the most powerful so far, isn't affected by other powers and seems to also have the ability to copy them.
Like the powers, we only know what's happening in the anime as each scene plays out, and we're left to interpret the meaning and result of each scene. The first episode's ending especially left many questions unanswered, which left me feeling unsatisfied.
Animation & Direction
Another aspect of the anime that contributes to its uncomfortable nature is the direction. As I mentioned earlier, the anime doesn't have a grand entrance as it begins immediately with a lot of dialogue. There's also a very noticeable lack of music throughout the episode except for the end, which the director Shingo Natsume, (who also directed One Punch Man) noted was intentional in an interview, as it's meant to put more attention on the characters and emphasize what's happening on screen. There is no ambiance or even background noise, just dialogue to take up your attention.
Yet another factor is the animation which is unlike any this season. Madhouse's decision to implement an animation style, not unlike many of Masaaki Yuasa's works— a style that lacks the character detail and beauty of, say, a P.A. Works or Ufotable project, but has its own unique aesthetic and allows for more mobility in each frame was an oddly fitting choice for the anime.
Final Thoughts
Overall, Sonny Boy is the anime that's piqued my interest the most in this admittedly lacking season as it is objectively unlike the rest so far. There's a lot of mystery and nuance to unpack and be displayed with this one, which is why I'll be looking forward to each episode's release.
Did you happen to catch Sonny Boy's early premiere? What did you think of our analysis? Let us know your thoughts in our comments section below.