It's a new week and a new set of anime and manga news to cover, so I'll be listing the best updates and announcements we received throughout the week.
How NOT to Summon a Demon Lord Premiere Date
Earlier this week, the official website for the anime adaptation of Yukiya Murasaki's How NOT to Summon a Demon Lord light novel series revealed a new promotional video, key visual, theme song artists, and April 8 premiere date for the anime's upcoming second season, How NOT to Summon a Demon Lord Ω.
J-Novel Club releases How NOT to Summon a Demon Lord's light novel series in English, and describes its story as:
In the MMORPG Cross Reverie, Takuma Sakamoto is so powerful that he is lauded as the "Demon Lord" by other players. One day, he is summoned to another world – but with the same appearance he had in the game! There, he meets two girls who both proclaim themselves to be his Summoner. They had performed an Enslavement Ritual to turn him into their Summon… but that's when Takuma's passive ability "Magic Reflection" activated! Instead, it was the girls who had become enslaved! Though Takuma may have been the strongest Sorcerer there was, he had no idea how to talk with other people. That's when he makes his choice: to act based on his persona from the game!

"Amazing? But of course… I am Diablo, the being known and feared as the Demon Lord!"

So begins a tale of adventure with an earth-shakingly powerful Demon Lord (or at least someone who acts like one) taking on another world!
Miss Kobayashi's Dragon Maid S Trailer
The official website for Kyoto Animation's Miss Kobayashi's Dragon Maid S revealed a new promotional video for the anime, as well as the show's cast and staff members. The anime is set to premiere this July.
Crunchyroll streamed the first season of Miss Kobayashi's Dragon Maid and describes the story as:
Miss Kobayashi is your average office worker who lives a boring life, alone in her small apartment–until she saves the life of a female dragon in distress. The dragon, named Tohru, has the ability to magically transform into an adorable human girl (albeit with horns and a long tail!), who will do anything to pay off her debt of gratitude, whether Miss Kobayashi likes it or not. With a very persistent and amorous dragon as a roommate, nothing comes easy, and Miss Kobayashi's normal life is about to go off the deep end!
待望の新刊が発売! アニメ化も決定した「陰の実力者になりたくて!」コミック異世界コーナーで展開中です!
ノベルス4巻、コミック5巻、外伝2巻は今週末同時発売!#TSUTAYA#ウイングタウン岡崎#陰の実力者になりたくて pic.twitter.com/EXq4HKlL9Y

— TSUTAYAウイングタウン岡崎店(コミック) (@wtokazaki_cmc) February 22, 2021
【書籍入荷情報③】小説「陰の実力者になりたくて! 04」が入荷しましたカイ!! pic.twitter.com/01GraabvrH

— アニメイト甲府 (@animatekofu) February 24, 2021
The Eminence in Shadow Anime Adaptation
The official Twitter account for the Tsutaya shop chain's Wing Town Okazaki branch and Animate chain's Kōfu branch posted new photos that reveal Daisuke Aizawa's The Eminence in Shadow (Kage no Jitsuryokusha ni Naritakute!) light novel series is getting an anime.
Yen Press licensed both the light novels and the manga adaptation, and it describes the story as:
Shadowbrokers are those who go unnoticed, posing as unremarkable people, when in truth, they control everything from behind the scenes. Sid wants to be someone just like that more than anything, and something as insignificant as boring reality isn't going to get in his way! He trains in secret every single night, preparing for his eventual rise to power—only to denied his destiny by a run-of-the-mill (yet deadly) traffic accident. But when he wakes up in a another world and suddenly finds himself at the head of an actual secret organization doing battle with evil in the shadows, he'll finally get a chance to act out all of his delusional fantasies!
Hige wo Soru. Soshite Joshikousei wo Hirou PV
The official website and Twitter account for the upcoming anime adaptation of the Hige wo Soru. Soshite Joshikousei wo Hirou light novel series written by Shimesaba and illustrated by Booota revealed a new promotional video for the anime featuring the opening song "Omoide Shiritori" by Dialogue+ .
Hatsune Miku Anime Announced
According to a recent Deadline article via ANN, Vocaloid superstar Hatsune Miku will be getting her own anime. Crypton Future Mediawill be partnering with Graphic India and Carlin West Agency for the anime's production.
Devarajan commented on the announcement saying:
"Hatsune Miku is one of the most defining and trendsetting character entertainment phenomenon's of the last decade … In the same way she revolutionized the music industry, we are so honored to be working with the legendary Hiroyuki Itoh and his amazing team at Crypton Future Media, to take Miku into a groundbreaking animated series for her millions of fans."
The most terrifying killing machine in sci-fi history is back, just like it promised. Project Power's Mattson Tomlin and legendary anime studio Production I.G are teaming up for an animated series set in the Terminator universe.

— Netflix Geeked (@NetflixGeeked) February 26, 2021
Terminator Anime Announced
This week, it was announced that Netflix and Skydance are producing an anime series based on the Terminator film series with and animation production from Production I.G. Mattson Tomlin (The Batman) serves as the director. Further details on the anime have yet to be revealed.
New Evangelion: 3.0+1.0: Thrice Upon A Time Premiere Date
This week, the upcoming Evangelion: 3.0+1.0: Thrice Upon A Time movie (Shin Evangelion Gekijō-ban :||) received a new March 8 release date.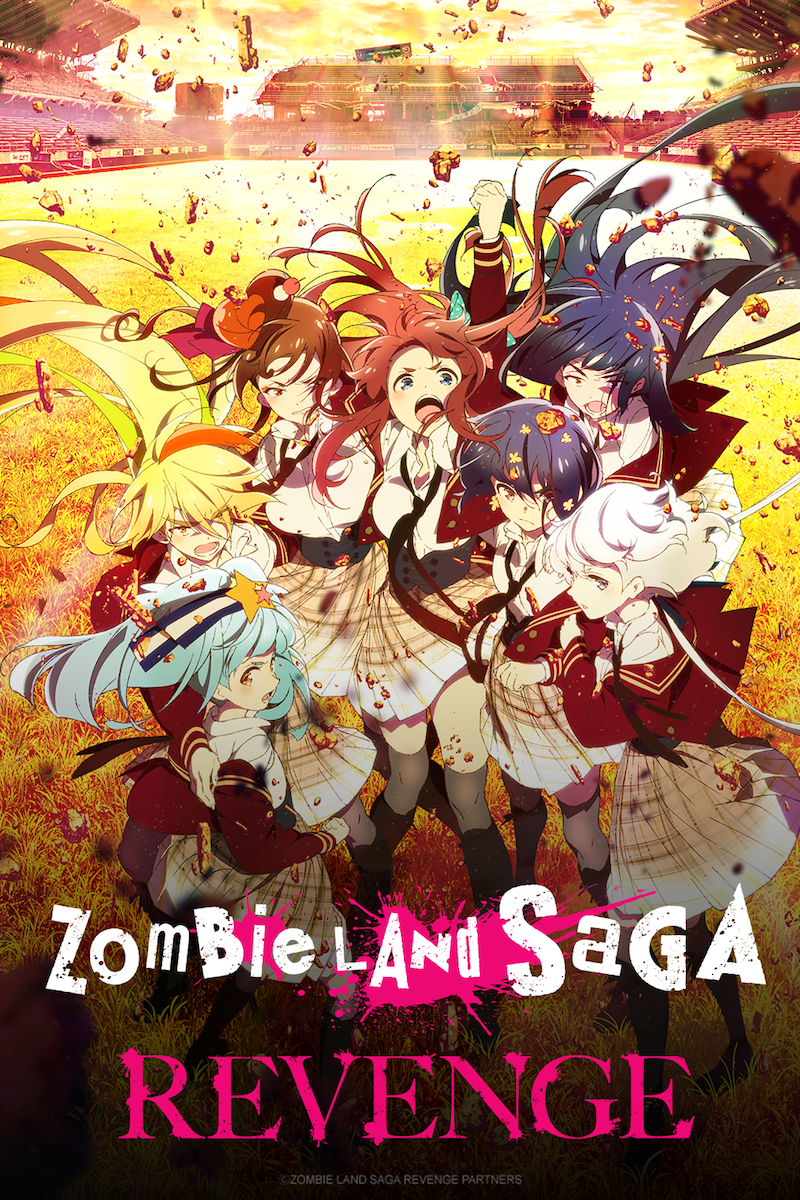 Zombie Land Saga Revenge Premiere Date
This week, it was announced that Zombie Land Saga's second season Zombie Land Saga Revenge, will premiere in Japan on April 8. The anime's idol group Franchouchou will perform the opening theme song "Taiga yo Tomoni Naite Kure" and the ending theme "Yume wo te ni, Modoreru Basho mo Nai Hibi wo".
Crunchyroll streamed the first season as it aired in Japan and describes the second season's story as :
"From throughout the ages, a group of legendary girls have become zombie idols to save Saga Prefecture. It's the return of the cutting-edge zombie idol anime! One day, Minamoto Sakura lost her life in an unfortunate accident. Then, ten years later… After Sakura wakes up in a strange mansion, mysterious idol producer Tatsumi Kotaro tells her that she will be joining a group of legendary girls to form an idol unit. The seven girls are charged with a quest to save the fading Saga Prefecture and adopt the group name Franchouchou. After overcoming the difficulties stemming from their different ages and different periods of history, their undead zombie bodies allow them to defy expectations of what idols can be. During the final winter of the Heisei era they performed their first featured concert at Karatsu's Furusato Exhibition Hall, Arpino, taking another step towards becoming a legend. Now, in the modern Reiwa Era… The curtain rises on a new chapter in the story of Franchouchou, as they march towards a bright future full of hope. "
【#ヒロアカ 5期新PVが来た!】
3月27日(土)毎週土曜夕方5:30放送スタート『僕のヒーローアカデミア』第5期の最新PV解禁!

OPテーマ:「No.1」#DISH//

YouTube: https://t.co/z1Nx8DI9Ra#heroaca_a pic.twitter.com/kvkIlmUsRr

— 僕のヒーローアカデミア "ヒロアカ"アニメ公式 (@heroaca_anime) February 27, 2021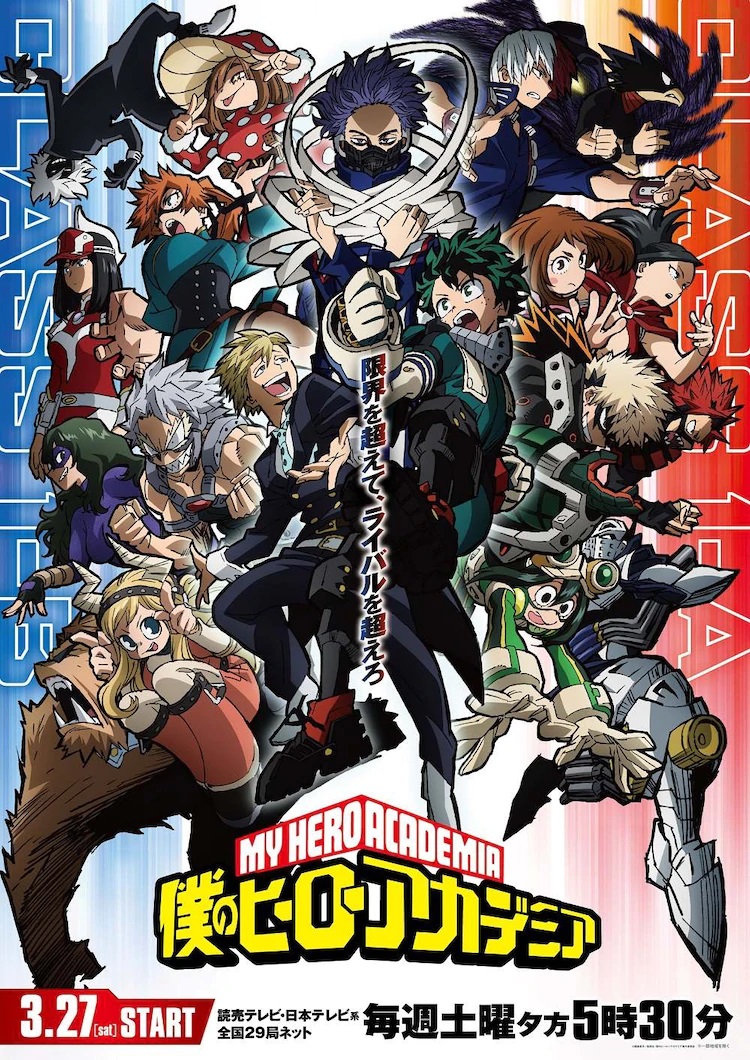 New My Hero Academia Season 5 Trailer
The official Twitter account for the My Hero Academia anime series revealed a brand new trailer for the fifth season, which features its opening and ending themes. The opening theme song's artist is DISH singing "No. 1", with the peggies on the ending theme song "Ashiato (Footprints)". My Hero Academia season 5 is set to premiere on March 27.
✨スペシャルイベントありがとうございました!✨

「イベントと彼女 -イベカノ-」にご参加いただいた皆さま、ありがとうございました!

そして…

/#彼女お借りします TVアニメ第2期、
2022年放送予定!
\#かのかり キャスト・スタッフ一同、放送に向けて頑張っていきます!
続報をお楽しみに! pic.twitter.com/I1qn7NdwDs

— 「彼女、お借りします」TVアニメ公式 (@kanokari_anime) February 28, 2021
Rent-a-Girlfriend Season 2 Premiere Date
Earlier today, the official Twitter account for the Rent-a-Girlfriend TV anime series announced that the second season of the anime will premiere sometime in 2022.
Crunchyroll streamed the anime's first season and describes its story as:
Kinoshita Kazuya is a 20-year-old failure of a college student. He managed to kiss his girlfriend once, but was dumped after a month. "Ugh… Damn it. I never want to go through that again." Completely spiteful, Kazuya uses a certain method to date a girl. He goes to their meeting place and suddenly hears, "You're Kazuya-kun, right?" A beautiful girl brushing her long, black hair behind her ear was there, smiling at him. Her name was Mizuhara Chizuru. Something real is born after just a single rental! A reckless rom-com filled with love and excitement is about to begin!
【速報❗️】
「魔法科高校の劣等生 追憶編」アニメ制作決定!
特報PVを公開いたしました!

続報を楽しみにお待ち下さい!#mahouka pic.twitter.com/Kle1kPQ2wx

— TVアニメ「魔法科高校の劣等生」シリーズ (@mahouka_anime) February 28, 2021
The Irregular at Magic High School: Reminiscence Announced
Earlier today, the official Twitter account for Tsutomu Satou and Kana Ishida's light novel series The Irregular at Magic High School announced that The Irregular at Magic High School: Reminiscence Arc will be receiving an anime adaptation. A teaser trailer for the upcoming anime was also revealed.
Yen Press released the volume in English, and describes the story as:
Looking at Miyuki and Tatsuya now, it might be hard to imagine them as anything other than loving siblings. But it wasn't always this way…

Three years ago, Miyuki was always uncomfortable around her older brother. The rest of their family treated him no better than a lowly servant, even though he was the perfect Guardian, watching over Miyuki while she lived a normal middle school life. But what really bothered her was that he never showed any emotions or thoughts of his own.

However, when danger comes calling during a fateful trip to Okinawa, their relationship as brother and sister will change forever…
What do you think of this week's anime and manga news? Are you looking forward to any of the anime mentioned? Let us know your thoughts in the comments section below.