After the deplorable arson attack that caused the devastating loss of many staff lives of one of the most popular and fan-favorite studios, Kyoto Animation, including Yasuhiro Takemoto, one of the studio's most revered staff and the original director of the Dragon Maid series, fans were left wondering what would become of their favorite studio, with many losing hope of ever seeing another title from Kyoto Animation. Thankfully, this wasn't the studio's undoing as it is now back in full force and even recently celebrated its second year back with a memorial video dedicated to the lives lost during the attack.
Miss Kobayashi's Dragon Maid S: A Welcomed Return
Miss Kobayashi's Dragon Maid is but one of many titles instilling hope in both fans and staff of the studio alike. This series, alongside the Violet Evergarden series, is one of my all-time favorite pieces of media and serves as a hallmark of the studio's hard work and dedication to quality. So far, I'm happy to say that Miss Kobayashi's Dragon Maid S is just as good, if not better, than the last season, as the series has noticeably evolved both narratively and in terms of production.
The first episode provides a strong sense of familiarity as it displays the calm and wholesome nature the series is known for. During the episode, Tohru takes an interest in a local cafe and proceeds to join it in order to prove her skills as a top-notch maid. Though, by the end of the whole ordeal, she unsurprisingly loses focus and forgets her goal. This section of the episode follows the typical episodic formula seen with the previous season, and it is this same mindless, wholesome structure I assumed the rest of the anime will continue to follow. However, I was presently surprised when things took a grand and surprising turn.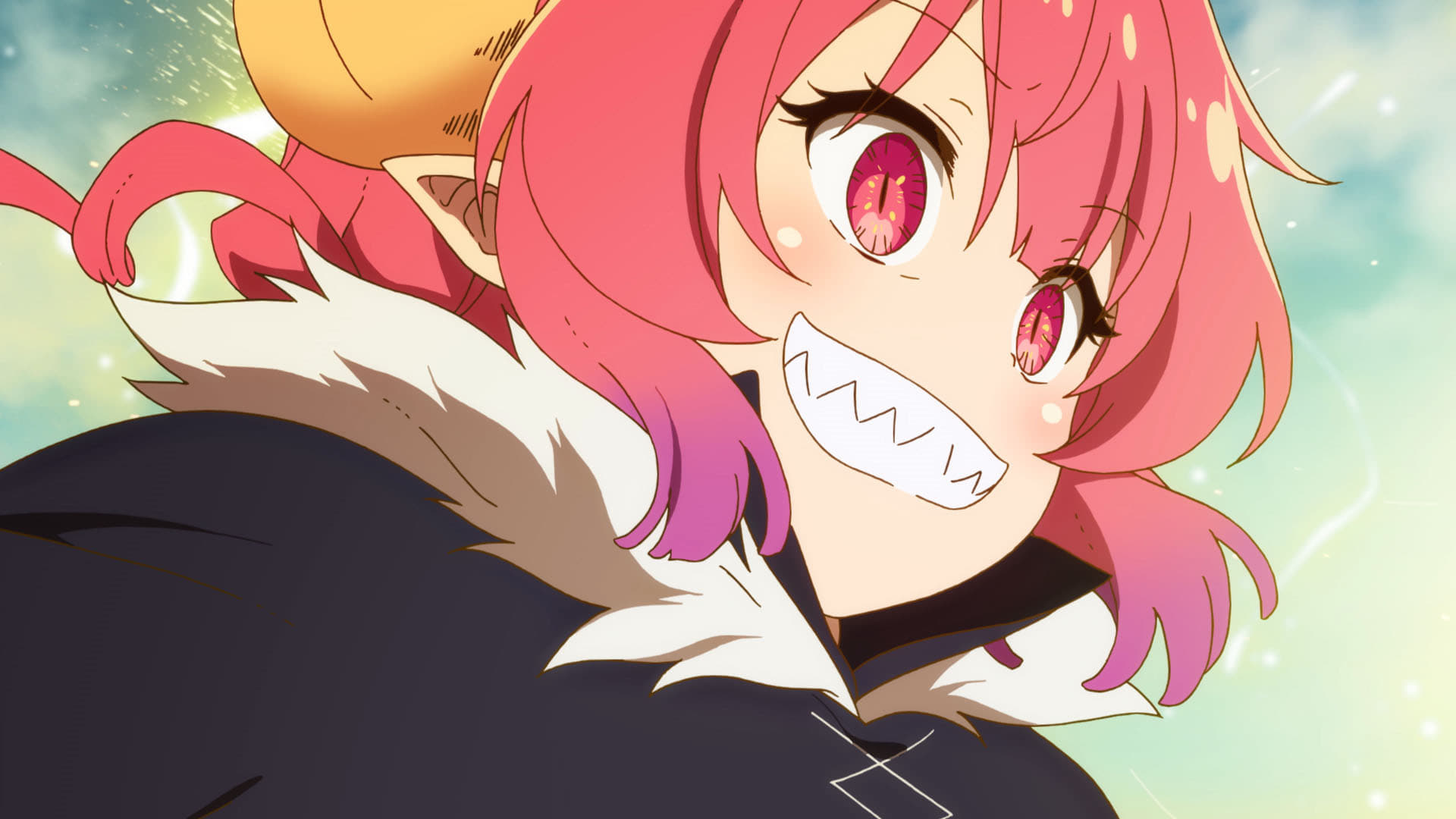 A New Dragon Approaches
A new dragon that's also part of the "Chaos Faction" called Ilulu is introduced halfway through the first episode and aims her sights directly at Tohru upon learning about her relationship with humans. As a result, she threatens the town Tohru and the rest of the dragons reside in in order to get her attention. Luckily, Tohru is able to fend her off before succumbing to her rage built during the fight with a bit of help from Kobayashi and Elma. This section both surprised and astonished me as not only does the episode take a sharp narrative turn, but the level of animation was awe-inspiring as the fight between Ilulu and Tohru though short, was intense and visually satisfying.
The preceding episode mostly center on Ilulu, her mentality, and her hatred for humans. All of which wraps up nicely when she's able to move past her existing trauma and cause of her resentment thanks to Kobayashi and friends. Aside from that, it's also hard not to notice how many new narrative elements the anime has introduced so far. The first episode reestablishes all the different factions each dragon belongs to, namely the Chaos, Harmony, and Spectating factions. It's also easy to notice how each dragon has powers suited for these factions, with Chaos dragons like Tohru and Ilulu being the more destructive types whereas dragons like Elma who are part of the Harmony faction prefer using passive magic such as protective barriers for defense.
Back and Better Than Ever
The next episode goes even further by establishing individuals known as dragon hunters, which proves that the series will surprisingly continue to flesh out its world-building by introducing more characters and elements. What's more, this season is noticeably more dark and serious compared to the previous. However, this isn't to say the series has changed completely as the wholesome fun is still very much present, proven with the latest few episodes. The latest episodes are great examples of how wholesome and enjoyable the anime is especially when displaying the characters' interactions.
As for its production quality, it's safe to say Kyoto Animation remains a heavy hitter in the industry. Everything visual detail we love about the series is still here and has seemingly improved tremendously. The character designs are just as cutesy and detailed as ever, the backgrounds are eye-catching, and each scene is as vibrant and colorful as the next. The stellar voice acting is still as satisfying as always, and the anime's catchy opening "Ai no Supreme" by fhána is perhaps my favorite this season.
Miss Kobayashi's Dragon Maid S – Final Thoughts
All in all, it's almost hard to believe how satisfied I am with Miss Kobayashi's Dragon Maid's return. Not only does it continue to provide what we love about the show, but it does so with improved quality. As such, if you're a fellow fan of the series, you'd be doing yourself a great disservice by not watching it.
Miss Kobayashi's Dragon Maid S is available to stream now on Crunchyroll
Have you seen Miss Kobayashi's Dragon Maid S yet? Are you a fan of Kyoto Animations's works? Let us know your thoughts in the comments section below.