With the recent explosion of gamers uploading videos to YouTube over the past couple of years, companies are competing to create the best Capture Card to record your console gameplay with. AVerMedia have a few of their own with their most recent addition the AVerMedia Game Capture HD II, and this card has quite a few features to separate it from the rest, mainly the fact that you can not only record, but also edit and upload straight to YouTube all from the box itself.
First off, the HD II looks beautiful, even to the point that it has received the 'reddot design award' for 2013. It's small and sleek with a red and black finish that should match well with your consoles and television as they are commonly black. The front of the device has an infra-red sensor for the remote control, a Power and Record button both with light indicators, a light to display whether you are recording the HDMI input or the Component input, a headphone and microphone jack and also a USB 2 port for an external hard-drive or memory stick. On the back there is the DC-IN for power, a LAN port for uploading to YouTube and to connect the GameMate App over WI-FI, the HDMI IN and OUT ports, and the Component IN ports for consoles without a HDMI output. On the bottom there is also an expansion slot for an internal storage disk, giving you ample storage for video recordings. To see the box and all of it's contents you can check out my video here: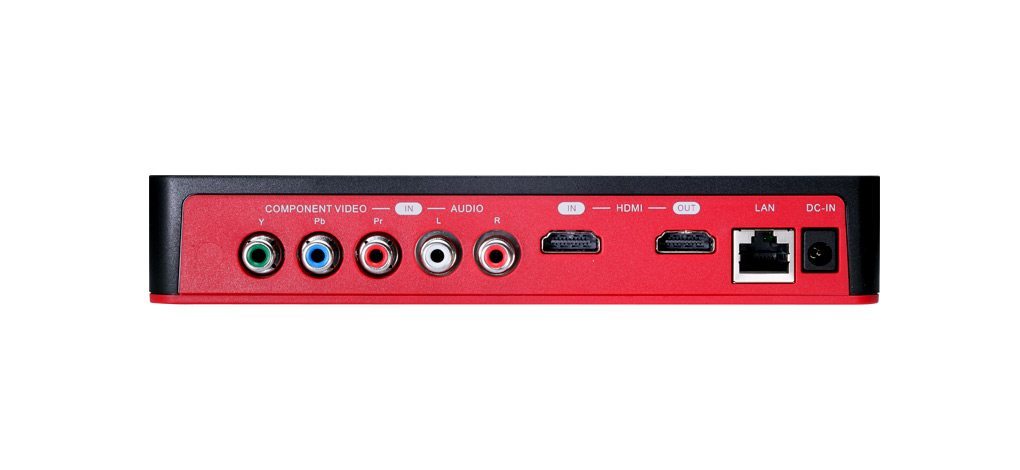 Now for the main use of the HD II, the recording. The device overall is very easy to use and doesn't affect both the recording or the gameplay as you play making it completely lag free at any of the quality settings which are 15mbps, 18mbps or 20mbps at either 720p or 1080p resolution, which is fantastic quality. If you were to install a 1tb hard-drive into the card at maximum settings you could store up to 100 hours of footage, more than enough for anyone's needs. Simply set up what resolution and settings you wish to record at, there's an option to add a watermark, change the file name, stop and start recording whenever you like and you can even take screenshots at the press of a button. The mic port on the front gives you the ability to record commentary live as you record the gameplay but bear in mind you will need to test this out a few times to assure your microphone is set correctly, otherwise the game volume can be overpowering.
To see this card demonstrated you can watch my video here:
Once you have your gameplay recorded, you can either transfer it from USB or edit it right on the device, unless you want to upload it as it is which you can do too. The built-in video editor is extremely simple but that's to be expected. The only thing you can really do is cut parts of your recording you don't want, rearrange clips and then export it, either as a new file or to the YouTube channel of your choice. If you want to do more advanced editing such as transitions, sound editing, titles and more you will have to use a PC. Despite this, it's still really neat to have a built-in editor, especially if you are just a commentator and don't require much editing at all. It's also extremely simple to use and to upload, so if you're a newcomer to video creation, or advanced, the HD II is definitely the capture box to get. Using the GameMate app alongside also makes it easier to use the box during recording, and it also displays how long you have been recording and how much recording time you have left, so you can always time everything to perfection.
Honestly there's not much else to say about the HD II. Priced at £129.90 ($169.90) it's also a great price for a superior product compared to most cards out there. Great quality, easy to use, stylish, and you keep some money in your wallet. If you're looking for a capture box whether it's your first time buying or replacing your old one, buy this one. Seriously.
Pricing & Information:
UK: http://amzn.to/1bIMVmB
US: http://amzn.to/IIk5q6
AVerMedia Links:
http://www.AVerMedia.com/
http://gamerzone.avermedia.com/
https://twitter.com/AVerMediaGZ