Thanksgiving is right around the corner, and we all know what that means: Turkey everything! Turkey dinner, hot turkey sandwiches, turkey pot pie, and so on. With poultry and turkey on the mind, we at BagoGames found the best poultry in video games.
---
5) Angry Birds
Everyone's favorite and the most overdone fowl in gaming are definitely the birds from Angry Birds. These birds are everywhere–on shirts, greeting cards, and they're even getting a CGI movie. That's pretty amazing for a simple mobile game that pits fowl against swine. These birds, of course would make horrible dinners, rolling off plates or exploding on you; that's a good way to ruin a holiday. They do, however, give us ample amounts of pork products like delicious bacon and ham steaks, so at least we'll have a nice cholesterol filled breakfast on Thanksgiving!
4) Kazooie
Kazooie is the red-crested breegull that stole our hearts in the Banjo-Kazooie games. She lives in her best friend's backpack and has helped him and his family out on several occasions. Not only does she have a lovey voice and can help Banjo jump up and get to those tough Jiggys, but she's one of our favorite fowl in gaming. Fans of the N64 know her well, but thankfully Microsoft brought her to a new generation in Rare Replay, and we can all spend our Thanksgiving with a fair feathered foul we don't have to cook.
3) South Park Turkeys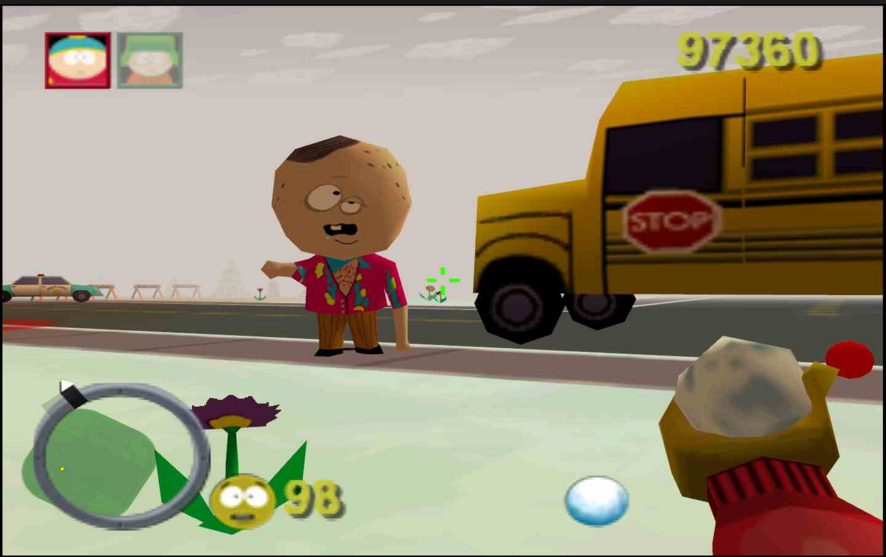 Mutant Turkeys have invaded the small, quiet town of South Park in the titular Playstation and N64 game, and it is up to the boys to save the day. With the help of Chef, they learn of the terrible Tank Turkeys that birth the Mutant Turkeys and they all must be stopped. These turkeys are vicious and want to end the boys' Thanksgiving, but they defeat the turkeys with snowballs and more, and they make it back to town in time to enjoy Thanksgiving dinner with their families. It is lucky those brave four boys saved us from utter turkey annihilation. When you're feasting on your stuffed turkey this year, make sure to raise a drum up for Kenny and mumble something incoherently.
2) Final Fight Chicken
Sometimes after beating in the heads of hundreds of degenerates in the inner city, you're feeling a bit hungry. And nothing will satisfy that hunger more than a garbage can or phone booth chicken. It has to be tasty as you wipe the blood of your enemies off your hands and grab a juicy chicken leg from which you know not where it came. I'm sure that if I was in a dingy, filth filled alleyway beating on some thugs I would totally want to eat a chicken that I found in the garbage; it would have to taste like sweet, sweet victory. I doubt it tastes as good as my mother's chicken, but I think it's the heat of the battle that makes a floor chicken taste so scrumptious.
1)  Cuccos
These deadly creatures lurk in the over world of The Legend of Zelda games. One is smart to never mess with them because if you do, you will be ganged up on by a gaggle of chickens. The only thing you can really do with them is grab them to fly for a little bit, but never ever attack them. If you are sloppy with your swordplay or if you're just vindictive and happen to hit one of them, you will be attacked by the Cucco Revenge Squad. Much like Dark Souls, you will die quickly and the cuccos will feast on your corpse.
What are some of your favorite video game fowl? Let us know in the comments!