Ever fancy going back in time to the days of Contra 3: Alien Wars but still want to play your hoard mode type games such as Zombies and Gears of War? Well have no fear, Blood Alloy: Reborn is your answer to that exact problem (if you have this problem, unlikely you do). But none the less, if you fancy taking out alien hoards in a retro 2D shooter then this might be your cup of tea.
Blood Alloy Reborn offers players an engrossing arena-style experience that infuses elements of stylish, combo-based combat and character building/progression all wrapped in cool sci-fi aesthetics. You'll take control of a fabulous cyborg warrior named Nia Rhys who must battle hordes of various mechanised NPCs through different landscapes from factories and jungles in order to obtain points and upgrade various weapons and abilities. It's simple in nature and without a story mode as such, the game relies on captivating players with its intense and fast paced action. Other elements include building up your trusty cyborg ninja with new skills and obtaining better weapons to tackle the more fierce encounters.
It's a small game in scale, but these things can be overlooked with solid and engrossing gameplay. Great thing is that the mechanics are solid and the core gameplay elements are easy to immerse yourself into, whether you're used to games like these or prefer something more slowly in pace. The aspect of stylish kills measuring higher combos works well with the incredibly fast combat. It does require little time to grasp the controls but in no time, you'll get a hang of the jumps, slides and dodges which become highly important for survival.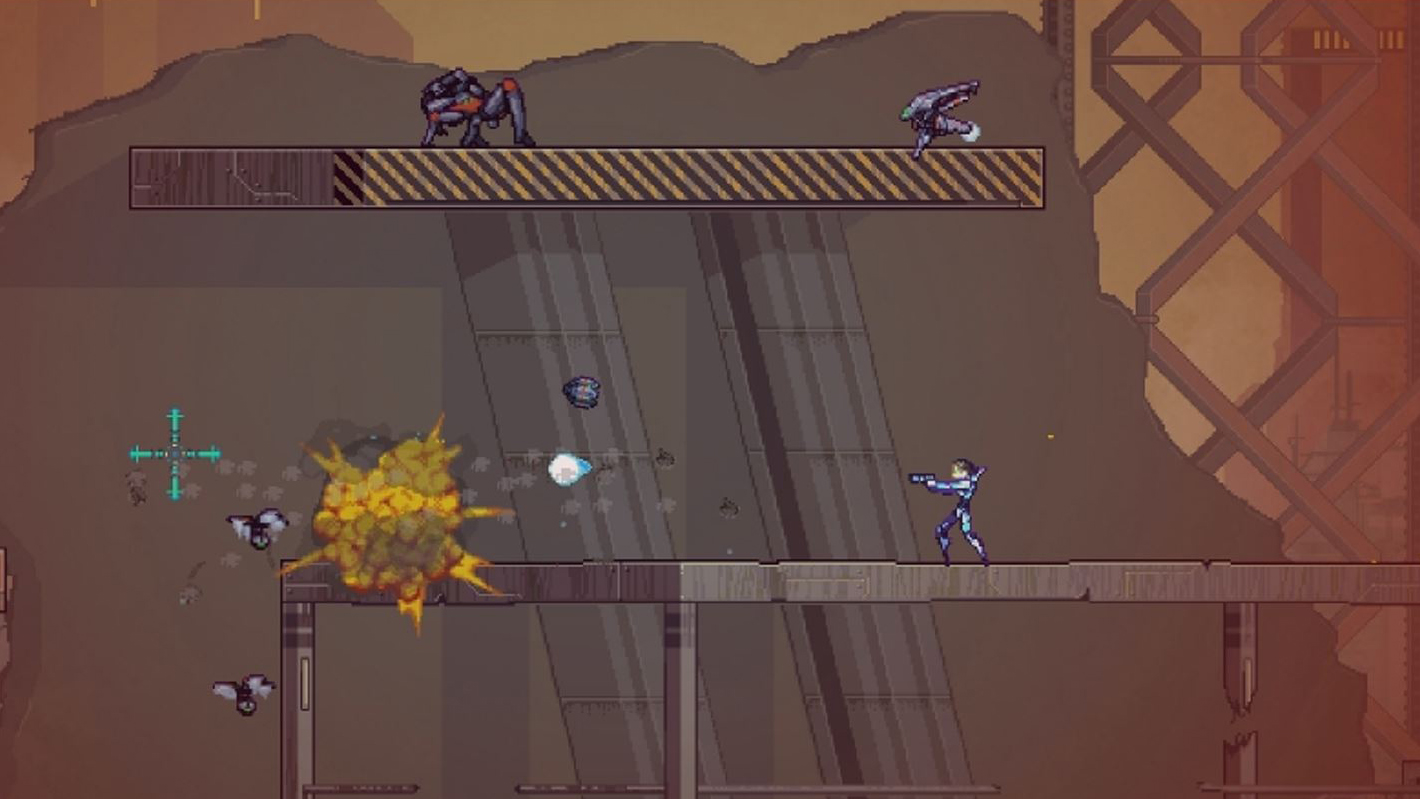 You'll have a choice between three locations (only) where players will battle NPCs and earn points to upgrade Nia and her weapons and skills. With bigger scores and fancy kills, players will rank up and acquire new weapons, perks and special attacks that will help them progress further. The core mechanics are solid and the game is highly energetic, helped by an amazing soundtrack that sounds as though it was composed by Kavinsky. The aesthetics are the best aspect of Blood Alloy including the clean cut, retro visuals.
Now I said the aesthetics are the best aspect in my opinion. That is mostly due to a main issue I have with the game. Aside from the solid mechanics Blood Alloy is highly repetitive and sadly the game has an extremely grinding nature to it. Players will reach a rank and find the tedious gameplay cycle playing out slow the pace of progression just to make sure you play it for longer. As said you have a choice between three levels, which you have to unlock the last two via increasing your rank.  You'll unlock the second level after rank 7, which sounds simple when the game makes is fairly quick and joyful to progress through up to rank 6. But this is where the grinding cycle takes place and the game becomes a somewhat painfully slow experience. The developers knew the amount of content was miniscule and in order to keep players invested, they had to slow down progression.
This is not helped when the game is insanely difficult and overwhelming without any steady difficulty increase or allowing adjustments to help new players. Yet the game prefers to throw everything at you in one huge spike and without any conventional health pickups and bare minimum of equipment for the first 7 ranks, you'll end up repeating the same section constantly. Until you get a hang of the controls and rank up enough to get better gear or a new level, you'll come across this problem. But as mentioned, this is a slow struggle. For example, I earned on my first play through of the same mission, between 2 – 4 thousand points and after 10 games I reached rank 6. Earn 8,000 on the next game and that hardly made a dent in the progression bar. So be prepared for progressing after rank 6.
What does add insult to injury is when you rank up and the thing you unlock most is a new song. How does this factor actually help me in the game? Shouldn't that be an extra or just already unlocked?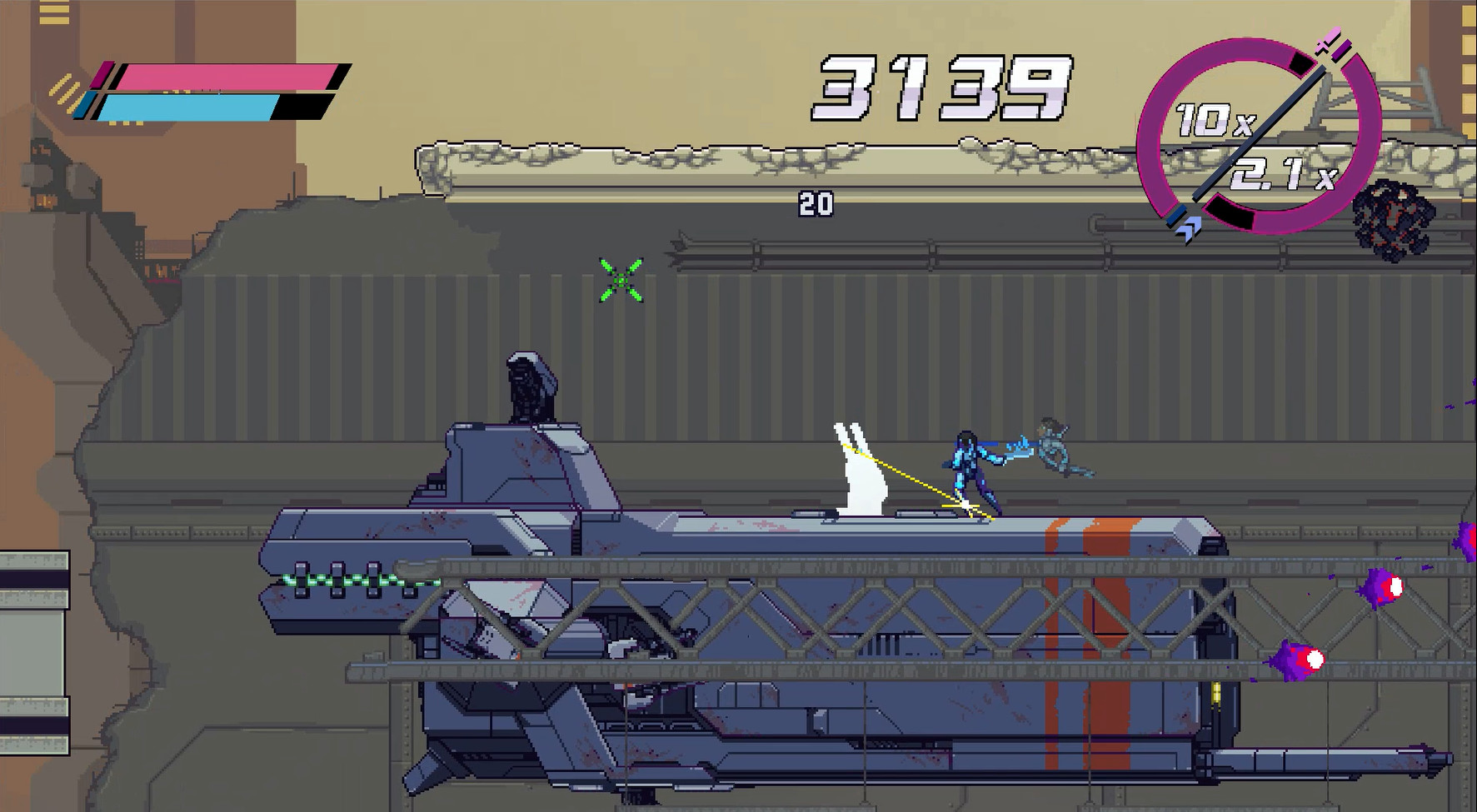 Hoard modes work by structure and are most effective and enjoyable with good pacing, rewards and dynamic changes to keep things interesting. Blood Alloy has the right elements but lacks certain important factors that instead make it fairly tiresome and quick to put down. Another platformer/shooter The Bug Butcher works well as you can upgrade whenever you like, doesn't limit you to certain areas or restrict your skills base on a flawed ranking system. Even with The Bug Butcher's minor problems in level structure, it does push a gentle difficulty progression, rewards justly and is easier to upgrade.
So Blood Alloy has some great aspects, which make it a joyous experience for causal instances of play but sadly it grinds way too early and forces you into slow and difficult progression. Without any customisation and the lack of content, its life span is cut even shorter making Blood Alloy sadly a short-lived affair. Hardcore gamers will just end up going back to Gears, Zombies or The Bug Butcher for their fix. It was a great starting point, but it feels as though the developers just stopped half way through production and decided to increase the grinding nature to make progression slow and fuller.
A code was provided by Nkidu Games Inc. for the purpose of this review.