College can be really tough with all the stress, high workload, and responsibilities it brings. Sometimes it becomes so hard that students think, «Can I hire someone to do my homework?» to avoid performing their daily assignments. For this reason, teachers always look for new ways to motivate their students to study. One of such ways becomes introducing apps for comic creation that are used not only for fun but for developing more creativity and sparking the interest in the learning process. Digital storytelling gives you an opportunity to create your own characters, customize them, and tell their stories to other people. All you will need is an iPad and some simple comic creation apps.  
Top Apps for Creating Comics 
When you are overwhelmed with studies and think, «I need someone to do my statistics homework,» try to switch to another subject and work on something more pleasant like your own comic character. This task becomes more interesting when you have different tools at your disposal that help you create easy and interactive projects which can also help you improve your academic performance. If that sounds attractive to you, have a look at these popular apps for comic creation: 
1. ComicBook!
The app has all the necessary features to create a personalized comic, and at the same time, it is super user-friendly and easy to navigate. Even if you have never dealt with similar apps, you will quickly understand how it works. You can pick the panel layout, download your pictures, and start working on dialogue using special stickers. Once you finish, you can share your story with your friends on social networks; 
2. Comic Head
The app is more aimed at kids, but students can also use it if they want to create cartoons. For your convenience, developers have provided users with lots of templates, funny stickers, and other stuff that can help you create a great story. Moreover, the app has a voice recognition feature allowing you to record speeches and transform them into speech bubbles. The app can be used as a self-publishing instrument with your personal storyboards and business presentations; 
3. Superhero Comic Book Maker 
 This is another great tool that can boast with unique interactive tools. Once you choose characters, you can create a story moving them from one scene to another one as you talk. The app records your voice and the movement, which requires no special efforts from your side. It makes it a great app for beginners or for kids; 
4. Make Belief Comix
The app differs from similar software by providing seven languages to build your story with. Your characters can speak Portuguese, English, Italian, German, French, Spanish, and even Latin, and you can use both your imagination and comic strip generator to come up with something creative and unique. You can also check its website at which you will find more funny comics and share yours; 
5. Halftone (versions 1 and 2)
The app is able to transform your photos into beautiful vintage comics, which can become a great present for your friends and family. It is not just a standard photo filter: here you can add captions, speech bubbles, choose paper styles and fonts. Its second release is perfect for pet owners: it lets you create a funny comic where the main character will be your lovely dog or cat. It includes sound effects and other artistic effects;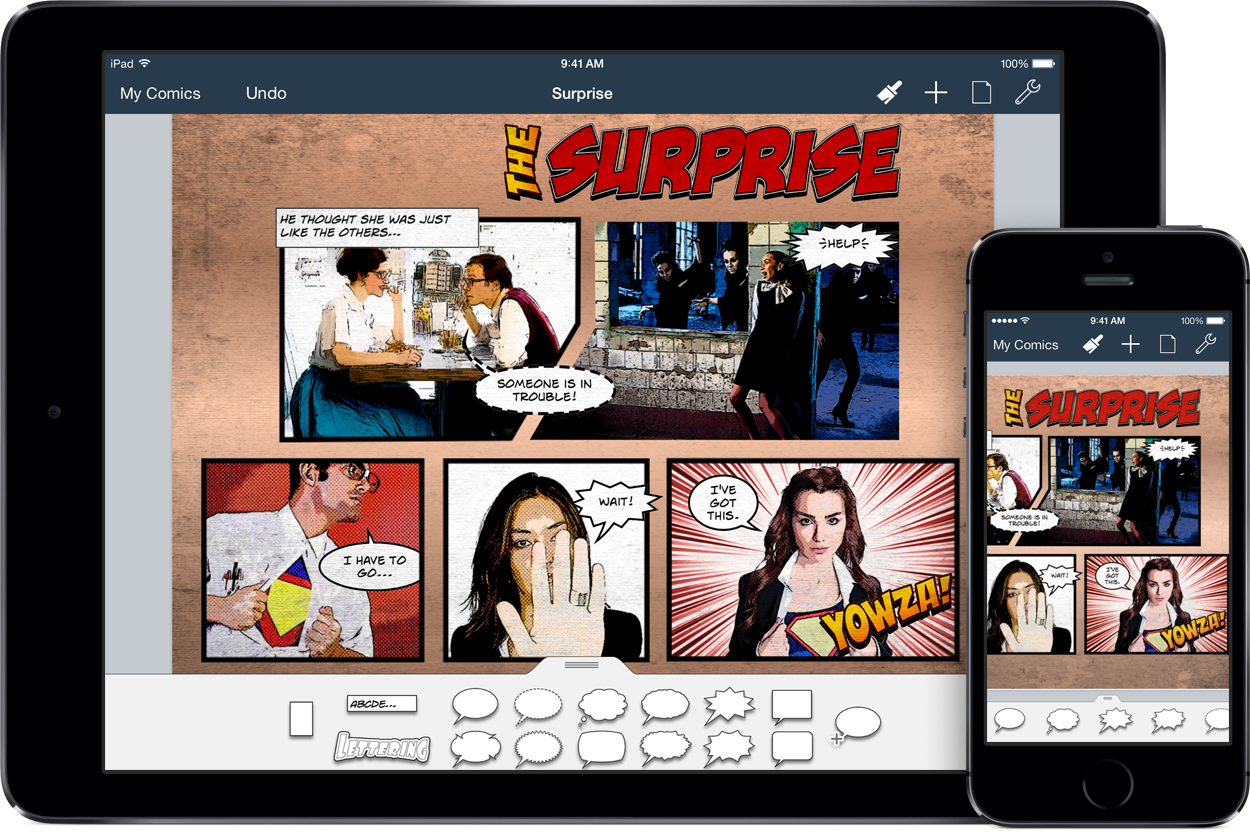 6. Comic Life 3
The app is literally packed with various fonts, speech balloons, panel layouts, templates, and other useful tools. The app has Script Editor and is so easy to use that you can build your comics on the go; 
7. Strip Designer
Compared to other apps on this list, it is more difficult and professional but still great to use. With this tool, you can create comics from scratch: draw pictures, mask, add some 3D lettering and then combine all elements on complex layout panels. If your drawing skills are good enough, you can take them to the next level with this app.
This article contains sponsored links.