Idea Factory and Compile Heart's Death end re;Quest games have been on my radar for quite some time now. Many who read my reviews will know that I'm a massive fan of JRPGs, especially those that seamlessly blend Visual Novel and Dungeon exploration elements. While Death End re;Quest 2, the sequel to the original revered game, fits this description, it isn't the only aspect of the game that appealed to me. The game comes from the mind of Corpse Party writer Makoto Kedouin, so it wasn't much of a surprise that its premise is quite a dark one that starts in a rather shocking way.
A Dark Premise
Death End re;Quest 2 follows Mai Toyama, a mistreated and disgruntled teenager who, after constantly being abused by her psychopathic and homicidal father, decides to fight back one day, ultimately brutally  murdering him in a case of self-defense. After the unfortunate event, she's then promptly approached by a social worker who takes her to Wordsworth, a school in the fictional mining town of Le Choara, filled with girls who had similar unfortunate circumstances and experiences as her. It also happens to be the same school her sister was taken to before her mysterious disappearance, after the death of their mother. While Mai gets accustomed to the school, students, and environment; she begins to notice strange things happening around her. 
The Visual Novel Appeal
During the day, players will experience the visual novel side of the game by viewing "Events," with scenes involving the various eccentric girls of Wordsworth. There is no player engagement in these sections, as it's mainly just viewing and reacting to the many entertaining moments and obvious, but entertaining tropes of the game. While this part of the game showcases the lighter side of the story, it can also be skipped if it isn't your cup of tea. Beyond these sections, though, are where the narrative truly shines. Players will see Mai form close bonds with multiple characters in heartwarming sections, all of which are highly endearing and well-written in their own right. 
However, the story isn't afraid to show its darker side by portraying many grim themes. As such, the story will leave your jaw dropped and heart broken multiple times. This aspect of the game is mainly why I enjoyed my playthrough. The story kept me on the edge of my seat and also made it a lot more rewarding going through its several challenges. 
The JRPG Standard
As for gameplay, players should expect moving through the dark, grimey, but intricately designed dungeons during nighttime with several bizarre and peculiar monsters wondering about that won't hesitate to chase you when you encounter them. Players will use different physical and magical skills to defeat the enemy in turn-based combat. You get to choose three of any skills to use on your opponent in each turn and can move around the arena for a strategic advantage. Deal enough physical damage to the enemy, and you'll knock them into each other and around the arena, which deals bonus damage called Knockback damage. I found this mechanic both fun and helpful in multiple situations. 
Another important combat element is the "Glitch Mode," which activates once you collect enough glitch items seen in the arena. This mode changes the characters' appearance into their Glitch outfits and unlocks some skills that deal more damage.
While I found the combat sufficiently engaging overall, my experience was admittedly affected by the gameplay's multiple issues.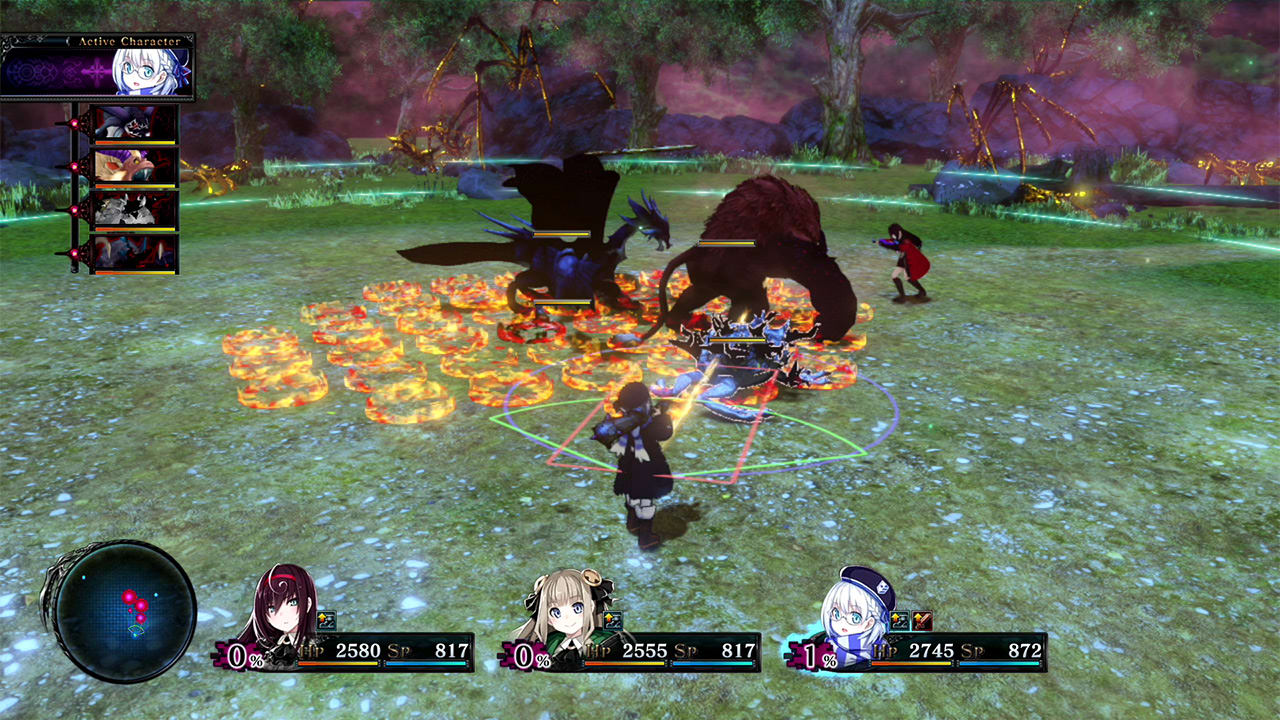 An Unworthy Port
The game's poor visuals are one of the Switch ports' many downsides. While the 2D character models and illustrations by Kei Nanameda are highly detailed with subtle but pleasant body motions, the 3D character models, on the other hand, are incredibly pixelated when roaming the poorly textured  dungeons and viewing them from the menus. The port doesn't get any better performance-wise either as the game's frame rate is extremely choppy and constantly dips, rarely getting anything close to 30fps while docked and undocked. 
However, the most personally irritating issue I encountered is how the English voice constantly disappears in some sections, leaving only the text behind. Additionally, there are these areas in each dungeon where you're meant to hack a terminal which reveals hidden illusionary walls, but this mechanic is rendered pointless as the walls are always visible without them. Finally, I found the DLC the game comes bundled with is incredibly unremarkable as the outfits just boil down to color swaps, and the weapons, while powerful, are not effective for long. The only items I found useful are the butt loads of money and the exp item (which can only be used by one party member at a time). 
Final Thoughts 
Overall, while Death End re;Quest 2 is a highly enjoyable and well-written JRPG with endearing characters, an excellent Japanese voice cast, and decent gameplay, the Switch port is, unfortunately, the worst way to experience it. That said, if you want a better way to experience the game, then I advise the PlayStation version. However, if you're a hardcore JRPG fan that prefers portability over functionality, then this, unfortunately, is your only choice. 
Will you be playing Death End re;Quest 2? What do you think of the game? Let BagoGames know your thoughts in the comments section below.
The Review
Death End re;Quest 2
While Death End re;Quest 2 is a highly enjoyable and well-written JRPG with endearing characters, an excellent Japanese voice cast, and decent gameplay, the Switch port is, unfortunately, the worst way to experience it.
PROS
Great premise and story
Great characters
Great voice acting
CONS
A myriad of technical issues
Horrible graphics
Unremarkable DLC