I've been a big Resident Evil fan ever since the age of 7, when it gave me nightmares and a taste of gruesome survival horror I love to this day. Resident Evil had its place in modern gaming, an acclaimed survival horror titan and Capcom's most successful series which has now spanned for 20 years. But the series is dying and Capcom have tried so hard to revive the corpse that should be left to rot. It's in a difficult position as there are no clear signs of the series progressing forward, and Capcom is instead going back a little too often to gain recognition once again. Remasters, remakes and a lack of interesting original installments means Capcom are running out of time, which makes us ask the question:
Do we really care anymore about Resident Evil?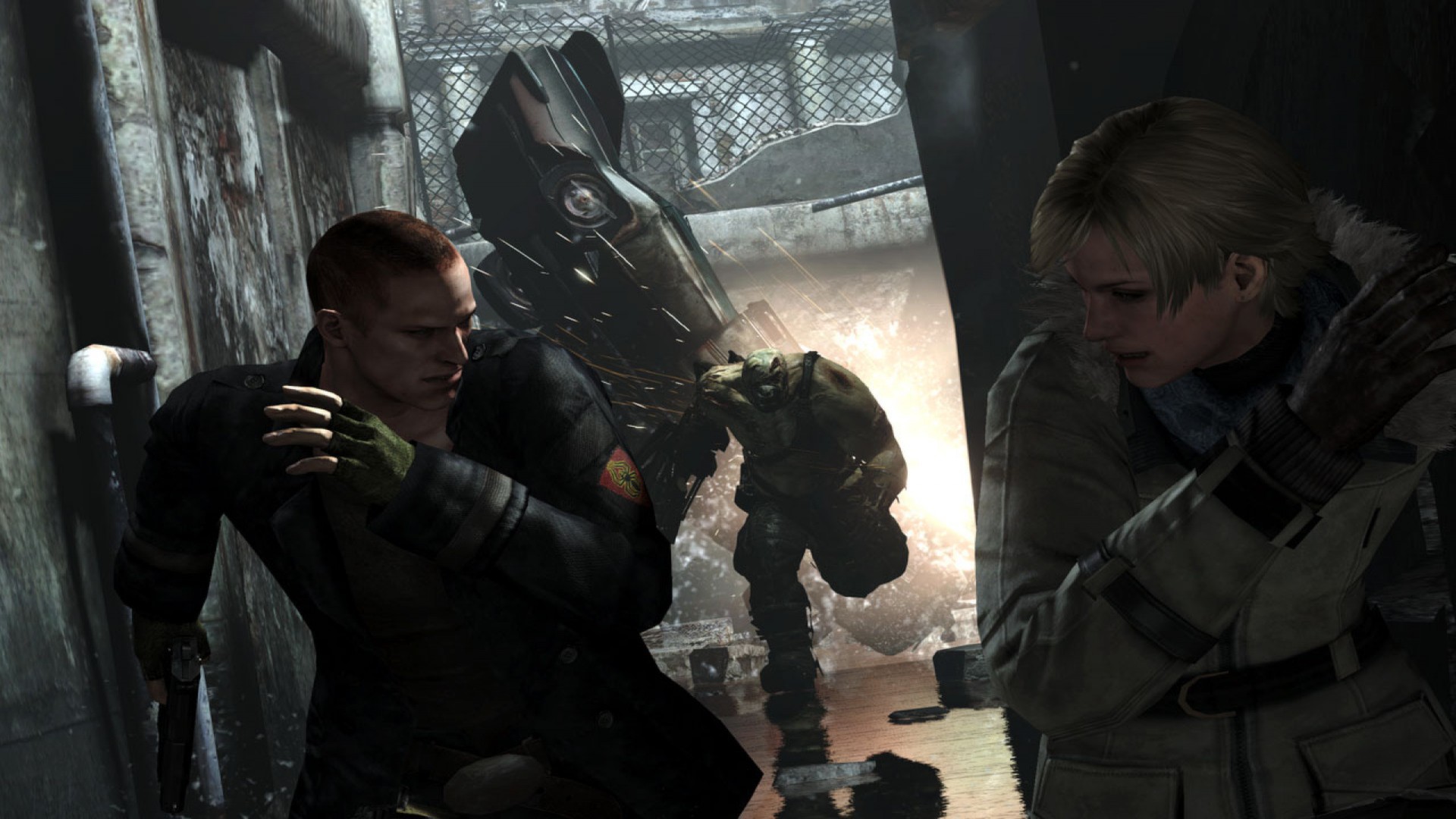 Where did the problem stem from?
Blame RE5, RE6 or Umbrella Corps for the decline. But to be fair Resident Evil 4 shares a lot of blame. RE4 was a crowning achievement in gaming for its advancement in tech and gameplay elements. It had its time to develop and was such a change compared to the "golden Age" of Survival horror. Yet Capcom had shot themselves in the foot as they took the wrong step for the next entry. Relying more on action or stressed based horror for RE5 delivered a co-op focused mess, which made it overall feel arcade-like, simple and made it friendlier for a wider audience.
Capcom's original RE5 concept sounded amazing. Chris would be in Africa but new elements such as hot weather would affect Chris, making him seek shelter – where enemies would be – and even to find resources like food and water. There would be new types of zombies, opening for a dynamic experience different than ever before. Where did this RE5 go? Why don't we get an entry like this?
It's a shame the series can't progress forward or in a more interesting direction where both new and old fans can enjoy. The last game within 10 years that truly felt like a Resident Evil game was RE: Revelations 2. This title was flawed but made the co-op aspect more dynamic and allowed it to integrate into the horror themes. Yet with one good RE game comes 5 which are dull and repetitive. But now we get a chance to play the older games thanks to remasters.
So, are RE remasters bad?
Now it works both ways. People can play the brilliant RE remake and see why it still holds up in the horror genre. It was special as not many could play it unless you had a GameCube or Wii. Now that remasters have proven successful, Capcom has and will continue to release games that were generally not well received. I personally don't like RE Zero; it's a clunky, uninspiring bore fest that in some way tried to help the old stale survival horror formula but instead just made things worse.
It wasn't liked very much back in 2002 and for good reason. Not terrible but not worth playing. Sadly many have rejoiced and loved it because of "nostalgia" and this type of thing kills progression. We can expect to see more RE titles being remastered, especially the ones which were never good. Wait for Dead Aim or any survivor title, or worse still another release of Code Veronica X. Capcom's recent business model of releasing old games yet again seems just a little insulting to me. Considering that the most recent releases of 4, 5 and 6 you can just buy on Steam or previous consoles anyway. Both RE5 and 6 had problems and reviewers never truly praised either game but rather felt disappointment compared to previous instalments.
Resident Evil 5 suffered from limited and under developed co-op elements and just heavily rehashed elements from RE4. Resident Evil 6 did a better job at co-op and is more enjoyable with bigger set pieces to utilize co-op more effectively. Overall, the game suffered from bringing in too much and mixing in three different campaigns that didn't flow together. Even with improvements, Co-op involved limited puzzle elements that were extremely dumbed down, and the game felt hugely repetitive when the campaigns would cross paths. Too much action set pieces and too many dull, slow stealth sections made the experience overall unbalanced and messy. Besides, did you really want to fight the stupid T-REX in RE6 again?!
It was said before with RE5 and what did Capcom do? Nothing, they just went bigger on the action front and thought screw it, we know what we're doing. That's the problem; Capcom didn't listen and are now just starting to take in feedback. The RE 2 remake is going ahead after years of fans asking for it. But is it too late now?
Also, not to drive at this point too heavily. WHY RELEASE THEM AGAIN?! You can buy and play them right now on Steam or any last gen console. They'll still be the same, dull games you played before. RE4 would be an exception but it's been released so many times and like me, most people have played it to death. Move on or do something more interesting like a full remake. At least it'll be worth playing again. Maybe. Or better yet remake some other lesser known titles like RE Outbreak. This could really work nowadays with better internet servers and better tech. Yet we get games many didn't care for, brought nothing new to the series other than something bad. But instead Capcom give us Umbrella Corps or remasters of RE games the majority didn't like in the first place.
So what now?
Capcom are taking their time and for the last 4 years the only new instalments we've seen are Revelations 2 and the upcoming Umbrella Corps. But this is why it's annoying to keep remastering these games and overall dangerous. People who feel nostalgia for these titles will buy them and even the ones which are crap. What's next? RE: Survivor? Dead Aim? Operation Raccoon City?! Dear God where will it end?
I'd prefer a Remake over a remaster as Remakes require more work, bring in vast improvements and refresh old ideas. Not simply to recycle them. Remakes usually help developers understand the flaws and to change them into something better. The RE remake refreshed the formula and was a worthy nostalgia trip with new improvements and gameplay elements. A RE2 remake will hopefully either make another great survival horror experience or maybe bring in the stronger co-op aspects of Revelations 2 and make a really great co-op horror game.
Do we care?
Yes of course we care! Capcom are the ones who don't seem to care. Over the past few years, they have forced the co-op aspect down our throats, remastered old crappy RE games and likely to remake more titles. Thankfully If RE2 remake goes well and is done with respect then the survival horror genre could grow up and become great again. But there is a chance the RE2 remake could be all action and silly set pieces. Let's hope they just don't remake all previous RE titles as this continues to halt progression and waste time on new developments.