Dying Light 2 is a highly anticipated game with a lot of passion behind it. The series has received a lot of love from both fans and the creators, and after the critical and commercial success of the first game, the devs undoubtedly had a lot to live up to while developing the next installment which is probably why it took 6 years to try and perfect and release it. However, after playing it for myself, I can honestly say Techland has succeeded in making a title that significantly surpasses the first in many ways despite it having some downsides as well.
Dying Light 2 takes place 15 years after the outbreak of the Harran pandemic known as The Fall, and follows Aiden Caldwell, who's a Pilgrim; drifters who venture and survive beyond the walls of The City. Aiden goes to the aforementioned city in search of his sister, who he got separated from during childhood. However, things quickly get complicated when he's caught in the middle of a conflict between a militia group known as the PeaceKeepers and a survivor group from the Bazaar.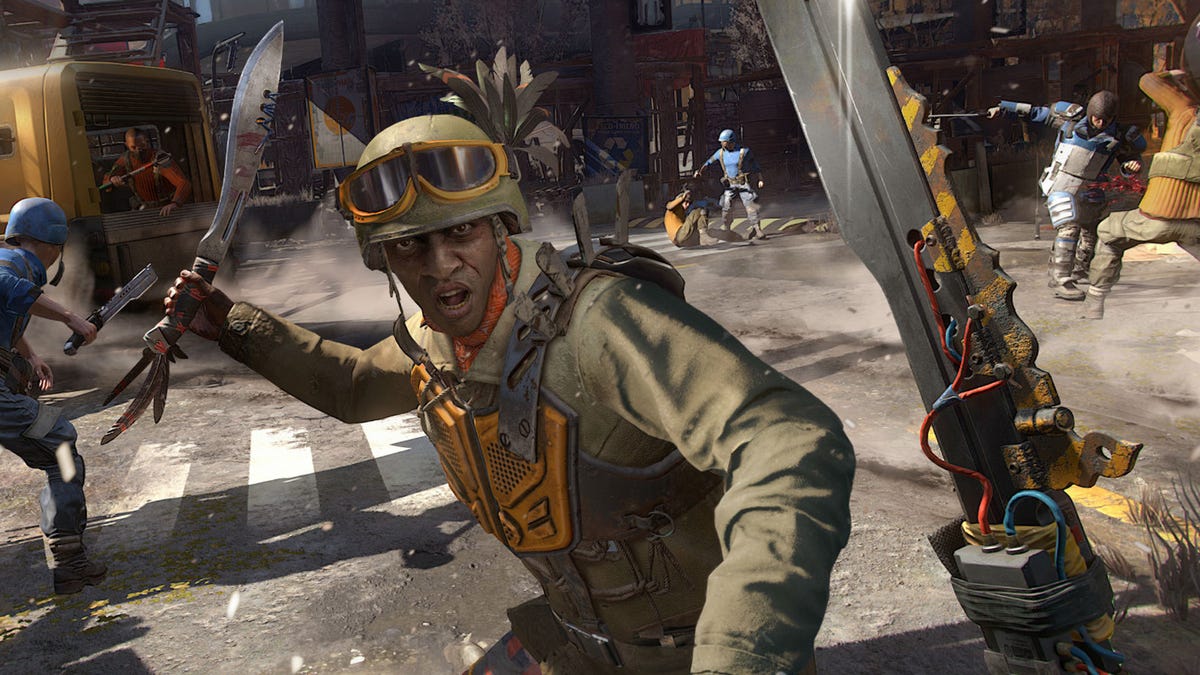 Weapons & Customization
I genuinely believe that the gameplay in Dying Light 2 far exceeds that of the original in many ways. Players will scavenge the map picking up multiple weapons, valuables, and items for crafting consumables. Each weapon has the standard rarity from Common to Rare and are grouped into different types, such as slashing and blunt. Some weapons can also be modded to give you an extra edge in battle. Using these modded weapons, like a modded electrified axe to electrocute enemies in place as you slice them down, feels highly satisfying. The only issue with this is that each weapon breaks after a certain period of time due to their minimal durability, so it's always a good choice to bring multiple weapons along during missions. 
Thankfully, the game doesn't make this hard to do, as you'll often find numerous weapons littered about, and you'll be able to hold most of them in your inventory. Apart from weapons, players will also have the ability to customize Aiden with various types of clothing, all of which surprisingly serve their own purpose, from an increase in health regeneration to faster parkour movement. There's also the skill tree which has the Parkour and Combat branches where players can acquire skills of each type simultaneously.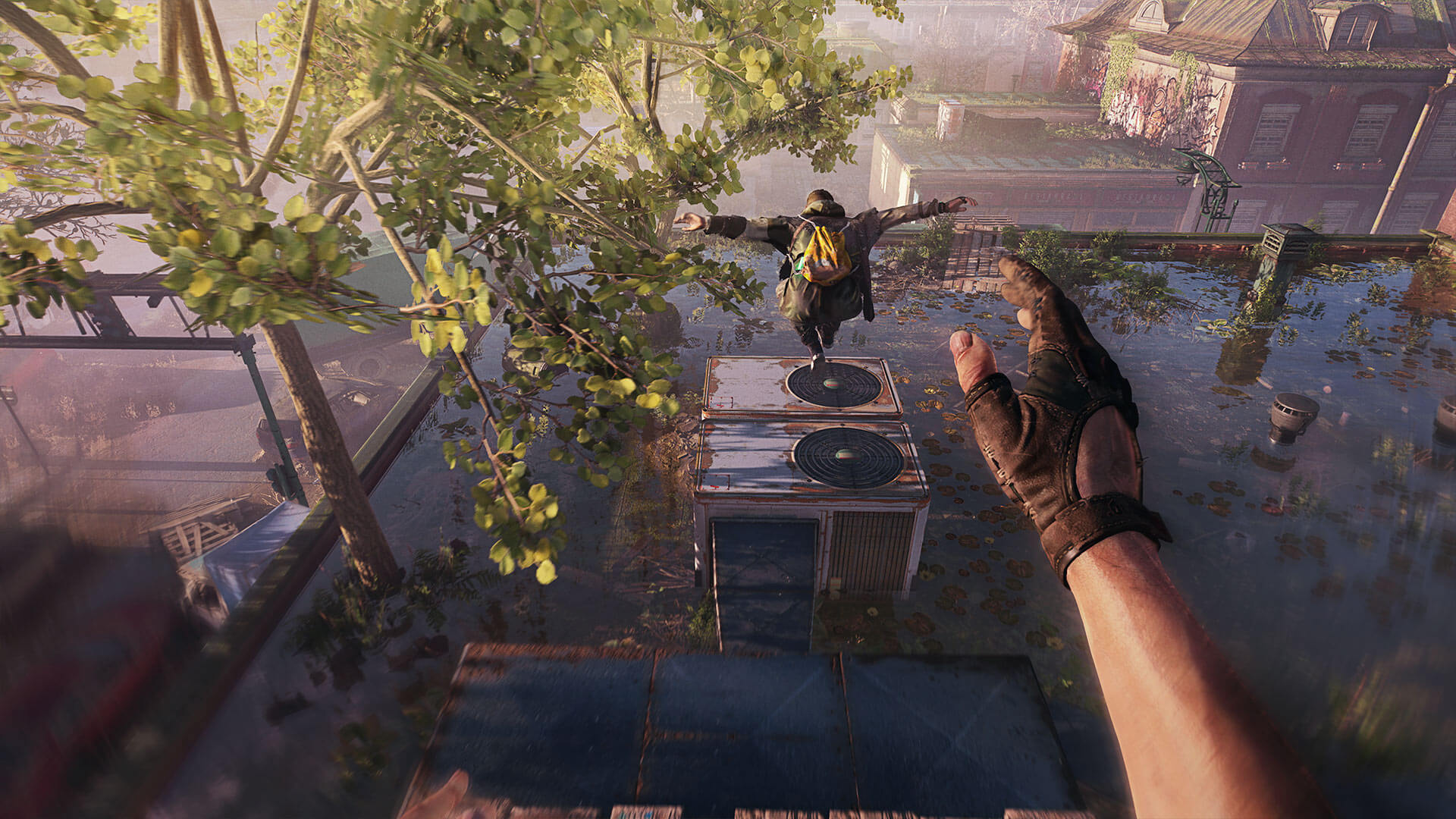 Combat & Movement
In terms of combat, I have to admit that it is not the game's strongest element as it is more akin to the rudimentary levels of Skyrim but with a bit more zest. There are multiple new infected threats in the game, such as the annoying, easily alerted Howlers, intimidating Volatiles, and massive Demolishers. In addition, players will occasionally encounter high-level enemies during Night-Time, such as the GRE Anomalies, which serve as bosses in the game. Players will strike and slash at enemies in close combat and dodge attacks or block them to prevent harm. As a bonus, players can also use Dying Light 2's Parkour Moves such as vaulting over enemies and, most importantly, drop-kicking them off ledges. 
The game also features a basic stealth system that mainly involves players crouching and hiding in sparse tall grasses and underneath tables to avoid enemies, and silent takedowns to incapacitate them. Unfortunately, while there are sections where stealth is necessary, I never found it satisfying or engaging, nor did I find the parkour moves particularly useful in most situations. 
By far, the most enjoyable gameplay element in Dying Light 2 is the parkour system which has delightfully been improved significantly since the previous game. Dashing through rooftops and buildings while climbing, vaulting, and sliding across and through platforms has never felt better. Each movement is executed seamlessly without awkward transitions, which feels fantastic, especially when playing through the many parkour challenges littered throughout the map. What's more, the mechanic only gets better as you unlock cooler skills.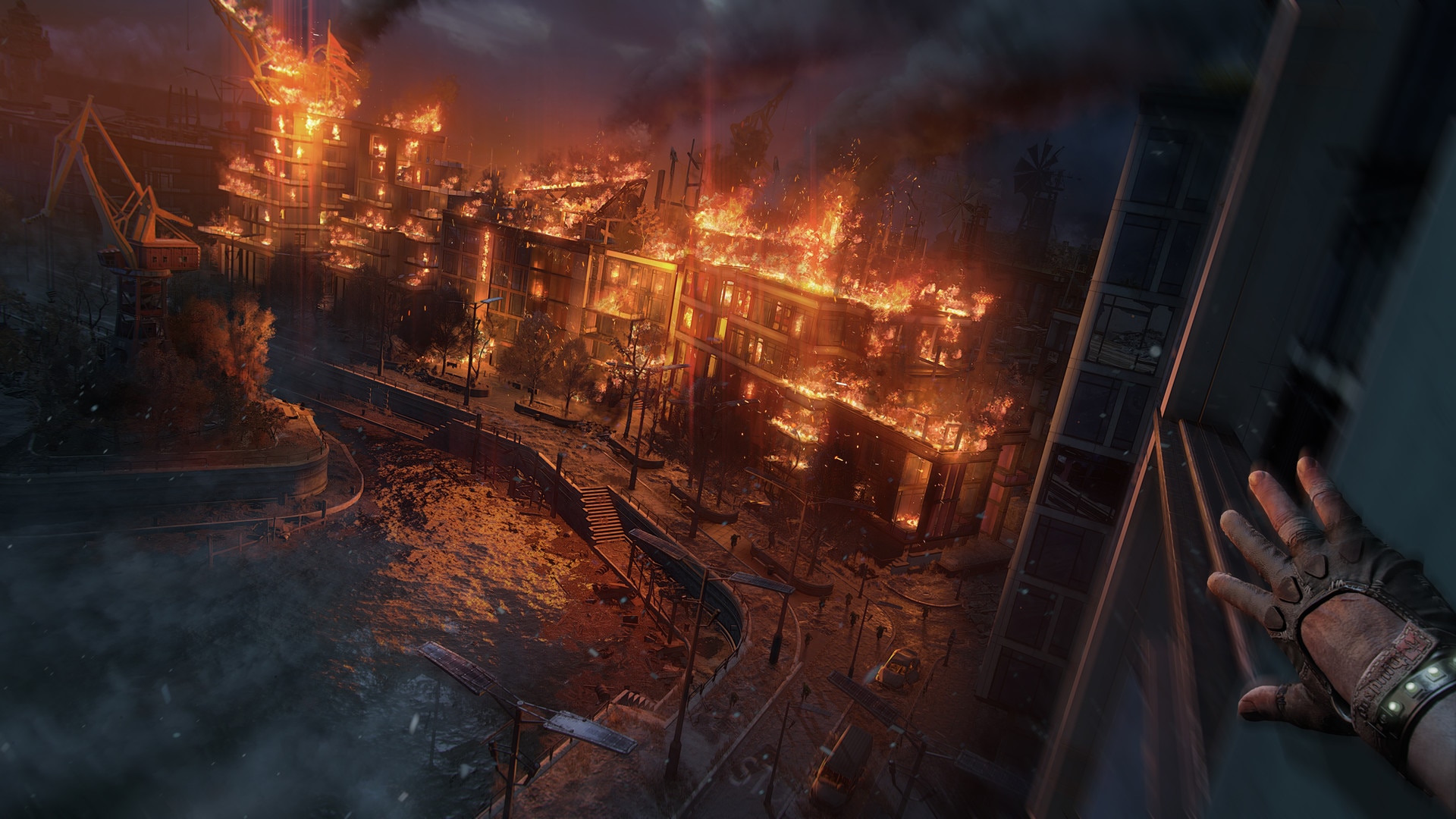 Graphics and Performance
Visually, Dying Light 2's character models are crisp and detailed. The game also sports DLSS and Ray Tracing to make the environments more vibrant and lush. Although I will admit that I found some of said environments lacking, not just because of their dull design but also due to the low textures of some sections. Performance-wise, the game runs smoothly, and I surprisingly did not run into any glitches. However, I will point out some of the issues I encountered trying to initially run the game. First, I had to brute force the game to run on my dedicated RTX 3060 GPU as it was running on the Integrated GPU instead. The game also crashed multiple times when trying to adjust my graphics settings. Other than that, though, the game ran smoothly afterward despite some people encountering multiple technical issues of which the upcoming Day One Patch will supposedly fix.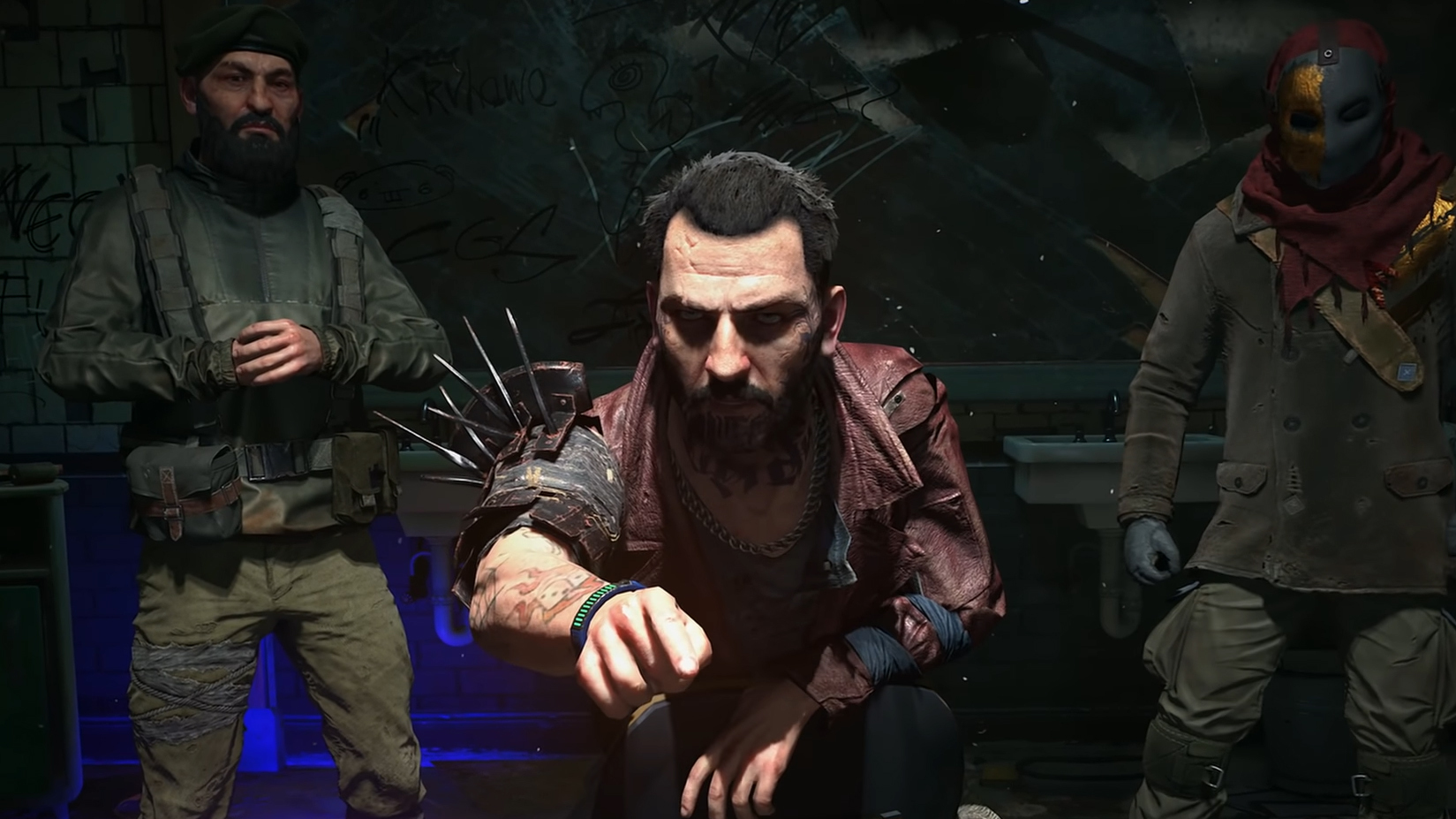 Story & Sound
Dying Light 2's narrative is generally hit and miss. The story starts off slow, and a bit uneventful and only gets more exciting towards the end. I found the premise of Aiden chasing after clues to find his sister quite dull as it felt like it's the only thing interesting about him as a protagonist, but thankfully this changes later on. The characters (asides Aiden and Lawan) are also very bland as they noticeably lack a lot of character depth. As a result, I only ever cared about a handful of them as the rest paled in comparison. The voice acting is another unremarkable aspect of the game as most characters sounded like they were either trying too much or not enough, with the only exception being Jonah Scott (Beastars, Pokémon Masters), Aiden's voice actor, who put up an excellent performance voicing the role.
And speaking of sound, Dying Light 2's impeccable sound design is my second favorite aspect of the game. The dynamic music that seamlessly syncs to your actions, be it parkouring on roofs or sneaking through grass, sounds incredible, and the haunting background yelling, shooting, and explosions you hear from a far distance when standing idly or when you open up your map adds a great level of immersion.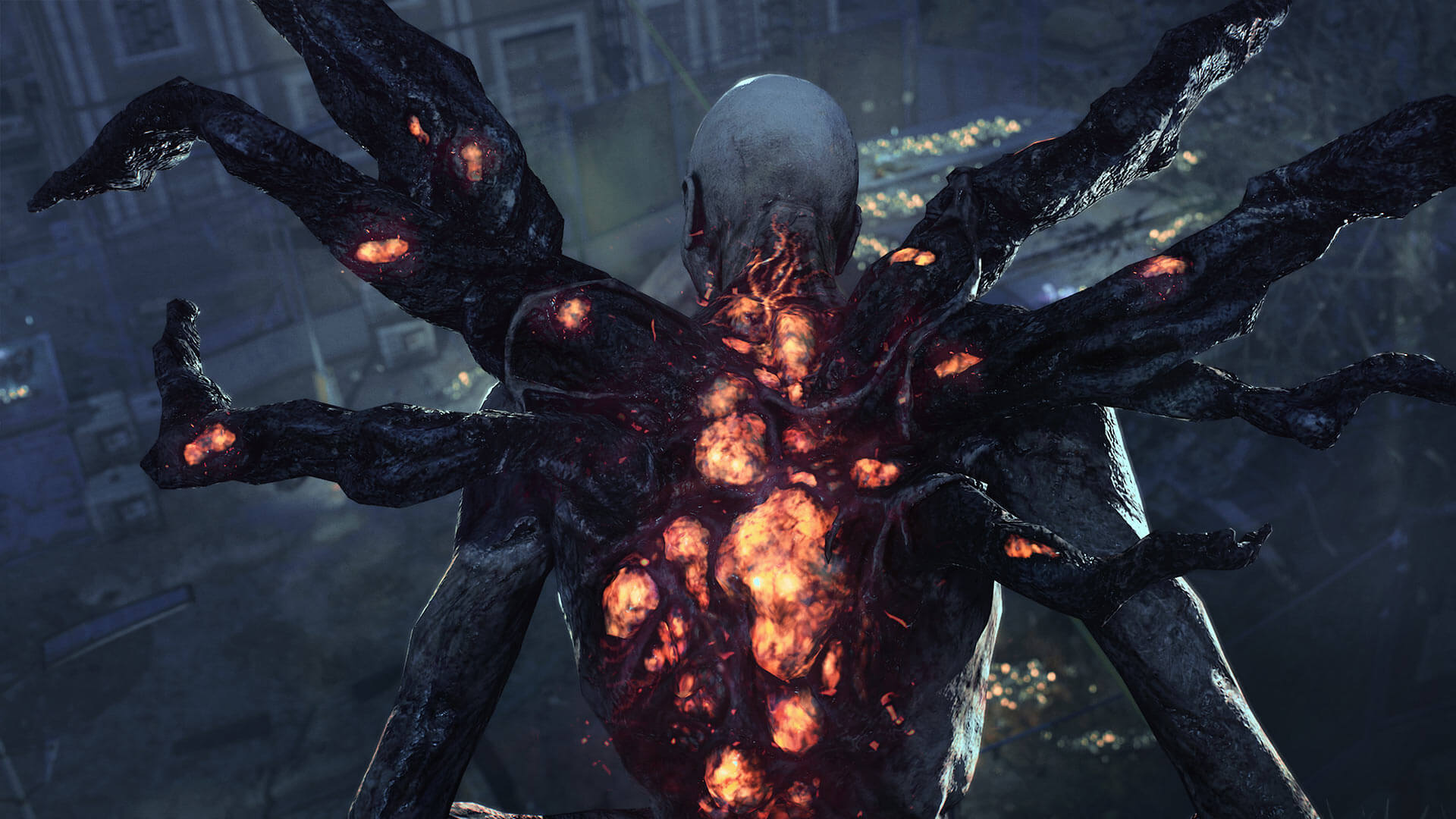 Final Thoughts
Overall, while Dying Light 2 has a lot of noticeable flaws and a story that struggles at times, I found the game genuinely fun to play and the story's end to be satisfying. While I, unfortunately, didn't get a chance to try out the co-op mode before launch, I'm still enjoying the game even after the story's end. So if you're a Dying Light fan and enjoy zombie games, I see no reason to not give this one a chance.  
Are you excited for Dying Light 2? Have you played the previous game? Let us know your thoughts in the comments section below.
The Review
Dying Light 2
While Dying Light 2 has a lot of noticeable flaws and a story that struggles at times, I found the game genuinely fun to play and the story's end to be satisfying. So if you're a Dying Light fan and enjoy zombie games, I see no reason to not give this one a chance.  
PROS
The parkour system is incredibly fun
The story's second half is entertaining
Great sound design and soundtrack
Exploring the open world is highly enjoyable
CONS
Bland combat system
Dull characters and premise
Some glitches