There's little focus, or that personal edge, to multiplayer games anymore. The concept of 1v1 competitive gaming has been lost to the likes of Worms but it could be coming back. Mayan Death Robots could be the return of tactical 1v1 games layered with delightfully colourful aesthetics. Does it bring glorious competitive multiplayer back or will it end up extinct as the Mayans–
What, too soon?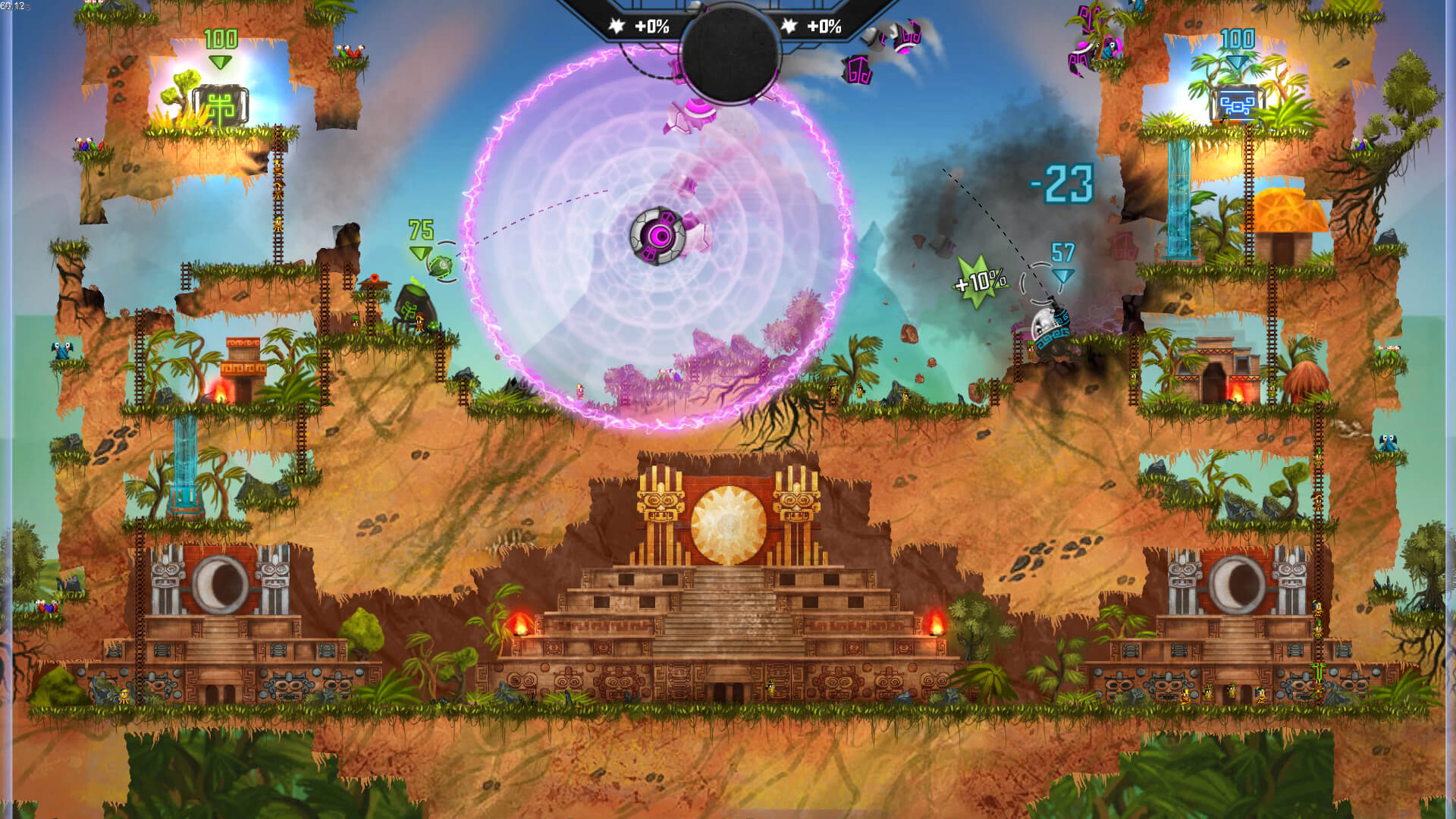 We are taken to a universe where a robotic civilization spend their Saturday nights watching a popular television show where two robots duel to the death over various stages and events. Pretty much like how humans waste their lives watching the X-Factor, and that's really it for the plot. No engaging narrative or climatic twists and turns, other than robots, death and mass carnage. You choose from 8 unique robots as they fight to the death, destroying their opponent's "core" in order to win the round.
Mayan Death Robots gameplay is presented with a turn base design similar to Worms. Each player will be able to pick from four options provided with two standard attacks, traversal jump and even be allowed to build new terrain. Overall this is an engaging concept with some dynamic elements that fit respectively well into a 1 v 1 death match simulation. Players can create defenses in extreme measures while allowing multiple attacks on their opponent and be allowed to traverse the map. But we are also presented with some issues, particularly with the balancing of certain mechanics.
Building terrain can be great to block attacks and traverse to the other side of the map with ease. Of course, using this mechanic is limited but not restricted enough. You start off by constructing 5 blocks, and then the usage goes down if used again and at times will be blocked for one turn. But using an attack instead will reset it outright, meaning smart players will repeatedly (and annoyingly) block off the core and can even block in other players if they're close enough. This can cause a massive delay and can be used to gain an unfair advantage over the round. I found some games to be endless as you'll see the same actions from the NPC: Block the other player in a box and block off their attack, then magically fire off an attack in the same turn (players can't do this, NPCs could even though they shouldn't in theory). It can be funny, if you were with another friend and decided to build as much terrain as possible, but this "cheat" can ruin the game as whoever abuses it will dominate the fight.
Players also have two forms of attacks with a random special attack to boost their fire power. Some characters felt way more powerful than others, showing that some secondary attacks felt under powered and for those who did have more powerful attacks, no limits or restrictions were in place. The god of the sun is armed with a nuclear warhead that can drill through a couple of layers of rock and cause a massive explosion, completely leveling a majority of the map. It would have been a nice means of progression and balancing to unlock more powerful attacks as you progress through the game, and break up the usage of a couple of specific characters. You'll find yourself using only two characters that are the most powerful, either Hunahpu the Sun God or Ah-Puch the God of Death. You'll be advised to stay away from Chac or Akna, who provide absolutely underwhelming attacks in comparison.
Mayan Death Robots feels as though it tries so desperately to extend its life during a match. As the maps are nowhere as big as worms, it's only natural that the game will have some tricks up its sleeve to extend the game time. But this could have been so easily fixed with a number of game types or even multiple objectives in one map, allowing players to fix attacks and defenses around more than one point.
But it also results in even "cheating" to prolong the game, even when you lose a match the next round is opened regardless. It doesn't make that much sense. Although the game can be so extremely challenging, even on the first stages, that you might find yourself pulling your hair out, so this could be why. You won't get any tutorials when starting off, but the controls and concepts are thankfully easy to learn. However, this doesn't help when the game is purposely at an advantage over you for a majority of the time. The game was purposely pushing the advantage to the NPC with lucky trick shots, being able to build terrain and fire attacks in the same turn. I even saw the game place a floor underneath the opponent's core just before I was about to destroy the final support, keeping it afloat.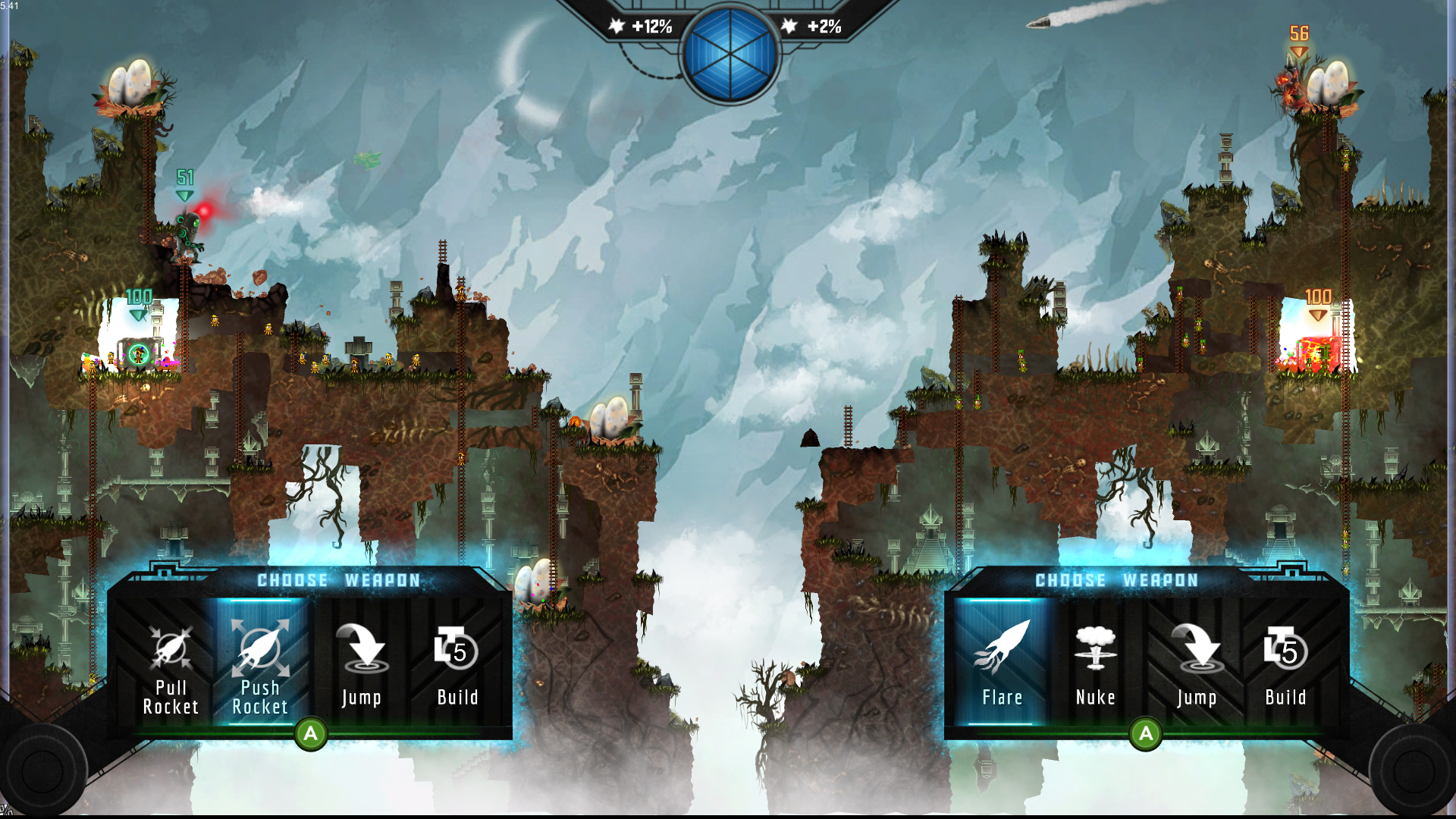 The game looks very colourful and has a high amount of detail for the destruction, with a large number of environments that hold a number of interactions, mostly to be blown up. There are also a number of dynamic events such as randomly generated boss battles. These were fun even if at times they felt like they were a major interruption to a match. However, they do break up the relentless 1v1 gameplay and even pose a threat to your opponent.  I did enjoy the different themes running through the game and levels that would incorporate the Spanish Armada who would slowly destroy the map from the ground up, but these were overshadowed by the fact there's only one match type. Running 30 matches of "Destroy the core" does get highly repetitive, seeing the same characters often without any form of progression taking place. It feels like the game is on repeat and you'll end up seeing a familiar face way too often.
Mayan Death Robots is a colourful and a hugely engaging multiplayer game that's very fun to play. But due to certain balancing issues the single player can be rather daunting and extremely unfair. The terrain builder is a nice mechanic but poorly executed leading to mistreatment and prolonging matches to an ungodly extent.  With these faults also comes repetitive gameplay at its core, even when it introduces boss battles which just become an annoying interruption from what could be an already interesting game. Mayan Death Robots can be a great deal of fun in small doses and with another person, but for it's repetitive nature, unbalanced single player and lack of more than one game mode, it's recommended to jump back into that dirty, hot and sweaty Call of Duty pile for now.
---
A PC code for Mayan Death Robots was provided by Soedesco for the purpose of this review