There are so many headsets on the market nowadays it's hard to know what to get, or even how they differ from one another. Gaming headsets, multimedia, stereo sound, dolby sound, earbuds, earphones are just to name a few all of which have different specs and specific uses, but does that mean that you can't use one pair for everything? That's where, in my opinion, the GSP 601 Gaming Series Wired headset by EPOS comes into play, despite it being named a Gaming headset.
Specifications
First of all, let's see what the GSP 601 has to offer for us. There is no software as this headset is simply plug and play. If you're not someone who is technically minded, or simply don't really care about the small print you can skip this section!
General
Ear coupling – Around ear
Transducer principle – Dynamic, closed
Cable length – 2.5 m PC cable / 1.5 m Console cable
Connector plugs – 2 x 3.5 mm (3-pole connectors) 1 x 3.5 mm (4-pole connectors)
Compatibility – PC, Mac OSX, PS4, Xbox One, Switch, and consoles with 3.5 mm jack input
Warranty – 2 years, international
Headphones
Frequency response – 10–30,000 Hz
Impedance – 28 Ω
Sound pressure level – 112 dB SPL @ 1 kHz, 1V RMS
Microphone
Frequency response – 10–18,000 Hz
Pick-up pattern – Unidirectional
Sensitivity – -47 dBV/PA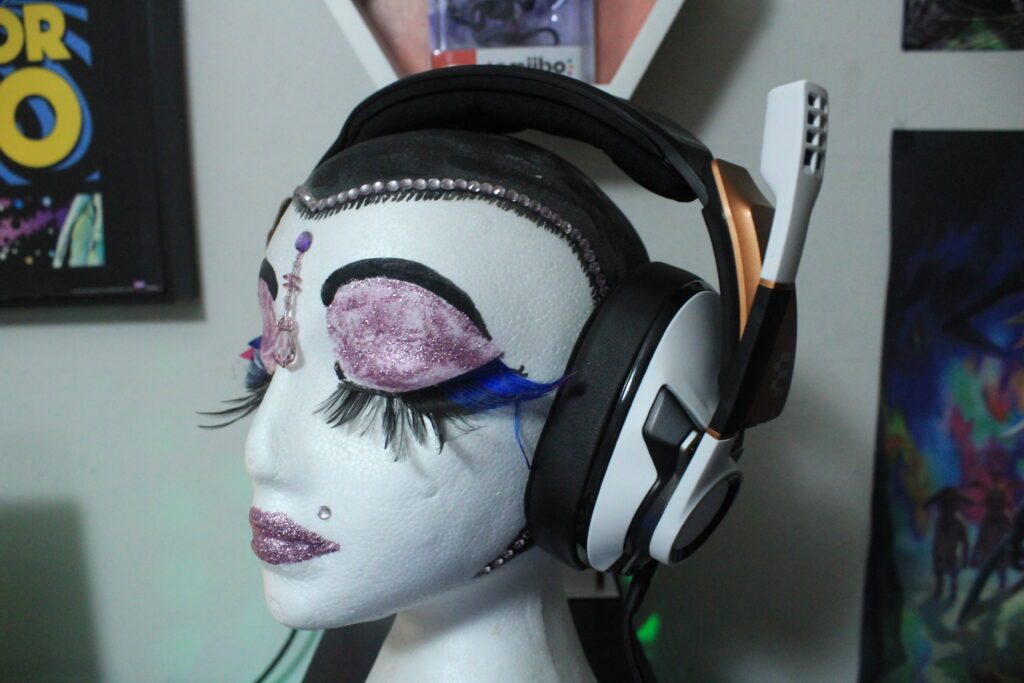 Design
The GSP 601 has the perfect combination of beautiful, polished design but with a modern, robust and practical look for current generation gamers. This is proven to be true due to EPOS headsets, including the GSP 600 series, being used by eSports teams when playing tournaments in their chosen titles. If the headset didn't look good, even if it sounded good, they wouldn't use them as a teams image defines their brand, in the same way a football team has their own kit.
The GSP 600 series currently has 4 different styles: The original GSP 600 with a black and red design, the 602 with a blue and black look, the wireless 670 with an all black design, and finally our 601. This headset is white and black, with a bronze trim on the microphone, and 2 swappable cover plates between white and bronze for your preference.  The ear cups are large and made of a smooth, comfortable leather that is firmly in place. The headband also has a spongey layer of leather, stopping the plastic making direct contact with your scalp.
The microphone is on the left side of the headset and does not retract, but swivels infront of your mouth or vertically beside your head. On the opposite side, you can control the volume output of the GSP 601 with a knob which is hidden as part of the design. The knob is nice and solid so you won't accidentally change the volume when picking it up. This is especially handy as the headset is closed acoustic, silencing the outside world effectively, so having quick access to reduce the volume to listen to someone speaking is convenient.
Performance
So here's the important part, how does this headset actually perform? I tested it on PC games, PS4, Spotify, YouTube and Netflix, to pretty much cover all aspects of audio. I know different people prefer certain things like lots of bass, crisp vocals etc but I have to say I believe the GSP 601 hits the perfect balance.
When playing games, what the headset was designed for, the GSP 601 has great spacial sound putting you right in the centre of the action. Voices are clear and cut through sound effects so you never misunderstand directions in your game. Sounds like explosions have enough bass to be hard hitting without drowning out other sounds that may be happening at the same time. The microphone is also top quality with little to no background noise meaning there's no easier way to play and communicate with your teammates. You can also lift the microphone to mute it automatically!
With a simple cable change, you can switch from console (or even mobile) to PC. Although you can game on PC, you're also open to many other forms of audio, which I had no problem with any of them. Youtube videos all sound great, including ASMR as there is no static/feedback in the headphones. Shows and movies sound amazing almost as if you have a cinema experience right up to your ears.
The most impressive aspect to me is how the headset handles music. Your favourite songs are transformed, with a fantastic balance of treble, bass and pure, crisp sound. You can hear every instrument, individual voice and every tone blends into what you can literally call, music to your ears. Now again, if you prefer powerful bass for your listening experience then you may think the GSP 601 isn't a great performer, so this might not be the headset for you.
Summary
The GSP 601 Gaming Series Headset is currently priced at £199 in the UK, which is an investment but worth every penny. If the colours aren't right for you again there are other options available, but I can see myself using this headset for years to come.
Thanks to EPOS for providing this product for review.
The Review
EPOS GSP 601
A triumph in audio technology, the GSP 601 can improve not only your gaming experience but also your general audio experiences overall.
PROS
Amazing High Quality Sound
Great Comfort
Clear High Quality Microphone
CONS
Bit Pricey if you have a Low Budget