So if you weren't aware, Father's Day is just around the corner (June 20th, this Sunday!), which probably means you haven't got him a gift yet. Well, if he's a gamer, which is quite likely nowadays, then you're in luck as I've compiled this small list of some gift ideas just for you, you lucky sod. You could buy him chocolate, alcohol, tools, a bird feeder… but does any of that show you really care? To proclaim your love for the man who brought you into this world, why not improve his life with a new headset, a way to make his gaming sessions last longer, a brand new game perfect for a movie/comic buff, or even all 3 if you're feeling generous! You may also add cookies send by mail to make him feel more loved.
Guardians of the Galaxy Video Game
Just announced yesterday with both a premiere trailer and gameplay, Square Enix are releasing the first fully action packed, single-player adventure Guardians of the Galaxy game. You play as Peter Quill, traversing harsh landscapes, fighting off creatures and villains whilst controlling the guardians for epic battle sequences. The game isn't out until the 26th of October, but you can be sure that a Marvel fan Dad would be over the moon knowing that the game has been preordered for him, whether he plays on Xbox Series X/S, Xbox One, PS5, PS4 or PC. There are also several editions of the game if you want to make it a bit more special, including the Digital Deluxe Edition seen here.
If this is the first time you're hearing about the game, though it has been rumoured for a while, you can check out the brand new trailer here:
But maybe your Father has plenty of games to play already, so let's see what we can offer him to improve his gaming experience.
Gioteck TX70 Wireless Stereo Gaming Headset
If you've not already seen anything from Gioteck, you can check out one of my reviews here. Gioteck surprise me again and again, and the TX70 Wireless Headset is absolutely no exception. Just like all their products, this headset is great value at only £50, but never let their low prices fool you. The TX70 is better than most wired headsets at this price, yet a 15 hour battery life for use in wireless mode makes it so much more appealing. It's perfect for using with VR for example, so you don't have to worry about the wire flying around when you're real world… blind.
The quality is what truly wins me over, not only of the build of the product but also the sound. Using a strong durable plastic for the chassis, a fold flat design, athletic mesh cushions for extra comfort, controls and LEDs for style and function, anyone could easily think the TX70s could cost over £100. Not only is the sound quality fantastic, but Gioteck also threw on a bass button, switching between a bass heavy equalisation and one with a high clarity of audio. I find this switch perfect for using the headset for music or YouTube videos, to action heavy games with extra umph!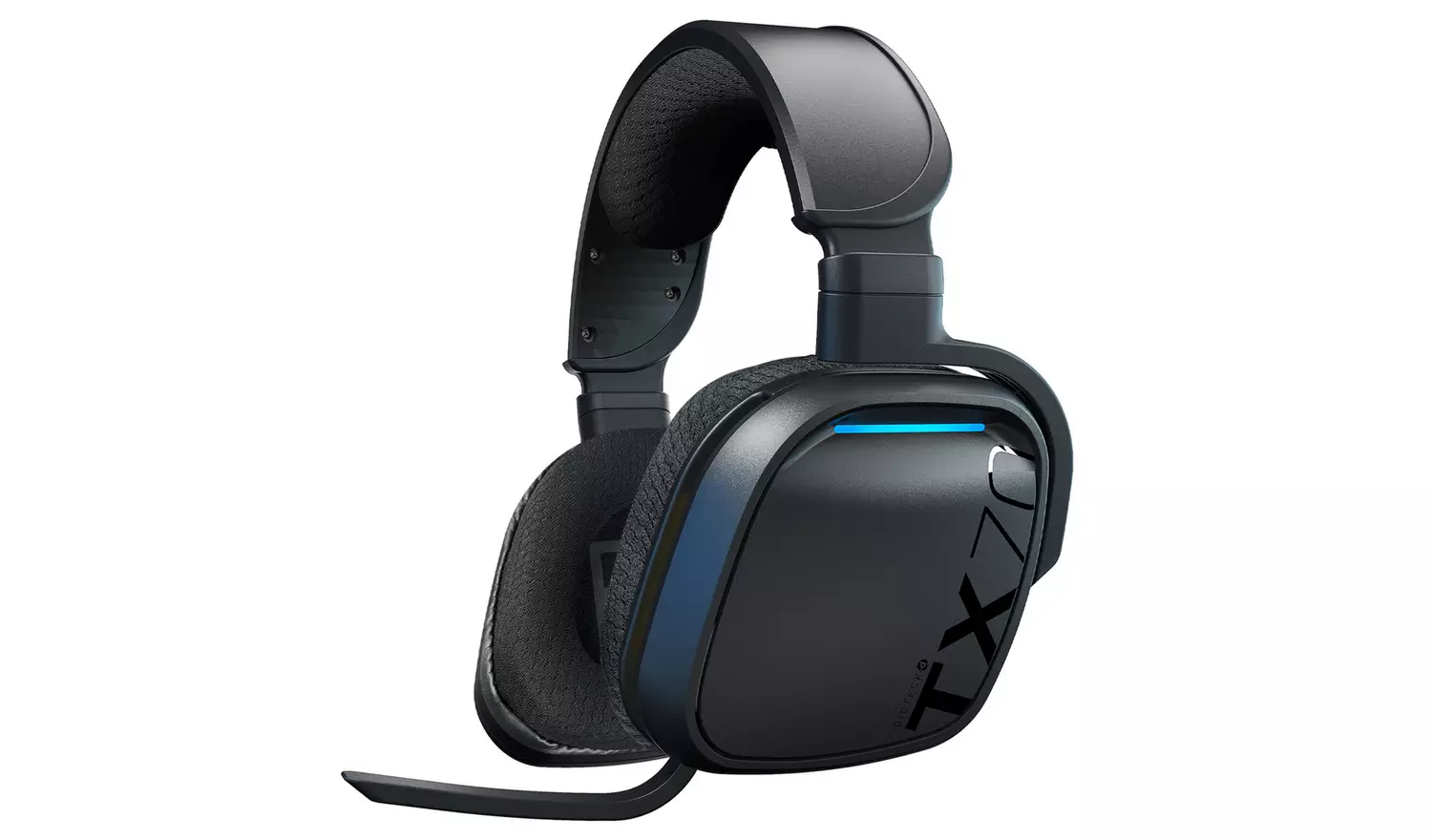 The headset works flawlessly with PC, PS4 and PS5 with a USB dongle that plugs in and connects instantly, no downloading or faffing. But that's not all, they also include a 3.5mm audio jack that you can use to connect to any other console or mobile, being there for any device you need. As with most of Gioteck's products, you can buy the TX70s for the afformentioned price of £50 at Argos in the UK, and I couldn't recommend it enough. If you decide to buy one for your Dad you should get one for yourself while you're at it!
Gioteck AC2 Ammo Clip Charging Dock
Controller charging docks are perhaps the quintessential "quality of life" accessories for any new games console, especially if you have multiple controllers, allowing you to quickly swap out your dead controller for a fully charged one in seconds. Of course, even if you only have one controller a nice dock still adds some style and ease of use to your gaming setup. The AC2 Ammo Clip Charging Dock is priced at £17.99 (PS5) and £19.99 (Xbox Series S/X), so a bit of a cheaper option compared to the previous two suggestions.
Gioteck's AC2 Ammo Clip Charging Docks for PS5 and Xbox Series S/X controllers have a sleek, minimalist look that matches the respective consoles and controllers beautifully. With a small, hexagonal design, the AC2 is a little different to many other charging docks in that the controllers plug into the dock flat rather than sitting on top. Though this may take up a little more surface area than a top-mounting dock, you're less likely to accidentally knock the controllers off — or worse, bend the USB connectors. Two controllers plug in on opposite sides, with a sleek pulsing light (green for Xbox and blue for PlayStation, as you might expect) to indicate charging with the light turning off when fully charged.
In the box you'll get the dock, a fast-charge 2M long USB-C cable (USB-A on the end that plugs into the console), an instruction booklet and of course unlike the PS5 version which simply charges the controllers internal batteries, the Xbox version comes with two 600mAh battery packs. As a neat bonus of that, even if you only have one Xbox controller you can keep the second battery pack charged on the dock while the other is in use. The included battery packs make the Xbox version more expensive, though thankfully not by as much as you might expect.
There's Much More Out There
Hopefully one of these suggestions is something you can pick up for Father's Day this year if you haven't got him something already. Of course there are many, many more options out there, but even if one of these sparked an idea in your head that's good enough for us. Stay safe out there!