Gettysburg: Armored Warfare is new title out on Steam today that was developed by Radioactive Software and published my Paradox Interactive. It is a real-time tactics game with the ability to take control of a specific unit on the battlefield and personally fight in the smaller engagements within a third-person view. The setting is an alternate history take on the Civil War, where futuristic weapons and vehicles from 2060 are brought back to change history. Sounds great, right?
Not entirely. The game, being a multiplayer-only title, has two game modes and four maps. The game modes are 'Deathmatch' and 'Army Skirmish'; the former is much like Battlefield 3's 'Conquest' mode with 64 players and third-person shooter gameplay, while the latter is a four player RTS skirmish. The maps are very large, each living up to the promise of 9 square kilometers. Sadly much of this space is unutilized because the five "capture points" (think Battlefield 3) are located in the center of the mini-map.
The 'Deathmatch' gametype offers more opportunity for fun and experimenting with different units. Those units range from standard foot soldiers to armored foot soldiers, even tanks to zeppelins. When a match begins you have to rush to find a unit to control for the rest of the round. In my experiences the zeppelins were taken first, followed by tanks, and finally soldiers. I managed to get in a tank for a few rounds, which handled well and provided for several fun moments against the opposing soldiers.
The soldier units play as mere cannon fodder and there isn't much to do about it. There is no sprint, so getting to the capture points takes a while. It is extremely hard to hit anything and there is no cover to take. You can also switch to sniper, much like I did, and find that there is no first-person scope to look into in order to come close to hitting a target.
Aside from those problems there are a slew of more. The game feels clunky and every animation is flat out awkward. Here's an example; if you run into a fence in a tank, it will stop you then disappear. Then you can continue on to wherever you were headed. Take an instance like that and apply it to the entire game, and it's that type of straight up awful gameplay that you find yourself in the middle of.
The biggest problem this game has is the mountain-high stack of promises that were thrown about to gather interest. It was supposed to be a fluid free-to-play hybrid between real-time strategy and third-person shooter gameplay, and all of the previews I saw of the alpha and beta footage made it out to be just that. Except it isn't fluid and I had to throw $10 into a pot of uncertainty.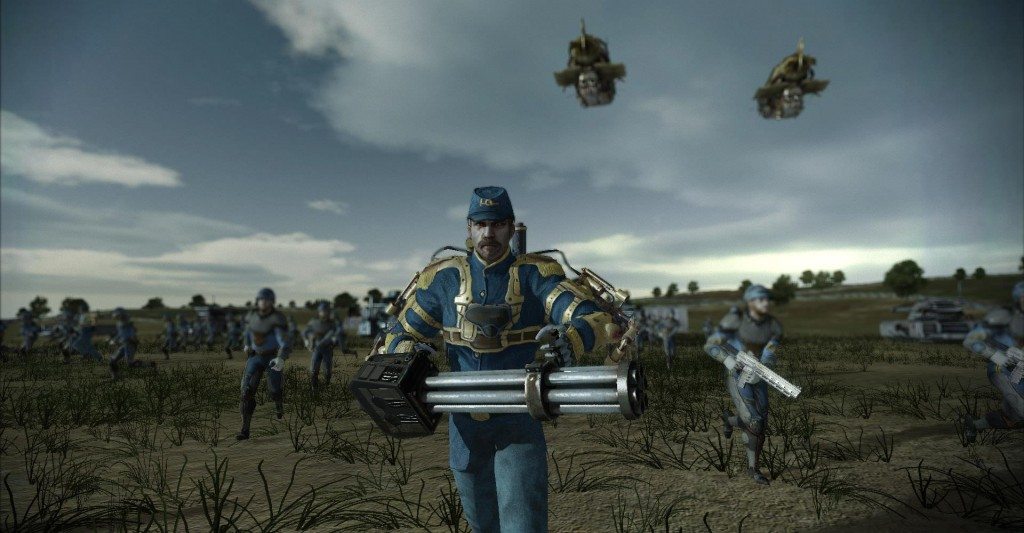 The only redeeming value in this game is the sound design, at least in the sense that vehicles sound great and weapon fire is different. Aside from that and some vehicle handling, there isn't much to praise in this title. As I write this review I wonder if I be so critical if it was free-to-play, but I would. With this year's free-to-play titles, such as Tribes: Ascend and Blacklight: Retribution, garnering much attention and praise for their stunning quality, it is shocking that Gettysburg: Armored Warfare couldn't afford to have even a sliver of that quality.
Honestly, there were moments when I had fun in Gettysburg: Armored Warfare and I really enjoyed the sound design. But those are two small things compared to all of the various complaints and issues the game boasts. The game design overall is extremely poor and will leave you wanting your money back if you purchase it. That's the situation I find myself in now, so heed my warning and stay away from this title.