Why shorten the title? (only fans can do that). Why continue with "The Swarm" even though they're just the locust. Why continue this series without any innovation or dynamic elements? *Sees Funko pop game* Dear Sweet Jesus are you kidding me? Well, I'm kind of scared of what's to come for the Gears of War franchise. It's slowly being whored out and what could be next? I'm expecting aGears of War Battle Royale soon enough. So no surprise that Microsoft would present Gears (of War) 5 and it was met with excitement and a little heartache. Maybe people are so happy that there's an exclusive coming out next year! But I may have some doubts and some praise for Gears (of War) 5.
Expanding the World of Sera
From the initial E3 trailer, we saw the world of Sera is bleak, cruel and pretty grey from the off-set and *sees the remainder of trailer* wow, color! I can't believe that the developers gave the world more depth in terms of environmental designs and color. I thought that Gears of War 4 just reflected industrial, futuristic areas and plain boring gothic areas which lack any real charm.
Now the original games were very grey. Gears of War was set mainly within decaying urban areas and at the time, the graphics were limited. Thankfully as the original series went on, Epic games decided to push the boat and show more of the planet Sera with different terrains implement different weather effects and add vast detail to the environments thus creating a high level of world building. Gears of War 4 took a step back but now we're seeing the same progression with some cool look landscapes and methods of traversing the world.
A strong leading lady
Kait is pretty badass and stood out from the main cast of Gears of War 4. JD was fine but a little bland and Del while funny was mainly the comic relieve. Kait showed a personal attachment to the events of the new series. And she displays emotional gravitas and a firm capability to kick ass.
The original series decided to take the concept of the lone action hero and make it about the group. Thus we have four muscle-bound guys taking on armies of Locust and it worked very well. Now the tables are turning once again but with a female lead. This is an interesting idea as nowadays we see in most genres of films and games, particularly action, the focus of the group rather than the individual. Microsoft is showing us that Kait can be a strong lead regardless of gender and she can match up to any threats coming her way.
Even though it seems like she is guided by Marcus for a lot of the journey, this is still an interesting dynamic, considering his age and that Kait and he aren't related. I like this approach and I'm sure it will work out for the series.
The Swarm …
I'm still not massively convinced that developers/publisher and producer Ron are confident on moving away from the Locust. I like the more feral enemies of the new Gears of War trilogy but having the Swarm be born from puddles of the old locust is just a cop-out. Even more so when you have crystallized Locus enemies and a boss fight which is a Brumak with crystals over its body. It's a shame really as its pretty underwhelming.
I understand the theme of evolution and the new enemy is the next step up from the Locust, but they look identical and now wear the armor to match? Boring! I hope to God that the Locust Queen doesn't come back as some form of regenerated Swarm master-mind.
I'm not holding my breath. But I like to see more feral enemies or maybe we'll get an induction to another faction altogether like we did in Gears of War 2. Then again, I wouldn't.
More layers to the story?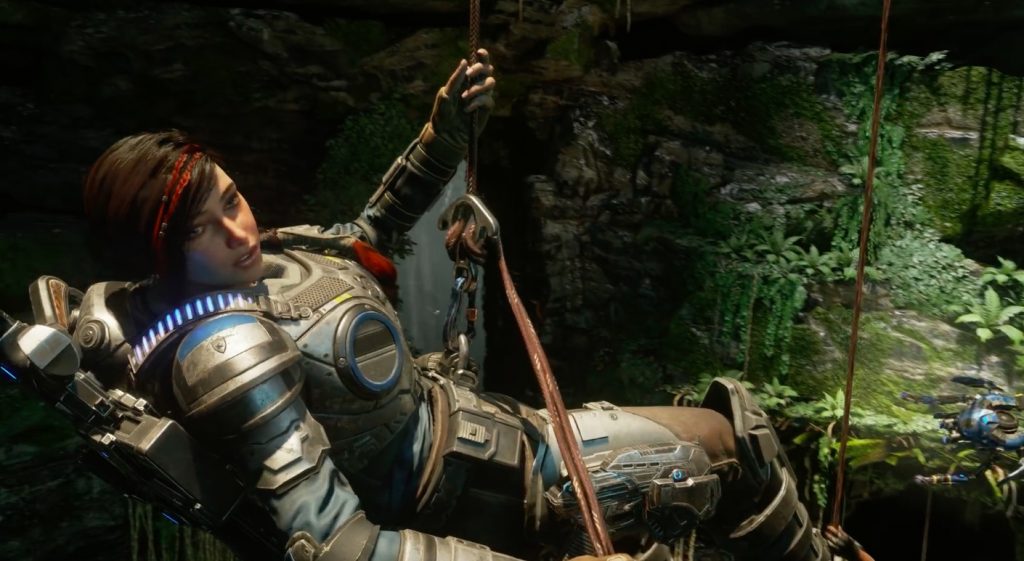 As mentioned before, Kait as a personal stake in this and there seems to be more character driven conflicts at play for Gears 5. The original games offered great characters but the stories were really just about survival and finishing the war that started for no good reason. The lore and history of Gears have always been a little lackluster and despite reading the comics and novels, you don't get much emotional investment or a well-constructed world that explains character motivations. By which I really mean the Locust. They're just dicks really! Plus we never know why people are still on the planet Sera, why there's an Australian there and really just why of anything.
But know we've got a glimpse of something more meaningful. What connections does Kait's family have with the Locust? It's pretty interesting and hopefully, the writing will be much stronger at this point.
Gears of War is still brutal than ever!
I love the mayhem, brutality and the level of tension in the trailers. The Coalition has captured the raw insanity of what made Gears of War a beloved tactical shooter. In Gears 5 we're seeing more melee combat which if done right can add a new layer to the combat of Gears. It was attempted before and while not awful, it didn't have a lasting effect.
There seems to be a bigger focus on fighting in enclosed spaces which can increase the intensity and a frantic note to the combat between the tactical moments. This seems more dirty, more hands-on and isn't solely reliant on firearms. Love it.
Overall?
While this is a step in the right direction, I'm personally not entirely sold. Just because the last few games weren't as good as the first two. Gears 4 played it way too safe but then again this could be intentional. Star Wars did this were they gave fans what they're used too then deliver something a little more developed in the sequel. Once the fans and newcomers are engaged then could the developers advanced the framework/gameplay. My passion for gears has been gone since 2011 but I'm willing to give this series another shot, even if it's for nostalgia reasons.