I haven't had the chance to read a lot of manga lately due to my frantic ever-changing schedule. So when I finally had to read one, albeit, for a review, I decided I'd take my time and enjoy it. Devil's Candy was that manga, and it made my goal a heck of a lot easier as it is perhaps the funniest, most whimsical, and downright gorgeous manga I've read in a while.
Introduction
The events of Devil's Candy take place in Hemlock Heart Academy, a school to train young devils and daemons alike, where our protagonist Kazu is recently tasked to make something for his science project. Kazu, being the brilliant overachiever that he is, goes above and beyond and creates his own take on Frankenstein's monster by creating Pandora, a young devil girl sutured from the limbs of the dead. After successfully creating his new friend, he takes her to school to show her off and finds out other students had the same idea. Things then unexpectedly go awry from there when Kazu and Pandora have to fight off all manner of monsters in the science fair.
Structure
After going through the first volume, I easily pinned down the manga's formula in that each chapter starts innocently enough as the characters set out a simple goal to achieve. However, things always end up with a bizarre, heavily emotional, and almost always physical scenario with shockingly intense and brutal action segments. These segments are surprisingly always well-executed as they successfully engage the reader and provide a little more nuance to the story we didn't see in the previous chapter. The manga's story is primarily character-driven, so I was glad to find that the characters in Devil's Candy are incredibly well written. The manga quickly gives us a chance to learn about these characters, their strengths, weaknesses, goals, and ideals. Each chapter in the volume always seem to focus on a particular character and wraps up in such a way that as we learn more about them, we begin to like them even more.
Whimsical Art
Additionally, the character designs from the artist Rem are impeccable and intricately detailed, and their designs easily match their personalities. For example, Kazu is an intelligent, well-spoken young devil, so his prim and proper dressing with a necktie, white shirt, suit vest, and black dress shoes matches this. Pandora, on the other hand, is seen wearing a nurse's outfit from the start but gradually progresses into outfits with stylistic tears and cuts matching her gruff and frantic nature. Nemo is a laid back gindylow, which is why it makes sense that he only wears shorts and open toes shoes, and Hitomi is a soft-spoken and mostly gentle cyclops. Her dainty dressing (which is mainly to impress Kazu) matches this persona quite well. What's more, the manner in which these characters speak surprised me in being a lot more eloquent than what you'd expect from a group of monster teenagers.
Effortless Storytelling
The manga's element that attracted me most is by far its environmental design. The art style truly captivated me with the distinct level of detail seen on each page and panel. Be it strange and macabre items, other daemons, or intricately designed buildings, there's always something to gawk at in the backgrounds, as they each tell their own unique story. In short, I can only describe Devil's Candy's overall art style as a stylistic blend of cute, detailed, and gothic illustrations.
Readers will quickly note the manga's lack of exposition from the start. That's because this is done in a significantly more relaxed way, as they'll instead be given all the nitty-gritty details and lore explanations about the daemon realm in between chapters in the volume with stylistic illustrations attached. I learned that this is mainly a way for the two creators Bikkuri and Rem, to express their vision of the manga through both art and dialogue.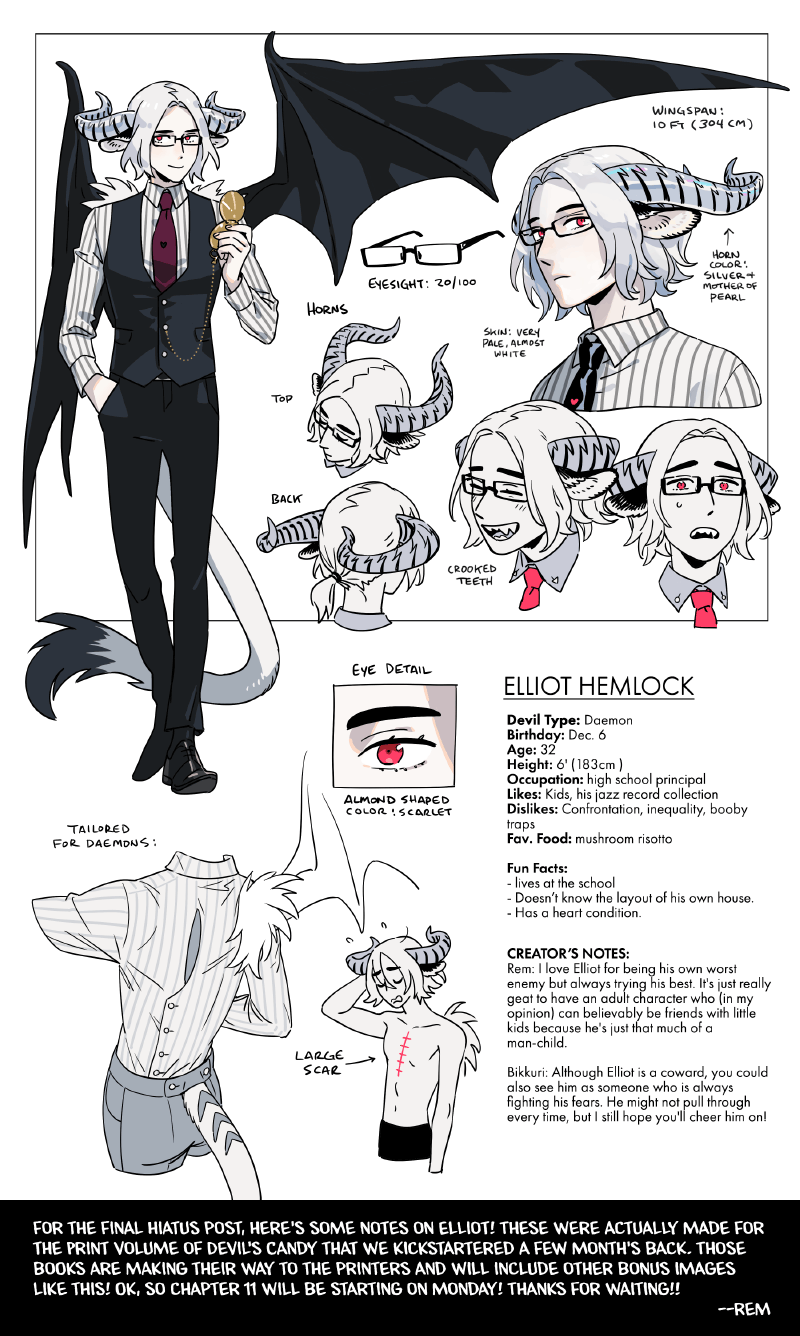 Final Thoughts
Speaking of the creators, I also learned that these two are Juggernauts in their own right with significant experience under their belt. The manga's last pages tell us Bikkuri has been worked on titles such as One Piece and that Rem is the lead art designer of River City Girls, which explains the manga's expert level quality and why the art style in the manga is not unlike that of the heavily aesthetic pixelated beat em up. All in all, it's crazy to think how a web manga made in 2014 has evolved into a full-blown well-executed manga, and I'm looking forward to seeing how well the second volume follows up.
Devil's Candy is available to purchase now from VIZ Media.
A copy of this manga was provided for review by VIZ Media 
Have you read Devil's Candy? Whats your favorite monster type? Let us know your thoughts in the comments section below.
The Review
Devil's Candy
is perhaps the funniest, most whimsical, and downright gorgeous manga I've read in a while.Its overall art style as a stylistic blend of cute, detailed, and Gothic illustrations, and its storytelling is fun and engaging.
PROS
Impeccable art
Endearing characters
Entertaining stories