While no exact release date has been announced yet, Microsoft has revealed that they will be releasing four new Xbox One S bundles this fall. Those who still don't own an Xbox One will have the option of getting the Xbox One S with either Rocket League, Minecraft and Minecraft: Story Mode, Halo: The Master Chief Collection and Halo 5: Guardians, or with a three month subscription to the Xbox Game Pass. Each bundle will retail at $279 USD.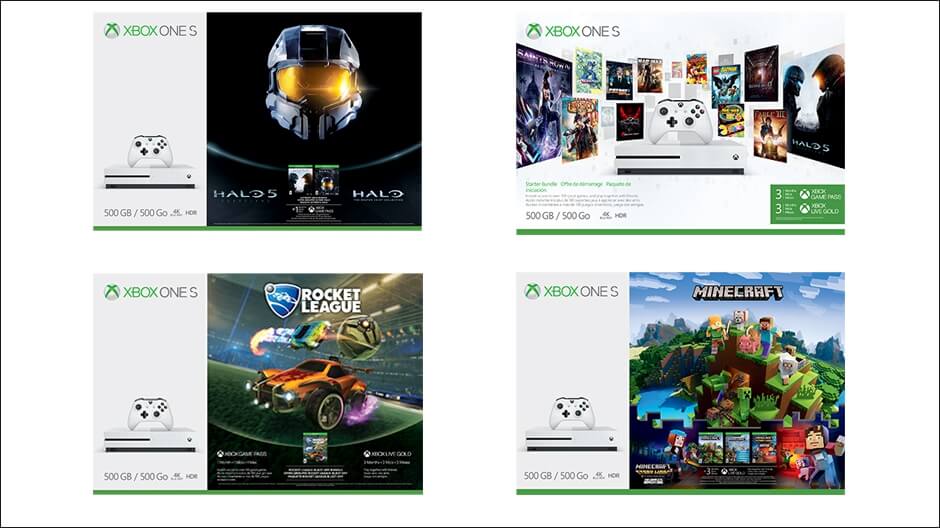 There are some additional features worth noting before you make up your mind. Each bundle is for the 500 GB model of the Xbox One S, and they all include three months of Xbox Live Gold – Microsoft's online service – with the exception of the Halo bundle which only includes a 14-day free trial. Unlike Rocket League, Halo is probably a big enough name that anyone buying the bundle for those games knows they're going to play multiplayer, so why bundle three months in when you can milk a little bit more money out of a guaranteed customer? Each bundle also includes one month of the Xbox Game Pass (except the Game Pass bundle that includes three months), which allows users to access a library of games online. And naturally, there will be a wireless controller packed in right out of the box.
In my honest opinion, the best deal here looks like the Minecraft one in terms of bang for your buck because you're getting both Minecraft and Minecraft: Story Mode Season 1 on top of the Explorer's pack which releases November 7th as a standalone retail offering for Minecraft. Plus, unlike the Halo bundle which is also pretty tantalizing, you get three months of Xbox Live Gold which means you also get games from the Games With Gold offerings. Then you also have Game Pass, so there's more games right away. It's worth noting that all of these pack-in offerings are digital only.
So will you be picking up an Xbox One S bundle this fall? Let us know in the comments below and share your thoughts on Microsoft's bundle offerings.
Source: Microsoft