Tokyo Revengers (next to Shadows House) is one of the few anime this season that I can't help but immediately watch when an episode airs, no matter how busy I may be. Where I can't help but return each week to uncover the mysteries of an anime like Shadows House, Tokyo Revengers calls my attention due to the sheer amount of excitement and emotion it gets from me in every single episode.
The Meek Revenger
If, for some odd reason, you aren't familiar with Tokyo Revengers, the anime follows Takemichi Hanagaki, a meek and cowardly man who can't seem to do anything right, and is almost as bad at standing up to people as he is at his job. One faithful day, Takemichi learns that his middle school girlfriend, who he left after graduating alongside his other friends, had died at the hands of the villainous Tokyo Manji Gang, the very same gang Takemichi was involved with in middle school.
Unfortunately for Takemichi, things only seem to get worse for him as he falls onto a train track with an oncoming train on the way back home from work. However, before seemingly meeting his end a bizarre event occurs as he's sent flying back into the body of his thirteen-year-old self. Things only begin to get messy from here on, as it's made clear that we're dealing with yet another time travel themed anime.
The Good Ole Days
The next scene begins Takemichi's nostalgia trip back to the good old days. While he's baffled as to how he's back to his middle school days, he still makes sure to appreciate seeing his old school, friends, and most especially his then still alive girlfriend, Hinata Tachibana. However, it's not all rose-tinted glasses for Takemichi. As the episode progresses, we start to realize just why he abandoned his hometown and friends in the first place. Growing up, Takemichi was surrounded by multiple street and biker gangs, one of which is the infamous Tokyo Manji group, a middle school gang with prominent members in his school.
The gang bully and abuse Takemichi and his friends regularly, involving them in multiple dangerous dealings as they were nothing but errand boys to them. So when Takemichi unwillingly returns to this life, the reality of his circumstance hits him like a truck. The anime depicts gang life in Japan during the 50s to 80s in the most brutally honest way possible without holding back. Gang members back then ranged from middle schoolers and high schoolers to full-blown adults who were frequently involved in various unsavory deeds for money, fear, respect, or simply male bravado.
The Character Development Process
However, for Takemichi, this is his one chance at a better life and an opportunity to right all the wrongs he couldn't in his first take at adolescence. To become a braver and better man, and to save Hinata, the one person who seemed to genuinely care for him from meeting the same grisly end in the future. With this goal in mind, Takemichi stands up for himself and his friends despite being considerably weaker than his enemies and always crying in the face of danger. Due to this courageous act, he earns the respect and admiration of Mikey and Draken, the leaders of the then-budding Manji gang. They quickly take a liking towards him, making him an essential member of the gang.
After a series of events, the anime reveals Takemichi's powers are somehow linked to Hinata's younger brother Naoto Tachibana. The two eventually conclude that the only way to prevent Hinata's death is to stop the Manji gang from becoming the evil group they are now.
Takemichi's Thrilling Quest
Subsequent episodes follow our crybaby protagonist on his quest to prevent various events to achieve this goal. We see him face one dramatic and dangerous event after the other all on his own to protect the few things he still cares about. And it is in this pursuit, we, the audience, form a bond with Takemichi, or at the very least come to care for him and the other engaging characters of the anime. Each scene in Tokyo Revengers leaves an impact. Be it the emotional and tear-jerking or the enthralling and testosterone-fueled. Which is one of the many reasons why I can't get enough of it. That being said, I must admit I still have a few issues with the series. For one, the animation style and character designs aren't anything to write home to and is far from a competitor in that aspect this season. Though I will admit that the animation bears a striking resemblance to anime made during the era the story is set in.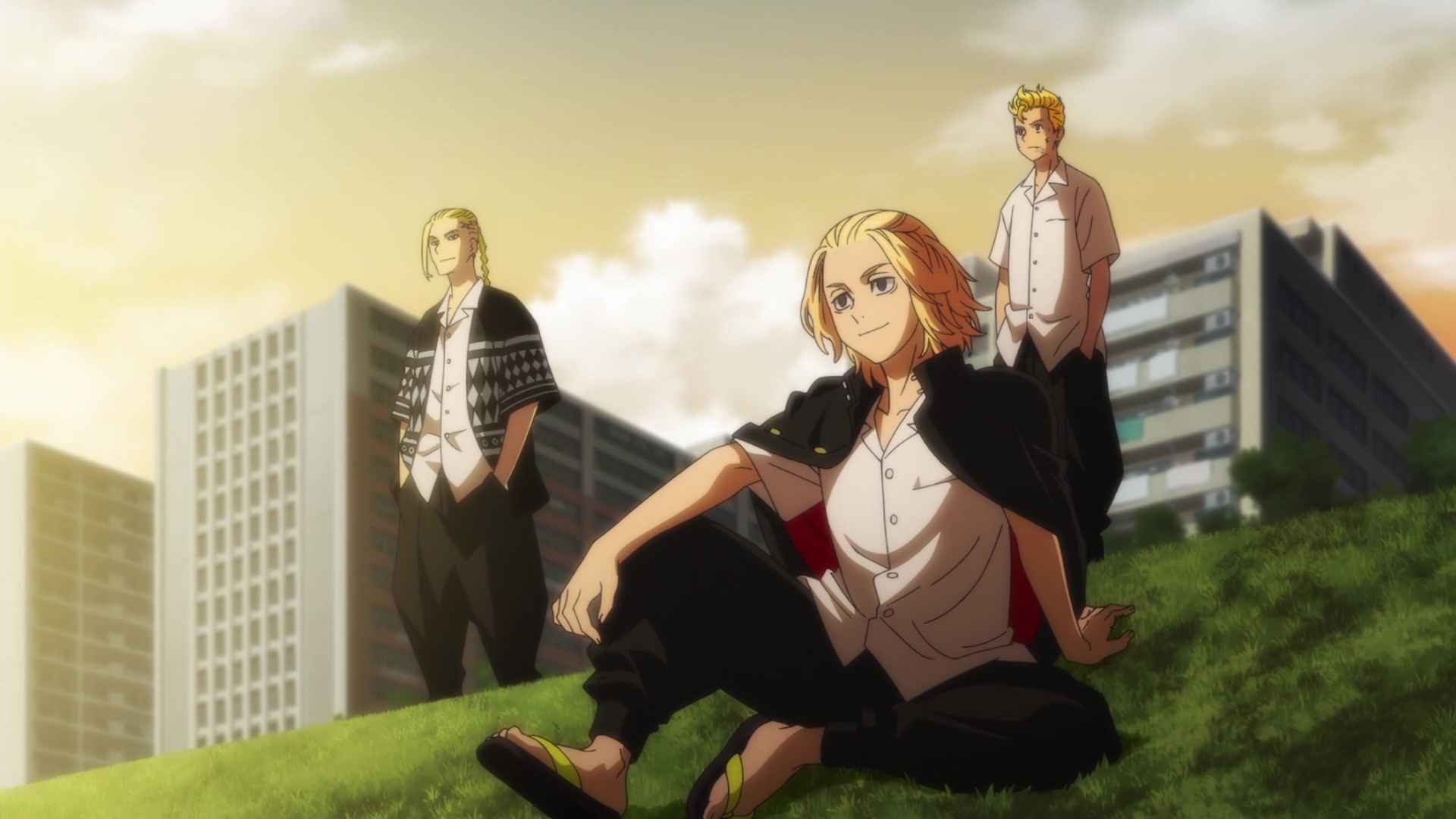 Minor Issues
My main issue with the anime however, is how it insists on not explaining the time-traveling elements. All we know in that regard is that Takemichi can't use his powers without Naoto. We don't know how exactly he fits into all of this, nor is his involvement ever questioned.  I assume these questions will be answered eventually, but as we're still unsure of how many episodes left in the season, we don't know when they'll be answered or if they ever will. Nevertheless, I can confidently say that Tokyo Revengers is easily one of my favorites this season. It's one of the few anime that started out strong and is keeping its momentum, so one can only hope it stays that way and ends on a high note.
Tokyo Revengers  is available to stream now on Crunchyroll
Have you seen Tokyo Revengers? What are your opinions on street gangs? Let us know your thoughts in the comments section below.