Osamake: Romcom Where The Childhood Friend Won't Lose is exactly as the title suggests, where the childhood friend of our protagonist will absolutely lose to one in terms of her romantic pursuit, as opposed to countless other childhood friends in anime and manga before her.
The Wildcard of the Season
The Romantic Comedy anime follows 17-year-old high school protagonist Sueharu Maru, who's hopelessly in love with the school icon Shirokusa Kachi. Unfortunately for Maru, she's way out of his league, a fact he's constantly reminded of by his friend, but chooses to ignore in hopes that his affections will someday be requited. Sadly, this hope is destroyed when it's revealed that Shirokusa is already in a relationship with a more popular, better-looking senpai.
After learning this, Maru decides to "have his revenge" on his first love and her new boyfriend by making them jealous with the help of Kuroha Shida, Maru's childhood friend who obviously is opposed to her crush seeking out another woman but goes along with the plan she proposes anyway. When things seem to be progressing smoothly, the premise does a 180 with an absurd twist at the end of the first episode to reveal that our protagonist is apparently a famous, albeit retired child actor, and that his best chance at "vengeance" is to upstage his rival at an incoming stage performance.
The Incredibly Convoluted Love Life of Sueharu Maru
The subsequent episode then takes time to reveal Maru's past as a child actor and why he stopped being one. However, before the audience can adjust to this new plot point, another twist is revealed that Maru's crush and object of affection, Shirokusa, is also another childhood friend! Who (honestly unsurprisingly at this point) is also madly in love with him. Are you confused yet? So was I! But the anime then explains Shirokusa's elaborate plan, which involved her becoming brilliant and beautiful, and even pretending to have a boyfriend to capture Maru's heart (and then enrage him) in order to reject his feelings for her as revenge for ignoring her during his long hiatus as an actor. However, now that everything's revealed, she wants him after all.
Fast forward to the day of Maru's big performance aimed at Shirokusa. He does an excellent job at upstaging the fake boyfriend (by dancing and singing and not acting, which I found weird). But then we receive yet another twist when Maru throws everything away by deciding not to go after the girl he's been pining for. Instead, he publically confesses to Kuroha and gets publically rejected because after seeing your crush obsess after another girl and reject you for her, I guess it gets to you.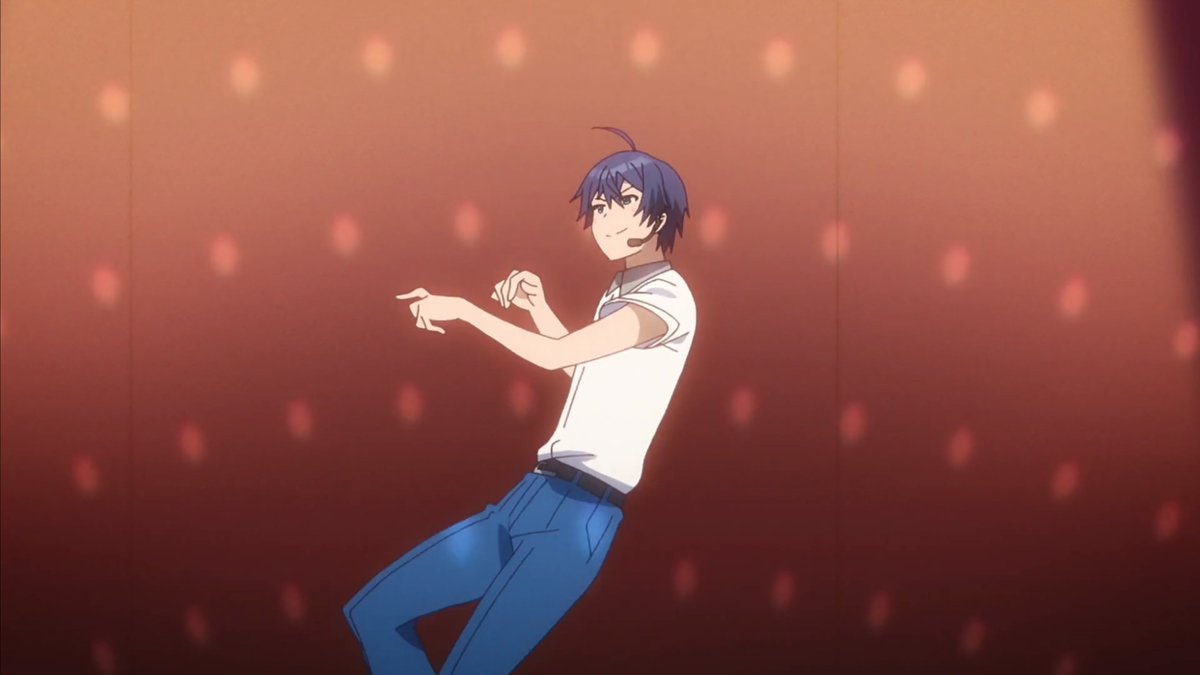 Trying to Make Sense of Things
It's hilarious to think that all this happened in just three episodes, and it's clear to see that the anime's plot is not only absurd and overly complicated, but it also all over the place. And judging by the third episode's end it's only going to get worse. To be frank, I don't intend to continue following this series despite it been unnaturally entertaining. Its format of storytelling is uncomfortably reminiscent of anime like Nisekoi (of which I abhor, but I won't get into that) which provides elaborate reasons to introduce as many girls as possible in order to grab the (very targeted) audience's attention while revealing as many dramatic plot twists as possible to keep the viewer's attention.
Also, after revealing that the protagonist's love interests are all, in fact, his childhood friends, the anime's title is more of a scam than anything else, and I feel betrayed. Aside from the amusing yet irritating story structure, Osamake's animation is also quite odd. Some scenes showed off atmospheric and eye-catching visuals, while others showed off derpy character designs with slow movements.
Final Thoughts
Overall, Osamake is a very hard anime to recommend. It's filled with a lot of questionable and convoluted plot points that are never actually satisfying. However, it's at least entertaining enough for some Harem lovers to obsess over.
Osamake is available to stream now on Crunchyroll 
Have you watched Osamake yet? What do you think of our impressions? Let us know your thoughts in the comments section below.