In the last decade, quirky dating sims have become a cultural mainstay. From Hatoful Boyfriend to I Love You, Colonel Sanders!, so many developers are creating off-beat dating sims to various levels of success. The execution of these vary wildly, starting at "cheap gimmick" and ending at "surprisingly heartfelt". The trio at Rocket Adrift took a shot at this niche genre with Raptor Boyfriend. On this scale, Raptor Boyfriend delivers as a thoughtful and meaningful dating sim.
What's this about dating raptors? 
The story of Raptor Boyfriend follows a high-school senior, Stella, who has just transferred to Ladle High School. Despite anxieties about making a good impression on her first day, she quickly becomes friends with a trio of cryptids; Bigfoot, a raptor, and a fairy all become close friends with Stella as she navigates her last year of high-school in a town where no one bats an eye at unusual creatures.
As Stella gets closer to this unusual trio, the player helps Stella choose who she is going to romance. Will it be the seemingly too-cool skateboarding raptor with a soft side named Robert Raptorson? What about the Bigfoot named Taylor – a mysterious loner with a talent for music? Or, what about Day, a high-achieving fairy who also happens to be an artist?
If you're laughing – good! The dialogue and plot options regularly poke fun at the absurdity of a young teenager dating and befriending a group of cryptids. That said, it also masterfully uses the absurdity of the situation to disarm the player. You start the game expecting a light-hearted and surreal experience while romancing a collection of eligible cryptids and, as you progress, you become emotionally invested in the lives of these characters.
It's good, actually
I often feel that a game that takes itself too seriously is hard to get fully invested in. Therefore, the way Raptor Boyfriend uses a silly premise to tackle real issues in a way to get the player fully invested is worth praise. Much like Dream Daddy uses their offbeat premise to present a game that explores single parenthood and navigating life as a queer man in a meaningful way, Raptor Boyfriend does the same.
Personally, I loved the wide-range of characters; each of them has their own unique personality. Beyond that, the game does not shy away from queer representation and gives players the chance for a queer romance option. This was delightful. Beyond that, each character in Raptor Boyfriend feels like a real person navigating their own coming-of-age story and all the difficulties that come along with that. This means touching on some delicate subjects.
Stella, our main character, struggles with social anxiety. The players are able to watch her grow and navigate life with anxiety, all the while never playing down how scary and disorienting the experience of a panic attack can be. Beyond that, Stella's insecurities and fears ring true for almost anyone who went through the high-school experience. The game manages to express the experience of a panic attack creatively through the use of distorted sound and strange visuals.
The game isn't scared to touch on difficult subjects in regards to the rest of the cast either. Without delving too deeply into it for fear of spoilers, our romance options deal with a wide-range of challenges. These ranges from abusive relationships to absentee parents. Despite being sensitive subjects, they are broached gently. These characters' journeys are clearly a product of love from the Rocket Adrift team.
90s Aesthetics
The love that has been poured into these characters goes beyond the writing. Everything about this work is dripping with a nostalgic mid-90s aesthetic. The art style is loud and cartoonish, playing on a fun palette of fluorescents, teals, and fuchsias. Anyone alive in the 1990s is sure to delight in the pure aesthetic of the game.
The aesthetic carries on through the character design. Regardless of the 90s subculture being depicted – jock, grunge, punk, and more – the outfits chosen for our main cast of characters all screams retro fashion in the best way possible. Depending on the seasons, the character's outfits change! This subtle detail makes the world being built in Raptor Boyfriend feel dynamic and real.
The original soundtrack by Pat Smith also helps to bring Raptor Boyfriend and its sentimental 90s vision to life. You can hear a hint of the evocative tunes in the official trailer, but it would be a lie to say that I'm not eagerly awaiting for the soundtrack to drop on Steam or Spotify. It's just that good. For the brief five hours it took me to romance one character, the music enveloped me totally in the world Rocket Adrift built.
Quality VN Gameplay

As is typical with visual novels and dating sims, it isn't as if any of the gameplay presented in Raptor Boyfriend is particularly genre-changing. You click through dialogue and make choices to woo your cryptid-of-choice. There are a few quality-of-life inclusions that are worth making note of.
One thing I was particularly fond of was the "call" system. In the middle of every chapter of the game, you will get the chance to call one of your crushes. This conversation is always heartwarming and gives you insight on both Stella and whomever you are romancing.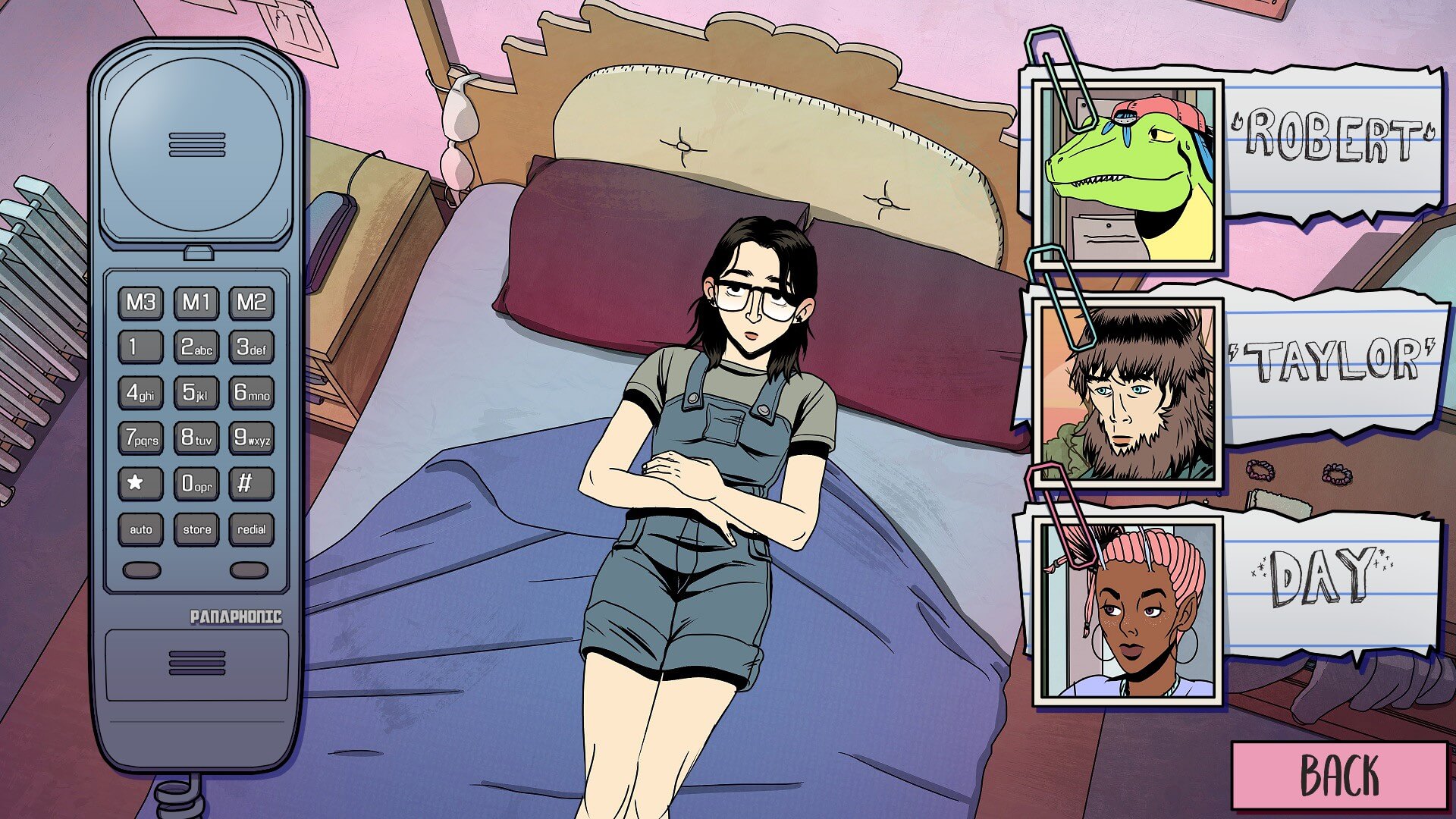 These conversations also reward players with key information about your crush, allowing you to make the ideal choice when interacting with them later. Key information is especially presented well, as it is always in a different font. This is especially great for players who are interested in getting the best-route-possible with their character as well as for those players who, like me, love collection in-game items.
As a child of the 90s, I'm always particularly fond of "collect-a-thons". The game includes a "collection" system based on whichever character you are romancing. If you make the correct choice at some opportune moments, you will be rewarded with a poem, mix-tape, or drawing depending on which character you are interacting with.
Beyond that, Raptor Boyfriend includes many standard quality-of-life items any seasoned visual novel player expects. The option to save before choices is easy. This makes your ability to go back and see other dialogue options accessible without any sort of headache. Additionally, you can optimize the music and sound volume, as well as dialogue speed, to best suit your needs. Though these are very baseline expectations from a game in the genre, it is great to see it included.
It's really that good, huh?
Altogether, Raptor Boyfriend delivers. This game likely won't appeal to folks that absolutely loathe visual novels and dating sims. However to those that are inclined to play them or are neutral, I would highly recommend giving it a play. The mixture of lovable characters, 90s aesthetics, and meaningful stories combines to create an absolutely lovely game.
If you're wanting to hear more of our opinions on dating sims and VNs, Chris has written a lovely piece about three dating-centric games worth checking out! 
The Review
Raptor Boyfriend
Raptor Boyfriend is a surprisingly thoughtful dating sim about dating cryptids. Steeped in 90s nostalgia, it's a coming-of-age story worth experiencing. Though folks who loathe dating sims aren't likely to love it, it is a game full of heart.
PROS
Full of 90s Nostalgia
Great art and music
Heartwarming coming-of-age story
Tackles sensitive subjects with love and empathy
CONS
Likely not to win over someone who loathes dating sims