It seems as though Capcom is biding its time when it comes to revealing–or even mentioning–a hint of Resident Evil 7. For the time being though, many of the classic titles have been brought back from the dead in the form of remasters, such as Resident Evil HD or the planned Resident Evil 2 remaster. So we must ask; Is this a good thing? Remember, not all of the RE series was good. Many brought forward new ideas and dynamics that could have benefited the series, but the likes of Outbreak, Survivor, and Dead Aim were pretty bad. So where does this leave us with the slightly lesser known prequel title, Resident Evil 0?
Resident Evil 0 first came out on the GameCube all the way back in 2003, and it was around this time when the Survival Horror genre was taking a pounding from critics and fans alike. Resident Evil 0 was an attempt to rejuvenate the series by adding new dynamics to enhance the survival experience. As you may have guessed, it takes place before the events within the Spencer Mansion. The game follows our two heroes: Rebecca Chambers, a Stars Rookie, and Billy, an escaped inmate on death row. Stars Alpha Team is sent into Racoon Forest to find the culprits of a series of gruesome murders. Rebecca comes across a stranded train which has fallen victim to a T-Virus outbreak and everyone inside is, safe to say, less than dead– well, quite undead. Events unfold when Rebecca and Billy cross paths and become entangled within a revenge plot.
So the plot of this horror tale seems filled to the brim with multiple plot threads, needless expositions, and dull plot twists that add nothing overall. Not to mention the voice acting is pretty flat, sadly never delivering on the "exhilarating" narrative and its theme. On the other side of things, the game does look pretty for the remaster. Textures, lighting, and everything in between have been enhanced to a masterful degree. A great soundtrack also accompanies the excellent visuals and intense atmosphere. Yet the CGI cutscenes look awful. There was no effort to bring a little more life to these prerendered scenes. Rather, they look extremely dated, with pixelated shadows and lifeless textures.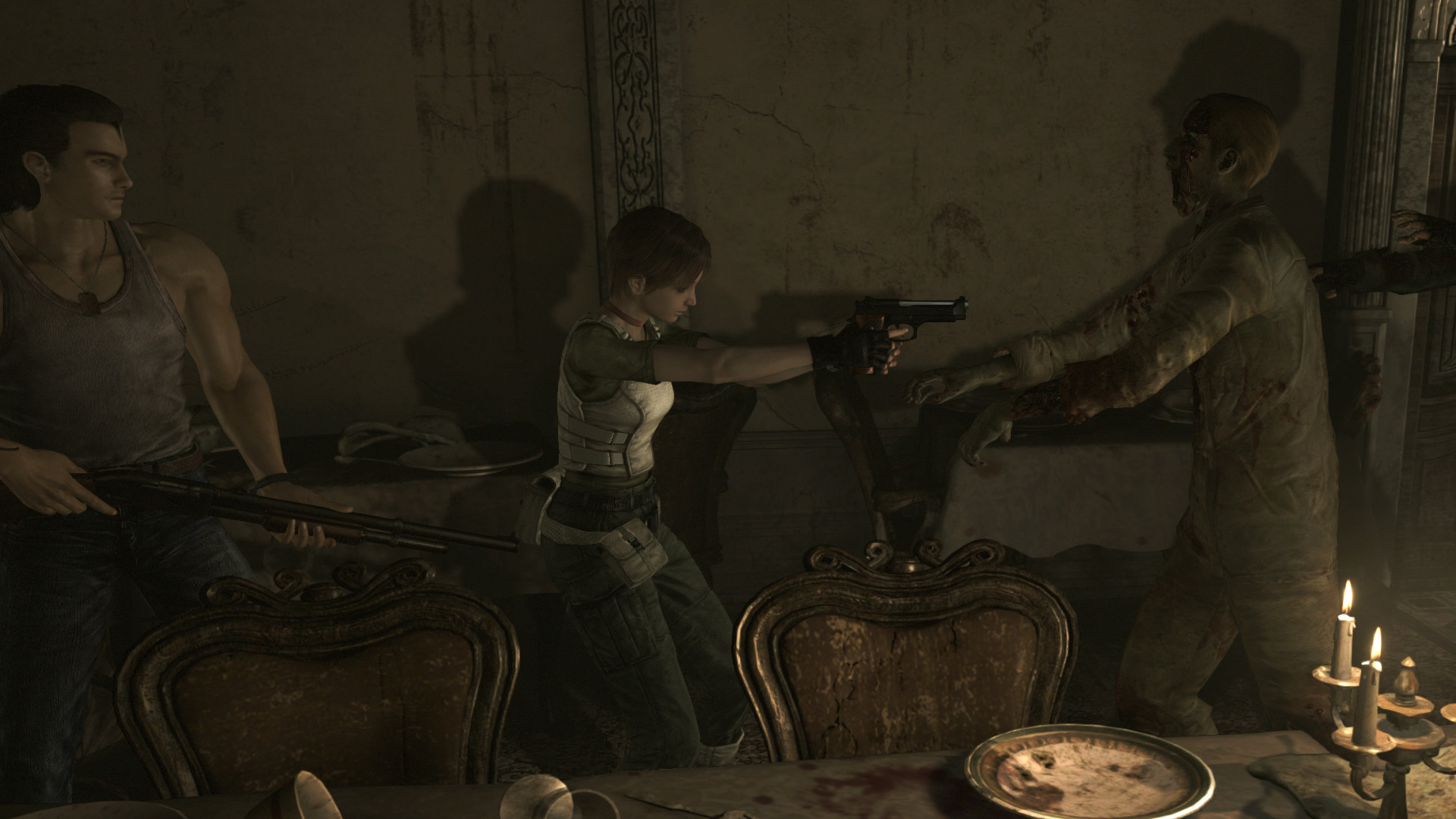 This narrative does lend to the new co-op (which is not co-op) feature in Resident Evil 0, where players can control both Rebecca and Billy throughout the various locations. In addition to this, there is a great deal of locations too, even if the game does reproduce sections from RE and RE2 for cheap fan service. That's been done before on multiple occasions. So as for the co-op side of things, players will have a tag team at their disposal, with each character being able to perform certain actions that the other can't. Rebecca can mix different herbs and chemicals together and fit into small spaces and vents. Billy is the strong man who rescues Rebecca every time she falls victim to typical "damsel in distress" clichés. This has been seen a few times now in RE5 and RE6 and has been criticized for lacking any depth. Surprisingly, Resident Evil 0 did the best job at this mechanic as it makes each character seem important, and it even increases tension when the game separates the duo at certain moments of the game.
The game world has a good complexity to it; It feels more confined. There are more puzzles and more interactions in the environment than in Resident Evil. There's nothing as simple as "insert jewel in statue," but rather "find chemical compounds, melt capsule to obtain leech shaped jewel to open a big marble door, only to find several more puzzles before you get the red key." There is more of a lateral component, and the co-op aspect does help when facing multiple enemies in one location. In many areas you'll face up to a dozen enemies at once, so for old school style survival horror, it's pretty decent.
But the main problem is that the game feels too much like the same thing, and it's even less imaginative than other titles. Bosses are a huge let down and resort to giant animals that look less frightening than something from Pee Wee's Play House. The game feels so uninspired and highly uncreative with NPCs, weapons, and even a fair amount of puzzles being fairly basic. The only dynamic change is how many there are or what order puzzles have to be completed in. One major problem which could work (and does so in other RE titles) is the "refined" inventory system and total lack of inventory boxes. This could have been a refreshing change of pace, and it could've added in an original and excellent challenge to inventory management. You'll find the major faults when progressing further into the game and into larger, more complex sections.
Often you'll have to use a certain room to leave items on the floor until you find another room for safe storage. Moving further into the game means you'll most likely make a dozen trips just to transport some ammo. It's long winded and totally pointless, as smart players will use the above method to make sure items are gathered together. Why not use inventory boxes that aren't connected? Or as a matter of fact, why is this the case at all? However, the worst offense has to be reloading weapons within the inventory.
To explain; you can load a huge amount of ammo into the grenade launcher, but there are different types of ammo available. So if you have the incendiary ammo loaded, you can load more of the same ammo or swap it over for another. But to swap the ammo out, you must have a free inventory slot to store this ammo. But to load the grenade launcher with the same ammo, you must also have a free inventory slot. So you'll have to drop another item, pick up the ammo, load it from the inventory screen, and then pick up the item you dropped before… Did Capcom not think to make this process easier or more practical? There is no reason to do this if the ammo I've picked up is the same ammo loaded in the grenade launcher.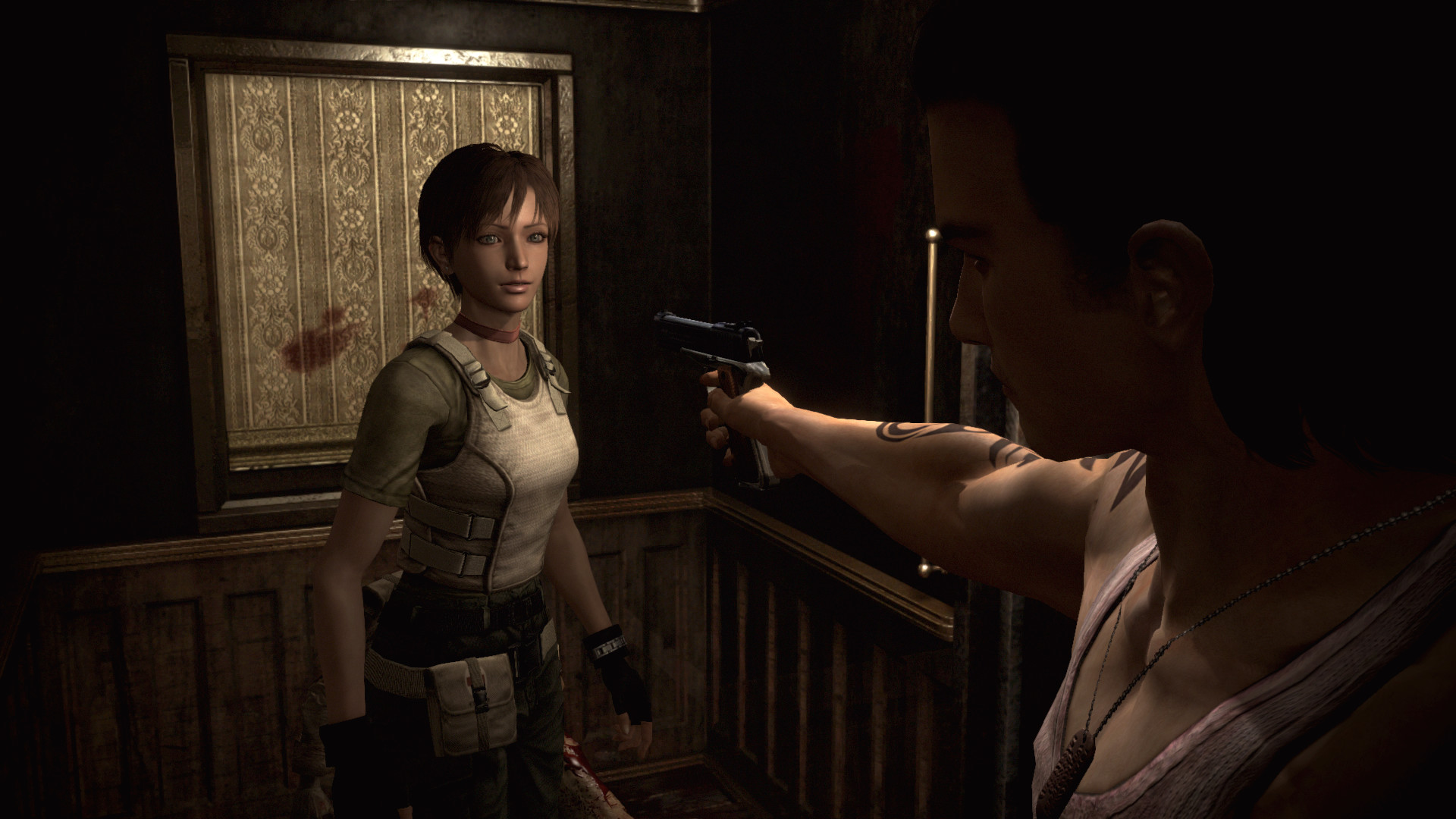 I wouldn't mind so much as well if it weren't for the poor collision detection when picking up items, or the obscure camera angles that make finding items you've dropped on the floor fairly difficult.
So, Resident Evil 0 is certainly a mixed bag and an average RE title. I'll give it merit that it's far better than Survivor, Outbreak, and the awful Code Veronica, but it lacks any real game changing dynamics for the RE series. It feels a shallow, uninventive, and uninspiring horror tie in that's cashing in on the RE name. Small improvements could have really pushed this forward. For the remaster side of things; The visuals are great but the CGI cutscenes look dated, and the new controls feel slightly worse than the old ones. Capcom has fallen short on this entry of the remastered series. Let's pray that the Resident Evil 2 remake will follow in the same footsteps as the original did.
Resident Evil Zero
$19.99
Pros
Good old school survival horror
Neat idea with the co-op non co-op mechanics
Looks and sounds pretty good
Some good exploration and puzzle elements
Cons
The annoying item management doesn't work
The bugs are annoying ... more so with the item management
CG cut scenes look awful
Unimaginative bosses and NPCs