Warning: Major spoilers ahead for the first four seasons of Game Of Thrones
Now in its fifth season, Game of Thrones has become a story of noble clans fighting for dominance, offering intrigue, excitement, and romance. With the start of the new season, it's a great time to look back and reminisce on some of the most exciting moments in the show so far:
1) Jaime Pushes Bran out of a Window
Season 1, Episode 1 – Winter is Coming
By far, the most shocking moment of the first Game of Thrones episode was when Jaime Lannister pushes ten-year-old Bran Stark out of a window after the boy catches Jaime and his sister, Queen Cersei, having incestuous sex. The fall inevitably leaves Bran unconscious for a period of time and when he finally wakes up, he finds he has lost the ability to use his legs.
2) Arya Beats Up Joffrey
Season 1, Episode 2 — The Kingsroad
While walking with his fiancee, Sansa Stark, Joffrey happens across Arya play-fighting with her friend, a young man named Mycah. Instigating a conflict, Joffrey demands a duel with the boy because he accidentally hit Arya during play. Turning a deaf ear to Arya and Mycah's pleas for mercy, Joffrey attacks the boy. Arya springs into action, hitting Joffrey in order for her friend to escape. During the scuffle, Arya's direwolf, Nymeria, bites Joffrey. Because Nymeria runs away, Sansa's wolf Lady is put to death instead as retribution for the incident.
3) The Death of Viserys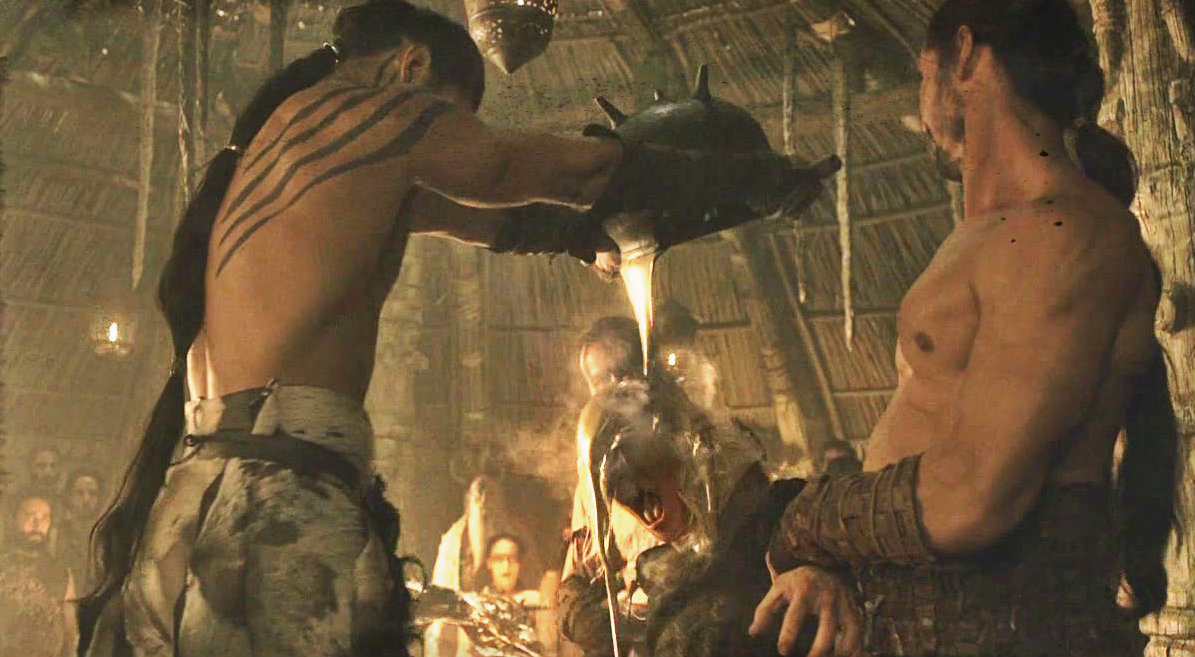 Season 1, Episode 6 — A Golden Crown
After drunkenly crashing a celebratory feast in honor of Daenerys and Drogo, Viserys demands payment for giving his sister to Drogo and threatens pregnant Daenerys with his sword. Drogo tells Viserys he will be crowned, which makes Viserys happy until his arm is broken by Qotho. Although he begs his sister for help, Dany ignores his pleas and watches calmly as Drogo pours hot molten gold over Viserys' head, killing him.
4) The Birth of Daenerys' Dragons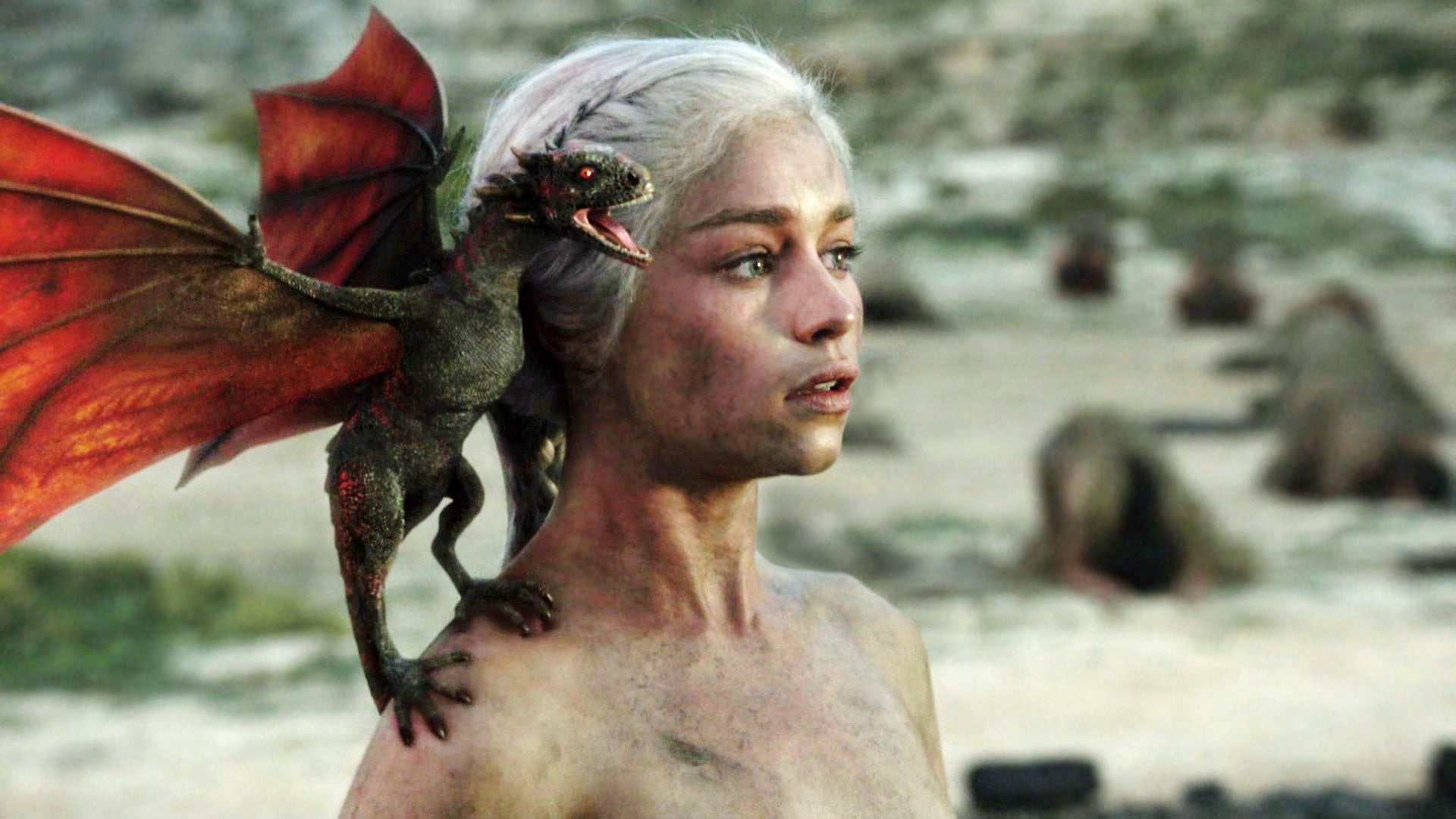 Season 1, Episode 10 — Of Fire and Blood
The latter part the first season finds Daenerys Targaryen struggling with the death of her husband, whom she smothers after realizing he'll never recover from his coma. Daenerys places her dragon eggs on Drogo's funeral pyre that night and walks into the fire, getting consumed by flames. The next morning, Daenerys is found sitting among the smoldering ashes, with her three newly-hatched baby dragons.
5) The Purple Wedding
Season 4, Episode 3 — Breaker of Chains
Joffrey is killed when he unknowingly consumes poisonous wine during his wedding to Margaery Tyrell. After he dies, choking on his own blood, Cersei calls for the arrest of Joffrey's uncle Tyrion for the murder; However, the real killers are Lord Baelish and Lady Tyrell. As a character who reveled in his own viciousness, the wedding-day poisoning was an unexpected end for a violent man.
With all the excitement and drama of the previous four seasons (click here for streaming options!), fans can expect season five to be filled with the intriguing plot twists and character interactions they've come to know and love from Game of Thrones. In the new season, fans will soon be familiarized with the Sparrows—a group brimming with religious zealotry, and the Harpies, a vicious golden-masked clan of cult-like killers. With these new stories and plotlines added, we are sure to be in for a great journey!
What were your favorite moments from Game of Thrones so far? Let us know in the comments!
Get real time updates about future posts directly on your device, subscribe now.