With the global uprising of anime, it's easy to forget the animators, the backbone of the industry and one of the reasons why the medium is where it is today. BagoGames had the opportunity to interview Solal Girardin, a freelance animator and animation student from France, to discuss what it's like to work for Japanese animation studios, the animator rates in Japan, the animation scene in France, and so much more.
Could you tell our readers a bit about yourself?
I'm Solal Girardin, an animation student. I've been to two animation schools in France, spent some time in Japan where I met different Japanese animators. Now I'm doing a three-year program in another animation school where I spend some nights and holidays working for several animation studios in Japan.
Were the three months you spent in Japan a part of an exchange program, or did you do it for yourself?
I just went there by myself during the holidays so I could check if I'd enjoy living in Japan. I basically Dmed Ken Arto, another French animator that went to my school for advice. He also introduced me to other animators and helped me make sure animation is what I want to do.
So did you decide to be an animator after that?
Yeah, after meeting up with him and realizing that Japan is actually in need of animators and confirming that I wouldn't be taking anyone's place, he gave me advice on how to improve and helped me develop my portfolio so I could work with Japanese studios.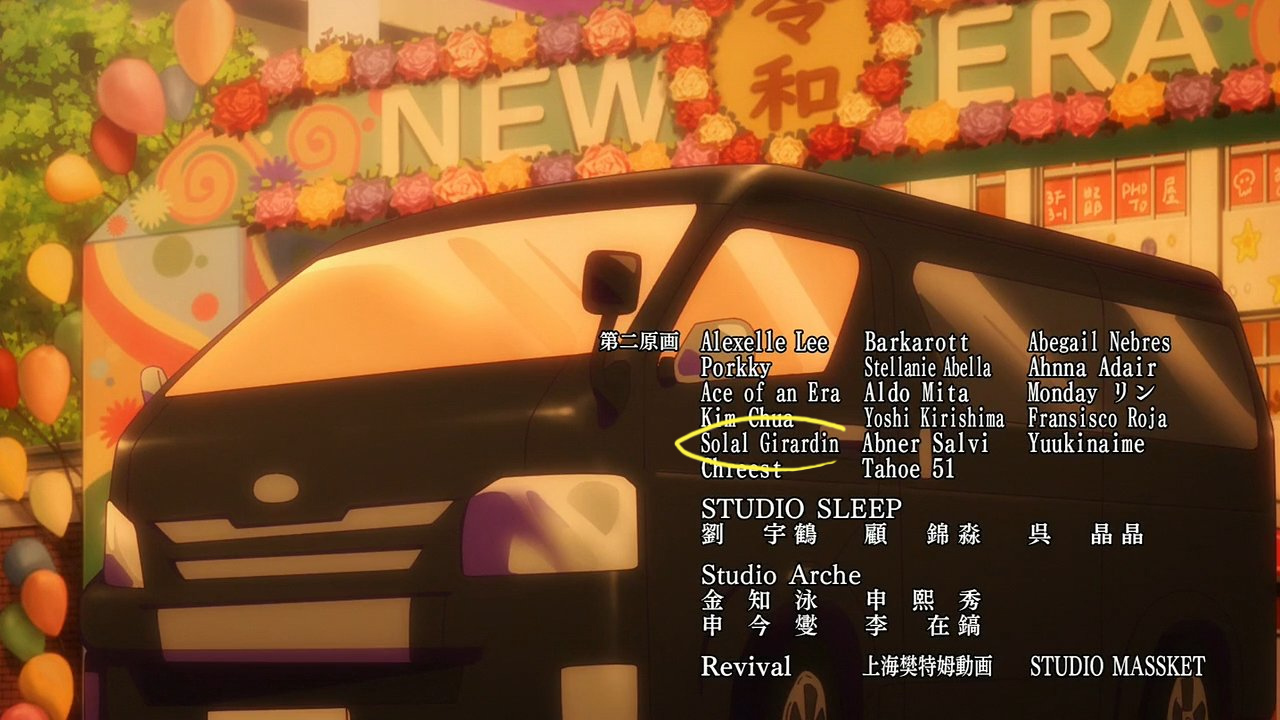 So how'd you start working with different studios on the side?
Basically, they dmed me on Twitter like most Japanese freelance work is currently going on. After showing that I could do the timesheets, Genga, and the Japanese animation style with my second-year short movie, several Japanese studios started contacting me to work for them. Unfortunately, I currently only do a few cuts during holidays. And with my current internship at Passion Paris, I can't really take Japanese jobs right now.
Are you not allowed to during your internship?
No I am, It's just that I'm a bit tired right now with freelance work as I have to do a portfolio and school exercises for my diploma.
Do you intend to focus solely on the Japanese side of animation after school?
Yes, I already have some offers which might be interesting to pursue, but I can't say right now as I'm not fully sure yet.
As someone aiming to enter the industry as an animator, are you concerned with the current pay Japanese animators receive?
It depends. While Japanese animators are paid really low amounts, most of that is because many start as beginners with little to no experience, but if you go into the industry with experience, a diploma, and the skills, you'll get good offers and could end up being wealthy at the end, it's just that you'll be working a lot more with Japanese studios because of the highly contrasting work hours.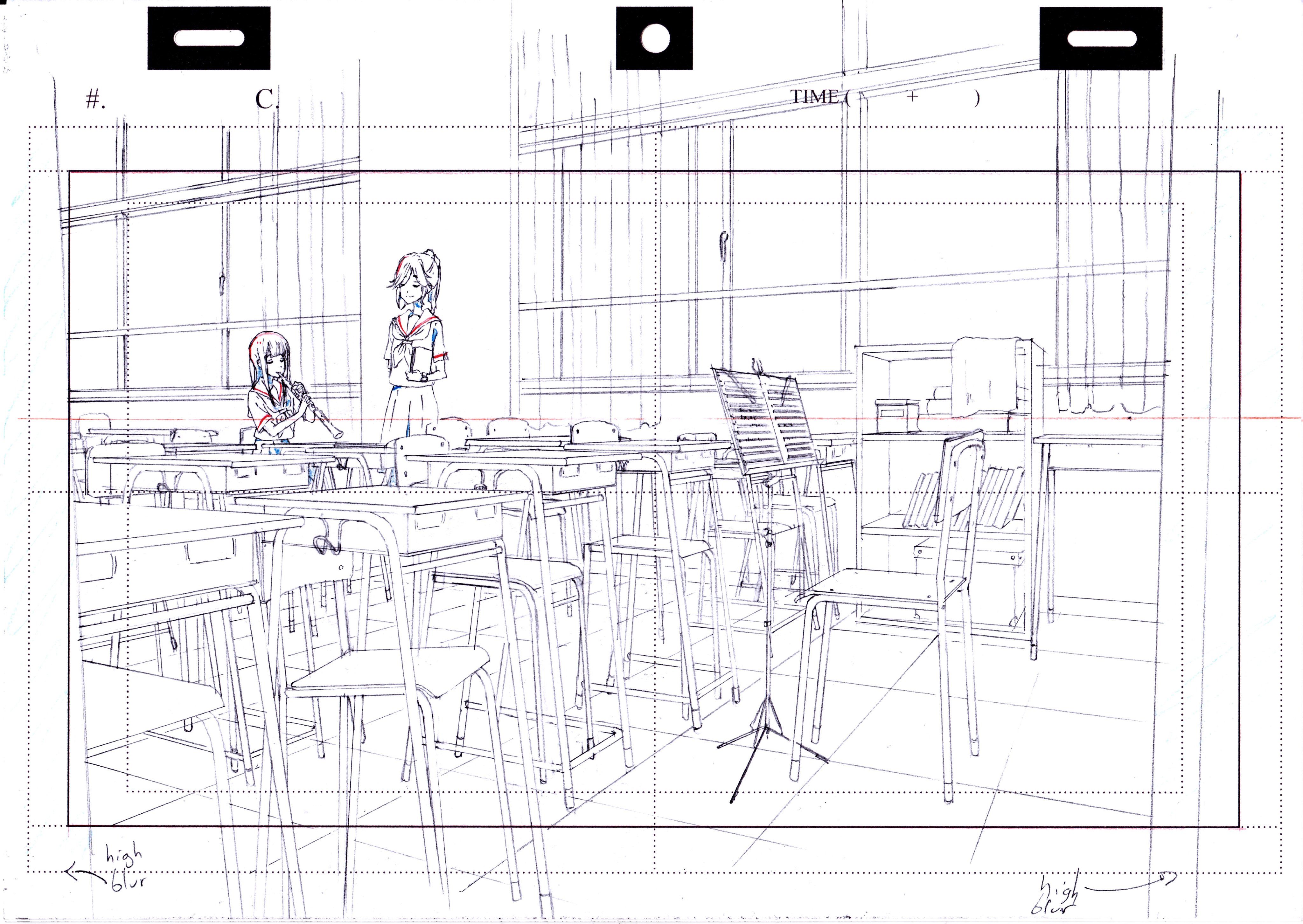 Do you have a set process when working freelance with these studios, or does the process depend on each studio you work with?
For me, I get contacted by studios via Twitter. They give me the prices and details like the storyboard and character designs, and sometimes they tell me the director. I don't even sign an NDA *laughs* and basically every animator can leak every anime possible as we know a project one year before it's announced. So animators have to be careful about that. 

But after receiving the storyboard and choosing the sequence you want to do if it's available, you take it, and you're introduced to the director. Sometimes there's a video call meeting (which is solely in Japanese). Sometimes it's just written instructions (also Japanese). Then the animators start working. I do the Layout, with the rough character animation, background, and FX. I draw the keyframes, the important ones with all the detail. I explain the light position, camera motions, shadows, and fill the timesheet. You can also do a few in-betweens to help the doga man the key in-betweener. You do all that and send it to the production assistant, who sends it in for a correction, and the director checks it and write down corrections. 

After that, the backgrounds go to the background artists who clean it, and character animations go to the chief animator who corrects the character designs, motion, and sometimes the timesheet. It's then sent back to you, which can take from two weeks to 5 months depending on the studio's schedule. You then do what is called Genga or nigen, basically cleaning the keyframes according to the director and chief animator corrections. You then send it to production assistant so it can be cleaned by the gengaman.
Do you ever get asked to do other work you're not as experienced in?
Most of the time, I'm asked to do layout and keyframes. I've never been contacted for doga before because those are usually in-house. But sometimes, I've been contacted by studios to direct little animations, but I don't take these jobs because I don't think I'm good enough to be a director or director's assistant, and I'm not really interested in those roles.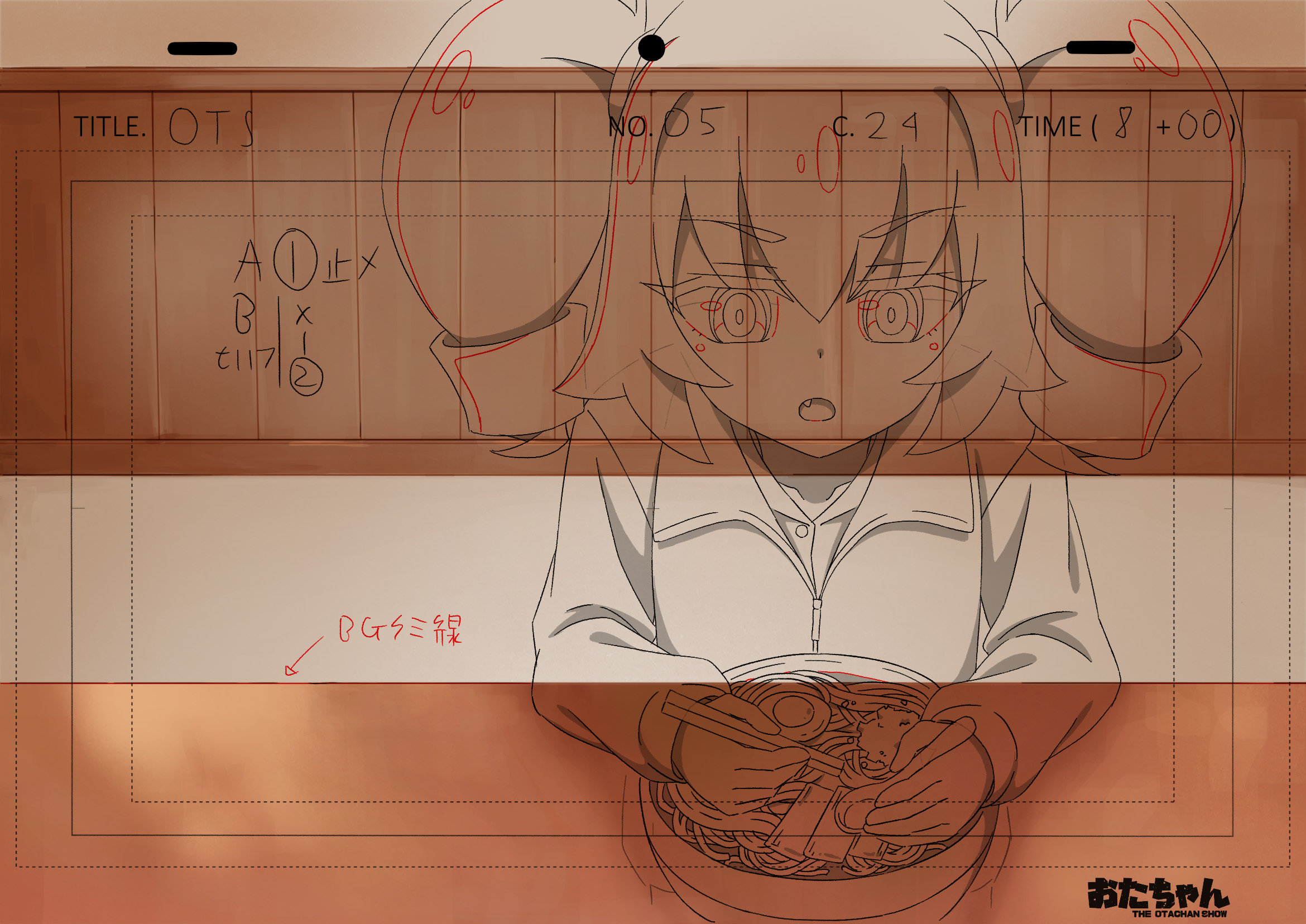 We know you've worked on Otachan, which is a western animation. How was your experience working on Otachan compared to the other anime series you've worked on?
Well, I will say that I worked on Otachan before I started working on Japanese projects, so it really helped me understand the pipeline as they used pretty much the Japanese pipeline. The good thing with Otachan was that it was a small team of people, many of whom were already my friends who could give me advice while I worked on backgrounds. 

Whereas working for Japanese studios is like working for big companies; if you're working freelance, you mostly deal with the PA while other team members are a bit distant. But I will say that Otachan was a good way for me to start as it was a small project with beginners with talent, whereas working for an anime like Mushoku Tensei, you're working with big industry names and experts, so there is that difference between the two. 
As you intend to eventually work in-house with Japan studios, do you intend to do things differently, or will you keep to the path already laid out for you by assimilating with the workforce?
Yeah, my goal will be to stick as close to their culture as possible and not try to make waves, as in Japanese culture, you're not supposed to stick out and change things as a foreigner.
As someone working freelance, do you get the same amount of money other animators get in-house?
I never worked full-time for a Japanese studio, so I never really made as much. But it also depends as I know I've been able to ask for a lot more than I've been offered at the beginning cause when you show them that you can be on time, they are willing to pay you a lot better as they'll be impressed. So, for example, when I was approached to work on Mushoku Tensei, I was offered four times the pay for layout work "since it's you," and I was like, what! *laughs* so if they know, they can trust you, especially when they're in a rush, they're willing to even quintuple the price sometimes. And for this project, it was episode 21, and I asked for the simplest part *laughs* So basically, I was really well paid for that, and in the end, they were really happy with my work even if it was really simple.

A lot of animators are afraid to ask. But if you know you're a good animator that people can expect good work from, you can always negotiate prices as is normal in Japan, at least for the freelance side, and if they refuse to accept, you can always leave *laughs*. I've advised several animators, and they were able to increase their pay with negotiation. But I will add that you can't usually negotiate your first job because you haven't proven yourself.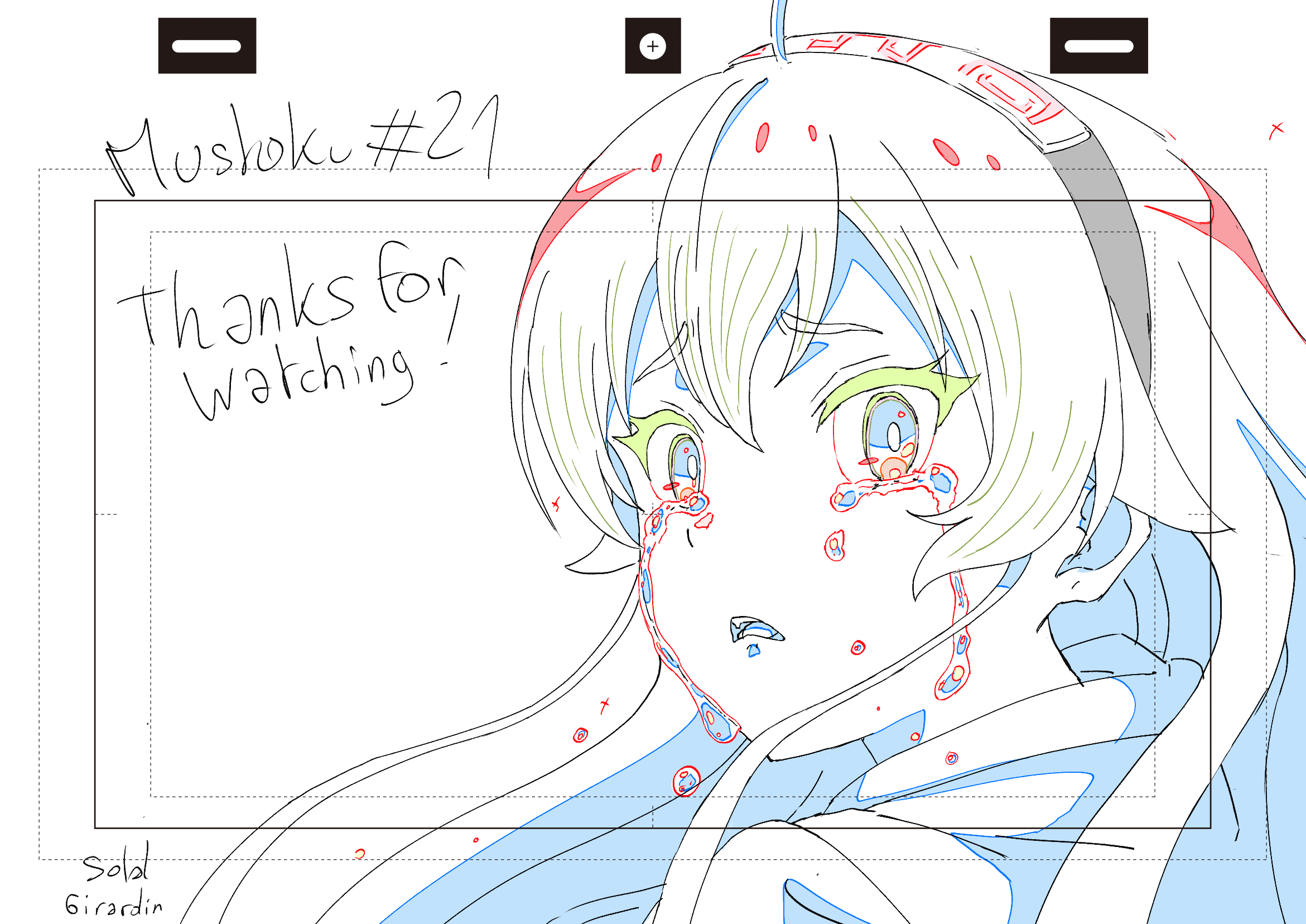 So going back to Mushoku Tensei, I know you worked on episode 21. Did you know about the anime before being approached or after?
I knew of it and had watched a few episodes before getting contacted to work on it, but my one goal was to animate Roxy, but on episode 21, there was no Roxy, so I was like Tsk *laughs* but after that, they asked if I wanted to work on episode 23 and Roxy is present in the episode, so I was like ah! so I told them I wanted to work on that episode too.
Would you like to work on the Second season of Mushoku Tensei?
If I'm asked why not, but like I said earlier, I have a lot of offers, so I'm not really sure. I like Mushoku, it was a good anime, but I will say I'm more interested in the works of studio SHAFT, like the Monogatari series and Akebi chan, so I'm more into the slow-paced cute girl and psychological stuff. So while Mushoku Tensei was good, it's not really the type of anime I'd like to work on as I prefer the cinematographic aspect of animation.
As an animator, do you have any misconceptions, rumors, or things about the industry you don't like?
Well, I spend a lot of time on Twitter, and you know Twitter it's all just the worst *laughs* So you have a lot of bad rumors about anime, but I will say that's normal as the industry gets bigger and bigger, but something that's specifically annoying for me on the animator side is how people are just focused on the Sakuga and fight scenes. It's something a lot of animators joke about, and there's also been drama on it.

The thing that makes me sad is how new animators these days rush to want to work on those scenes without learning how they work or even wanting to start slowly. And a lot of times, the chief animator has to correct their errors. And while I don't blame them because they're young, I'm just afraid it may give a bad rep to foreign animators, but in the end, it's still an industry problem overall as these studios also have to be careful when hiring newbies.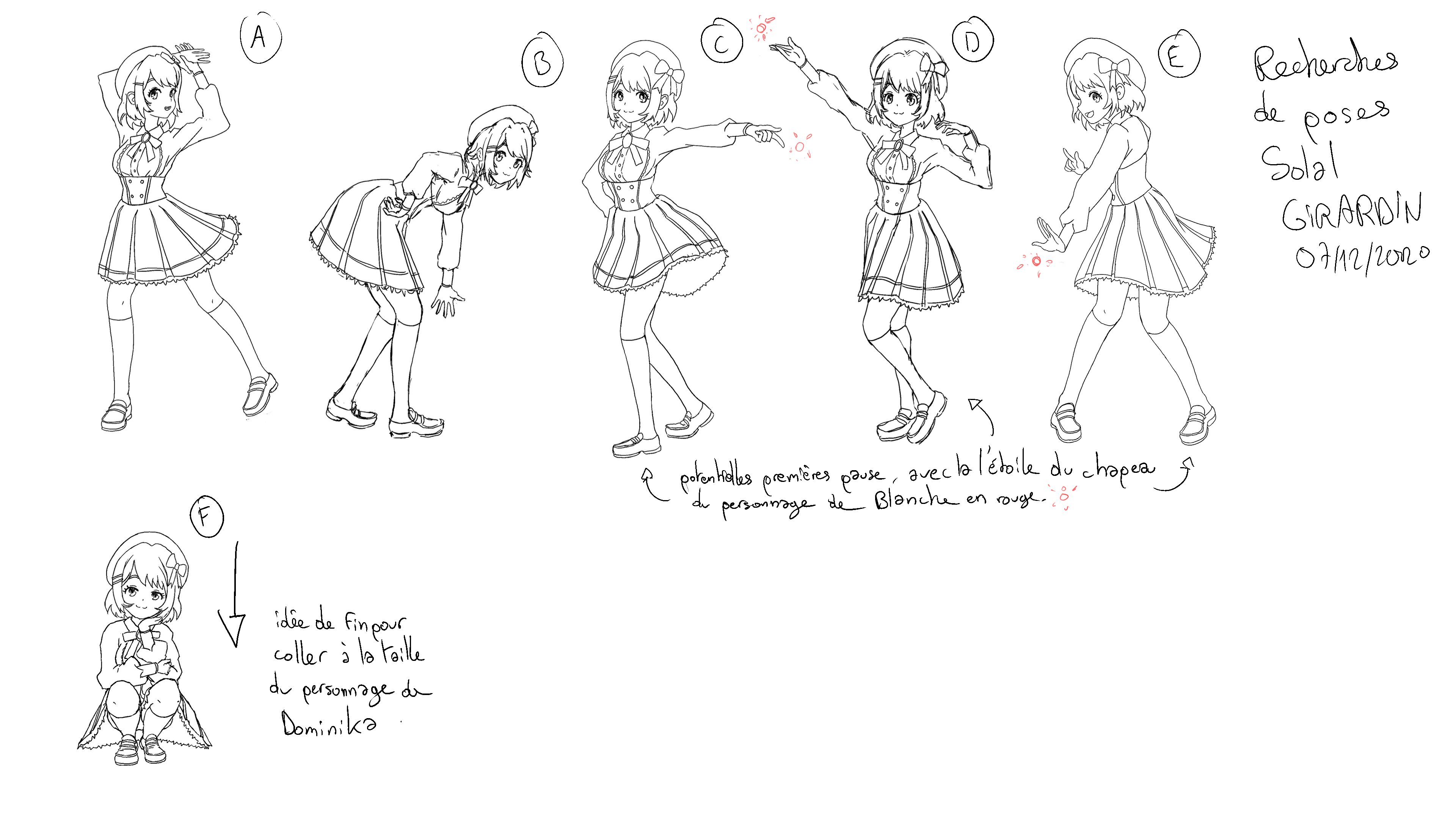 What's your opinion on using 3D animation in the industry and how it's sometimes used to cut costs or save time during production?
When you watch stuff like the Studio Orange productions like Beastars and Houseki no Kuni, I'm like, wow, Japanese people can do 3d animation. The sad thing is that they mostly use it to go quicker on projects. For example, I don't think the animation in Attack on Titan is that bad. It's just people being nitpicky. You just have to understand that they're trying to adapt the Attack on Titan anime as quickly as possible as opposed to Studio WIT. You can't ask them to animate all the titans with 2D. That's way more work, so it's just a matter of knowing what you want.

On the other hand, I will also ask the studios to also know what they want. Do they want to produce good quality shows, or do they want to produce as many shows as possible? And if they do that, then they'll just have to do everything in 3D, and it'll just be a bit tasteless. 
Is there a part of the animation process you struggle with?
For me personally, I will say its anatomy. I think one of the problems with Japanese animation is that it's very difficult for people who don't really know anatomy because Japanese models are much more realistic than western models, so you really need to know a lot about anatomy to stay on model with hands, fingers, the feet and everything. It's really difficult so yeah I will say it is anatomy for me *laughs* 
What about your favorite part of the animation process?
When it's done. *laughs* when you press play, and it all works. That's the best part. All the rest is pain. Otherwise, I would say I like playing with compositions they're are pretty cool. Also, doing the timesheet, I really like it. Cause it's a feeling of completion when changing the timing. And changing the timing can change a lot of stuff in an animation, so I really like just playing with the timing. It's a lot of fun. 
Fish factory girl

A little puppet animation I made at school on Toon Boom Harmony, I never animated this way before but it was pretty funny pic.twitter.com/SpkMgbSJca

— Solal Girardin (@SolalGirardin) October 25, 2020
Do you think a director's position is something you'd like to pursue later in your career?
As I said, I just want to work on small projects. When you watch what being a director is actually about, it's just managing people, and holy moly, it's not something I can do *laughs* I prefer following good artists I like rather than bringing my ideas. I like to bring some of my ideas to animation, and that's why I like Japanese animation because you're a director of your own sequence. For example, when I worked for Cloverworks on My Dress-Up Darling for a transformation sequence, I had ideas for the FX and the camera angles, and they pretty much kept everything, and that's what I prefer. But doing big projects, I'm not interested in. In the future, my first goal would be to be an animation director in like ten years. Just being able to draw cool character designs and help the young people have great animation is really good for me. 
Do you have animators you look up to?
Genichiro Abe, I really like his work, as well as Megumi Kouno and Shinya Ohira. I would say Ryou Imamura too. Genichiro Abe worked on Monogatari and for Shaft quite a lot. Megumi Kouno worked on Idolmaster and makes hair movements quite well, Shinya Ohira worked on Ping Pong The Animation, and I really like his style because he's very experimental. Ryou Imamaura worked for Shaft a lot *laughs* yeah, mainly Shaft animators. 
How big is the difference between the projects you do for school and for animation studios?
It's really, really different. My school in France is very special. We mostly work on paper because our "director" is a guy that worked for Disney. We have a lot of people that worked on old Disney movies and worked on paper, and they're kind of purist, so everything we work on is on paper, and we just have Toon Boom as another software, so it's kind of far from what I do for studios.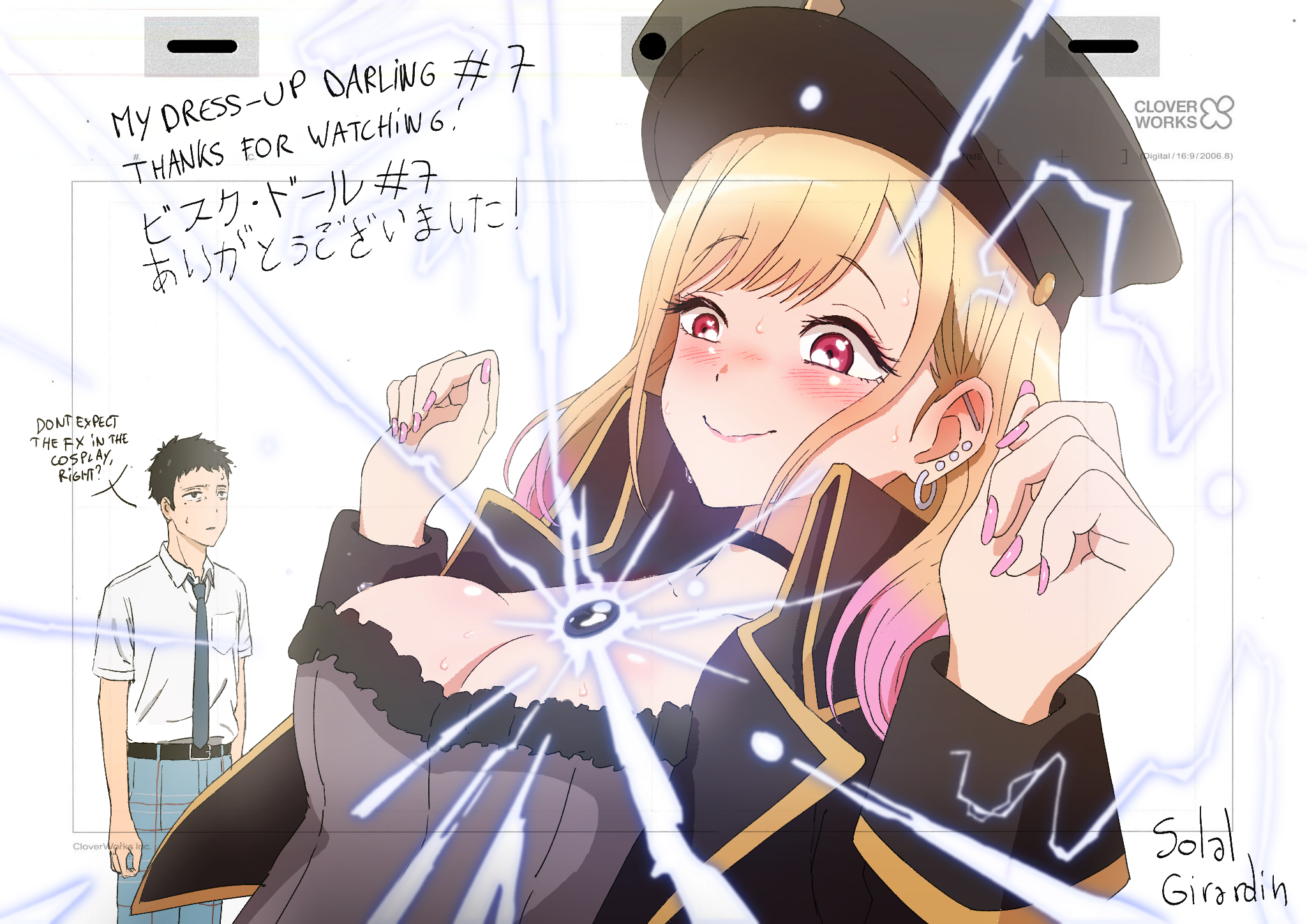 Do you think the animation scene in France will keep progressing compared to the scene in Japan?
In France, a lot of people are kind of delusional *laughs* There are a ton of animation schools in France, almost too many. And a lot of schools are a way for directors to make a lot of money from students who think there's an infinite amount of jobs which isn't really true. I know many people who come from very bad schools, so I advise people to be careful of these schools. Research as many schools as possible and try and get into the ones you weren't accepted into if you're rejected because those are the good ones as they don't take everyone.

In the end, there is a big problem in France and the fact that animation is for children in France. There is a big lack of projects for adults and adolescents, and it's difficult to create big, marketable projects because that's not really the French system. The French system has help from the government to fund projects which takes time, and in the end, you don't have the right to fund projects, and after that, they don't really have the right to do whatever they want with the project. Compared to Japan which is maybe a bit too capitalist. At least in France, when you start working in the animation industry with a lot of talent, you can have a secure system and not have a lot because of the healthy work system in France with good hours and lots of holidays. 
Do you have any favorites among the projects you've worked on?
My Dress-up Darling was really cool cause I really aimed for pretty difficult cuts. I even think I aimed a bit too high when I started because it was my first work as a layout animator fully animating for a Japanese studio. It was something I was really, really happy about. So yeah, I would say My Dress up Darling cause I could completely do what I wanted in the end. 
Aside from the Monogatari series, which we know you love, what other series do you enjoy?
Yeah, I like Monogatari. Monogatari is the best. Maybe 3-gatsu no Lion *laughs* all Shaft. Also The End of Evangelion. A Lot of people call me an elitist because of my tastes *laughs* I'm also a big fan of experimental anime like Madoka. I love it. The End of Evangelion is also like that. Otherwise, I'm also looking forward to MAPPA's Alice and Therese's Illusion Factory. It looks weird and cool.   
Goodbye Eri fan animation
さよなら絵梨の同人アニメーション#goodbyeeri #さよなら絵梨 pic.twitter.com/rQgCrOKDDa

— Solal Girardin (@SolalGirardin) April 30, 2022
Do you have any big or small personal projects you're working on or want to promote?
Right now, I'm not doing anything big. I'm currently working on a fan animation for Goodbye Eri for training, but I have ideas on stuff I want to work on. I'm planning to do little short stuff like maybe some music clips and introduction videos for Twitch streamers. I'm interested in doing these sorts of projects because they are one-off and don't take more than two or three months of work. 
Do you have any advice for future animators?
For future animators, try your best to be a great animator, but don't kill yourself in the process, and don't accept shitty prices!