It's a new week and a new set of anime and manga news to cover, so I'll be listing the best updates and announcements we received throughout the week.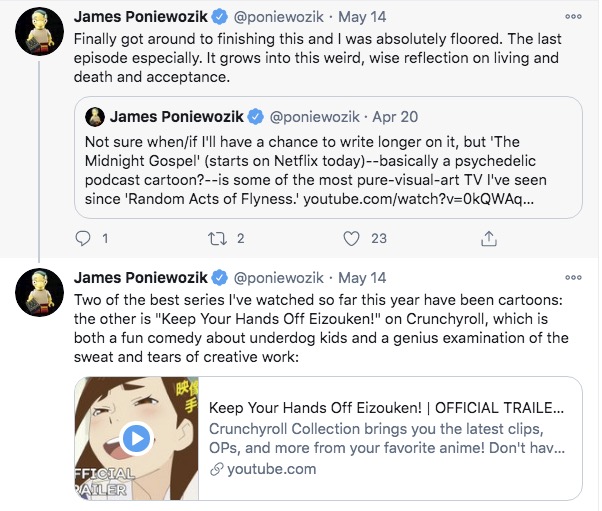 Keep Your Hands Off Eizouken! featured in New York Times' Best Shows of 2020
Earlier this week, The New York Times included Keep Your Hands Off Eizouken! Based on the manga by Sumito Oowara as part of its Best TV Shows of 2020.
Sacks&Guns!! Additional Staff and Cast Members Announced
Earlier this week, the official Twitter account for Project Anima and ANN announced the additional staff and cast members for the upcoming anime Sacks&Guns!! Based on Nekotarō Inui's Sakugan Labyrinth Marker (Drilling Labyrinth Marker) light novel.
The original novel description via ANN reads:
The distant future, long after the Western calendar is no longer used.

Humans live shoulder-to-shoulder, cramped in the "Labyrinth," an underground world deep below the surface. There are many colonies where people live in the underground Labyrinth. The place is known for extreme high temperatures, but also for lodes of gold, silver, and other riches. In one of the colonies named Pin-in, a curious nine-year-old girl named Memenpu and her father Gagamba board a two-person work robot and mine for ore. They eke a living as the lowest of lowest "Worker" occupations. One day, Memenpu begs her father Gagamba to set out as Markers — those who chart the innards of the Labyrinth as a spelunker — to search for her mother who left their home.

If they encounter a "mysterious giant creature" lurking in the caves, the survival rate is less than 5%. Since discovering an unknown world is dangerous work, "maps" hold great value in the world of Labyrinth and fetch high prices on the market.

A Marker is the most dangerous, but also the most lucrative, job.

Gagamba decides he cannot hold back the ever-curious Memenpu from going off on her own countless times, and finally gives in. The two embark on a journey together in the work robot.

However, the "cost" of curiosity …

The "truth" they finally uncovered …

This is a father and daughter's epic journey with the theme of family love.

The anime has been delayed to 2021, after being originally slated for a 2020 broadcast.
Sacks&Guns!! is set to premiere sometime in 2021, after its original 2020 broadcast delay.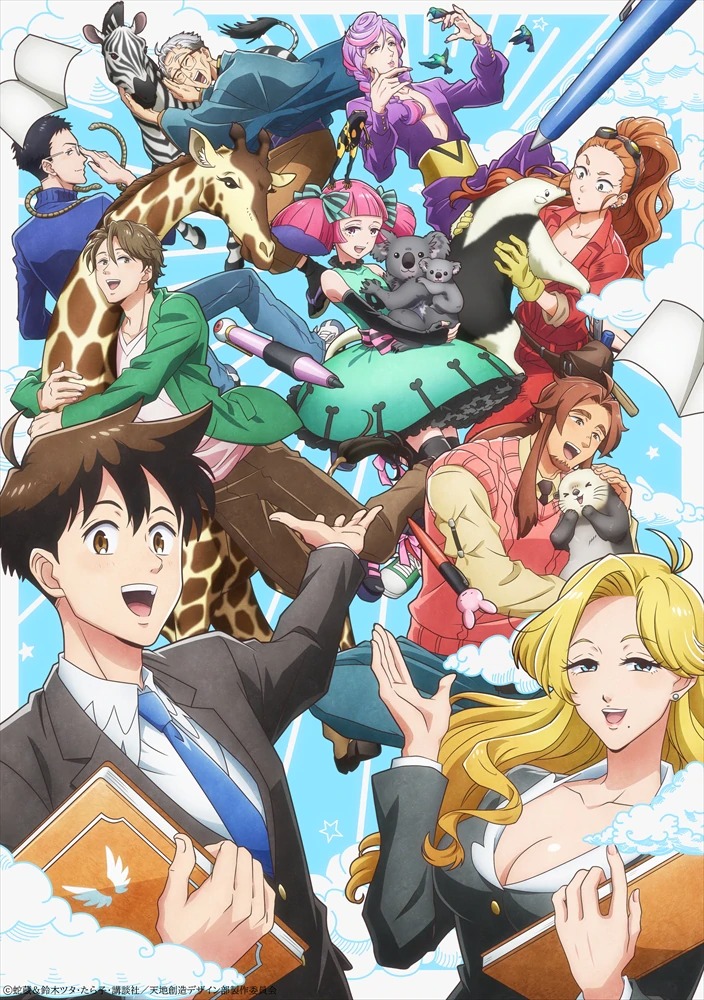 Heaven's Design Team New Trailer
Earlier this week, we received a new TV promotional video for the upcoming TV anime Heaven's Design Team based on the comedy manga written by Hebi-Zou and Tsuta Suzuki and illustrated by Tarako.
Kodansha serializes the original manga both in Japan and the U.S and describes it as such:
In Heaven's Animal Design Department, designers create a variety of new animals daily while contending with the unreasonable requests of their client: God. Funny, interesting, and full of useful information, this series answers questions such as, "Why can't unicorns exist?", "What makes an animal taste delicious?", "What's the most powerful creature in the ocean?", and, "Bird versus snake: who would win?" You won't believe it's a manga series when you read up on the featured animals in the included encyclopedia entries. Heaven's Design Team will make your next trip to the zoo or aquarium 100 times more fun!
Heaven's Design Team is directed by Sôichi Masui and features animation production by Asahi Production. The series is set to begin broadcasting in Japan on January 07, 2021.
What If the Ultimate in Fully Immersive VR RPGs Was a Crappier Game Than Reality Itself
The official website for the upcoming anime based on Light Tuchihi's light novel What If the Ultimate in Fully Immersive VR RPGs Was a Crappier Game Than Reality Itself recently announced that it will premiere in April 2021.
The anime's description via ANN can be seen below:
The story follows a dull high school student named Hiro Yūki (a double pun on "hero" and "heroism" in Japanese) when he is tricked into joining a full-dive (fully immersive VR) role-playing game. The game, Kiwame Quest (literally, "Ultimate Quest"), is promoted as "more real than reality" with mind-blowing graphics, impressive NPC behavior, and even the scent of foliage and the sensation of wind blowing against your skin.

Unfortunately, the game is already a virtual ghost town, after being flooded with player complaints that the game is little too realistic for its own good. Its quests are nearly impossible to clear, since players have to be as physically fit to complete them as they would in real life. Players feel actual pain when they get hit, and puncture wounds takes days to heal.

The only reward is the mere sense of accomplishment. It is the complete opposite of a casual pick-up-and-play game, but Hiro vows to beat this most realistic (and most stressful) game ever.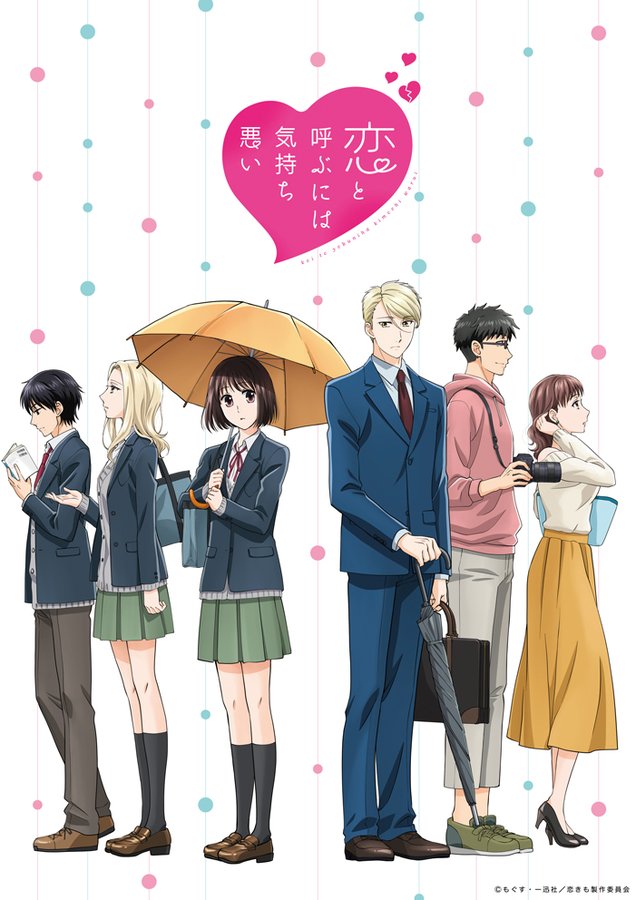 It's Disgusting to Call This Love New PV
This week, the official website for the upcoming TV anime adaptation of Mogusu's romantic comedy It's Disgusting to Call This Love, revealed a brand new PV to introduce the two protagonists Ichika Arima.
The synopsis for the anime as well as the main voice cast can be seen below:
One rainy day, Ryo Amakusa, an office worker, was rescued by an unknown high school girl at the station. He learns that the girl is his sister's best friend, Ichika Arima. Ryo, who often gets into trouble because of women, proposes kisses and dates to Ichika as a way of saying thank you, but he is rejected as "disgusting." However, it opens a new door in Ryo's mind, and he falls madly in love with her. Since that day, Ryo's straightforward approaches and love expressions have continued every day. Ichika, who is totally uncomfortable with the situation, abuses him mercilessly, but he always receives it as a backhanded expression of her affection for him…
Re:ZERO Season 2 Upcoming Announcement
The official Twitter account for the Re:ZERO -Starting Life in Another World-  TV anime series and ANN recently announced that a live stream will be held on December 10 featuring new information regarding the second part of Re:ZERO -Starting Life in Another World- Season 2 as well as new collaborations.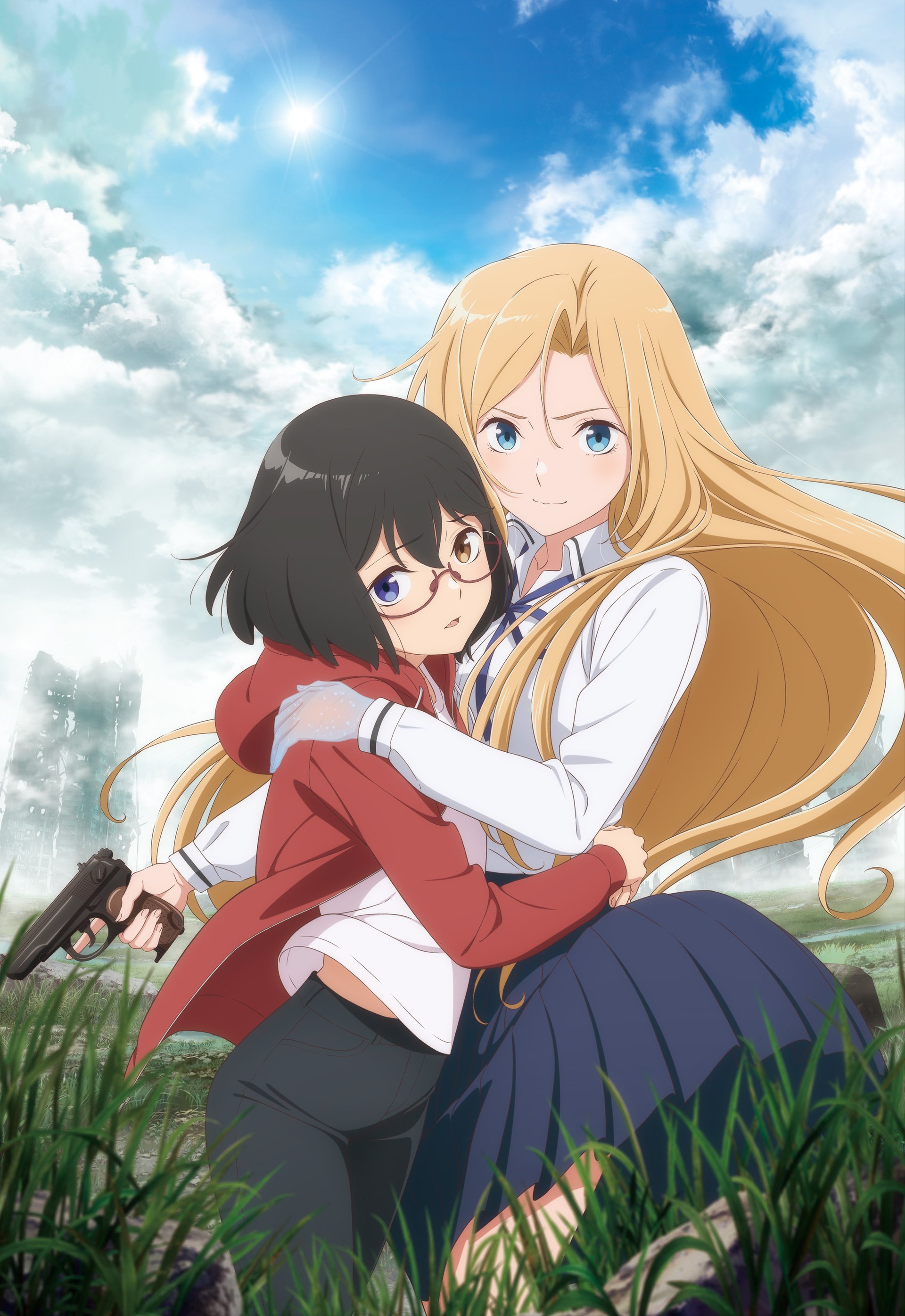 Otherside Picnic Premiere Date
This week, the official website for the TV anime of Iori Miyazawa's science fiction Yuri novel series Otherside Picnic, revealed that the anime will premiere on January 4 in Japan. The website also revealed that CHICO with HoneyWorks will perform the opening theme song, and Miki Satō will perform the ending theme song.
J-Novel Club publishes the light novel series in English and describes it as such:
Her first encounter with Toriko Nishina was on the Otherside after seeing "that thing" and nearly dying. Ever since that day, exhausted university student Sorawo Kamikoshi's life changed. In this Otherworld, full of mystery, which exists alongside our own, dangerous beings like the Kunekune and Hasshaku-sama that are spoken of in real ghost stories appear. For research, for profit, and to find an important person, Toriko and Sorawo set foot into the abnormal.

A tale of two girls' bizarre exploration and survival, brought to you by an up-and-coming Sci-fi author!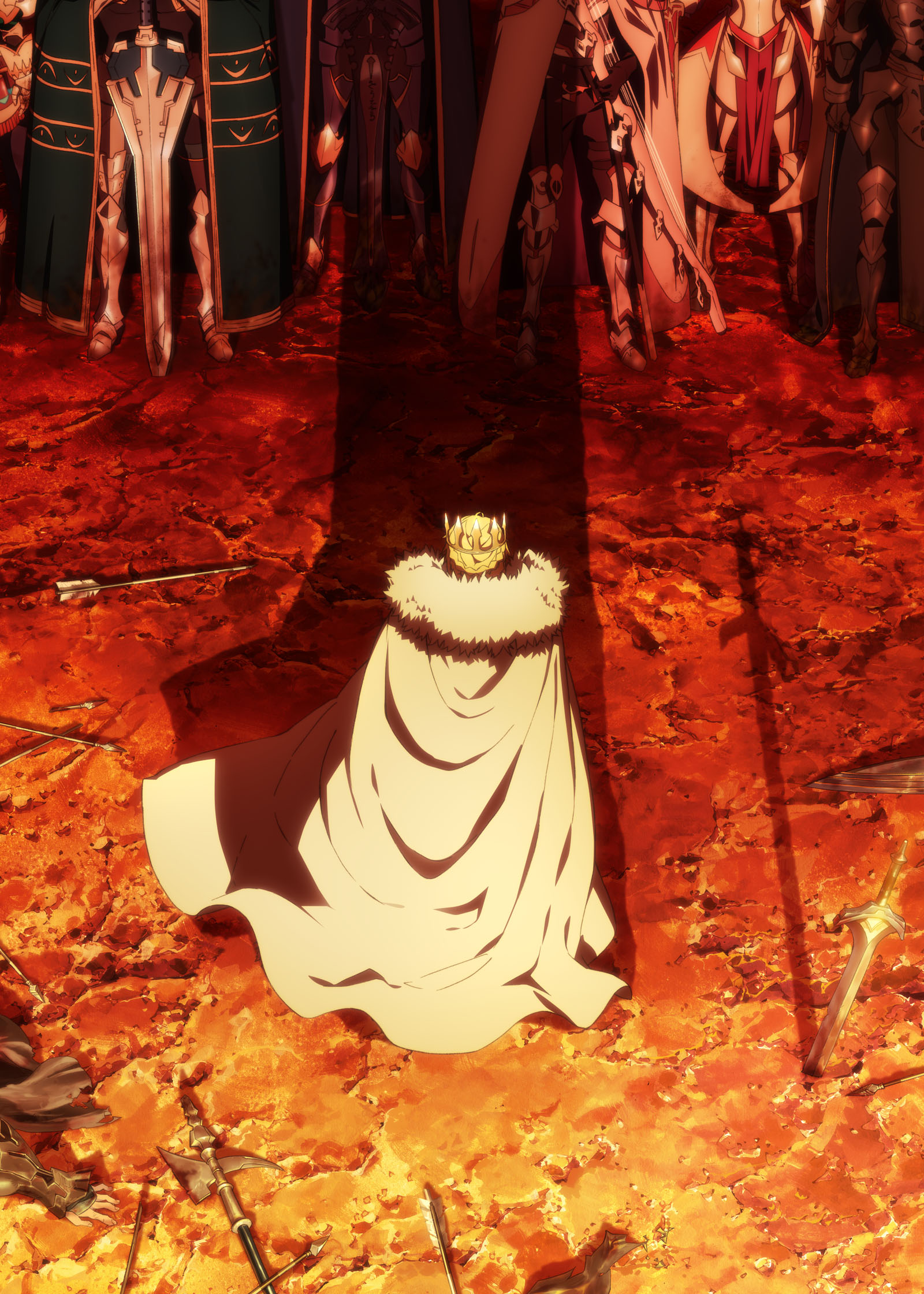 Fate/Grand Order The Movie Paladin; Agateram Premiere Date
Yesterday, the official Twitter account for the two-part Fate/Grand Order The Movie Divine Realm of the Round Table: Camelot anime films, announced that the second upcoming film, Paladin; Agateram, will be released in Spring 2021. The announcement came at the end of the first film, Wandering; Agateram, which premiered in Japanese theaters on the same day. A new visual for Fate/Grand Order The Movie Divine Realm of the Round Table: Camelot – Paladin; Aam was also released alongside the announcement.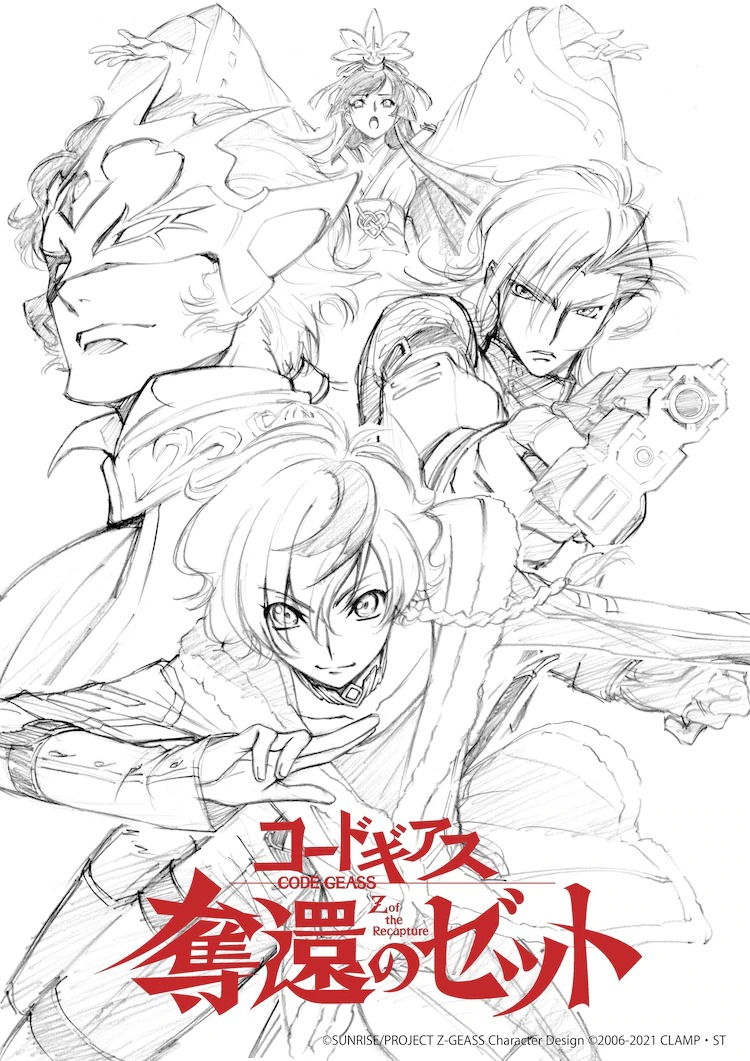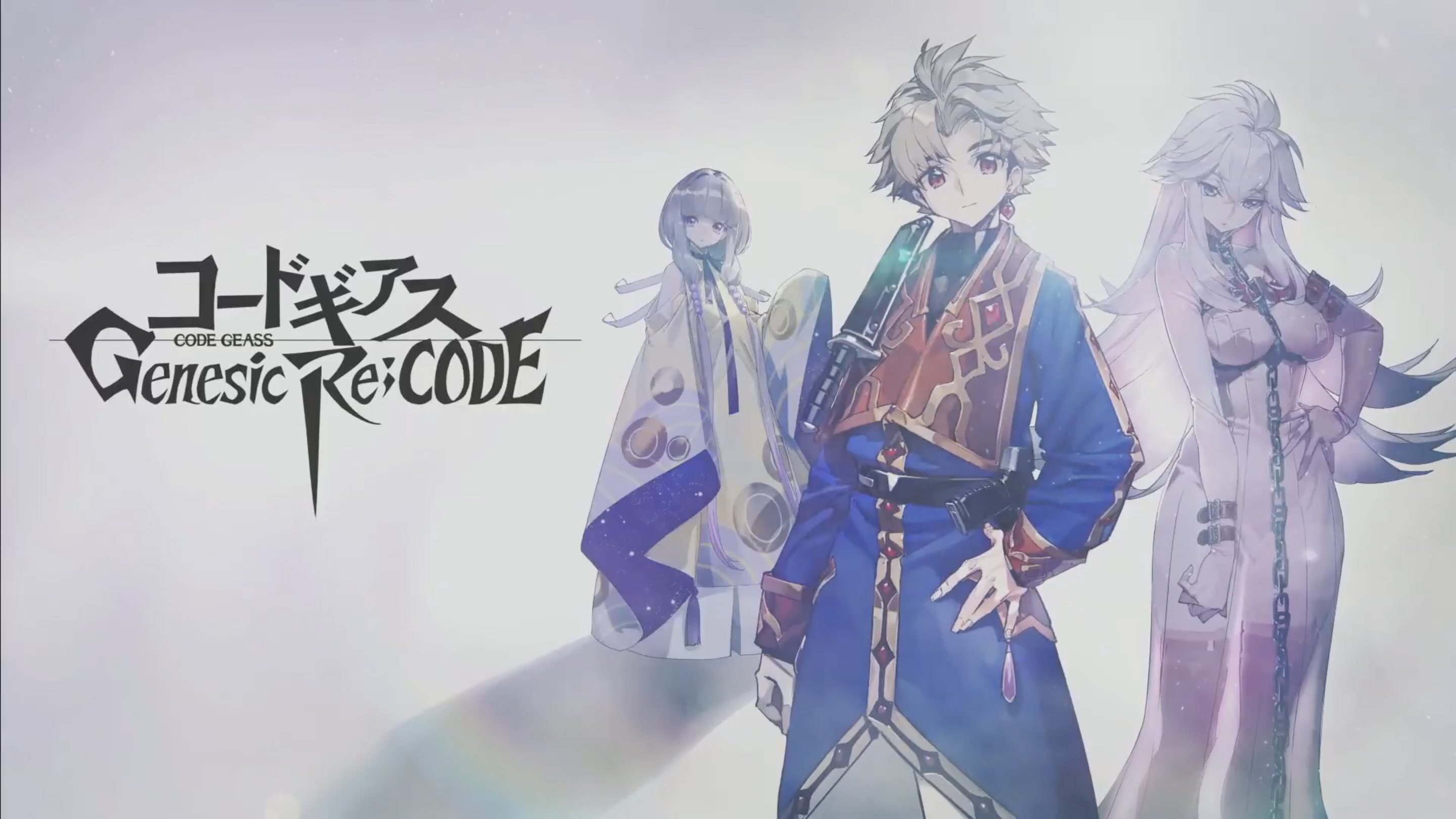 New Code Geass Anime and Mobile Game
This week, the previously teased Code Geass New Project Presentation announced a brand new TV anime titled Code Geass: Z of the Recapture, which continues on from the latest anime film, Lelouch of the Re;surrection, also announced was a new mobile game inspired by the series titled Code Geass: Genesic Re:CODE, which will feature notable characters from the series.
SSSS.Dynazenon New PV
During a stage presentation at the Tokyo Comic Con 2020 online event, a new promotional video was revealed for Tsuburaya Productions and Studio Trigger's new SSSS.Dynazenon anime project. The promotional video reveals the anime's April 2021 premiere.
Mushoku Tensei: Jobless Reincarnation Coming to Funimation
Funimation announced today that it will stream the upcoming TV anime adaptation of Rifujin na Magonote's Mushoku Tensei: Jobless Reincarnation light novel series this coming winter season.
Funimation describes the anime as such:
The story follows a 34-year-old man who is killed after trying to save someone from getting hit by a car. He soon finds himself reincarnated in a magical world as Rudeus Greyrat, except that he gets his whole life reset, starting as a baby.

With all of his knowledge from his previous life, and a new heaping helping of magical ability, Rudeus quickly becomes a formidable warrior ready for adventure. Oh, and he's still a total pervert.
Dr. Stone: Stone Wars Premiere Date
In the latest issue of Shueisha's Weekly Shonen Jump magazine, it was revealed that Dr. Stone: Stone Wars, which is the second season of the anime adaptation of Boichi and Riichirou Inagaki's Dr. Stone manga, will premiere on January 14. Crunchyroll will stream the series worldwide and Funimation will stream the English dub.
Chainsaw Man "important announcement"
In the same issue of Shueisha's Weekly Shonen Jump magazine, it was revealed that Tatsuki Fujimoto's Chainsaw Man manga will end in the magazine's upcoming second issue on December 14. The second issue will also reportedly feature an "important announcement" for the manga.
Viz Media is publishing the manga in English and describes the story as such:
Denji's a poor young man who'll do anything for money, even hunting down devils with his pet devil-dog Pochita. He's a simple man with simple dreams, drowning under a mountain of debt. But his sad life gets turned upside down one day when he's betrayed by someone he trusts. Now with the power of a devil inside him, Denji's become a whole new man—Chainsaw Man!
In other news, Attack on Titan Final Season and Cyberpunk 2077 will be available to all this coming week, which means this month will be quite an eventful one for both the Anime and Gaming community.
What do you think of this week's anime and manga news? Are you also looking forward to any of the anime mentioned? Let us know your thoughts in the comments section below.