The origin of Chess is said to date back to nearly 1500 years from today, essentially making it one of the oldest games that are still played today. The game was originally invented in India under a completely different name of "Chaturanga". Over the centuries, it has gone through many iterations, including different sets of rules, pieces, and boards, and the chess that we know and love today only settled in its current form in the 19th century.
The Chess of today is played by two players with a mutual goal, to capture the other player's King. To accomplish this goal, both players are provided a set of resources that they will need to make use of. While simple on the surface, chess can be a very mentally tasking game, that requires you to make challenging decisions in order to claim victory.
As a result, Chess is known for having amazing benefits for playing. It improves memory, helps with developing critical thinking skills, decreases the chance of developing Alzheimer's disease and just like Chess is a true game of wits. The entire story of Death Note revolves around who can outwit who, putting the two protagonists of the show, Light and L, against each other in intense mental warfare, similarly to poker, with each taking their turn to throw mental punches at one another.
In fact, when the anime was first translated into German, it was quite the hit for many Austrians rather than Germans. The show took off immediately for the locals which was evident in how much merchandise was being sold in cities like Vienna. Now the reason we are comparing Death Note to a game of poker is because players from online casino Österreich (Austria) have done so. If a professional player says that a relationship between two characters in a show is reminding him of real life, it's pretty obvious that we should trust them.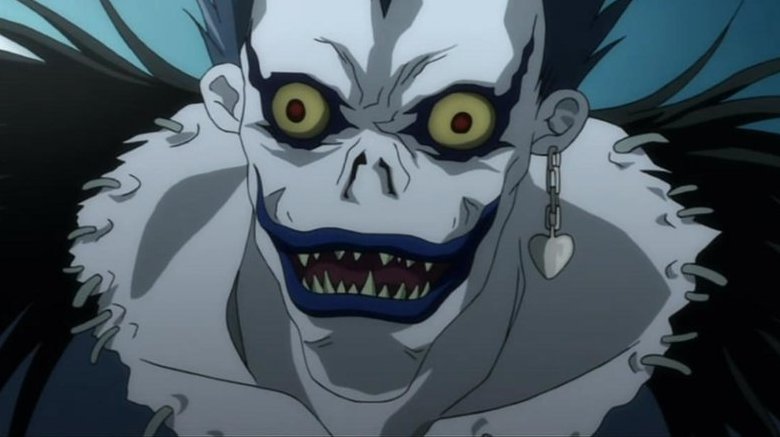 And why wouldn't we. Death Note has just as many mind games as Poker. Oh and let's not forget the signature Light poker face when he's talking to L as well.
Another game that Death note has been compared to is Chess, and it's pretty obvious why. Similarly to Chess, in the anime Death Note, we have two sides: Light Yagami, a.k.a. Kira and L. While there certainly are a lot more characters in the show, these two arguably play the biggest roles and are also the most loved ones as well, and would be the best candidates to take on the title of a "King" in this fantasy game of Death Note's Chess.
Just like in Chess there aren't just King's being put against each other, there were other characters in the anime participating and playing vital roles to determine the outcome of the battle. To even get anywhere in this fictional game of chess of ours, we'll first need to ditch the traditional perceptions of good being represented by white(or light, no pun intended) and evil by black and work purely by the events that took place in the anime.
With that said, Light Yagami would undeniably be playing as the White King, as in Chess the white player is the one who makes the first move, and Light made the first move in the show by killing off the man that was holding hostages in the very first episode, making L the black King.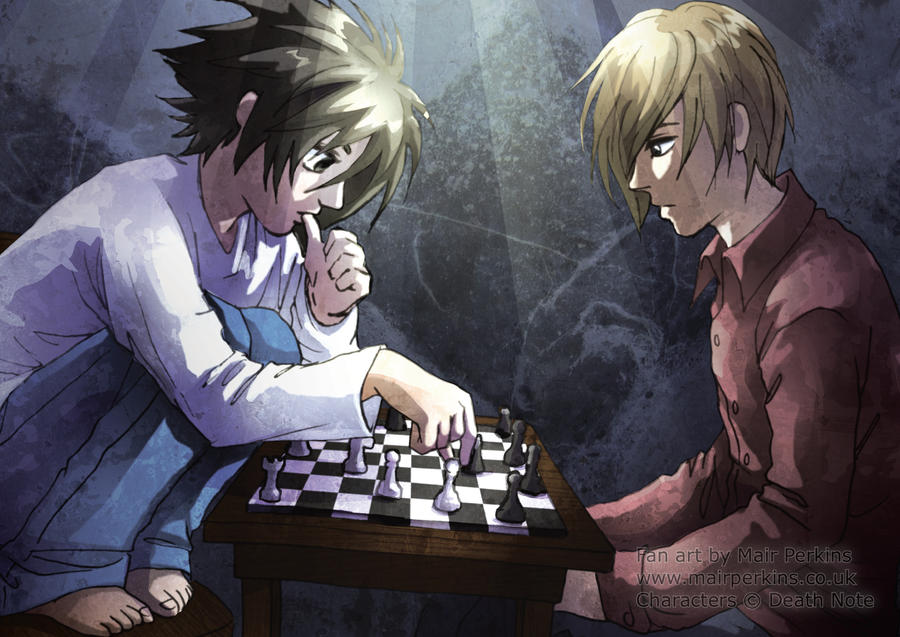 Misa Amane would be the overly glorified white Queen, as, in reality, she was nothing but a pawn for Light, but certainly played a vital role in the show, while for the black side, Watari would be the best contender for the title. As for Bishops, Rem and Ryuk would be the most fitting for the job on Light's side, while Chief Yagami and Aizawa would be claiming the title for L's side.
Higuchi and the Sakura TV anchor would be claiming the role of Knights for themselves for the white side, while Wedy and Aiber for the black side. The role of the Rook would be bestowed upon Mikami and Takada for Light and Near and Mello for L. Finally, and unsurprisingly, the Pawns in this game of Chess would be normal, ordinary people. Specifically, Kira supporters for Light and the policemen for L.
Now, the ultimate question still remains, who would win in a battle of Chess? Light Yagami, a.k.a. Kira? Or L?
If we go by the story told by the anime, then it would be Light, as even though Kira does die at the end, he killed L first, which would end a game of chess. However, if we deviated from that storyline by a bit and looked at it as an actual game of Chess, we could argue that neither of them would actually play a move as they'd be too busy thinking what move the other one would make.
This article contains sponsored links.