It's a new week and a new set of anime and manga news to cover, so I'll be listing the best updates and announcements we received throughout the week.
Coming soon…#IDINVADED#idinvaded#id_indeed#イド#0108公開 pic.twitter.com/V5HJRLWTKu

— ID:INVADED イド:インヴェイデッド OFFICIAL? BDBOX上下巻発売中! (@idinvadedanim) January 1, 2021
ID: INVADED Anime Teases Its Return
Earlier this week, the official Twitter account for the TV anime project ID: INVADED began streaming a new video featuring the series' characters.
For those unfamiliar with ID: INVADED, a synopsis for the anime can be found below:
The Mizuhanome System is a highly advanced development that allows people to enter one of the most intriguing places in existence—the human mind. Through the use of so-called "cognition particles" left behind at a crime scene by the perpetrator, detectives from the specialized police squad Kura can manifest a criminal's unconscious mind as a bizarre stream of thoughts in a virtual world. Their task is to explore this psychological plane, called an "id well," to reveal the identity of the culprit.

Not just anyone can enter the id wells; the prerequisite is that you must have killed someone yourself. Such is the case for former detective Akihito Narihisago, who is known as "Sakaido" inside the id wells. Once a respected member of the police, tragedy struck, and he soon found himself on the other side of the law.

Nevertheless, Narihisago continues to assist Kura in confinement. While his prodigious detective skills still prove useful toward investigations, Narihisago discovers that not everything is as it seems, as behind the seemingly standalone series of murder cases lurks a much more sinister truth.
Orient Receives an Anime Adaptation
Earlier this week, Kodansha announced that Shinobu Ohtaka's (Magi: The Labyrinth of Magic) famous fantasy battle manga Orient will be receiving an anime adaptation.
A synopsis of the series via Kodansha can be seen below:
The story is set in Japan's Sengoku Period. Suddenly, the "demon gods" arrive and change Japan forever. The famous feudal lords of the period were killed off, and the world became a place where "demons" ruled over humans. In this world where the "demons" are worshipped as gods, there is a group called the Bushidan that fights for freedom. Two boys who admire the Bushidan stand up to reclaim the human world! Their dream is to become the "strongest Bushidan"!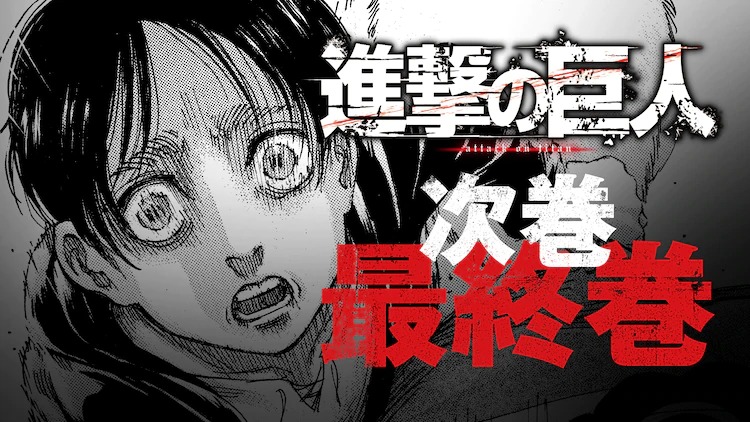 Attack on Titan Manga Ends this April
Earlier this week, it was announced that Hajime Isayama's incredibly popular manga series, Attack on Titan, will publish its last chapter in Bessatsu Shonen Magazine on April 9.
Isayama had this to say regarding the news:
"I've been saying for the last eight years that I'd finish [Attack on Titan] in three years, and finally, it seems like it will be completed. It's been a very long time coming, but I hope you'll stick with me until the end.

The editorial team never rushed me to finish the series, but I've been continually asked "when will it end?". Thank you for waiting for me.

I will do my best until the last page so you will feel satisfied with what you've read."
【スラムダンク】

映画になります!#slamdunkmovie pic.twitter.com/jWqvCnASxj

— 井上雄彦 Inoue Takehiko (@inouetake) January 7, 2021
Slam Dunk Gets Another Anime Film
Creator Takehiko Inoue announced on his Twitter account earlier this week, that his hit basketball manga Slam Dunk will be adapted into a new film with studio Toei Animation listing the film as an anime film.  Crunchyroll is streaming the series, and it describes the story as:
Hanamichi Sakuragi is a delinquent with a long history of getting dumped by girls. After enrolling in Shohoku High School, Hanamichi becomes interested in a girl named Haruko who loves the game of basketball.
✨放送時期決定!✨
TVアニメ「#シャドーハウス」
2021年4月放送決定!#ケイト:#鬼頭明里#エミリコ:#篠原侑

原作:#ソウマトウ
監督:#大橋一輝
シリーズ構成:#大野敏哉
キャラクターデザイン:#日下部智津子
音楽:#末廣健一郎
制作:#CloverWorkshttps://t.co/RdWgH0y61zhttps://t.co/NryL379AbU pic.twitter.com/gA8mgXINrC

— シャドーハウス公式(YJ連載中) (@shadowshouse_yj) January 7, 2021
Shadows House Anime Premieres April
Earlier this week, it was revealed that the upcoming TV anime adaptation of Somato's gothic mystery manga Shadows House will begin broadcasting in Japan in April of 2021.
A short description of the manga via Crunchyroll can be seen below:
Shadows House is set in a mysterious, Western-style mansion populated by a clan of "Shadows" who imitate the trappings of human aristocracy. The Shadows have no faces of their own, so they are attended by "living dolls" who act as their caretakers. The story follows Emilyko, a living doll, and Kate Shadow, the Shadow whom Emilyko serves.
「それでも歩は寄せてくる」アニメ化決定しました!どうもありがとうございます pic.twitter.com/h5n6qNby6d

— 山本崇一朗.高木16ツバキ5将棋9 (@udon0531) January 7, 2021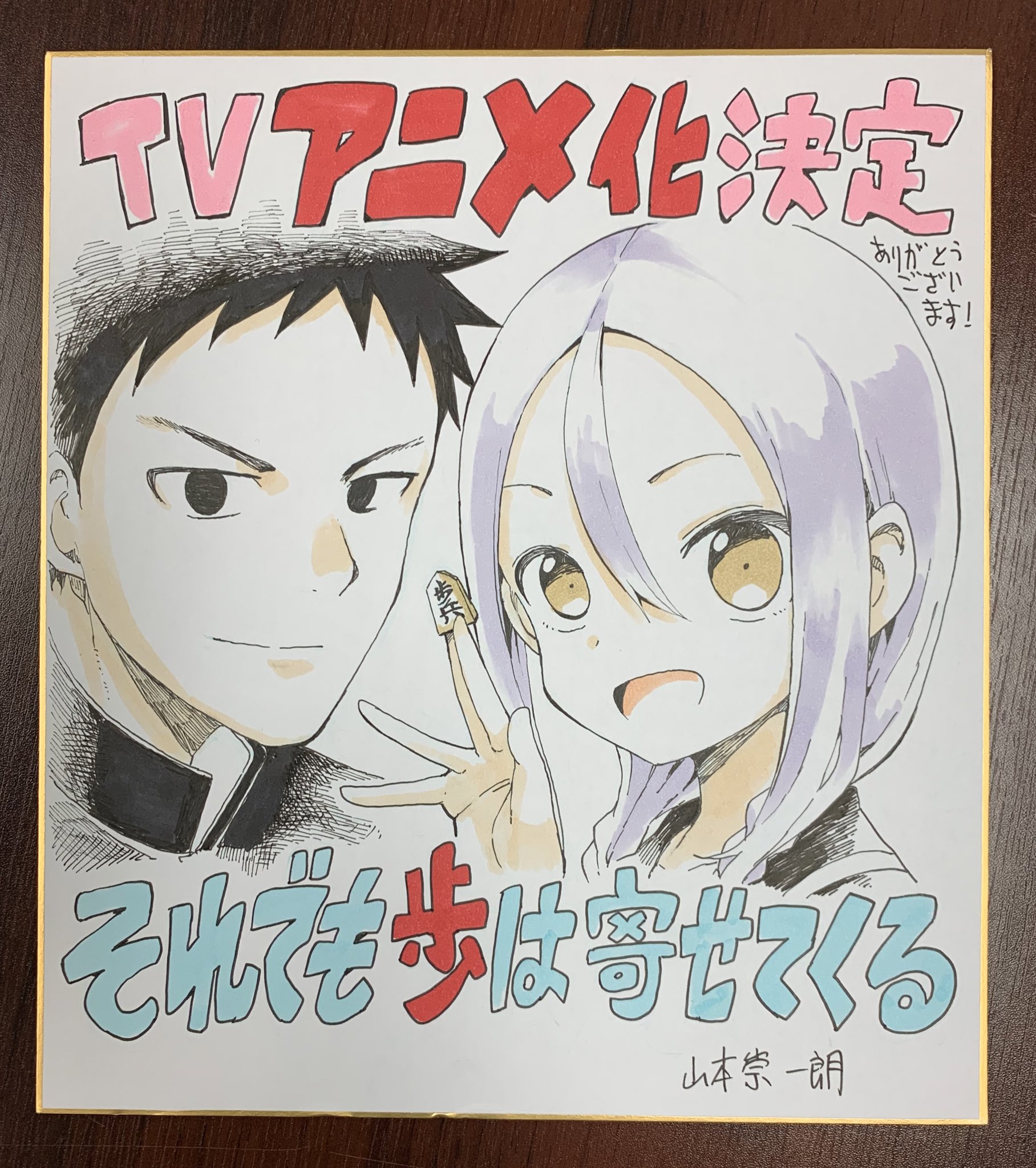 Soredemo Ayumu wa Yosetekuru Anime Announced
Author Soichiro Yamamoto (Karakai Jozu no Takagi-san / Teasing Master Takagi-san) announced this week on his official Twitter account that a TV anime adaptation of his hit manga series, Even So, Ayumu Approaches (Soredemo Ayumu wa Yosetekuru) is currently in production and will be aired sometime in 2022.
Yamamoto had this to say regarding the news:
"I'm very happy that 'Soredemo Ayumu wa Yosetekuru,' which was the first manga that I drew with a 'story' in mind in a weekly magazine, will be adapted into an anime. Not only as an author, but also as a viewer, I'm really looking forward to seeing it in action with voices. I'll be working even harder than before on the original manga, so please give me your support."
Bofuri Season 2 Coming 2022
It was announced during the "Maple and Sally's Defense Specialization and Live Special" that the second season of the TV anime BOFURI: I Don't Want to Get Hurt, so I'll Max Out My Defense will premiere sometime in 2022.
A description of the series via ANN can be seen below:
The novels' story centers on Kaede Honjō, who is invited by her friend Risa Shiramine to play a virtual reality MMO game with her. While Kaede doesn't dislike games, what she really, truly dislikes is being in pain. She creates a character named Maple, and decides to put all her points in VIT to minimize pain. As a result, she moves slowly, can't use magic, and even a rabbit can get the best of her. But as it turns out, she acquires a skill known as "Absolute Defense" as a result of her pumping points into VIT, as well as a "Counter Skill" that works against special moves. Now, with her ability to nullify all damage, she goes on adventures.
Sayuki Manga Arc Gets An Anime Adaptation
Frontier Works recently revealed a new PV to announce that the "Even a Worm" arc of Kazuya Minekura's Saiyuki Reload manga will be adapted into a TV anime titled Saiyuki Reload -ZEROIN-. Minekura also drew a teaser visual for the anime (seen above). LIDEN FILMS is the animation production studio.
What do you think of this week's anime and manga news? Are you also looking forward to any of the anime mentioned? Let us know your thoughts in the comments section below.