It's no surprise that the current COVID-19 pandemic has affected the world significantly. Due to this, many forms of media, anime included has been affected. Despite this, however, this week was pretty eventful, so I'll break down the most exciting news and announcements we saw this week.
DECA-DENCE
The first significant announcement this week was made by NUT, the studio for the new original sci-fi action TV anime DECA-DENCE, which announced that its premiere date is set for July 2020. This announcement came alongside a new key visual and central plot premise.
The anime's leading roles were also revealed to be Katsuyuki Konishi, (who played Leo in Arte), is cast as the protagonist Kaburagi, while Tomori Kusunoki, (who notably played Llenn in Sword Art Online Alternative Gun Gale Online) is cast as the main heroine Natsume.
The premise for the main plot of the anime by its website is given below:
"Many years have passed since humanity was driven to the brink of extinction by the sudden emergence of the unknown life forms Gadoll. Those humans that survived now dwell in a 3000m-high mobile fortress Deca-dence built to protect themselves from the Gadoll threat. Denizens of Deca-dence fall into two categories: Gears, warriors who fight the Gadoll daily, and Tankers, those without the skills to fight. One day, Natsume, a Tanker girl who dreams of becoming a Gear meets surly Kaburagi, an armor repairman of Deca-dence. This chance meeting between the seemingly two opposites, the girl with a positive attitude who never gives up on her dreams and the realist who has given up on his, will eventually shake the future course of this world."
A full list of the main staff can also be found below:
Original Work: DECA-DENCE PROJECT
Director: Yuzuru Tachikawa (Mob Psycho 100)
Story Editor: Hiroshi Seko (Dorohedoro)
Character Design: Shinichi Kurita
Character Concept Design: pomodorosa
Cyborg Design: Kiyotaka Oshiyama(Studio DURIAN)
DECA-DENCE Design: Hiromatsu
Shu Gadoll Design: Satoshi Matsuura
Sub Character Design: Hiromi Taniguch, Ai Ogata
Battle Concept Design: Tetsuya Masuda
Prop Design: Fuminori Tsukita Hiyori Denforword Akishino(Aki Production)
Visual Concept: Izumi Murakami
Art Director: Takashi Ichikura
Color Design: Chiho Nakamura
Photography Director: Masashi Uoyama
3DCG Director: Masato Takahashi
Editor: Yumi Jinguji
Music: Masahiro Tokuda
Sound Director: Fumiyuki Goh
Animation Production: NUT
Presented by: DECA-DENCE PROJECT
With a lot of notable people in the industry working on this, coupled with the intriguing premise, it's safe to say this anime is one to look out for.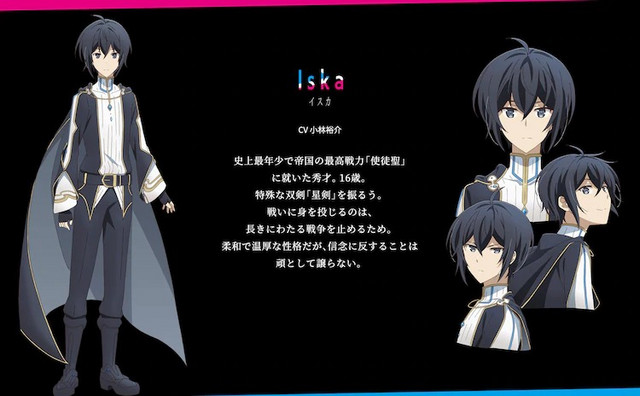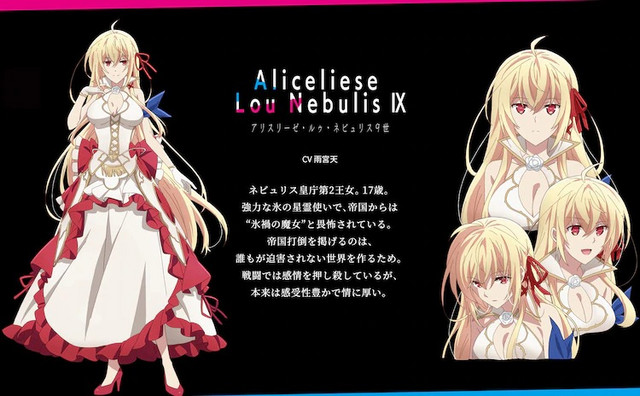 Our Last Crusade or the Rise of a New World
Next, we saw the first trailer for upcoming TV anime "Our Last Crusade or the Rise of a New World," which was released on May 15th. The anime is an adaptation of the fantasy light novel written by Kei Sazane and illustrated by Ao Nekonabe.
Yen Press, which licensed the light novel, describes the first volume below:
"For years, a great war has raged on between the scientifically advanced Empire and a paradise of witches known as the Nebulis Sovereignty. This age-old battle sets the scene for a fateful encounter between two young combatants: an imperial swordsman, Iska, and the witch princess, Aliceliese. As sworn enemies, they vow to cut each other down in order to unite their worlds, and yet Iska finds himself entranced by her beauty and righteousness, while Aliceliese is moved by his strength and resolve. In the midst of a never-ending war that forbids them from being together, they have no choice but to destroy each other-or can they find another way?"
The trailer was followed by the reveal of the anime's two main characters, Iska and Aliceliese Lou Nebulis IX, from the two separate warring nations. For now, though, the anime is yet to receive a broadcast date.

Jujutsu Kaisen
In more exciting news, the First Trailer for the TV anime adaptation of Gege Akutami's beloved Weekly Shonen Jump Manga, Jujutsu Kaisen was finally released this week, providing fans a look into the new adaptation of their beloved manga series. Alongside the trailer, was the announcement of the staff, cast members, as well as the upcoming October release date.
The anime will be directed by studio MAPPA's Director Sunghoo Park, who is also going to be directing the upcoming "The God of High School" anime adaption, with series composition and screenplay written by Hiroshi Seko (of Mob Psycho 100 and Attack on Titan). Character designs will be done by Tadashi Hiramatsu (of Parasyte -the maxim). The music for the anime will be handled by Hiroaki Tsutsumi, Yoshimasa Terui, and Arisa Okehazama.
Additionally, it was announced that Junya Enoki (who voiced Pannacotta Fugo in JoJo's Bizarre Adventure: Golden Wind) would be voicing the protagonist Yuji Itadori. Junichi Suwabe (who voiced Shota Aizawa in My Hero Academia) will be voicing the character of Sukuna. Yuma Uchida (who voices Kyo Soma in Fruits Basket) will be voicing Megumi Fushiguro, and Asami Seto (who voiced Mai Sakurajima in Rascal Does Not Dream of Bunny Girl Senpai) will be playing Nobara Kugisaki.
VIZ media, which licenses the manga in English described the first volume of the manga as follows:
"Although Yuji Itadori looks like your average teenager, his immense physical strength is something to behold! Every sports club wants him to join, but Itadori would rather hang out with the school outcasts in the Occult Research Club. One day, the club manages to get their hands on a sealed cursed object. Little do they know the terror they'll unleash when they break the seal…"
Jujutsu Kaisen is scheduled to broadcast in October.

Hypnosis Mic -Division Rap Battle- Rhyme Anima Delayed
Next, we have a string of delays that starts with new TV anime Hypnosis Mic -Division Rap Battle- Rhyme Anima, which was initially set to release this July but was pushed back to October instead.
For those unfamiliar with the anime, a description is provided below:
"Set in a future Japan where weapons are outlawed, Hypnosis Mic follows rival gangs in Tokyo as they fight turf wars through rap battles. Rappers make use of the Hypnosis Mic, a microphone allowing their words to directly affect people's psyches. Central to the story are Buster Bros!!!, MAD TRIGGER CREW, Fling Posse, and Matenrou—each led by a former member of the legendary group The Dirty Dawg."
The postponement is due to (as you can guess) the current COVID-19 pandemic, which has caused many other delays in the industry this year. The series will be animated at A-1 Pictures and directed by Katsumi Ono, and the composition will be handled by Shin Yoshida and character designs by Minako Shiba.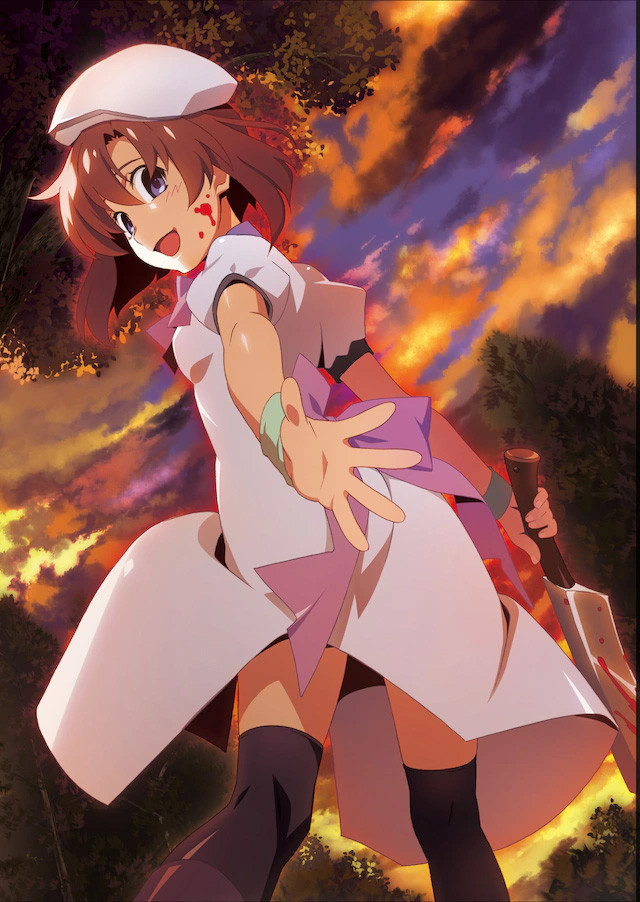 Higurashi When They Cry Delayed
Another anime that was scheduled to release this July is the new Higurashi When They Cry series. The anime is yet another victim of the COVID-19 pandemic. Keiichiro Kawaguchi will be directing the new series alongside Akio Watanabe (of the Monogatari series) as the character designer. The anime will also be composed by Naoki Hayashi, with music from Kenji Kawai (of Mob Psycho 100).
The anime is yet to receive a new broadcast date. However, you can check out the promotional video for the anime, which was released back in March above.
Haikyuu!!: To the Top Delayed
The next anime in the chopping block is Haikyuu!!: To the Top. The official website for the TV anime recently announced it would be postponed due to the ongoing effects COVID-19.
The production committee for Haikyuu!!: To the Top, stated that they had to postpone the second part of the TV anime from its initial July scheduled date, due to "safety concerns" in production but also noted that a new date would be announced once decided.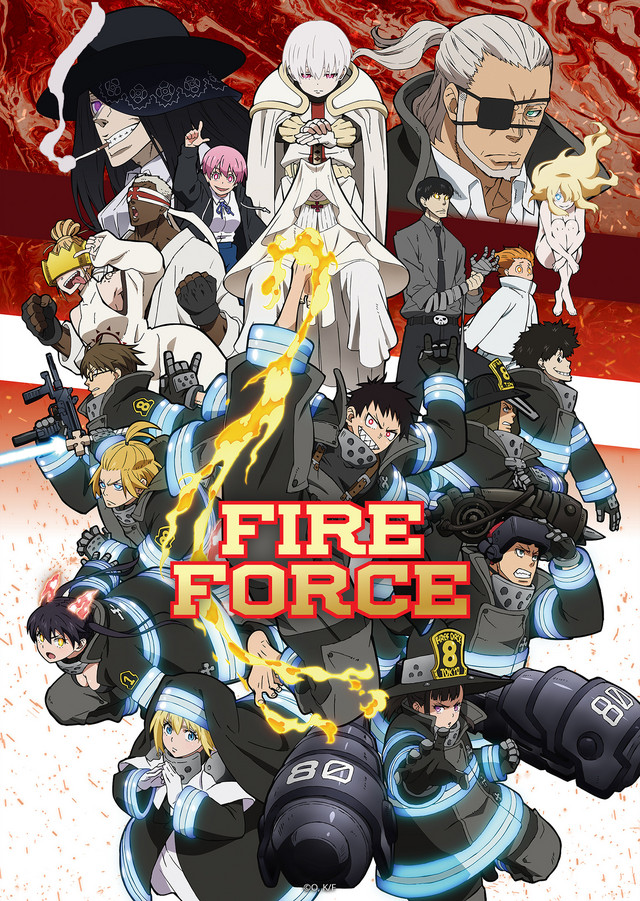 Fire Force Season 2
In lighter news, the second season of Fire Force recently had a brand new trailer released, alongside a new visual announcing a July 2020 broadcast coming to Crunchyroll.
Based on the manga by Soul Eater creator Atsushi Okubo, Fire Force is a fan favorite fantasy-action anime that debuted last year on Crunchyroll. The description for the first season by Crunchyroll is as follows:
"Tokyo is burning, and citizens are mysteriously suffering from spontaneous human combustion all throughout the city! Responsible for snuffing out this inferno is the Fire Force, and Shinra is ready to join their fight. Now, as part of Company 8, he'll use his devil's footprints to help keep the city from turning to ash! But his past and a burning secret behind the scenes could set everything ablaze."
The trailer showcases the new opening theme song 'SPARK-AGAIN,' by Aimer while also introducing some of the new characters and events to come in Season 2. Fire Force season 2 will be coming to Crunchyroll in July 2020. The specific broadcast date is yet to be announced.
One Piece Dubbed & Stampede
As a bonus, Funimation recently announced that Starting June 2 in the US and CA; you'll be able to stream One Piece episodes 575-587, dubbed in English on Funimation. The batch of episodes begins with the Punk Hazard arc and coincides with the movie One Piece Film: Z.
Speaking of films, Funimation also announced that starting May 22, Fans will be able to stream One Piece: Stampede for 60 days on Funimation. So if you haven't seen the movie yet, now's your chance. One Piece: Stampede is also available now on digital storefronts.
While the news this week had more delays than we'd hope for, it was still an eventful week nonetheless, and hopefully, the next week will be better.
What do you think about the news this week? What's your most anticipated anime? Let us know your thoughts in the comments section below.