Today, Crunchyroll released a dark trailer featuring details on the upcoming Crunchyroll Original series Onyx Equinox. While the story highlights a young protagonist, the animation shows a seriously adult side in terms of bloodshed.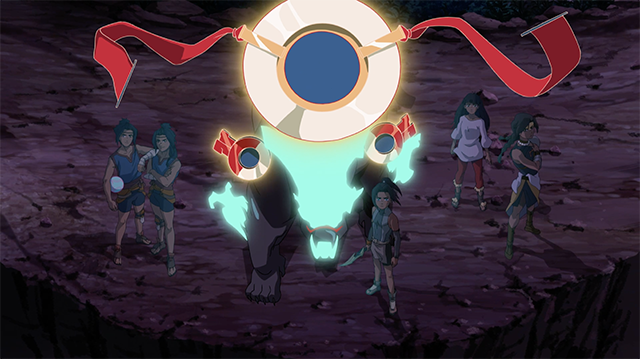 Onyx Equinox Details
Ahead of the series premiere next month, Crunchyroll also revealed an expanded synopsis for Onyx Equinox seen below:
The gods are at war for the future of humanity, and an Aztec boy named Izel finds himself caught in the middle of their dangerous game. In order to save humankind, he must complete an impossible task–closing the five gates to the underworld. Izel reluctantly agrees, but only after learning his quest will also correct a terrible tragedy.  His journey to become humanity's champion will be one of hope and despair, of trust and betrayal, where Izel must confront his own darkness and decide if the human race–with all its flaws and contradictions–is worth saving.
"Viewers of Onyx Equinox can expect an adult story, both in terms of on-screen action and the themes we tackle throughout the series," said Sofia Alexander, creator and showrunner. "We're going to journey with Izel as he is forced to save a world he doesn't believe he has a place in, coming face to face with both the darkness in the world and within himself."
Crunchyroll also revealed more information on each of the main characters, which can be found below:
Character Details

Izel: [ eats – zell ] – Humanity's reluctant hero. Tasked with closing the five gates of the underworld.

Sun Sign: Pisces

Birthday: March 13th

Height: 5'1″

Blood Type: O

Zyanya: [ ziannia ] – A warrior with a powerful ability, seeks to restore her destroyed city.

Sun Sign: Virgo

Birthday: September 4th

Height: 5'10

Blood Type: A

Xanastaku: [ sha – NAS – tah – coo ] – A priestess in Izel's party. Desires to redeem her dark past.

Sun Sign: Scorpio

Birthday: November 10th

Height: 5'4″

Blood Type: A

Yun: [  june ] – K'in's more individualistic twin. The emotional core of Izel's group.

Sun Sign: Gemini

Birthday: June 6th

Height: 5'7″

Blood Type: AB

K'in: [ kinn ] – Yun's mischievous, risk-taking twin who often takes jokes too far.

Sun Sign: Gemini

Birthday: June 6th

Height: 5'7″

Blood Type: AB
Onyx Equinox premieres November 21 only on Crunchyroll.
Source: Press release
Do you subscribe to Crunchyroll? Are you looking forward to Onyx Equinox? Let us know your thoughts in the comments section below.