From Publisher Denpa comes Heavenly Delusion, a unique sci-fi manga by Masakazu Ishiguro, set in a post-apocalyptic world. The manga follows Tokio, a boy who lives with other children in what seems like an advanced nursery surrounded by walls and staffed by robots.
From the first few pages of the manga, readers are introduced to this facility, and a few chapters later some unusual things begin to occur. Not only do we learn the kids are isolated from the outside, but they also seem to possess supernatural abilities, such as clairvoyance and extreme physical prowess.
Before long, Tokio receives a strange message asking if he wants to go outside. He becomes cautious and wonders what the world outside the walls is like. A guardian then tells him there's nothing out there but monsters.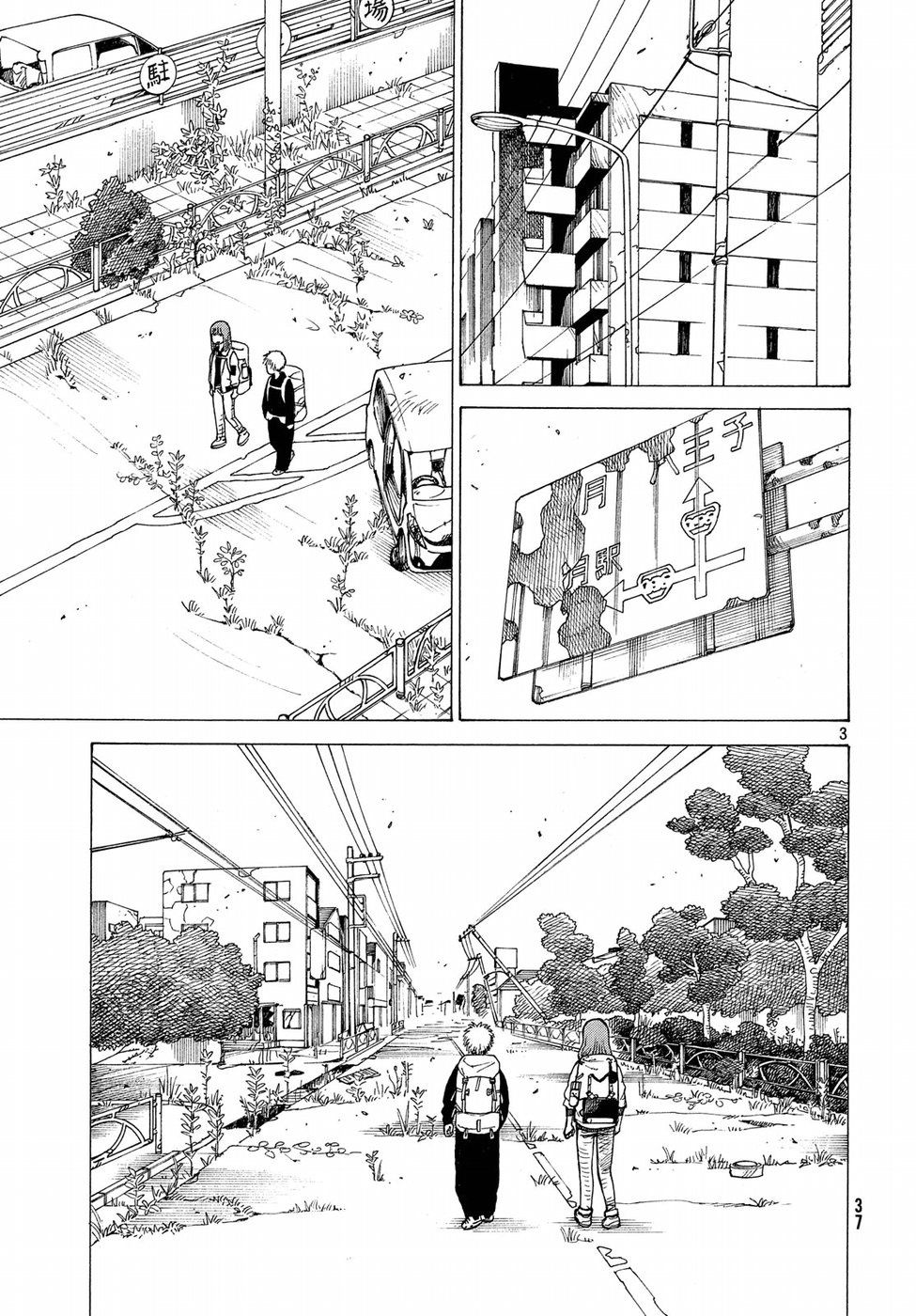 A Dynamic Duo
In the next chapter, we're introduced to Maru, a boy with the same face as Tokio, and Kiruko, a mysterious young woman assigned to be his bodyguard as they seek out a location named "Heaven." In contrast to the children who live safer lives in confinement, these two have vastly different day-to-day experiences.
They have to search for shelter, forage food, and survive all the dangers of their post-apocalyptic surroundings. We aren't given much information on how their world became the way it is only that it's been like this for quite some time, and that the event that occurred is referred to as "The Collapse."
While the world seems dangerous, there's still a degree of normalcy to it with many survivors building communities and even trying to maintain occupations despite a lack of food and resources. The world these two live in also becomes increasingly dangerous with each chapter, from threats like bandits to man-eating monsters. Though we only get to see one monster throughout the volume, it was still uniquely designed and sets a tone with a mix of the supernatural and science fiction.
Storytelling & Art
In terms of storytelling, we aren't given a lot of information in the first volume, just the central premise and enough details for us to understand what's going on. A lot of the story includes moments that will often confuse the reader. It's unclear whether these moments are intentionally left there to elaborate on in later chapters or just a very nonlinear way of telling the story.
Either way, there's no denying that story is told in different perspectives throughout the manga.  As it stands right now, the volume also leaves a lot of questions to be answered. We still have not been given a reason as to why the pair are seeking out a place called Heaven, and we're still yet to know what the deal is with the kids in the nursery.
So far, this form of storytelling succeeds in providing a sense of mystery and intrigue to the readers. The story Isn't all serious either as there are still many goofy moments in the manga, most of which occur in later parts of the volume between the duo. Despite all the supernatural and post-apocalyptic tropes the manga includes, it still manages to be quite grounded. At least for now, as due to many the blanks the manga is yet to fill, I'm quite certain that's likely to change as the story progresses.
Aside from the story, Heavenly Delusion also includes some superb art. While Masakazu Ishiguro's character designs are drawn simplistically, which is a staple to his signature art style, his background designs are highly detailed and show off his post-apocalyptic setting shockingly well.
Final Thoughts
For now, the first volume of Heavenly Delusion perfectly captures both supernatural and science fiction elements while also providing enough mystery to leave the readers wanting more. It's a manga I've personally fallen in love with, and one I can genuinely recommend to those looking for a good read. Luckily, the first volume is available for purchase on the Denpa website and other online retail stores right now.
A copy of this manga was provided for review by Denpa
Have you read Heavenly Delusion? What are your impressions from this review? Let us know your thoughts in the comments section below.
The Review
Heavenly Delusion
The first volume of Heavenly Delusion perfectly captures both supernatural and science fiction elements while also providing enough mystery to leave the readers wanting more.
PROS
Entertaining Plot
Superb Environmental Designs
Interesting Characters
Humorous
CONS
Not enough information in the first volume
Slow Paced