It's not very often you see the Spy genre consumed by many outside traditional media i.e., Mission impossible and James Bond. Yet, Tatsuya Endo did a fantastic job with Spy x Family in creating a manga that's beloved by many and is steadily increasing its standing in the anime and manga community. It's no surprise either, as in the first volume, it introduces readers to an intriguing setting, interesting characters, outrageous humor, and many adorable moments.
Manga Premise
Spy x Family (pronounced Spy Family) follows Loid Forger Codename: Twilight; the pretend patriarch to the titular Spy Family. Loid is a spy who's seemingly based in an alternate Cold War Europe. As a spy who's stripped of his past life, we are introduced only to the well dressed, intelligent, and ultimately flawless individual at the beginning.
His persona is shrouded in mystery and is only driven towards his goals as a spy with a strong will and concrete morals. Loid is a man who follows a set of strict rules and guidelines, anything less than perfection is a failure to him. A trait that has no doubt earned him his role among the top spies.
In the first chapter, He is assigned a mission to deescalate tensions between the fictional nations of Westalis and Ostania. To do so, he'll have to infiltrate an elite school named Eden and get information on his most recent subject, a higher-up associated with the school.
Meet The Family
This is easier said than done, however, as in order to do so, he'll need to acquire both a child and a wife within mere days of starting the mission. Loid begrudgingly accepts this mission and moves on to adopt a child from a less than reputable orphanage where he meets Anya, a mysterious small child the orphanage has been dying to get rid of.
What Loid doesn't know, however, is that Anya is a former subject of government experimentation (assigned number 007 because, of course). The experimentation left her with psychic powers, which she uses to read people's thoughts. Despite being a child, Anya is very clever. She quickly uses her powers to read Loid's thoughts to learn his secret and gain his approval.
With a newly found telepath daughter by his side, Loid's next goal is to find a wife. As to pass the interview stage of Eden's application process, both parents must be present. Unfortunately, this is something that will prove more difficult as he can't just walk into a building and acquire her.
Adding to his bizarre string of good luck, he meets Yor Briar codename: Thorn Princess. Unbeknownst to Loid, Yor is secretly an efficient and masterful assassin in disguise. However, she's also a timid an awkward individual. To avoid any unwanted attention for being a single woman and to better blend well in society, she forms a mutual agreement with Loid to be his pretend wife to build a full family and get Anya into Eden academy. Like Loid, we know nothing of her past life only that they both share a similar background and occupation.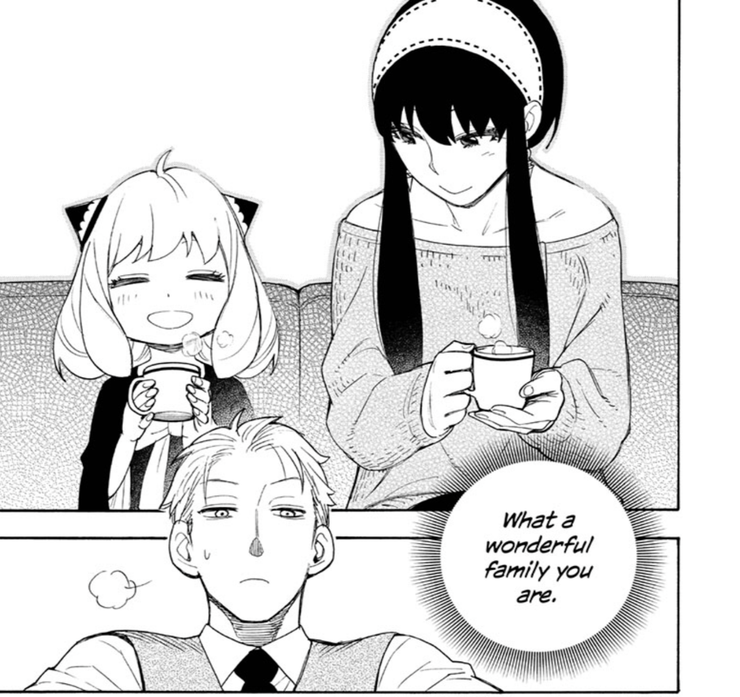 The Dynamic Trio
This dynamic is held only due to how oblivious they are to each other's true nature. Save for Anya, who knows all but pretends to know nothing so she can finally have a family. She also understandably finds having an assassin and a spy as parents to be very cool.
Though Loid was very hesitant at first to the idea of having a family fake or not, as he believes they are a liability, we see him slowly warm up to them. We even get a glimpse of how sweet they are as a family with several heartwarming moments. Asides that, we also see how strong their dynamic are as a family with many talents when we see them intercepting a thief they see stealing the handbag of an elderly woman.
Yor leaps off a tall building to pursue the thief but ultimately losses him only for Anya to use her telepathy to read the thoughts of people around her to locate him. That's when Loid jumps down the building landing on the perp, making him "eat the pavement," which is both ridiculously hilarious and pretty cool.
Final Thoughts
Spy X family does a great job of proving that a family can be formed no matter what, as long as it's with people you care about. We see an unlikely group of individuals with similar, albeit mysterious past come together to form an adorable family. It also fits well with the several hilarious hijinks and goofy characters that'll keep the reader laughing at the end of the volume.
Spy X Family is an excellent manga with an incredible start seeing as this is just the first volume, I can't wait to read more and see how Tatsuya Endo fleshes out these characters and witness more of their interactions. Luckily, you too can enjoy Spy X Family as the first volume is out right now on the VIZ Media website. A free sample of the first few chapters is also available through Shonen Jump.
Have you read Spy x Family? Are you a fan of spy content? Let us know your thoughts in the comments section below.
The Review
Spy x Family
Tatsuya Endo did a fantastic job with Spy x Family in creating a manga that's beloved by many. It introduces readers to an intriguing setting, interesting characters, outrageous humor, and many adorable moments.
PROS
Intriguing Premise
Engaging & Interesting Characters
Hilarious Moments
Wholesome
CONS
Not enough action sequences