Yet another week is behind us, so it's that time again to compile a list of notable anime and manga news we received throughout the week.
【新イベント開催決定!】
アニメSAOとバーチャルSNS『cluster』のコラボが決定!
メインキャスト出演でバーチャルイベントをお届けします!お手持ちのスマートフォン等から手軽にご参加いただけます!

開催日:8月10日(月)、12日(水)、15日(土)
詳細:https://t.co/0Cz32w20PV#sao_anime#cluster pic.twitter.com/LQUSdOfM1A

— アニメ ソードアート・オンライン 公式 (@sao_anime) August 1, 2020
SAO Virtual Meeting Event
Tokyo based virtual operating company Cluster announced earlier this week that it would hold a virtual event " SAO Alicization Wou -Virtual Meeting-" on August 10, 12, and 15, 2020. The virtual event is also streamable on VR devices as well as on mobile devices and PCs. The event also features the main cast of the anime in a virtual space set to look like the Rath Console, which appeared in the anime. Those interested in the event will need to download the Cluster app on their devices, alongside SteamVR for VR devices.

Mashiro no Oto Anime Adaptation
The official website for the Mashiro no Oto by Marimo Ragawa via ANN announced earlier this week that the manga would receive an anime adaptation set to premiere in April 2021.
Studio Arms Declares Bankruptcy
This week, ANN announced that that Common Sense, the official company for the anime Studio Arms, had declared bankruptcy through the Tokyo District Court on July 22 following a shareholder meeting held on May 31. The anime studio is best known for its Elfen Lied anime adaptation.
Aggretsuko Season 3 Trailer
 Netflix began streaming the official trailer for the upcoming third season of Aggretsuko (found above). For those unfamiliar with Aggretsuko, a synopsis for the series can be found below:
Retsuko is a 25-year old red panda who works in her dream company's accounting department. But it turns out that she is forced to keep doing more and more impossible tasks by her superiors and co-workers. She doesn't talk back to them , but she still has to let off steam, so she ends up going to karaoke by herself and singing death metal.
Aggretsuko season three is set to begin streaming on Netflix August 27.
Shika no Ō Anime Film Delayed
Earlier this week, TOHO announced via ANN it would be delaying the premiere date for the anime film Shika no Ō (The Deer King), which is based on the fantasy novel by Nahoko Uehashi. While the film was initially slated to release September 18, it has instead been delayed to 2021 though a reason was not stated. Famous anime film director Masahi Ando (who notably worked on your name.) Is directing the film as well as being the character designer, alongside Masayuki Miyaji with scriptwriter Taku Kishimoto (who worked on Haikyuu !!)
The synopsis for Shika no Ō can be seen below:
The novels center on Van, the head of a group of soldiers who expected to die fighting for their lands against a large empire looking to incorporate their home into its kingdom. Instead of dying, however, Van is taken as a slave and thrown into a Salt mine. One night, a pack of strange dogs attacks the salt mine, and a mysterious illness breaks out. During the attack, Van takes the opportunity to escape, and he meets a young girl. Elsewhere, rumor is spreading that only immigrants are coming down with this mysterious illness. The medical scientist Hossal risks his life to search for a cure. Doctors also study a father and child who seem to have survived the illness. The novels tell the interconnecting stories and bonds of those who fight against a cruel. fate.
TVアニメ『七つの大罪 憤怒の審判』の放送開始時期が、2021年1月からに決定しました!

テレビ東京系6局ネット/BSテレ東にて放送となります。

作品の情報は #七つの大罪 公式サイト、本Twitterにて随時お知らせいたします。https://t.co/AMHctcjpPW

— TVアニメ&劇場版「七つの大罪」 (@7_taizai) August 5, 2020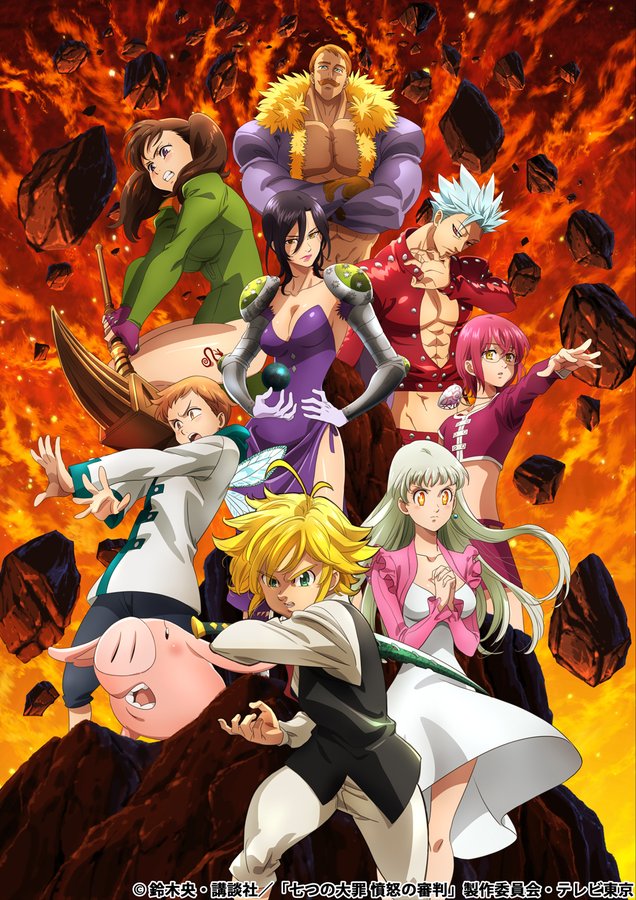 The Seven Deadly Sins: Anger's Judgment Coming January 2021
The official website for the TV anime of The Seven Deadly Sins announced earlier this week that the upcoming season, The Seven Deadly Sins: Anger's Judgment is set to premiere in Japan in January 2021. The season was originally set to premiere this October but was delayed due to the effects of the COVID-19 pandemic.
?BEASTARS?2期?
?放送月が?解禁に?
?2021年?1月から? pic.twitter.com/eScf1B2QRm

— オレンジ@BEASTARS&ゴジラSP (@cg_orange_inc) August 6, 2020
Beastars season 2 Coming January 2021
On a similar note, Studio Orange announced this week that Beastars season 2 is slated to premiere in Japan in January 2021. It was also confirmed earlier by series creator Paru Itagaki that the upcoming season will also be coming to Netflix in 2021. 
VIZ Media is currently releasing the manga series in English, and describes it as such:
At a high school where the students are literally divided into predators and prey, it's personal relationships that maintain the fragile peace. Who among them is a Beastar—an academic and social role model destined to become a leader in a society naturally rife with mistrust?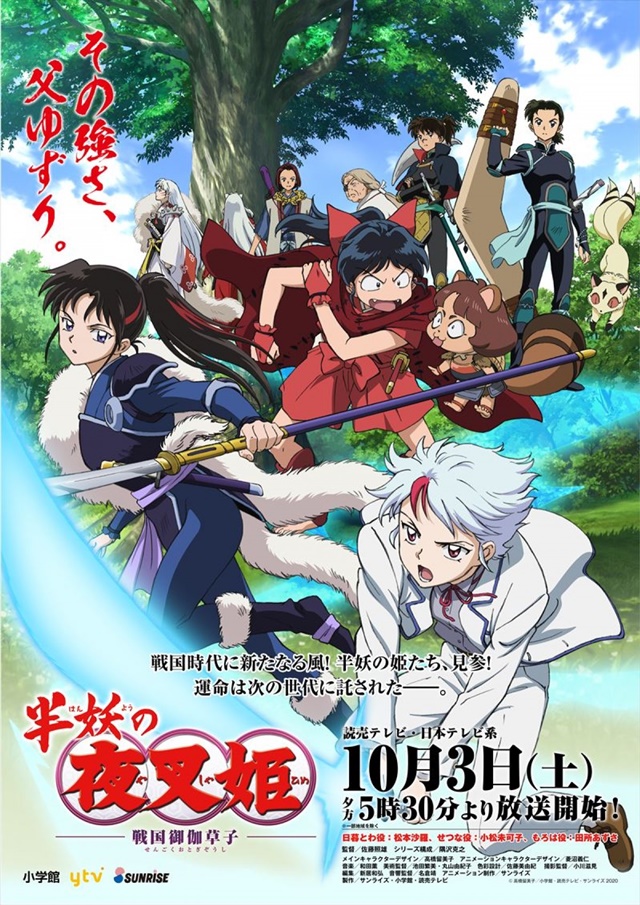 Yashahime: Princess Half-Demon Coming October 3
The official website for the highly anticipated upcoming spin-off based on the highly popular Inuyasha manga series Yashahime: Princess Half-Demon, announced earlier this week alongside a new promotional video, that the series is set to premiere in Japan on October 3, 2020 . Additionally, the official website posted the voice actors for the anime's three main protagonists, (seen below) alongside the synopsis by VIZ Media.
Synopsis:
In Yashahime: Princess Half-Demon, the daughters of Sesshomaru and Inuyasha set out on a journey transcending time. Set in feudal Japan, half-demon twins Towa and Setsuna are separated from each other during a forest fire. While desperately searching for her younger sister, Towa wanders into a mysterious tunnel that sends her into present-day Japan, where she is found and raised by Kagome Higurashi's brother, Sota, and his family.

Ten years later, the tunnel that connects the two eras has reopened, allowing Towa to be reunited with Setsuna, who is now a demon slayer working for Kohaku. But to Towa's shock, Setsuna appears to have lost all memories of her older sister. Joined by Moroha, the daughter of Inuyasha and Kagome, the three young women travel between the two eras on an adventure to regain their missing past.
3日後、マジやばくね #maidragon

— TVアニメ「小林さんちのメイドラゴンS」公式 (@maidragon_anime) August 8, 2020



Miss Kobayashi's Dragon Maid Twitter Account Teases Something Awesome
The official twitter account for Miss Kobayashi's Dragon Maid tweeted for the first time teasing something "seriously awesome." 
Crunchyroll, which streamed the first season of the anime, describes the series as such:
Miss Kobayashi is your average office worker who lives a boring life, alone in her small apartment–until she saves the life of a female dragon in distress. The dragon, named Tohru, has the ability to magically transform into an adorable human girl (albeit with a very persistent and amorous dragon as a roommate, nothing comes easy, and Miss Kobayashi's normal life is about to go off the deep end!



Crunchyroll Adds Junji Ito's Cat Diary: Yon & Mu to It's Manga Library
Crunchyroll recently announced it would be adding Junji Ito's Cat Diary: Yon & Mu from the horror master Junji Ito himself to its library of manga, the first chapter of which is available right now worldwide (except Japan.) A synopsis for the manga via Crunchyroll can be seen below:
Synopsis:
Hell-o-kitty! Master of Japanese horror manga Junji Ito presents a series of hissterical tales chronicling his real-life trials and tribulations of becoming a cat owner. Junji Ito, as J-kun, has recently built a new house and has invited his financée, A-ko, to live with him. Little did he know… his blushing bride-to-be has some unexpected company in tow—Yon, a ghastly-looking family cat, and Mu, an adorable Norwegian forest cat. Despite being a dog person, J-kun finds himself purrsuaded by their odd cuteness and thus begins his comedic struggle to gain the affection of his new feline friends.
Act-Age Writer Tatsuya Matsuki Arrested
Perhaps the most shocking news this week came from the popular Japanese national broadcaster NHK , which reported on August 8 that the writer of the popular manga series Act-Age, Tatsuya Matsuki has been arrested for the alleged sexual harassment of a Japanese high school minor ( between the age of 12-15) which took place on June 18 in the Nakano ward in Tokyo. It was reported that Matsuki allegedly rode up behind a junior high school girl on his bike and sexually harassed her.
The police were reportedly notified of the incident and started an investigation based on captured CCTV footage of the area. When confronted with the evidence for questioning, Matsuki confirmed it was indeed him "no question." Just an hour after the first incident in the same area, another junior high school girl was harassed by a man who suspiciously looked similar to Matsuki. However, the police are currently investigating the connection between the two incidents.
Weekly Shonen Jump tweeted on the same day, stating that the publisher will take appropriate action after confirming the facts. "A full translation of the tweet courtesy of Crunchyroll can be seen below:
"News from the Editorial Department.

The Editorial Department takes the matter of the news reports about Mr. Tatsuya Matsuki, the author of "Act-Age," which is serialized in Weekly Shonen Jump, very seriously. We will take appropriate action after confirming the facts. We sincerely apologize to all our readers and others for any inconvenience and concern this may cause. "
For those unaware, Act-Age is the first manga serialized by Tatsuya Matsuki in 2018 for Weekly Shonen Jump. VIZ Media , who licenses the manga in English, describes it as such:
Is there a method to Kei Yonagi's madness when it comes to acting? The young actor has a family of siblings to feed, but she finds herself struggling with her psychological demons when playing a role. Her desperate acting catches the eye of a famous director, Sumiji Kuroyama, who's looking for raw talent to mold. Can he help Yonagi navigate the cutthroat world of acting without losing her sanity?
Killing Bites Manga Spinoff
In much lighter news, the manga artist for Killing Bites Kazasa Sumita announced on Twitter earlier this week, that a spin-off based on the series titled Hoshigarisugi Desho !? Inaba-san (Desire Overload, Right Inaba !?) is slated to release on August 21. Kazasa Sumita and story writer Shinya Murata launched the Killing Bites manga in Hero's Inc.'s Monthly Hero's magazine back in November 2013.
A synopsis for the anime and manga series via the Monthly Hero's is as follows:
Killing Bites are underworld duels between human-animal hybrids. One beast who knows no fear will fight in this animalistic world full of fear and insanity. This ultimate battle of the beasts will shock you to your core!
What do you think of the anime and manga news this week? What anime do you think is the best airing this season? Let us know your thoughts in the comments section below.